In my previous role as the Vice President of Services and Support, I scaled the HubSpot customer service team to more than 250 employees.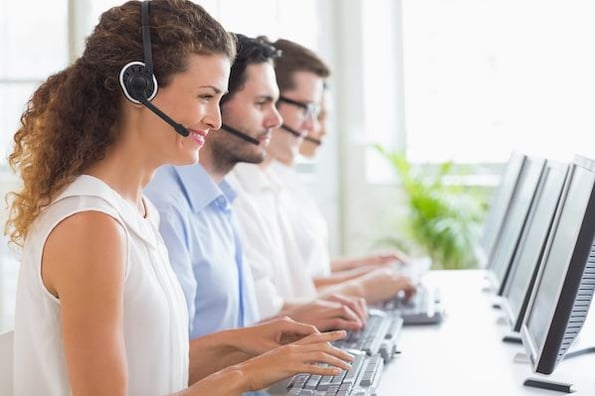 Over my two and a half years leading the services team, there are a few things I learned to do that made our customers happier (and our employees' lives better) that I used to develop inbound customer service. In this blog post, I'll dive into those learnings.

1. Gather customer feedback.
As early as possible, start surveying your customer base to understand how likely they are to recommend your product to a friend. You can also send out post-case surveys to customers whose issues your team has helped resolve.
At HubSpot, we track Net Promoter Score® (or NPS) maniacally -- it's a company-level metric that we all work toward improving. This helps us:
Identify holes in our customer service early
Track customer sentiment over time -- the trend of NPS is far more useful than one raw number
Quantify the value of customer happiness -- when we changed a customer from a detractor to a promoter, we increased customer lifetime value by $18,000
Start small, with a post-support case NPS so you know whether immediate issues were resolved. You can build up to a quarterly or monthly NPS survey of your full customer base that focuses on their general experience with the product.
2. Build up a lightweight knowledge base.
Self-service is the name of the game. Identify your most commonly asked customer questions or encountered issues, then write up the answers into a simple FAQ page or the beginnings of a searchable knowledge base. This will enable your customers to search for their own solutions, instead of waiting on hold to get human support. As an added bonus, it will take work off your team's plate.
3. Activate happy customers into advocates.
Once you have happy and successful customers, it's time to put them to work for you.
Take a look at this chart. Notice anything interesting?
Buyers report that their two most trusted sources of information when making a purchase decision are word-of-mouth referrals and customer references. They're listening to your customers, not you. Use your customers as a source of referrals, social proof for your business through testimonials, case studies, and references, and brand amplification.
The key to successful customer advocacy is to not ask for anything too early. Don't try to extract value from your customers until you've provided value -- asking for five referrals a week after they've signed a contract is inappropriate. Your primary goal should always be to make your customers successful. After you've done that, you can ask for something in return.
Putting It Together: Inbound Customer Service
This methodology is a direct result of my eight years at HubSpot. We've made a lot of mistakes but learned even more about how built a repeatable playbook for leading your customers to success and eventually turning them into promoters.
We call it inbound customer service:
Step 1: Engage
Good customer service is the foundation for everything else -- that's why "Engage" is the first part of this framework. At this stage, your only concern should be understanding the breadth and depth of customer questions, and resolving them.
When you're just getting started with the customer service function, cast a wide net. Engage with any customer, wherever, about whatever they want. Be on all the channels, try to solve whatever problems come your way, and help anyone who needs it.
Above all, make sure you're easy to interact with. At HubSpot, we found that customers who submitted at least one support ticket a month retain at a rate around 10% higher than customers who didn't, and were 9-10 times more likely to renew with HubSpot year over year. Not getting support tickets does not mean your product has no issues -- every product does. It means your customers are silently suffering.
As your team gets more sophisticated, you'll be able refine your approach, but this initial operating system helps you gather lots of data very quickly. At this stage, your objective should be to learn as much as possible about the following:
FAQs requiring customized guidance
FAQs that can be addressed with a canned response
Most confusing parts of your product/service
When support issues arise -- do people require implementation help or do they encounter issues three months after purchase?
Commonalities of customers who need the most help
Your customers' preferred support channels
This information will empower you to identify huge points of leverage in your customer service motion. For example, if you find that 30% of customer queries have quick, one-and-done answers (i.e. "How do I change my password?", "How do I track my order?", "What is your return policy?"), stand up a simple FAQ page to direct customers to. Boom -- you've freed up 30% of your team's time to work on more complicated, specific issues.
Empower your customer team to make noise about the problems they see, early and often, and turn their insights into action.
Are your sales and marketing teams overpromising to your customers? Your customer team will hear these complaints first. Trace the points of confusion back to their origin, and change your sales talk tracks and marketing collateral to reflect reality.
Is there something about your product that causes mass confusion? Your customer team will know which parts of your product/service are most difficult to navigate and why. Use this information to improve your product/service itself, eliminating these problems at the source.
Do certain types of customers run into issues frequently? Do they usually churn or do they just require a little extra love to get over the hump? If it's the former, build an "anti-persona" your sales and marketing teams should avoid marketing and selling to. If it's the latter, dive into that cohort of customers to understand whether the extra help they need is justified by their lifetime value.
As you learn more about your customers, you'll also learn how to best optimize your own process. Identify the most effective support channels for your team and create a great experience for those, then establish a single queue to manage all inquiries.
In this stage, measure success by how fast you solve problems and post-case customer satisfaction. You can do the latter through a post-case NPS survey, which gives you instant feedback on how effective your customer team actually is.
Step 2: Guide
In the "Guide" stage, your goal is to turn your relationship with your customers from a reactive, transactional model into a proactive partnership. It's time to level your customer team up from a supportive function into a customer success-driven organization. (The reactive part of your customer service organization will never go away. But as you grow, it should become part of a multifunctional group.)
What does it mean to be proactive?
First, it means anticipating common issues and challenges and building resources to prevent them. This includes things like a knowledge base or FAQ, as well as re-engineering parts of your offering to be more user-friendly and intuitive.
Second, it means partnering with your customers to help them get to their stated goals. Guide them through key milestones, provide tasks to keep them on track, and connect them with peers so they can crowdsource answers if necessary. Create frameworks and tutorials where you can.
It's better to be proactive than reactive for a few reasons:
It saves time, and time is money. Imagine all the hours you'll save your support team if you can get repetitive queries off their plates. That's time they should spend on complex, higher-level issues that could reveal even larger points of leverage in your business, and so on.
It makes your customers happier. Even if you're able to resolve issues at a 100% success rate with 100% satisfaction, you've still built an experience filled with roadblocks. Aim to build a world where you've anticipated your customers' challenges and solve them at their source.
It builds a trusting relationship. Customers may not see all the issues you proactively guard against (after all, a problem prevented is an invisible type of value), but they'll recognize a relatively issue-free customer experience. Buyers are more likely to trust the company that rarely lets them down, over a brand that's constantly scrambling to fix the next issue.
It's a competitive advantage. Proactive guidance takes the wealth of knowledge you have about what makes customers successful and puts it into your customers' brains. You know what your best customers have in common and the mistakes your least successful ones make. That knowledge is a core part of what you're selling, even if it's positioned as customer service.
As you move away from proactive support into proactive guidance, you become a teacher, not a vendor. Other companies might be able to build a product as good as yours, but it'll be difficult to replicate the trust you have with your customers.
Guidance is an iterative process. As in the early days of your customer organization, collect as much data as you can on the customer lifecycle, and continuously update your guidance to reflect current best practices. Pay attention to the formats and channels that work best, which issues have the highest impact for your customers once solved, and update your process accordingly.
Step 3: Grow
Happy customers want to help the businesses they love. 90% of consumers are more likely to purchase more, and 93% were more likely to be repeat customers at companies with excellent customer service. At the same time, 77% of consumers shared positive experiences with their friends, or on social media/review sites in the last year (source).
Your happy buyers want to help you. That's what the "Grow" stage is all about: Turning that desire into action.
There are three ways to activate your customer base into promoters, says Laurie Aquilante, HubSpot's director of customer marketing: Social proof, brand amplification, and referrals. Let's review each play.
1. Social Proof
Buyers are more likely to trust and do business with companies their networks trust. The following are all different ways your customers can create social proof for your product:
Sharing positive experiences on social media or review sites
Providing referrals (more on this later)
Testimonials/case studies
Customer references in the sales process
Activating social proof is all about keeping a close watch on your customers. It's also not a pick-one-and-done kind of thing, Aquilante says. Case studies and customer references, for example, are useful at different points in your sales motion. While you could use the same customer for both, it's probably more useful to have a stable of customers on hand that can speak to a diverse range of experiences.
Encourage social proof by proactively reaching out to your most satisfied customers, who will likely be excited to help you. You can also provide incentives for sharing content or writing online reviews.
2. Brand Amplification
When someone shares your content on social media, helps contribute content for a campaign, or interacts with your content, they're amplifying your brand.
"To make this happen, you have to provide a 'what's in it for me?'," Aquilante says. "Either create such engaging content and be so remarkable that your customers can't help but amplify your message, or provide an incentive, like points toward future rewards or something more transactional, like getting a gift card for sharing content a certain amount of times."
3. Referrals
Referrals have the most immediate monetary value for your business. B2C companies are masters at the referral game, usually awarding the referrer credit to their account or even monetary rewards.
B2B referrals are a bit trickier. B2B purchases tend to be more expensive than B2C purchases, and usually involve multiple stakeholders and a longer sales process. So your customer likely has to do some selling upfront to feel comfortable sending a contact's information to you. It's not impossible to get this right, but it's crucial to offer your customer something valuable enough to incentivize them to do this work on your behalf.
"Get in your customer's head, figure out what matters to them, and make sure that you've got a good exchange of value," Aquilante says. "They're offering you something of very high value if they're referring your business, and you've got to offer something in return."
4) Upsells and cross-sells
A note from our lawyers: These results contain estimates by HubSpot and are intended for informational purposes only. As past performance does not guarantee future results, the estimates provided in this report may have no bearing on, and may not be indicative of, any returns that may be realized through participation in HubSpot's offerings.
Aside from promoting your brand and bringing you business, your customers are themselves a source of net new revenue, if you have multiple products or services. Your customer team is your not-so-secret weapon in unlocking this revenue.
In late 2017, HubSpot piloted the concept of "Support-Qualified Leads" at HubSpot. Our sales team owns selling new business and upselling and cross-selling into those accounts. But our support team is the one actually speaking with customers day in and day out, so it's just intuitive that they have a better understanding of when customers reach a point where their needs grow past the products they currently have. When a customer has a new business need and has the budget to expand their offerings with HubSpot, a customer success representative passes the lead to the appropriate salesperson, who takes over the sales conversation.
The Support-Qualified Lead model is powerful because it closes the loop of communication between sales and support, and it works -- in its first month, the pilot generated almost $20,000 in annual recurring revenue just from cross-sells and upsells. Since we've rolled this out, we've generated over $470,000 in annual recurring revenue just from this model -- nothing to sneeze at.
Growth has always been hard. If you're just starting out, it's hard to imagine ever competing with the top companies in your industry.
Customer service is the key to this equation. If you provide an excellent customer experience and can create a community of people who are willing to promote your business on your behalf, you're laying the groundwork for sustainable, long-term growth. And in a world where new customer acquisition is hard, and getting harder, who wouldn't want that?
A version of this blog post was originally published on HubSpot Research.
Net Promoter, Net Promoter System, Net Promoter Score, NPS and the NPS-related emoticons are registered trademarks of Bain & Company, Inc., Fred Reichheld and Satmetrix Systems, Inc.