There's nothing more frustrating than trying to visit a website only to be greeted by pages and images that take forever to load — in this day and age, even the slightest delay can send users back to the search page to find another website with the information they seek.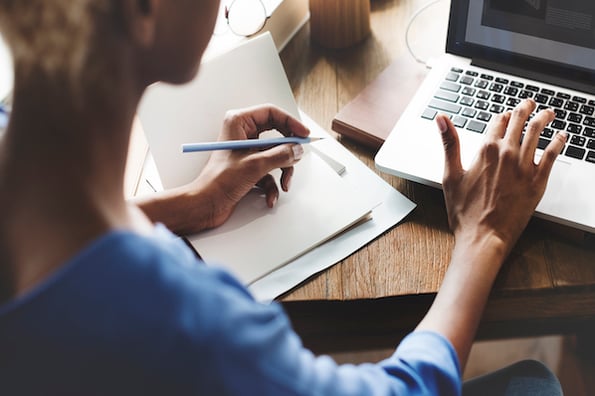 That's why knowing how to test website speed is so important when trying to retain visitors. If you have a hunch that your site is lagging, it might be time to test and improve its speed. In this post, we'll show you how.
How to Test Website Speed
How do you test website speed? How does it impact your website? Is there a way to make your site faster for users? These are just a few questions you might have as a site owner.
Luckily, there are many tools and tips for testing and boosting website speed to make sure your audience has a positive experience on your site that keeps them coming back.
Before we dive into the options, let's look at what website speed means and why it matters.
What is website speed?
Website speed is how quickly your website loads for users. This is based on an average of multiple page speeds — page speed, or page load time, refers to how long it takes for the elements like text and images on a page to fully load.
These days, website visitors are often turned off by even the slightest delay — in fact, research has shown that someone is likely to click away from your site if it takes more than 400 milliseconds — a literal blink of an eye — to load.
Why does website speed matter?
As we mentioned, site speed can quickly determine whether a user sticks around on your website or not. But it's actually even more important than that.
Search engines, particularly Google, place heavy importance on site speed when determining which websites to show at the top of the search engine results page (SERP).
Sorry, but you just can't be number one if your site is moving too slow! Website speed optimization helps increase search engine optimization, or SEO) — so, it shouldn't be ignored.
How to Improve Website Speed
Once you've determined your website speed for both desktop and mobile, you'll probably begin to wonder how to make your site faster and more efficient.
This is the process of website optimization, which can help increase your rankings in the SERP, retain audiences for longer, secure more leads and even boost sales. If you're ready to start optimizing your website speed, check out HubSpot's free course on website optimization to understand website optimization from the ground up and learn how to make your website the best it can possibly be.
Best Website Speed Test Tools (and Website Speed Test for Mobile)
You might be wondering how to test your website speed — luckily, there are many website speed test tools, as well as website speed tests for mobile, to help. Here are the ones we recommend:
It makes sense that if you're trying to boost website speed, and by extension SEO, you'd turn to a search engine for help. Google PageSpeed Insights is a popular website speed testing tool that scores your site speed on a scale from 0 to 100. The higher the score, the better your website is performing.
To account for your mobile traffic, Google PageSpeed Insights can generate tests for both your desktop and mobile website. The best part is that your score is followed by suggestions to improve your site's performance, some of which you can implement right away.
Lastly, PageSpeed Insights tests your website against Google's core web vitals, breaking down the time it takes your website to reach each stage of the page loading process. Core web vitals allow for a more nuanced understanding of what your page load looks like and how it affects the user experience.
What we like: Google PageSpeed Insights is intuitive, gives a fair score (along with explanations for that score), and provides actionable steps to improve site performance.
Like Google PageSpeed Insights, the Pingdom page speed test ranks your website speed from 0 to 100, but this tool is known to be easier to navigate and better for beginners.
You can test your website based on location, and it will provide your performance grade, page load time, page size, content size (broken down by content type), and the total number of requests as well as offer suggestions for improving speed. It's also easy to re-run a test by clicking the screenshot of your page.
Pingdom offers more detailed analyses, too, to help anyone — from novice to expert — troubleshoot problems and make changes quickly. Each of the seven criteria of your site's load time gets a letter grade and a simple explanation to help you prioritize the most important areas of improvement.
What we like: Pingdom might be the most user-friendly tool on this list, providing easy and actionable insights into your site performance that you can address quickly, without overwhelming users with information.
GTMetrix is another leading free online speed test that's ideal for beginners. The publicly available version of the test does an excellent job of breaking down performance while keeping things on the simpler side.
When your test is complete, you'll receive two main scores: performance, which GTMetrix states is basically your Google Lighthouse performance score combined with some of its own custom assessments, and layout, which grades how well your page is built for performance.
GTMetrix also breaks down results in several other ways, including a speed visualization that displays your page load as a timeline of screenshots at each core web vital, a structure assessment showing where to optimize your page, and a waterfall chart recording the loading time of each object on the page.
Log in if you want to perform multiple tests across various browsers, locations, and connections, and your free account will save your previous 20 tests and associated data. Compare data across different tests and download the generated waterfall charts to help you find anything that's slowing down your website.
What we like: GTMetrix provides more immediate insights than several other options here for free, making it ideal for intermediate website owners.
Created by a Google Chrome engineer, WebPageTest is a free site speed testing tool with more advanced data and insights than many other free tools offer (although there's also a simple test option if you're looking for something more straightforward). Test your website speed across various browsers, devices, and locations, and the tool will even generate reports and insights to identify issues and improve site speed.
WebPageTest is also unique in that it frames its performance summary as questions: "Is it quick?", "Is it usable?", and "Is it resilient?" — all of which contribute to a user's experience on your pages. Answers to each of these are phrased in an accessible way.
Scroll down and you'll see a detailed breakdown of page performance. There's a visual page load timeline, a waterfall chart, videos of the page load, and an overview of core web vitals. The test even shows your results from each of the three times it loads your page during a test.
What we like: WebPageTest provides a ton of details from its test so you can get to the nitty-gritty of how your page performs. If you're not afraid to dive in, give this tool a try.
Sematext is a unique DevOps tool that combines all aspects of website monitoring.
In addition to providing real-time alerts and debugging solutions, support for all major frameworks, and end-to-end visibility and observability, it provides Sematext Synthetics. With the Sematext Synthetics feature, you can test website speed across multiple locations and different devices.
Also relevant is Sematext's website performance monitoring tools. You can track core web vitals and other key performance metrics, get visualizations to pinpoint what aspects of your site need improvement, and even benchmark your site's performance against competitors.
What we like: Sematext doesn't provide a free website assessment, but its performance monitoring offerings and testing tools are highly regarded among users.
To test your website with Uptrends, it's as easy as typing in your domain and choosing one of its 11 global server locations. Then, check your site speed across various desktop browsers, as well as mobile.
Uptrends will show you your Google PageSpeed score, load time, page size, core web vitals, and requests as well as provide suggestions for performance improvements. For its performance suggestions, it prioritizes each category by its impact on your total load time.
Plus, there are various ways to visualize loading of your page's assets. However, the tool's interface includes fewer tooltips and instructions that clarify what these metrics mean, so it's not the best choice for beginners.
What we like: Uptrends allows you to easily check page performance across popular web browsers and mobile devices, and even adjust the simulated desktop screen size in the test.
DareBoost offers website speed tests and monitoring services to help you maintain or improve website speeds. It also has a free website performance assessment that's similar to other tools on this list, with some extra features you should know about.
The tool analyzes more than 80 types of data, meaning you'll be able to quickly identify weak spots for improvement. The design is user-friendly and ideal for providing easy-to-digest reports, plus a detailed list of best practices to tackle in your optimization efforts.
Notably, DareBoost's tool also includes video playback. You can watch your page load play in real time or slow it down. There's also a slider, so you can watch the process frame-by-frame. It's the best video playback interface we've seen on any free testing tool.
What we like: DareBoost offers similar things to other tools we've seen on this list, but its detailed best practice recommendations and interactive video playback help it stand out.
If you're willing to put money into improving your site speed, New Relic is a helpful tool that offers many details about how your website is performing. The tool can do speed tests for mobile and show you response times for your plugins and themes.
New Relic also offers automatic notifications when website speed drops, so you can investigate further and resolve the issue faster.
What we like: New Relic is a paid tool, best for experienced owners of larger websites in need of up-to-the minute updates of when site performance is affected.
Now that mobile users account for more than half of all global web traffic, it's more important than ever to have a mobile-friendly, responsive, and fast website. Google's mobile site speed testing tool analyzes your mobile site speed, quickly notifies you of load times, and offers recommendations to increase speed on mobile devices.
Type in your domain and Google will tell you your mobile site speed in seconds — change the location and connection (it defaults to 4G) for more details. As you scroll through the report, Google offers several tips for optimizing your website to improve conversion rates and sales, too.
If you scroll all the way to the bottom, you'll also have the option to download a free report of your findings which you can share with your team. All in all, it's a handy tool to check your site's mobile speed.
What we like: Google's mobile site speed checker focuses entirely on how your site performs on smartphones and tablets and gives tailored feedback to improve it. Since mobile experience is an increasingly important factor in Google's ranking algorithm, you should be making mobile experience a top priority.
How to Respond to a Bad Test Result
It's not difficult to find an online speed checker and plugin your site's URL. The challenging part is figuring out what to do with your results, especially if your site's score is less than ideal.
After running a test, you might receive a grade that's lower than expected. First, realize this doesn't mean your website is necessarily bad or designed poorly. Rather, there are improvements you can implement to make it even better. Here are some additional things to keep in mind if you get a poor speed score:
Different monitoring tools grade performance in different ways, so you might receive a positive score on one test and a negative score on another. Consider trying multiple free tools to get a broader view of how fast your website is.
Often, a low score can be addressed with a few quick fixes. You're not condemned to a low score forever.
While it's possible to get a perfect score on these tests, it's very difficult and might even be impossible for certain websites. If your tool of choice scores sites from 0 to 100, aim for a score around 90, then do some more tweaking if you want to bring it higher.
Those a low score might seem harsh, performance truly is one of the most important factors when it comes to user experience — you want to get it right.
Improve your website speed.
Website speed is more than just a possible nuisance to your audience. A slow website can hurt SEO, leading to lower search rankings, fewer clicks, less leads, and a decrease in sales. By taking the time to test and improve your website speed, you're also investing in the overall well-being of your website.
Editor's note: This post was originally published in December 2020 and has been updated for comprehensiveness.