You might already be familiar with the inbound methodology -- the business approach of turning strangers into visitors, leads, customers, and then promoters.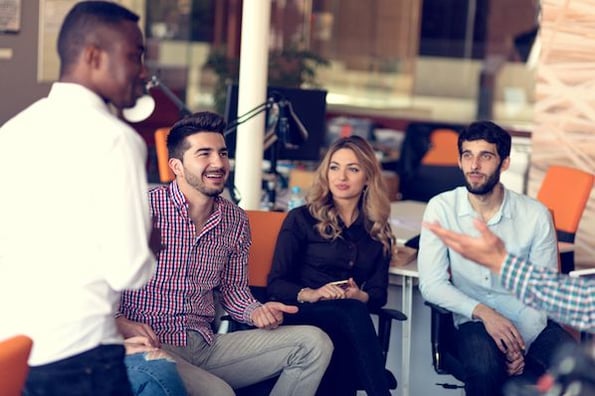 It's about meeting people where they already are -- by marketing with educational content instead of interruptive advertising, and by offering helpful solutions instead of using pushy sales tactics to close a deal.
But the inbound methodology doesn't end once a lead becomes a paying customer. Did you know that there's an inbound customer service framework, too?
What is inbound customer service?
Inbound customer service is the methodology of attracting, engaging, and delighting your customers to turn them into your business' loyal advocates. By solving your customers' problems and helping them achieve success using your product or service, you can delight your customers and turn them into a growth engine for your business.
To help you balance the day-to-day demands of reactive customer support and the need to invest in your customers' success, we've developed a new, customer-first framework that provides the foundational strategy for excellent, customer-first support.
By helping your customers with fast customer support and helpful educational content, as well as consistently collecting customer feedback to help you improve, you'll help make your customers successful. Successful customers are happy customers, and happy customers will help grow your business -- so their success is your success, too.
Inbound Customer Service Framework
The inbound methodology we've created consists of three different stages of the flywheel: Attract, engage, and delight.
Attract
Applying the inbound methodology to customer service involves attracting potential new customers to your business based on resources and positive feedback from existing customers. You can attract existing and future customers to your offerings by building out a robust knowledge base and educational blog and video content.
Engage
If the self-service resources you create aren't enough, you need to engage with customers reaching out to you by quickly triaging and responding to incoming tickets, solving their issues as quickly as possible, and providing different channels through which they can reach out for help, such as phone, email, social media, and live chat.
Delight
By delighting your customers and retaining them for your business, you can activate them as loyal advocates who will leave you positive reviews, refer friends and colleagues, and provide helpful feedback. To identify these happy customers, you should regular deploy customer feedback surveys to gauge their satisfaction.
The Landscape of Customer Service Today
It's a great time to be a customer. They have a wealth of choices in front of them, and it's easier than ever to understand those different options with the help of the internet.
What that means for businesses is that the competition is stiffer than ever. Because customers have so many options to purchase a product or service, the power is in their hands to decide where they do business. And with the help of greater online and social media discoverability thanks to inbound marketing, customers have the power and information to thoughtfully make buying decisions -- and plenty of other options to switch to if they need to.
The power dynamic has shifted -- away from businesses and toward customers.
The growth of social media has also played a role in this power shift. Now, because Facebook, Instagram, and messaging apps are ubiquitous to everything we do on our phones and on the internet, every customer has a megaphone with which they can amplify their voice. If a customer has a good experience, they can share it. If they have a bad experience, they can share that too. The ability of a customer to take their story and turn it into a story for other customers -- a good or a bad story -- is a uniquely 21st-century concept that we've seen go really well or really poorly for businesses.
Word-of-mouth is the most important channel for a business to tap into these days, and businesses and team members who view customers' success as a growth engine will treat it that way. They understand that businesses have an obligation to their customers -- not just to answer their questions, but to help them derive real value from their product or service.
Competition is growing, no matter what the industry, and as more competitors enter into already-crowded markets, customer service will quickly become a competitive differentiator and advantage for companies doing it well.
Think about it: If a customer tells a friend about a great experience they had with a business, they might be more likely to choose it among the multitude of other options. Customer service is what can make your business different, and your happy customers can actually become your best marketers.
Customer Service vs. Customer Support vs. Customer Success: What's the Difference?
These three terms are different -- but they live on the same spectrum.
1. Customer Support
Customer support is about reacting to your customers' needs. It's about being there for customers, whenever they need it, whatever they need help with. At its core, customer support is transactional, and the interaction is begun and ended by the customer. Customer support is a business reacting to a customer.
2. Customer Service
Customer service is more proactive. It's about saying to a customer "I have something for you" instead of a customer saying "I need something from you." Service is about a business guiding the customer.
If businesses can provide both customer support and customer service by engaging reactively and guiding proactively, they're in great shape.
3. Customer Success
Customer success is something that's initiated by the business, and it's doing something that a customer might not have even known they wanted or needed. It requires anticipation.
Customer success is about expanding value, for both the customer and the business, simultaneously. It might involve upselling or cross-selling by suggesting other products or services for customers that work with what they've already purchased. But here's the key to executing customer success:
Businesses only earn the opportunity to do it once they've proved they can reactively support well and actively guide well. If you think about it, customer success is at the apex of the customer-facing pyramid, where all three come together: Customer success is the point customer teams want to reach, but they can't get there if they aren't picking up the phone when customers call.
Building a Customer-Focused Team
If you don't have dedicated customer support or customer success teams yet, it's important to get started -- and soon.
The moment that you acquire your first customer, you're in the business of doing customer service -- it's an obligation you need to fulfill.
You might start with a small customer support or success team of just a few people -- or maybe even just one person. These small teams are often very in-tune with the voice of the customer and tend to provide exceptional service -- because it's what they do, all day every day.
The key to providing exceptional customer service -- and doing it well -- is twofold: You need technology, and you need amazing people. No matter what your role is in a business -- sales, marketing, or customer service -- everyone should have a customer mindset and think about how to solve for them. When executed well, customer success is truly a team sport, and that stands whether you're a team of one or a team of 100. If you have a culture of customer centricity, you'll be able to grow faster than other businesses that don't put the customer first. (We've done the research on it.)
When it comes to hiring people for an exceptional, customer-focused team, we recommend hiring for character and values, and training for skill -- because it's much easier to teach someone how to use a software than it is to teach someone why it matters to always be focused on the customer first.
Here at HubSpot, we actually have a preference for hiring people that don't have as much experience in customer support and success because we want to be able to introduce them to these concepts from the start. We can start them off on the right foot and get them to a place where they see the customer as valuable as we do.
Which isn't to say that we don't hire people who've worked in customer service before. We have a bias for hiring people that we think have potential to grow really successful careers, that have good character, and can get on board with the customer-focused mindset.
Customer Experience Is Evolving
Inbound marketing has fundamentally changed the way the customer experience unfolds -- because it doesn't start at the point-of-transaction anymore. Instead, it starts far, far before that -- because it's a continuous experience across the entire lifecycle from someone's first interaction with your business to actually deciding to become a customer.
Inbound marketing has changed customer experience because it has changed the beginning of the experience -- the customer's first impression on a business. Whether they come to a business from Facebook, a blog post, or an ebook, they have an impression of a business before they even talk to a sales rep. That changes the downstream interactions with a customer throughout the nurturing and sales process, because customers are more engaged and more informed. And then, even after a deal is closed and a customer is won, the experience doesn't stop there -- in addition to their customer service rep or customer support manager, customers might still follow you on social media or read your blog posts. Today, entire organizations have to continue impressing customers with a seamless experience -- and continue deriving more value for them.
Deciding how and when to engage customers with onboarding is an age-old customer service question, and it becomes a challenge when staff and resources to do so are limited.
At HubSpot, we scaled our customer service organization through two different pillars: self-service and onboarding.
Self-service is a key part of customer success -- because it lets customers get the help they need, the way they want to get it. It's about creating content that helps customers learn how to get starting using your product or service, or use a key feature, or fix a common software bug.
Then, onboarding can play a huge role in getting customers up-and-running based on previous customer interactions and observations. You can even use marketing automation like workflows and emails to send new customers the resources they need when you know they'll need it to supplement onboarding phone calls.
How Customer Service Will Change
There will be a lot of incremental changes that transform the face of customer service in the next few years.
Everyone is talking about how bots and AI will impact every industry, and the customer service space is no exception. These tools will bring about more conversational website UIs that help customers get the self-service they want even faster, and they'll continue providing guidance for customers. These technologies will also change the way customers communicate with businesses -- moving away from phone calls and emails, and towards bots and live chat.
Another change we'll see in the next few years will be a change in how businesses choose to invest their time, energy, and money -- and we think that, incrementally, more businesses will invest in customer service as a competitive differentiator -- otherwise they'll get knocked off the map by other businesses offering similar products with better customer experiences.
We conducted research that found that, while 80% of businesses think they deliver super customer service -- but only 8% of consumers actually think businesses do so. It will be critical for businesses to invest in hearing and analyzing the voice of the customer to close that keep and meet more customer expectations to kick the flywheel effect of engaging, guiding, and growing customers into high gear.
To learn more, read about examples of good customer service from real companies.