There's a reason why Apple trademarked the phrase, "There's an app for that," back in 2010. It realized that mobile apps will — and continue to be — valuable features that complement a business's core product or service. So, it's no surprise in 2019 that nearly every SaaS company now offers some sort of mobile version of their original software.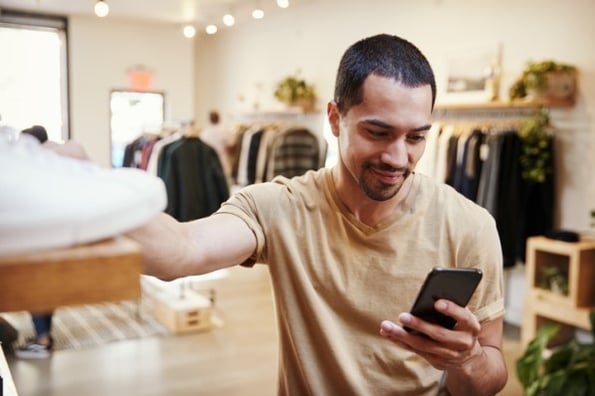 Help desk software is no exclusion to this trend, either. Mobile help desks now allow customer service teams to provide customers with support while working on their phones or mobile devices. This connects reps closer to your customers and creates a more reliable service experience at your business.
In this post, we'll break down the essentials of mobile help desk software, including what it is, how it benefits your company, and the best options available for your team in 2019.
What is Mobile Help Desk Software?
A mobile help desk is a set of customer service tools that can be used on a phone or other mobile device. Customer service teams use mobile help desk software to make their reps more accessible to their customers. For example, if one of your customers files an emergency request late at night but no reps are around to help, your customer service team can use their mobile software to resolve the case from their phones.
Or, if the customer service rep needed to leave their computer in the middle of a case they could continue working with the customer on-the-go. Sometimes computers malfunction or your internet goes down, but with mobile help desk software, your team has a reliable back up they can use if their work computer is unavailable.
What are the benefits of mobile help desk software?
Mobile help desk software provides customer service teams with more flexibility when working on support and service requests. Your reps don't need to be in the office to work and can work later or earlier shifts without having to commute. This makes it easier for smaller companies to offer 24/7 support because they can adjust their scheduling to cover their off-hours without keeping their office open later.
Additionally, mobile help desk software also enhances the customer experience. Aside from making it easier for customers to contact support, mobile help desks provide customers with a more consistent service experience. If your reps get sick and can't come into work, you can ensure their open cases can still be worked on from the comfort of their homes. Just because a rep is sick doesn't mean your customers will stop having urgent problems, and with mobile help desk software customers will never have to wait an extra day for a reply.
If you're interested in adopting a mobile help desk software for your customer service team, take a look at the list below of the best options available for 2019.
The Best Mobile Help Desk Software
ManageEngine
HubSpot
Zoho
Deskpro
JitBit
Helpshift
LiveChat
Team Support
Kayako
Deskero
The Best Mobile Help Desk Software
1. ManageEngine
ManageEngine offers its "SupportCenter Plus" package which includes a handy mobile help desk software. It allows reps to create, assign, and close requests from their phones as well as the ability to search for a request by its unique ID number. It also offers a "business units" feature that lets business further categorize their service requests based on the customer's purchased products. This makes it easier for your customer service team to distribute and assign cases to product experts who specialize in different areas of your product.
Compatibility: Andriod, iOS
Price: $41/month
Source: ManageEngine
2. HubSpot
While HubSpot's help desk software is still fairly new, the company has wasted no time in beefing up its mobile features for these tools. For example, the HubSpot mobile app now includes a live chat option where users can begin a chat on their computer and continue it on the app. So, if your chat rep ever needed to address some "personal business" during a chat they could continue working with the customer without having to awkwardly ask for a break (As a former chat rep, I can personally vouch for this benefit).
Another useful feature that HubSpot's mobile app provides is complete integration between the ServiceHub tools and your CRM. Reps not only can field chats from customers on their phones or tablets, but they can also view the customer's contact record as well, which contains useful information about the customer, their demographics, and their past engagements with your business.
Compatibility: Andriod, iOS
Price: Free
3. Zoho
Zoho is a help desk platform that includes a useful mobile app for its users. The mobile app categorizes open service requests by their priority, making it easier for your reps to spot the most urgent cases in their queue. Zoho also provides instant updates on open cases that alert reps about responses being made on tickets. These features help service reps provide more immediate responses and solve cases faster for your customers.
Compatibility: Andriod, iOS
Price: Free
Source: Zoho
4. Deskpro
Deskpro offers a reliable help desk software that's paired with it's simple, yet effective, mobile app. Its product interface is intuitive and user-friendly allowing you to customize your ticket queues and set up your case view as you see fit. It also includes a "mass action" feature that allows you to perform bulk actions on groups of tickets using just a flick of your finger. This comes in handy when dealing with related service questions that can all be answered using a similar response.
Compatibility: Andriod, iOS
Price: $150/month
Source: Deskpro
5. JitBit
JitBit's mobile help desk software is all about speed. When JitBit developed its mobile app, they focused on creating a product that would work quickly even on slower internet networks. JitBit accomplished this by constantly updating the app and tweaking the code to optimize the software's mobile performance. The result was a fast and user-friendly mobile help desk that's constantly being improved by its designers.
Compatibility: Android, iOS
Price: $29/month
Source: JitBit
6. Helpshift
Helpshift's mobile help desk offers some unique customer service features that aren't included in other products on this list. For example, it has an FAQ search feature that allows reps to search their knowledge base while working on a live customer conversation. This gives your reps the ability to reference documented solutions and provide customers with direct links to your support articles. Not only does this save time for the rep, but it also gives the customer a recorded solution that they can return to should they face the same problem again.
Compatibility: Android, iOS
Price: Free

Source: Helpshift
7. LiveChat
LiveChat began as a live chat software company but has quickly expanded to a complete help desk provider. Its mobile app has useful chat features that make it easier for your reps to communicate with customers on their phone or tablet. This includes a scroll-up feature that displays the previous chats that the customer has participated in with your service team. Reps can also assist other reps during chats by leaving comments or "whispers" on their cases during the live conversation.
Compatibility: Android, iOS
Price: $16/month
Source: LiveChat
8. Team Support
Team Support has "mobile agent tools" that allow reps to handle support and service cases on their phones. Like LiveChat, Team Support offers collaboration features which encourage reps to work together on individual cases. To safeguard against any miscommunication between reps, Team Support's help desk lets users know when another user is working on or looking at the same ticket. This prevents reps from repeating the same troubleshooting steps or sending duplicate responses to your customer.
Compatibility: Android, iOS
Price: $50/month
Source: Team Support
9. Kayako
Kayako's mobile app is a user-friendly interface that aims to convenience the support or service rep. One unique feature that Kayako offers is an offline mode that doesn't require the use of WiFi or cellular service. Instead, users can log in and view open conversations without being connected to the internet. Using this feature, a rep can be alerted to an update on a service case even if they're in a remote location.
Compatibility: Android, iOS
Price: $15/month
Source: Kayako
10. Deskero
Deskero features a mobile app that's integrated with its email and chat support inboxes. Users can access email and chat tickets within the mobile app then use the "one-click reply" option to respond to customers immediately. It also includes an advanced ticketing system that has useful features like ticket merging and automation. This way reps can set different workflow for tickets and monitor their progress all through the mobile app.
Compatibility: Android, IOS
Price: $4/month
Source: Deskero
For more customer service tools, read about the options available for free help desk software.