In business, loyalty pays off. In fact, research shows that repeat customers spend 67% more on average than new customers, which means the majority of your profits are coming from people who are loyal to your organization.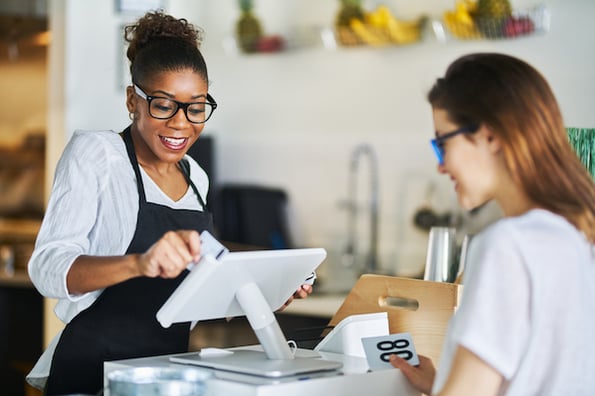 Customer loyalty is a customer's willingness to buy from or work with a company again and again. It's a motivating factor that compels people to commit to a brand, and it comes from offering customers something extra aside from the product/service they purchased. This provides added value which leaves people feeling happy and satisfied with their customer experience.
When you implement structure to this added value, you create a customer loyalty program. This service helps your company retain customers and keeps them routinely engaged with your content. Even better, when it's integrated into your point of sale (POS) software, these programs become extremely easy to implement and they generate long-term returns for your business.
In this post, we'll explain some of the ways you can use a POS system to support your customer loyalty program.
How does a loyalty program integrate with a POS system?
Most associate POS systems with checkout and payment software but they are capable of more, including supporting a company's marketing efforts. Choosing a POS system that comes with customer loyalty software already built into the program can aid your marketing efforts with each sale your company makes.
POS loyalty software helps businesses collect customer data, track customer behavior, and spending trends. Having more accurate customer data will enable you to better understand your customers' needs and increase sales. In the next section, we'll dive deeper into how POS systems can support your customer loyalty program.
How POS Systems Support Customer Loyalty Programs
1. Data Storage
To run a successful customer loyalty program, you'll need some kind of software to track your customers' activity and the rewards that they accrue. Having this functionality built right into your POS software creates convenience and ease of use for your team.
At its core, a POS system is more than just the machine that you use for checkout. A good POS system centralizes multiple sources of data to make life easier for store owners. For example, your POS system is directly tied to your inventory, which adjusts stock based on what items make it to the checkout counter. It also keeps a record of your sales, gross profit, and some even have a built-in CRM baked right in.
This makes it perfect for a customer loyalty program, since you'll be able to keep track of your customer's transaction history and how much they have spent with you overall. Your team can quickly spot your most loyal customers and reach out with incentives that you'll give in exchange for brand advocacy.
2. Points System
Most customer loyalty programs involve a points system, where the more a customer does business with you, the more points they earn. These points are then cashed in for different products/services that you offer. This can be anything like a premium discount, promotional items, or even complimentary service.
With a loyalty program, your POS software can easily figure out what products/services your customer has paid for, and assign a set number of "loyalty points" that they can accrue over time. Once they have enough points, you can either offer them rewards based on their amount or let them choose what they would like to spend those points on. You can even personalize the offers based on the data you've gathered on them in your CRM. When a customer redeems their points, your POS software will make note of it and process these orders as necessary.
3. Automation
POS systems put all of your information in one location and will update your data automatically. For example, if an online customer chooses a reward that you only offer in-stores, the system can adjust your inventory accordingly while taking care of all other procedures. You'll easily know what items have been used in your loyalty program, how popular it is, and which of your customers engage with you the most.
This provides a veritable goldmine for your business if you have a good loyalty program in place. Customers will come back to your company if your program actively tracks their transaction history and offer rewards that are undisputedly recognized as valued products/services.
4. Reporting
Your POS software can do more than just be a hosting spot for your customer loyalty program – it can also help you measure just how well the program is doing. Since sales and customer data passes through it, you should be able to easily gauge the effectiveness of your program through a few metrics.
Keeping a record of how many rewards were processed and what items were most popular gives you a good idea of how well your program is working. You can also analyze individual and combined customer spending to see how things are looking after your customers enroll in the system.
Best of all, since the system is tracking everything, you won't have to worry about keeping a separate record for your loyalty program, and you'll be able to make every customer feel special with it, providing them with a positive customer experience.
Best POS Loyalty Program Software
Square
Toast
Vend
Loyverse
Bindo
Revel
Lightspeed
Image Source
Best for: Small Businesses
Small businesses looking for a free, all-in-one POS solution can find what they need with Square. Square POS can be downloaded to your phone or tablet to be used for in-person sales and synced with an online store for ecommerce.
While the software is free, their loyalty program is an add-on that you can test with a 30-day free trial once you create a Square account. Pricing starts at $45 per month and can increase based on the size of your business and the features you require.
Customers have the option to enroll in your loyalty program at checkout.
Image Source
Best for: Restaurants
For restaurants of all sizes, Toast is the all-in-one POS system designed by restaurant people for restaurant people. This Android-based system not only processes payments but has built-in modules for delivery and takeout options, table management, and a simple integrated loyalty program.
Customers have the option to opt into the program at checkout with a prompt to enter their email address. Customers not only collect points with each purchase, but they can easily view their order history. Their customer feedback feature will help you gain insight into overall customer satisfaction and where you can improve.
Small restaurants can opt for the free version which includes their loyalty program software. Larger restaurants that need more customization can utilize the paid version starting at $165 per month.
Image Source
Best for: Retail
For retail companies, Vend is the POS system of choice. Its built-in inventory management and CMS systems are invaluable to boutiques and stores wanting a streamlined way to track and manage customers.
Their Pro and Enterprise plans include loyalty software that allows businesses to build a custom program, create customer profiles, and observe how their most loyal customers spend.
Customers sign up at checkout and businesses can export their customer list to an email marketing tool of their choice.
Image Source
Best for: Small Businesses
Loyverese's free mobile POS and loyalty program for small businesses that just need the basics. This app can be installed on iPhones, Android devices, and tablets—enabling businesses to accept payments using a provider like SumUp or Worldpay.
Their simple, no-frills customer loyalty program and CMS allows businesses to manage and build their customer base, view customer histories and purchases, and convert customer loyalty points into discounts.
Image Source
Best for: Retail and Hospitality
Bindo is an iPad-based POS system designed specifically for retail and hospitality businesses. The software can be used for ecommerce and in-store payment processing, making it a flexible option if your business has both.
Bindo's loyalty program allows businesses to create their own points system to reward customers and create personalized gift cards. Their CRM will also help track repeat customers and tap into how much they are spending with you.
Pricing is quote-based, but you can test the product out with a free trial.
Image Source
Best for: Restaurants and Hospitality
Revel is an all-in-one POS system that does everything from processing payments to tracking inventory. There is a learning curve with its integrations and advanced features, so it may not be the best option for beginners or small businesses. However, if you need a POS that's loaded with features, Revel's got you covered.
Their loyalty program allows businesses to customize how many points customers earn based on transactions, purchase amount, or certain purchased products. You can use customer data stored in the CRM to create personalized promotions your customers will appreciate.
Revel is one of the pricier options on this list, starting at $99 per month, but larger businesses with multiple locations will find all the integrations offered are worth it.
Best for: Retail and Ecommerce
Lightspeed is a cloud-based POS system designed to help retail and ecommerce businesses sell across multiple channels. Their inventory tracking software allows businesses to sync inventory across locations and organize shipments.
Lightspeed's loyalty program lets businesses create tiered rewards programs, send in-store and online promotions, send custom promotions for one-off events like birthdays, and includes an easy drag-and-drop email builder for marketing.
Similar to Revel, Lightspeed's fully-loaded software doesn't come cheap. In order to get the loyalty program, you'll need to sign up for the Advanced package, which costs $239 per month. However, for large enterprises, the cost is worth it for the value Lightspeed delivers.
Get More Out of Your POS
Having a POS system with built-in customer loyalty software can take your marketing efforts to the next level. Retain repeat customers and use utilize the system's reporting metrics to continue to delight customers and reward them for their support.
This article was originally published in January 2020 and has been updated for comprehensiveness.