If you're not sure what this is, take out your smart device and turn on its camera. Then, hover over the image without taking a photo.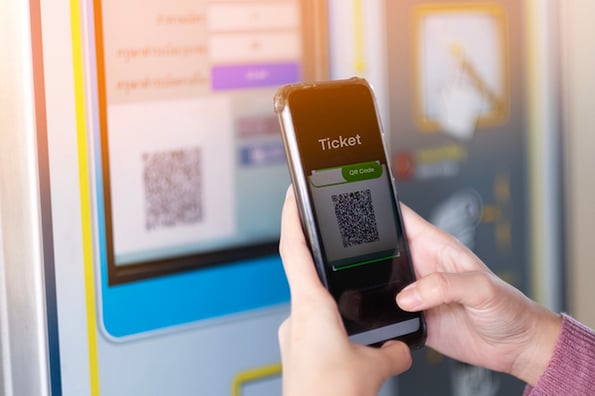 A link should appear that directs you to a cute photo of a chihuahua climbing out of a pumpkin.
This is just one use-case for QR codes and aside from helping you share adorable dog pictures, they can do a lot to digitalize the customer experience. They allow customers to instantly access information about a product, service, or campaign, just by taking out their phone and scanning a picture. In a world of instant gratification and high customer service expectations, QR codes are an excellent tool for sharing information about your company at any time and in any place.
There are plenty of brands that use QR codes, and as COVID-19 continues to affect how companies operate, more businesses are coming up with unique ways to leverage this technology. In this post, we'll look at some of the most interesting ways brands are using QR codes to support buyers and create a delightful customer experience.
7 Uses for QR Codes in Customer Service
1. Restaurant Menus
If you've gone out to eat recently, you've may have noticed that some restaurants are using QR codes in place of paper menus. Not only does this help restaurants be more eco-friendly, but it also helps them be health-conscious by removing shared menus from the customer experience. Instead, customers can use their phones to look at the menu, like in the example below.
Some restaurants take it one step further by allowing customers to order food directly from their phones. You scan a QR code at your table, select items from the menu, and the software tells the restaurant not only what you ordered, but also which table you're sitting at. This is convenient for both the restaurant staff and the customers because the staff doesn't have to check in as much on tables and customers don't have to wait for a staff member to place an order.
2. App Downloads
Even if you've created the perfect app for your business, it can be hard to get people to download it. In fact, as the chart below shows, only 32% of people in the U.S. said they downloaded an app in 2019 — which is significantly fewer than the year before.
One way you can encourage app downloads is by linking a QR code to your download page. That way, customers don't have to spend time searching for your app and can immediately start using it after they scan your code.
Dave and Buster's took this exact approach when it promoted its new app last year.
3. Product Information
If you're making a big purchase like buying a car or renting a house, then you'll want to know everything you can about the product before you purchase it. As customers, this helps us make an informed decision and reduces the likelihood of buyer's remorse.
With QR codes, you can make it easy for customers to learn about your products by linking them to product pages and knowledge base articles. Nissan did this in 2012 when it created a webpage that shared information like the types of cars Nissan offered, their key features, and availability in the customer's location.
4. Transaction Services
A new use for QR codes is with cashless payments. In fact, PayPal has created a way for customers to buy products just by scanning a QR code.
With these codes, customers don't have to worry about carrying money or losing their wallet; they can use their phones to pay, instead. And, this gives businesses an easier way to track payments, since every transaction is recorded through PayPal's software.
5. Contact Information
So far, our examples have primarily benefited marketing and customer service teams, but sales teams can also use QR codes to their advantage, too.
One way they can do this is by adding QR codes to their business cards. When customers scan these codes, all of the sales rep's contact information is automatically stored on their phone — like in the example below.
Not only does this make your business card stand out, but it saves the customer time from having to manually input all of your information. This feature can be really handy if you're working in a B2B environment and you're customers have more than one point of contact with your business.
6. Product Manuals
Want to save some money on printing?
Rather than providing hardcopy instructions, put your product manuals online and have customers access them via a QR code. The benefit of this is that you can add color, images, videos, and other elements that you couldn't include with paper instructions.
7. Product Returns and Exchange Services
There are some points in the customer experience when people want to interact with a service rep — like when you have a question, need assistance with a product, or want to share feedback. Other times, it's better to offer customer self-service so people can use your company's resources and work independently on their problems.
Take Amazon, for example, which offers a contactless return service using QR codes.
If you want to return an Amazon product, all you need to do is travel to a drop-off location and scan your QR code. Amazon will then pack and ship your item — for free — and issue you a refund based on your claim.
Generating QR Codes for Customer Service
If you're new to QR codes, there's plenty of resources that can teach you how to create them. There are also some free QR code generators that will allow you create simple QR codes like the one at the top of this post. These are great for getting started, but eventually you can customize them as you continue to implement QR codes within your customer experience.
In fact, some QR code generators let you add pictures to customize your design, create dynamic QR codes that can be adjusted in real-time, and offer detailed analytics so you can monitor engagement with your business.
For more ways to delight customers, check out these customer engagement strategies.