My first day as a remote customer service rep wasn't what I was expecting.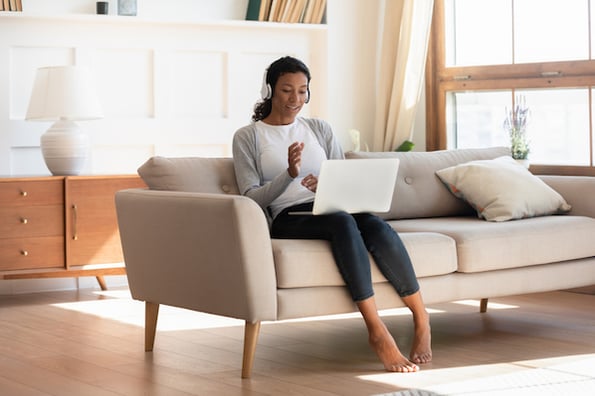 It was a few months after my start on the HubSpot Support team and I was very confident in my ability to solve cases. I was consistently meeting my daily metrics, my Net Promoter Score was nearly perfect, and I felt ready to meet the challenge of working at home.
What I didn't anticipate were the roadblocks that you don't experience in the office. I either didn't see these obstacles coming or I didn't believe they would ever affect me. But, these unexpected challenges threw me off my game and caused me to make mistakes I had never made in my career before. After reviewing the tough customer feedback, I, thankfully, realized what caused this performance and how I could act differently moving forward.
In this post, I'll share a list of these common remote customer service mistakes as well as what your team can do to avoid them.
Remote Customer Service Mistakes
Not Asking Enough Questions
Forgetting Your Laptop, Headset, Keyboard, etc.
Having Trouble Connecting to the Internet or Help Desk
Taking Too Many or Too Little Breaks
Writing Unclear or Vague Troubleshooting Steps
Getting Distracted by Your Work Environment
Needing More Energy
Not Leveraging the Right Tools
Having Poor Call Quality
Not Communicating With Your Team
1. Writing Unclear or Vague Troubleshooting Steps
If you're working in a remote customer service role, you're probably using email, phone, or live chat to communicate with customers. While these platforms all have their distinct advantages for providing support, they each share a common downfall: none allow face-to-face interaction.
When you can't see the customer — or their issue — it's hard to give them personalized advice. Your troubleshooting relies solely on your ability to ask effective questions and leading yourself to a clear explanation of the problem. And, even if you ask the right questions, sometimes customers don't always give you the most specific answers.
As a result, the customer typically gets vague or unclear troubleshooting steps. Since the service rep doesn't have all the information they need to help, they provide generic advice that isn't tailored to the customer's issue. While there's still a chance the solution will work, it might not be the best one available or best-suited for the customer's needs.
How to Avoid It:
The best place to start is by asking plenty of questions. Make sure you have a clear understanding of the customer's issue before you prescribe any solutions. Remember, customers are eager to get off the phone, so most will be happy to accept a quick fix. But, they certainly won't be pleased if they have to call back five minutes later because the first solution didn't work.
It's better to take the extra time to thoroughly sort out the customer's problem so you can confidently offer an idea that you know will work.
2. Forgetting Your Laptop, Headset, Keyboard, etc.
If you're not a full-time remote employee, you might have had that awkward moment when you wake up in the morning and realize your computer is still at the office. I know I have had to make that embarrassing commute into work only to explain to my manager why I wasn't working from home that day. It's not a fun conversation to have and it doesn't make you look like you're on top of your game.
How to Avoid It:
If you want to avoid that drive of shame into work, the best thing you can do is create a routine. Every day, I would put my laptop, headset, and mouse in the same backpack when I went to and from the office. Even on weekends, I would bring my equipment home and return it on Monday. Over time, I established a routine and never forgot to take my laptop or headset.
Another trick you can use is adding calendar events to your phone or email. You can schedule remote days into a Google calendar and even set up alerts that remind you that you're working from home the next day. This can act as an additional safeguard if you're still having trouble remembering your hardware.
3. Having Trouble Connecting to the Internet or Help Desk
One tricky roadblock that remote service teams must navigate is internet connectivity. Since your team is working from their homes, their internet connection is going to vary from rep to rep. This means that some team members may have stronger connections and faster page load speeds than others.
If one team member has an exceptionally slow connection, this will create friction between your team and the customer. Even if the employee is providing excellent service, it won't make a difference if they can't connect to the internet or their team's help desk.
How to Avoid It:
Customer service teams should work closely with IT and other internal support teams whenever they have a technical issue. There should be a clear and concise process for reporting these problems, so service reps can return to supporting customers as soon as possible.
With remote work, this process can be a bit more complicated. You'll need an internal messaging tool, like Slack, to communicate these issues between IT and customer service. You may also want to adopt an IT ticketing system so your employees can create tickets that automatically update service reps with new information or advice.
4. Taking Too Many or Too Little Breaks
When you're new to remote work, mastering the workflow can sometimes be difficult since its different than a typical office setting. With remote work, you have more personal independence and less direct authority monitoring your daily work habits. You can move around to different workspaces and create more flexible job hours since you won't have a morning or afternoon commute.
For some people, this allows them to work at a pace that they're more comfortable with. For others, it's hard to find a rhythm that both encourages a productive workday while still scheduling time for breaks and relaxation. Finding that perfect balance is the key to optimizing your workflow and consistently succeeding with remote work.
How to Avoid It:
If you want to establish a productive workflow, start with journaling your current daily routine. Jot down everything you do from the moment you wake up to the minute you clock out of work. Then, repeat this process for a week.
Once you're done, go back and review your notes. Try to determine how much time you're spending working and how much time you're on break. By visually seeing your work habits, it's easier to find areas to improve them and become more productive.
5. Mixing Up Time Zones
If your company has an international customer base, you might end up working with people from all over the world. The challenge here is that some reps might be paired with customers that are working in different time zones.
Here's an example. Let's say I'm working out of Boston, but I get paired with a customer in the UK. While my workday is just getting started at 11 AM, it's nearly the end of the customer's day at 4 PM. So, if the customer has any additional questions for me, they have to either log in outside of working hours or wait until the following day.
Sometimes, you might forget that customer is working in a different time zone than you. They might ask you to respond to their email immediately, but due to the time difference, there's still a multiple-hour delay. While you can't be on the clock 24/7, you do want to make sure you're helping them in a timely manner.
How to Avoid It:
If you find yourself in a timezone mixup, the first step you should take is to reset expectations for the customer. Let them know what time zone you're working in and when they can expect you to respond moving forward. Don't make any promises you can't keep, but be clear about when your working hours are and when the best time to reach you is.
If the customer has time-sensitive needs, offer to transfer them to another support rep that's working closer to their area. If no reps are available, talk to your manager about escalation steps. Some businesses may require the service rep to work outside normal hours or have specific teams dedicated to these types of issues. At the end of the day, the service team should do whatever makes the most sense for providing a timely solution.
6. Getting Distracted by Your Work Environment
With remote work, your personal life is connected closely to your career, and sometimes the two overlap at inconvenient moments. If you're working from your home, you may have roommates or family members who are interacting with you while you work. And, when a major (or even minor) life events happen, sometimes work needs to be put on hold until a personal situation is resolved.
How to Avoid It:
While your work environment may seem more leisurely at home, your work ethic should remain the same as it would be in an office setting. If you have chatty roommates, find a space where you can work alone. If you're parenting kids or working alongside family members, try setting "office hours" where you're only available for emergencies. Family certainly comes first, but small compromises like these can help you balance your personal life while maintaining your productivity.
7. Needing More Energy
When you're not working face to face with a customer, sometimes it's hard to portray genuine emotion during the interaction. Text-based communication like live chat and email depends solely on the phrasing and vocabulary that you use, making it difficult to show customers you really care about their problem without saying it outright. Instead, you have to rely on your writing skills, which is often subject to interpretation by the customer.
How to Avoid It:
If you aren't naturally outgoing, or maybe frustrated with the case at hand, it can be hard to sound enthusiastic when communicating through a text-based medium. However, you can work around this by speaking aloud while typing your response to the customer.
By repeating your message in a jovial or lively tone, you're more likely to use optimistic vocabulary and phrasing. You won't be as influenced by negative emotions which will likely lead to a friendlier response than if you wrote it while feeling flustered or angry. This is why it's important to be in a good mindset when working with customers, even if you aren't interacting with them face to face.
8. Not Leveraging the Right Tools
Remote work typically doesn't provide as much access to as many support resources as you would in an office. Teammates aren't sitting next to you to help and tools that you would normally use to troubleshoot an issue may not be available in your home. When you don't have access to your typical arsenal of support tools, it can be tricky to troubleshoot even routine customer issues.
Another mistake that service reps will make is not using the right tools to solve their problems. For example, reviewing a knowledge base article with a customer may work great in person, but it's not nearly as effective over the phone or through live chat. While the customer wants to learn how to solve their issue, they usually want a live demonstration when working directly with your service team.
How to Avoid It:
While you may not have access to the support resources in your office, there are plenty of troubleshooting tools built into your computer. Take the screenshot tool, for instance. If you want a customer to navigate to the same page as you, you can screenshot your interface and send it to the customer. That way, they can see exactly what you're looking at and compare it to their personal view.
Another handy tool you can leverage is a screen recorder. Most browsers, like Google Chrome, will support free applications that record short videos of your computer screen. You can execute a series of troubleshooting steps, record them, then send the clip directly to the customer. This approach is much more effective than sending screenshot after screenshot to explain a multi-step solution.
9. Having Poor Call Quality
Poor call quality can ruin a customer service case before it even begins. And, when you're working at home, there's a higher chance that you'll experience call quality issues than if you were working in an office. If you're constantly experiencing calls being dropped or having trouble hearing customers, you may need to work with your IT team to come up with a more effective setup.
How to Avoid It:
When you're having call quality issues, you should report it to your IT department and your manager. If you're working with a customer when a call drops, send them an email immediately to notify them about the mishap. It's important to send this follow up message as the customer may think you hung up on them and are waiting for your call. If you don't think you'll be able to reconnect, encourage them to reach out to another team member who can help solve their problem.
10. Not Communicating With Your Team
At home, you don't have your friendly teammate, "Mike," around to give you last-minute pointers when the customer is on hold. Sure you can send him a quick Slack message, but after a few messages in a row, Mike might be slower to answer then he was at first. And, while you might have your trusty dogs (Clipper and Scooter) to keep you company, I doubt either can troubleshoot support cases.
This feeling of isolation can actually cause problems for remote customer service teams. If reps don't feel like they can reach out to teammates for help, it will require more time to provide customers with an answer. This can cause customers to hang up the phone out of frustration or potentially churn.
How to Avoid It:
One way you can foster collaboration on your team is by creating digital communities or groups where teammates can share information. Slack is one option, but there are also plenty of other ways you can execute this approach. For example, you could use an email thread, or create a Facebook group. Just be sure to encourage regular participation and create multiple groups or threads that are specific to different support topics.
Learn more ways to improve your team by overcoming these remote service challenges.