Achieving sustainable growth for a SaaS company means constantly acquiring new customers and keeping them around for as long as possible.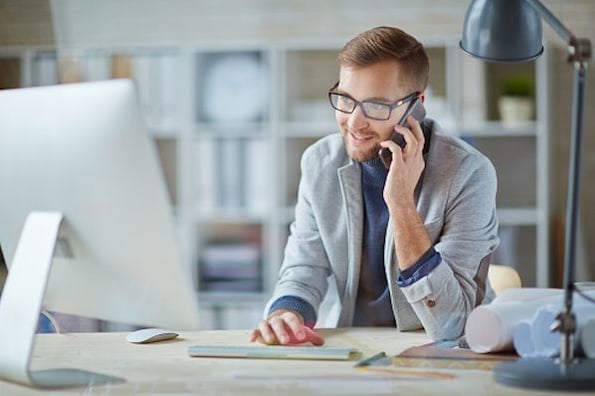 While this may sound simple, it can be incredibly challenging to find new opportunities for growth and customer acquisition in the crowded SaaS industry.
While businesses like ecommerce stores focus on generating new customer conversions through short-term marketing promotions, SaaS customer acquisition requires a much more delicate approach. Convincing someone to sign up for a new SaaS tool without building a relationship with them first is like asking someone to marry you on the first date -- your chances are not too great and you're going to look desperate. Customers need to know how your tool will help them before they sign up, and demonstrating that value can be a long process.
Why is SaaS Customer Acquisition So Difficult?
SaaS solutions typically have a fairly drawn-out sales cycle compared to many other businesses. In fact, the average length of the sales cycle for a SaaS company is nearly 3 months. That's quite a long time to be chasing someone down and asking them to buy something from you. If you consider some of the factors that lead to this extended buying process though, you'll see that it makes quite a bit of sense for customers to take their time:
High Cost
SaaS solutions aren't usually very cheap. Even with less expensive tools, customers must factor in the recurring charges that go along with the SaaS subscription-based payment model. This can add up to be a significant amount of money for some customers.
Privacy Concerns
Because SaaS solutions are based in the cloud, new customers can sometimes be reticent about allowing an unknown tool process their (or their customers') personal data on external servers without learning more first. The GDPR makes this point an even bigger concern for businesses handling the data of EU citizens because they must ensure that all of their third-party providers are GDPR-compliant as well.
Complexity
Most SaaS tools are built with deep sets of features and complicated use cases to solve complex problems for which customers may not even know the extent of their needs.
Too Many Options
The SaaS industry has exploded in the past 10 years, meaning customers have usually have several different choices when choosing a SaaS solution.
All of these factors act as barriers to customer acquisition. This is why SaaS customers require an extra level of care and education (or nurturing) to incrementally move them towards a purchase decision.
Depending on which stage your relationship with a potential customer is in, you'll want to use different nurturing tactics (both on-site and external messaging) to communicate your value to them. That's why you need to map out your customer acquisition cycle to better understand what steps potential customers need to take before they sign up for your solution.
How to Track Leads through the Stages of SaaS Customer Acquisition
There are 4 unique stages that leads go through before making a purchase and becoming SaaS customer:
Awareness: Prospects first become aware of your business. This is usually the stage in which leads find you through a blog post or other content. Often, they're not looking for a solution at this stage, and they may not even be aware that they have the problem your product solves.
Engagement: Potential customers start regularly consuming your content, subscribe to your newsletter, and maybe even download an eBook or other resource from you. They are more aware of the problem you solve and begin questioning whether they need a solution.
Exploration: After learning that they have a problem and need a solution, prospects will do research on their options. This usually means visiting your pricing page, reaching out to sales, requesting a quote, or signing up for a free trial or free account to test out the product.
Conversion/Retention: Once prospects have fully explored all of the options you offer, they sign up for the plan that's right for them and become a paying customer. Now it's all about making sure they succeed with your tool and continue to be an active user.
Think of these stages as part of one large SaaS customer acquisition funnel. At the top, you have all of the traffic to your website and people who know you from ads, the media, or industry events and the bottom is all of the people who end up becoming a customer. Each stage of the acquisition process becomes a bit narrower as fewer customers continue to pass through. Your goal is to keep this funnel as wide as possible throughout every stage.
To do that, it's essential that SaaS companies develop a unique strategy for targeting leads according to these different stages. For example, you wouldn't want to treat a potential customer who just visited your site for the first time the same way that you would treat someone who has already contacted your sales team for a quote.
The easiest way to identify and keep track of these leads are in the buying process is to implement a lead scoring system. Lead scoring allows you monitor the behavior of your leads using marketing automation and assign them a score that increases when they perform conversion-oriented actions (e.g. signing up for your newsletter, downloading an eBook, visiting your pricing page more than once in a week, etc.).
You can then use this lead score to classify potential customers into the different customer acquisition stages. Once you know which stage a lead is in, it's much easier to tailor your communications accordingly and focus on continuing to guide them towards acquisition.
How to Guide Leads from Awareness to Conversion
As mentioned earlier, each stage of the SaaS customer acquisition process requires a different approach to gently push leads through the buying journey. Let's talk about the different tactics you can implement at each stage to create an optimized customer acquisition funnel for your SaaS business:
1. Awareness: Build trust and authority.
Awareness is exactly what it sounds like: customers are just becoming aware of your brand. This usually means they found you organically through one of your blog posts, a mention in the media, ads, or word-of-mouth.
Generating more leads at this stage means increasing overall brand awareness. There are four main ways that you can do this:
Boosting organic traffic by refining your SEO strategy
Getting in front of the right audience through PR initiatives and events
Encouraging current users to invite their network through word-of-mouth
Promoting your content or product through paid advertisements
The priority level for each of these tactics may vary depending on your audience. But, it's best to implement all of them on some level so that you are reaching the most diverse audience possible on all fronts.
2. Engagement: Educate leads and be a resource.
Now that you've got their attention, you need to attract leads into your customer acquisition funnel. To do this, you need to get their contact information.
Optimizing on-site calls-to-action to promote your newsletter, downloadable content resources, or other gated resources (web apps, webinars, etc.) is the best tactic for getting unknown leads into your acquisition funnel. You can test different types of opt-ins (pop-ups, slide-ins, in-line, exit-intent, etc.) to see what works the best for you. Just make sure you're not overloading your page with too many CTAs -- you want to find a balance that encourages a signup without disrupting the user experience.
Once you have their contact information, you can start the real lead nurturing process with more direct forms of communication. But, if you have European customers, don't forget to check that your subscription forms are GDPR-compliant before communicating with leads beyond this point.
The engagement stage is characterized by known leads returning to your site, usually to consume more content. The most common entry point to this stage of the SaaS customer acquisition cycle is when a lead signs up for your newsletter or gives you their email address to download an eBook. These actions demonstrate a deeper interest in your content than that of a casual visitor, which means there's an opportunity to continue educating them on topics related to your product.
Guiding Leads from Engagement to Exploration
The engagement stage can sometimes be the longest part of the process. The reason for this is that leads are still trying to determine if they can trust you or not. They also might still need convincing that they need a solution for the problem you're solving in the first place.
Monitor the level of engagement that leads demonstrate during this phase. As they begin to show more interest (clicking in multiple emails, downloading eBooks, etc.), start tailoring your communications with content that is focused on highlighting pain points that you solve with your SaaS product.
This could be tutorial-style articles that focus on certain features you provide, showing readers how to solve a very specific problem with your tool, or a case study that showcases the benefits of your tool in a real-world business scenario. Sending out this content will help generate more interest in your actual solution, rather than just your articles and resources.
As you send these follow-up messages, you can start directing leads to your product feature pages or pricing pages to learn more about your solution. If you have a free trial or freemium business model, you should also be heavily promoting this to encourage leads to give your product a test drive. It's usually a good idea to include these CTAs in both your nurturing emails and directly in the more acquisition-focused articles that you're sharing. Here is a great example from Litmus showing a customer case study with a CTA to start the free trial.
As leads continue reading this content and visiting these pages, their mindset will gradually shift from wanting to read your content to aligning your solution with their own needs.
3. Exploration: Convince leads to convert.
Exploration is the final stage in the customer acquisition process before leads take the plunge and convert. At this point, they've moved beyond just reading your blog articles and ebooks and started showing a genuine interest in your product offering. They've started looking at the specific features that you offer and comparing the different pricing plans available. Depending on your business model, leads in this stage may have also reached out to your sales team for a quote or started using your product as a free trial or free account user.
Nurturing in the Exploration phase is is all about highlighting the benefits of using your solution and showing leads why they need to become a paying customer. However, the process you need to take to achieve this will depend on your business model:
Free Trial
Offering a free trial means that you're giving users access to the full functionality of your solution for a limited period of time. Your focus should be promoting customer success early-on with welcome emails and on-site notifications to guide them through setup and using your platform.
The more success they have during the trial, the more value they'll see in your product, increasing their likelihood of continuing to use your product beyond the free trial. As they get close to the end of their trial, you should also send a few messages reminding them to sign up for a paid account. Use these messages to remind them exactly of what they'll miss if they don't upgrade after their free trial by highlighting specific use cases like the example from Dovetail below.
Freemium Model
Freemium SaaS tools allow users to create a free-forever account that provides limited access to the features offered in the paid version. The focus for businesses using this model should be highlighting the limitations -- subtly of course -- to encourage free users to upgrade.
Use your onboarding emails to point out what free users are missing by not having a paid account. After that, you should add upgrade CTAs to any other communications you send out. Here is a great example of this in action from Bitly at the bottom of their weekly report email.
They also have a CTA in the actual platform reminding users that they should upgrade to the higher plan.
This is an effective reminder that there is more in the platform than what the free account offers, which is a great way to increase upgrades to paid accounts.
No Free Trial or Free Account:
If your business doesn't offer a free trial or free level account, you'll have to convert them the old-fashioned way: targeted messaging and a personalized sales approach.
Most of the job from here will likely fall to your sales team if this is your business model, but you can continue to support them with targeted messages featuring case studies, webinar recordings, or other high value content resources. However, the main goal of these messages should be to direct them back to your sales team, either for scheduling a demo or a follow-up sales call.
4. Conversion and Retention: Keep them coming back for more.
Although the final stage is "Conversion and Retention," it's really more about retention. This is the stage in which leads have already converted into paying customers, and the goal is more about making sure they stick around and continue to be paying customers. Because SaaS businesses operate on a subscription-based payment system, current customer retention is of equal, if not greater importance than pure new customer acquisition for SaaS revenue growth. That's why retention is always part of the customer acquisition lifecycle discussion for SaaS businesses.
While there are many tactics you can use to improve customer retention, many revolve around the idea that successful and happy customers don't churn. We already mentioned how important customer success was for free trial users to demonstrate the true value of your product and convince them to sign up. The same idea applies to actual users as well. The more success they have with your SaaS tool, the more likely they'll be to keep coming back.
The best way to promote customer success is to start fostering a supportive atmosphere right at the beginning of the customer's experience with your product. Focus on creating and effective welcome email or onboarding services that will get customers started off on the right foot with all the tools they need to succeed and find help if needed.
Of course, it doesn't stop there. The goal of SaaS customer acquisition is to gain as many new customers as possible, and keep them around for as long as possible. That means you should continue building relationships through regular interactions with your customers even after they sign up.
Create a newsletter exclusively for users that includes product updates, company news, and interesting articles.
Contact your active users to let them beta test new products or features for free, or promote them as an upsell or cross-sell to provide users with even more value from your product.
Send customer satisfaction surveys in order to get direct feedback on how to keep improving your product and business for future and current customers.
The Key to SaaS Customer Acquisition
Tackling the SaaS customer acquisition cycle is not for the faint of heart. It requires a lot of work, and most importantly, a deep understanding of your customer and their needs to create an SaaS acquisition strategy that works.
When you're applying these principles in your own acquisition efforts, be sure to always put your customer's needs first. By focusing on their benefits and what they're looking for in a solution, leads will be much more receptive to your messages. Keep this in mind and find ways to guide them through the acquisition process with helpful interventions that come at the right time and add value to their experience. This will lead to much more success in the long run.