Helping the right people at the right time is the essence of customer service. Today, the right time means real-time. And, the right people aren't only the ones who ask for your help but the ones that need it, often before they even know they do.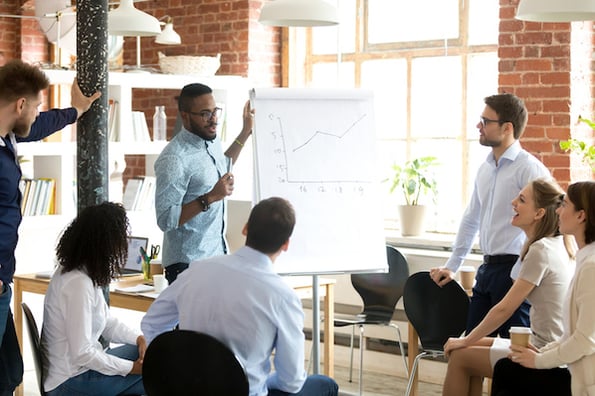 Successful customer service teams are proactive, flexible, and dynamic. Their agents know how to talk with customers and how to communicate internally. This requires a set of unique skills, tools, and strategies that these teams have mastered through an effective onboarding program.
Now, when acronyms like SaaS or B2B come into the equation, the stakes are raised even higher. In this post, we'll explain the differences between SaaS and traditional customer service, then provide you with a guide for building your own SaaS customer service team.
If you're looking for something specific, here's a table of contents that can help you navigate this page:
Table of Contents
SaaS vs. Traditional Customer Service
Creating a candidate profile and writing a compelling job post.
Interviewing candidates and testing for specific skills.
Building a support team with complementary skills.
Introducing clear and transparent employee practices.
Teaching agents how to deal with difficult customers.
Monitoring the right customer service metrics.
Setting customer service goals.
Optimizing your customer service workflow.
SaaS vs. Traditional Customer Service
When your job is to support business owners who have problems with their advanced software, you're going to field more than just complaints about cold pizza. While both cold pizza and SaaS issues merit a thoughtful response, SaaS customer support involves more than solving isolated problems. Their customers are usually paying for a subscription service, so these companies are focused on assisting users throughout their customer journey.
To do this, your service team needs to know your customer base inside and out. Your agents should be in tune with your customers' needs and focused on solving for short- and long-term goals. You also need the right tools for the job. Having the proper software to troubleshoot your product is key to providing quick solutions.
How do you build a team like this?
We spoke to several SaaS experts to get their insight on customer service. We came up with the guide below that you can use to create a customer service dream team at your business.
How to Build a SaaS Customer Service Team
Here are some of the best ways to improve your SaaS support team.
1. Create a candidate profile and write a compelling job post.
Talented customer service specialists don't grow on trees. To hire one, you need to put a lot of time and effort into finding the right person for the role.
Your company's head of customer success/service should be the person that decides who's the best candidate for the job. If that happens to be you, it's important that you communicate your requirements to your HR team. Here's a sample candidate profile that you can give them.
Enthusiastic
No signs of occupational burnout
Eager to learn new things
Goal-oriented
Ambitious
High emotional-intelligence
Multi-tasker
Additionally, your job posting's copy should be exciting, but remember to include detailed requirements as well. You should tell candidates:
What your company does and what makes it special.
Their responsibilities and how they can impact the company.
The list of must-have requirements for the role.
The expected salary for this position.
For example, below are two sections from Tidio's Customer Support Specialist description.
Job requirements for candidates:
Must-have: excellent written communication skills
Logical, problem-solving thinking and a strong interest in technology
Must be willing to work in a fast-paced environment with a proactive attitude.
Open-mindedness - you need to think fast, unassisted, and work without a script.
An understanding of e-commerce or software is a plus.
Tech enthusiasts, science grads are most welcome.
2. Interview your candidate and test for specific skills.
Some of the most important personality traits for customer service are impossible to measure from reading a resume. To hire customer service rockstars, you need to meet them face to face, even if that means an online call.
Saas Customer Service Skills
While interviewing your candidates, try to seek out these qualities:
Outstanding communication skills
Perfect grammar, fluency, and vocabulary
Enthusiasm, readiness to learn and grow as a person
Analytical and problem-solving skills
High levels of empathy and emotional intelligence
SaaS Customer Service Interview Questions
Here are some interesting interview questions that Sagar Rawlani, a customer success manager at Automate.io, uses with his candidates.
How would you compose a reply to a customer request/feature request that's not in the product's roadmap and is out of scope?
If you don't know something, do you dig in and try to get to the resolution or do you immediately ask your team members for help?
Are you a person who loves working on a product you've mastered or learning a new product and mastering that?
What do you do when no one can help you?
What was your toughest customer service experience?
How do you handle irritated/angry customers?
What's your definition of empathy?
Empathy should be the most important characteristic to look for in a candidate. In fact, G2 considers it to be the most important customer service skill.
Empathy is crucial because it's difficult to read people based solely only on what they write. In 2019, only 18% of Americans chose phone/VoIP as their preferred customer support channel. This means that most customer communication is still text-based. Agents have to pick out small signals and adapt their tone to the situation and mood of specific customers.
In some scenarios, your reps can even admit to customers that they're not 100% sure if something will work. By doing this, they acknowledge that they're working toward the same goal and have thought critically about the situation. Once your customers notice that you're working towards a shared objective, they'll be more engaged.
"We need to test how attentive, empathic, and flexible the candidates are. We can teach them some advanced technical stuff later on, but empathy is the key."

-

Olek Potrykus, Head of Customer Success at Tidio
Here's a sample interview task that you can use to evaluate the empathy level of a candidate.
Meeting your requirements and passing your tests should be challenging. For example, the recruiting funnel below shows the percentage of candidates who recently applied for the Customer Support Specialist position at Tidio.
3. Build a support team with complementary skills.
In SaaS customer service, you need to balance two skills - empathy and technical knowledge. Both soft and hard skills are essential for creating a SaaS support dream team.
But, you can't help customers without a thorough understanding of what's going on under the hood of your software. Great communication skills will not make up for it, especially when a customer is waiting urgently for an answer.
Typically, SaaS companies hire customer service specialists who easily adapt to new technologies, are great with people, and are eager to learn. If they tinker with code and software design, that's something extra that works to their advantage.
But, sometimes taking a different approach to hiring can bring great results as well. Take Tidio, for example, where Olek Potrykus, Head of Customer Success, admits,
It's possible to learn basic coding and guide customers through common troubleshooting scenarios. But, your support will be very limited if you don't involve developers in your customer service workflow. Admittingly, this can be tricky, as you can't simply hire someone with great IT skills and mold them into a helpful and empathic person.
You can, however, schedule shifts and organize teams in ways that complement each other. For instance, some agents may be better at solving certain cases or working with a specific user segment. By distributing agents with different skills and characteristics throughout each team and shift, you'll provide customers with a more complete support system.
And, agents can reassign cases to reps who are best suited to solve the customer's issue, like in the example below.
Another good example is OroCommerce. Its tech support consists of a core team of developers who rotate in sprints to handle support requests. These agents have worked on client projects before and they understand the business issues that customers may run into. Additionally, a head developer oversees the support team for consistency and quality.
"Running a support team this way costs the company more, but we are investing in our customer's satisfaction."

-

Andrew Gerasimov, Vice President of Client Services at Oro Inc.
4. Introduce clear and transparent employee practices.
Once you hire talented people, the next step is introducing them to an onboarding process that's smooth and easy to navigate. It should familiarize new employees with the following aspects of your company:
Your product
Your workplace culture
The organizational structure of your company
Internal and external communication channels
Tools used for collecting and finding data
You can improve the onboarding of your new agents by breaking it into stages. For example, LearnWorlds has 3 onboarding stages:
One-to-One Onboarding: The new agent goes through processes, product and live examples of how to handle tickets.
Self-Onboarding: The new agent takes an online course from LearnWorlds Academy guiding them through the platform, case studies, scenarios, tests, and software.
Apprenticeship: The new agent takes real tickets to tackle with the team leader giving feedback on each reply before it's sent to a customer.
Thorough product training is also extremely important for new customer service employees because this experience will shape the way they interact with customers. For instance, if they struggled with understanding how a specific product or feature works, they'll relate to clients who have similar frustrations.
Working in a SaaS environment requires at least a cursory understanding of software development frameworks and methodologies. At first, your new customer service reps may be overwhelmed by the amount of information they need to retain. Wiki apps like Confluence or Notion can ease this stress by creating a single space where information is easily accessed and updated.
Your knowledge base is the best place to put your workflow charts, conversation routing procedures, and policies regarding difficult customer scenarios. You can also create diagrams or videos that illustrate complex processes.
Here's an example of what this might look like:
To make things even smoother, you can launch automatic email sequences or send chatbot messages to new members of your team. Sending daily tips is far better than throwing everything at your new agents at once and it can make your onboarding process much more efficient.
Real-time internal communication is equally important as well. Stefan Debois, the CEO of Survey Anyplace, stresses that when a new member joins their customer service team, it's key to optimize the communication flow, both internally and externally.
To do that, agents need access to a variety of apps that encourage internal communication. Below are a few that your team may find useful.
SaaS Customer Service Software
HubSpot Service Hub
Confluence/Notion
JIRA/Trello
Slack
Google Drive
Filecamp
Productboard
Grammarly/Hemingway
Zapier
TeamBuzz
5. Teach your agents how to deal with difficult customers.
As a customer service agent, you need to show empathy and understanding - but that shouldn't be your vulnerability. Some customers have specific or time-sensitive needs and will commit to a solution that your team is unable to provide. These cases are difficult to handle because they're non-standard. The more your team encounters them, the better they become at improvising and solving them.
Here are some evergreen rules to follow:
Don't take it personally.
Don't argue.
Remain calm.
If you can solve their problem, do it.
If you can't solve their problem, connect them with someone who can.
If there's nothing you can suggest, be direct and ask customers how they would like to solve this situation.
Remember, customer service doesn't end when you receive a negative review. It's an invaluable opportunity to react and connect with customers. Sometimes users are impulsive, impatient, and they act first and ask questions later. They write negative reviews because a feature "doesn't work" only to discover that they didn't know how to use it properly.
When customers leave negative comments or give you a one-star review, don't get angry. Intervene instead.
A good mindset is to assist your customers no matter what. If they're unsatisfied, now is the best chance to clear the air and make things right.
Another important rule is to know your limits. In some cases, it's impossible to provide an instant solution during a single conversation. Sometimes operators feel obligated to take personal responsibility for helping each client. And, while they mean well, they can overdo it and frustrate the customer. It's important to know where to draw the line and admit that you can't help the customer right now, but you'll contact them later via email.
6. Monitor the right customer service metrics.
To provide incredible support you need to be a step ahead of your customers. Start with mapping your customer journey and segmenting your customer base. You should also use CRM solutions that allow you to get real-time insights and details about every person you're speaking with.
If your product connects with a platform or other software solution, make sure you know where your users are coming from. For instance, 44% of Tidio subscribers use Shopify and 25% of them use WordPress. Different platforms use different terminology to describe similar things, and it's important to be on the same page.
You should also take into account that you work with different types of companies and customers with different expectations or levels of technical proficiency. Make your support team address those differences early on, and the quality of your communication will increase dramatically.
SaaS Customer Service Data
Some of the most important data you should track is:
Average Response Time
Monthly Number of Customers Per Operator
Average Resolution Time
Number of Conversations Grouped in Categories (pricing queries/setup queries/general questions/technical issues, etc.)
Customer Satisfaction
Additionally, you can try to figure out the connection between these metrics and your conversion rate and churn rate. It may turn out that there's a correlation between the number of monthly conversations and your CSAT.
7. Set customer service goals.
Keeping your CSAT or NPS high is one of the most common goals for customer service teams, but you can also be creative.
One of the recent KPIs of the Tidio Support Team included reducing the churn rate by 2.5%. This decision was grounded in a firm belief that proactive customer service is the secret weapon of SaaS companies.
A customer who can't find a solution to their problem will most likely churn. A good customer service team can rescue those clients.
How?
Suggest solutions that correspond with your customer success indicators. It's much more effective to prevent your current subscribers from leaving than to acquire new ones. In the case of subscription-based solutions, showing the value of a product and teaching how to succeed with it is critical.
Note that you can use proactive customer service to narrow this activation gap. Take a look at the chart below as it shows how interactions with customer service influence purchasing behavior.
Once your customers realize the value of your product first hand, they're more likely to stay with your app. So, have your customer service team assist them with onboarding and help them achieve their first 'aha moment.'
8. Optimize your customer service workflow.
By now, your customer service team is alive and kicking. But, what's the typical number of daily conversations a SaaS live chat operator can handle?
"We've found out that approximately 30 customers per day is a threshold after which an operator gets tired and stressed. Each case is different, but keeping this number between 20-30 is a good rule of thumb." - Olek Potrykus, Head of Customer Success at Tidio
And, what if your customer base is growing exponentially and you're struggling to keep up with user demand?
After collecting more than 40,000 queries from Tidio customers and putting them into different categories, the Tidio customer service team figured out that there are approximately 250 conversation scenarios and common issues that their team encounters. They then created an FAQ chatbot and integrated it with their knowledge base to reduce their workload.
Additionally, they discovered that the combination of chatbot self-service and live chat support is like peanut butter and jelly - the whole is better than the sum of its parts. Here are the details.
Users who read the knowledge base but have never contacted support are slightly more likely to become customers than those who reached the customer service team with live chat but never checked any knowledge base article.
However, once they've done both - talked with the support and visited the knowledge base - their probability to convert becomes 4 times higher compared to performing only one of those actions.
That's why it's important to not only assist customers, but also empower them by encouraging them to read knowledge base articles and troubleshooting on their own. Chatbots and knowledge bases improve the workflow of the team, but they also increase your sales as well.
Now that you've built your customer service dream team, arm them with a SaaS help desk.