The happiness of your customers should always be your business's number one priority. And, what maximizes customer satisfaction is perfect products and services that work exactly as designed and never fail or break. While you should certainly strive for this type of perfection, not every business can create the unbreakable comb.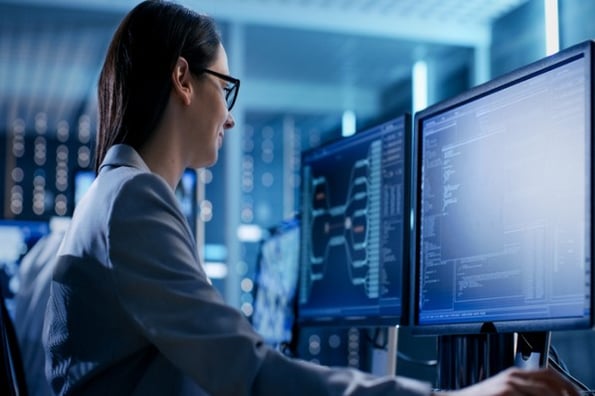 Rather, the next best thing is having a support process that's efficient and effective. Customers want their problems addressed immediately -- after all, 90% of customers believe an "immediate" response is "important" or "very important" when they have a customer service question.
Help desk software greatly reduces the time it takes for a support agent to resolve customer issues. It streamlines tickets from a variety of platforms onto one, easy-to-use software. Rather than sifting through endless emails, voicemails, messages, texts, and posts, agents will have an organized system for providing above-and-beyond customer service
Some help desk software is better suited for specific industries. That's because companies are going to have different service needs depending on the goods or services they offer. For example, if you're a SaaS company, you'll need a help desk that provides a ticketing system and supports a range of app integrations.
In this post, we'll break down how SaaS businesses should choose their help desk software. Then, we'll list some of the best help desks available for your team this year.
How to Choose SaaS Help Desk Software
It can be difficult to choose the best help desk software for your company when there is a plethora of options available. To help you make your choice, here are some features to consider when making your decision:
1. Ease of Ticketing
Most importantly, you'll want to determine whether the process of creating, routing, "adjusting, and closing tickets is on par with what your business needs and expects. You should be able to create a ticket for a customer and route that ticket to the appropriate team or individual who can best address it.
You should also be able to make modifications to the ticket as you gain more information on the customer's situation. And, once the problem has been fully resolved, you should be able to close the ticket and save it in your records as a resource for future inquiries.
2. Variety of Channels
You could adopt a separate help desk for each support channel you use, but that would be incredibly inefficient, confusing, and wasteful of funds. Rather, you'll want to find one software that can support all of your communication channels, including email, social media, SMS messaging, and VoIP.
3. Self-Service Portal
Some questions are so fundamental that customers waste time contacting your support team for an answer. This is where it's helpful to have a self-service portal that gives users get quick answers to simple questions.
And, a self-service portal doesn't just help your customers. It can also be used as an internal help desk, offering agents step-by-step guides to complex inquiries that can be easily copied and sent to customers. Rather than spending time rewriting the same troubleshooting steps, your reps will have a canned response ready to go for almost every service request.
4. App Integrations
Help desk software that can integrate with other apps like scheduling, project management, and internal messaging, is significantly valuable to your organization. Information that's gained through the help desk should be stored and available on every app that you use. Additionally, all data gained externally should be uploaded into your help desk so that your information is stored in one location.
Centralizing your information makes it easier to access and share it with everyone at your company. Whether they work in marketing, sales, or product, it's important that every employee has access to customer data that's relevant to their work. The right help desk can streamline this information so employees can find exactly what they're looking for at the moment they need it.
Based on these features, we have curated a list of the best SaaS help desk software to try out with your own company.
Best SaaS Help Desk Software
HubSpot
ManageEngine
JitBit
HappyFox
Samanage
Freshdesk
Cayzu
Kayako
1. HubSpot
HubSpot's Service Hub is a help desk that helps you record, organize, and track customer tickets through a shared inbox. It uses routing, automation, and prioritization to speed up the ticketing process for your service team. Additionally, HubSpot's Conversations tool is capable of receiving tickets from online forms, email, and even live chat.
For self-service tools, HubSpot's knowledge base feature lets agents compose support articles, documents, and FAQ pages that are indexed in search engines for public access. And, you can integrate HubSpot products with hundreds of apps, like Zapier, Eventbrite, TapClicks, Facebook, SurveyMonkey, WordPress, and more for a complete, omni-channel experience.
Price: Free
2. ManageEngine
ManageEngine's SupportCenter Plus offers options to customize, automate, and organize tickets for a smoother workflow. It features multi-channel support and accepts tickets through email, phone, social media, and a special customer portal. The software also has a self-service portal where customers can track their tickets and access a knowledge base.
SupportCenter Plus integrates with JIRA, various CRMs, Twitter, and more. The product is also available in 16 languages to support international businesses and customers.
Price: Free
3. JitBit
Jitbit comes packed with plenty of features like two-way email integration, asset management, custom domain integration, multilingual capabilities, live chat and knowledge base tools, and an authentication API for existing web apps.
Voted among the best helpdesk by GeekFlare, JitBit also lets you set up automation rules with smart filtering, and lets businesses handle tickets from an iOS or Android device as well. Popular customers of JitBit include Microsoft, VMWare, Adobe, Xerox, and General Electric.
Price: $29/month
4. HappyFox
HappyFox's help desk software supports ticket templates and canned responses, as well as the ability to create ticket queues. It features omni-channel support, covering email and social media channels. Live chat can also be integrated with the HappyFoxChat app and phones can be added via app integration.
HappyFox provides a 24/7 self-service portal which includes a community forum where users share creative solutions to common roadblocks. The software can also integrate e-commerce, sales, survey, and social apps to centralize your information into one place. Lastly, you can review the performance of your support team using the software's live reporting tools.
Price: $29/month
5. Samanage
This help desk software has an incident management feature that receives, manages, and prioritizes tickets through a simple interface. Ticket routing can also be automated and receive inquiries from multiple channels, including email, phone, service portal, and face-to-face interactions.
The software also comes with self-service and knowledge base tools, though both are geared primarily towards internal usage. However, the Samanage Service Platform can be integrated with over 200 cloud apps, such as Google Analytics, Slack, DropBox and more so that your business can provide customers with self-service support options.
Price: $19/month
6. Freshdesk
Freshdesk uses a shared inbox that lets agents easily access, assign, prioritize, and merge tickets. These tickets can be collected from email, phone, live chat, websites, Facebook, and Twitter, so no inquiry is left unanswered.
The self-service portal is great for both employees and customers. Customers can partake in community forums and research the knowledge base, while employees can receive feedback through the same interface. Freshdesk can also integrate with apps like MailChimp, Shopify, Office 365, Loyal Guru, and more so your team can use all of its service tools in one place.
Price: Free
7. Cayzu
With a well-rounded ticket process, you can use Cayzu to create custom rules for ticket assignment, priority, and closure. And, these aren't just for tickets that you receive from email and phone; Cayzu supports ticketing for a variety of social media platforms, like Facebook, Twitter, Instagram, Google Plus, and more.
Cayzu empowers customers to submit and track tickets on their own, as well as browse through FAQ pages, news stories, and informative articles on your knowledge base. App integrations include invoice and billing apps, CRM apps -- like HubSpot -- live chat, and more.
Price: Variable
8. Kayako
Along with ticket creation and automation, Kayako gives you a full picture of the customer's journey before the ticket, including previous purchases and service issues. Kayako's omnichannel support covers email, live chat, phone, Twitter, Facebook, and self-service tickets, so you'll never miss a conversation.
The self-service portal includes articles that can be reviewed by customers, allowing you to continuously improve your existing resources and add new ones based on what customers are searching for. You can also integrate the software with a variety of apps, like LinkedIn, Facebook, and Slack.
Price: $15/month
For more ways to improve the customer experience at your business, read these customer success strategies.