Once you start meeting and exceeding your customers' expectations, you can start asking them to help you -- by writing reviews, serving as case studies, and writing testimonials.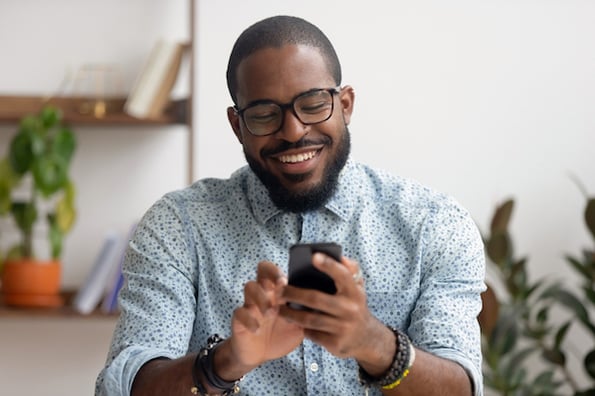 Because that's the ultimate goal of working in customer service -- to help your customers grow to the point where their love of your brand is so undeniable that they start telling their friends and family to become a customer -- and they become a brand evangelist to millions of strangers on the internet scouring for honest, trustworthy reviews.
And, these testimonials and reviews are gold -- because leads trust the honest opinion of your customers way more than your marketing content and sales reps: 85% of people trust online reviews as much as recommendations from friends and family, and 91% occasionally or regularly check online reviews before making a purchase.
Once these people start reading reviews and learning more about your company, they might become leads that are virtually free to generate -- who are already more inclined to give you their business because they trust the honesty of your existing, happy customers.
Read on to learn exactly how to use customer testimonials as a lead generation engine for your sales team.
What Is the Goal of a Testimonial?
The goal of a customer testimonial is to generate leads for your sales team while simultaneously building customer rapport. To do this, customer service and marketing teams need to leverage positive reviews as an acquisition tool, which helps sales reps attract and convert valuable leads.
But, converting leads shouldn't be your only goal for testimonials. In fact, if you prioritize conversion over customer experience, you'll struggle to generate positive reviews. And, without positive reviews, you don't have any content to attract new leads with.
Instead, your customer service team should focus on smaller goals that will lead you toward lead generation. Below are a few examples.
1. Building Customer Rapport
If you want to ask a customer for a testimonial, you should have a previous relationship with them. They could be a long-time customer or someone who's constantly boasting about your company. But, before asking for a review, be sure to reach out and converse with them to develop your rapport.
While you may have earned their trust by providing excellent products and services, asking for something in return is a little bit different. If you don't have an open dialogue already, it can be awkward to reach out of the blue and request a testimonial. Instead, if you're constantly engaging with customers who show interest in your brand, you'll find plenty of opportunities to ask them for a review.
2. Improving Customer Experience
This goal is relatively straightforward. If you improve customer experience, you'll delight more people and generate more testimonials.
But, this is where consistent engagement is incredibly important because only 28% of positive customer experiences end with leaving a review. And, that's frustrating too, because 50% of people will leave a review if you ask them, regardless of their experience.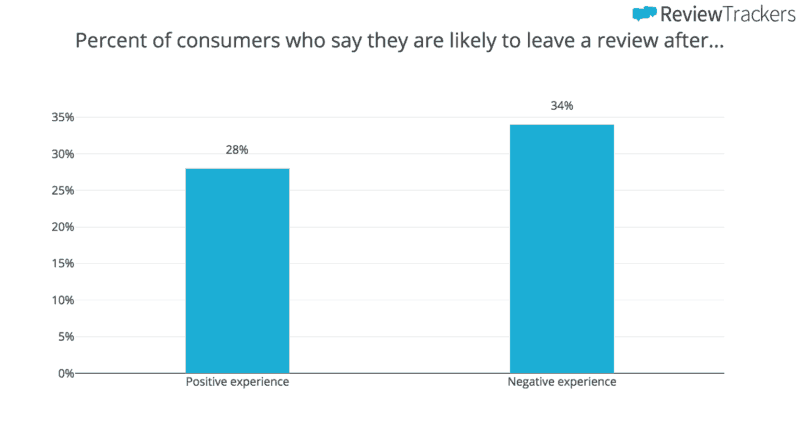 Image Source
So, if you're putting in the effort to enhance your customer experience, be sure to include feedback collection features that capture positive customer stories. This can also be a great tool for starting a conversation and asking for a testimonial.
3. Highlighting Customer Success
Customer testimonials are excellent opportunities for showing that your business understands customer needs. That's because the customer's story highlights how your company helped them succeed and achieve their goals. That way, leads who have similar problems can trust that your business can help them.
If possible, try to select a customer story that represents your target audience. This will help you appeal to a larger audience that all have similar needs.
4. Understanding the Customer Journey
While marketing and customer service teams often focus on negative feedback, there's still much to learn from positive reviews. They tell you what your company is doing right and what you shouldn't change.
Testimonials are in-depth looks into customer success stories. They demonstrate what the ideal customer journey looks like and what strategies you should implement with new customers. Understanding this portion of the customer journey map will help you replicate customer success and generate future testimonials.
5. Creating Brand Awareness
Even though this a marketing goal, customer service teams should be aware of how testimonials impact your brand's reputation. So, be sure to educate reps about how important reviews are to your business and why your service team should be monitoring them.
If possible, encourage your reps to flag customers who may be good candidates for testimonials. For example, if a rep keeps having a positive experience with a customer, notify the marketing team so they can reach out to collaborate on a review. This connects your customer service and marketing team and keeps your flywheel running smoothly.
Now that we've covered the goal of testimonials, let's review how you can put them to action for lead generation.
8 Ways to Use Testimonials for Lead Generation
1. Use social proof.
In many industries, there's nothing more powerful than social proof -- and if you don't already do this with every customer, you should.
Figure out your 10 most profitable customers, nurture your relationship with them, and ask them specifically what they've gotten out of working with you. Then, figure out how you can craft those stories into testimonials or case studies to show these examples to prospective future clients.
Social proof is all about the power of the crowd -- so make sure you have lots of different examples of happy customers you can share on social media, your website, and at events.
2. Use visual content.
What's even more engaging than words written by your happy customers? Video content.
For a few of your most enthusiastic customers, invest in filming a testimonial video to accompany their words to really bring them to life. Whether you make your own video with a few pieces of equipment and software or hire a production company, the video will tell your story across different media -- on your website, YouTube, and social media -- in a unique and engaging way.
3. Focus on tangible impact
Third-party validation of your company is a fantastic way to show others you know what you're doing -- but make sure the testimonials aren't vague and fluffy. The most effective testimonials are specific, and refer to the tangible impact the product or service had on their business results, so ask customers specific questions to get the specific answers you want.
4. Feature content wherever possible.
If you have especially compelling case studies, put a link to them on your blog, in your email signature, and in all of your social media profiles. The more places potential customers can see the results of your work across different media, the better.
5. Make testimonials trustworthy.
One problem with testimonials is that even if they sound great, their authenticity can't be verified because there is no backlink to the reviewer's website or social profile.
You can create more trust by making sure that your testimonials can be traced back to a real person. Not many people will actually contact the reviewer, but the thought that they could may have a huge impact on making the decision to buy.
6. Tailor testimonials to different personas.
Testimonials are meant to demonstrate success, so many of your potential customers will look for these types of demonstrated successes from customers like themselves.
With this in mind, you should build case studies that feature customers that are similar to the demographics of the different personas you're trying to attract, as well as the goals they are trying to achieve.
7. Use public speaking.
You can even turn a happy customer's success story into a roadshow presentation.
If your company is representing itself at trade shows, conferences, and events, make sure you have a compelling customer story to tell that's bigger than a sales pitch. Whether it's your company's leader, a customer success manager (CSM), or the happy customer themselves, tell the story of your happy customers in as many ways as you can -- in front of as many potential customers as possible.
8. Feature your best-fit customers.
If you have users that are celebrities or influencers within their community, highlight their testimonials so that prospective buyers can think, "I know her and I trust her opinion."
You can also consider featuring happy clients that fit the exact same demographic as your highest paying customers. As long as they are somewhat relatable, you'll be sure to grow your leads and overall sales through testimonials.