Before the internet paved the way for digital communication, deals were closed with a handshake and a check passed across a table or counter. Businesses had more in-person opportunities to build rapport with customers and they had more time to learn who they were doing business with and what pain points kept them awake at night. This helped customer service teams personalize solutions and gauge customer satisfaction through verbal and nonverbal cues.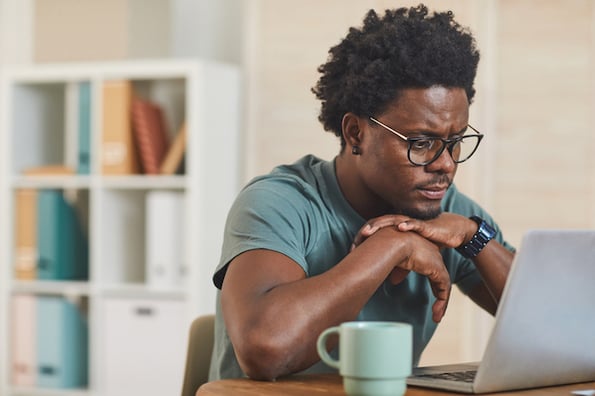 While there are still many transactions happening in person, more and more are taking place online. This is forcing businesses to adapt their communication strategies so they can maintain customer engagement and rapport.
One way that businesses can pivot is by collecting customer feedback on their websites. Since your website is the digital face of your brand, it's an excellent place to ask people how they feel about the customer experience both online and in-person.
In this post, we'll list a few questions that you can add to your website to gather customer feedback. Then, we'll wrap things up by talking about a few handy tools you can use to get started.
Questions to Ask on Your Website to Gather Feedback
Did we meet your expectations?
How likely are you to do business with us again?
How likely are y ou to recommend us?
Were yu satisfied with your experience with our employees?
Was there anything we could have done better?
Did you find what you were looking for?
How would you rate our selection?
Are there ny products or services that you wished we offered?
How easy was it to complete your purchase?
Was this helpful?
What's your preferred contact method?
Is there anything else that you woud like to share about your experience?
1. Did We Meet Your Expectations?
Sometimes called a CSAT score, this is one of the most important pieces of information you'll want to have. Every customer goes into the buyer's journey with expectations for your business — whether they're reasonable or not. This question helps you determine if you've got a happy customer on your hands, or if you need to do some damage control.
2. How Likely Are You to Do Business With Us Again?
It costs more to attract a new customer than to keep an existing customer. So, you should ask customers if they plan on coming back to your business when you're surveying them. If the answer is "no," then you should follow up with them and ask why. In the end, correcting the issue will likely be cheaper than acquiring a new customer to replace the one you've lost.
3. How Likely Are You to Recommend Us?
Also called a Net Promoter Score, this question tells you if the customer will be singing your praises from the rooftops or heading to Yelp to write a scathing review. Respondents are usually given a 1-10 range to describe their customer experience and some surveys offer a comment box so the customer can explain their score as well.
4. Were You Satisfied With Your Experience With Our Employees?
Your employees — whether it's a sales rep, a marketing executive, a customer support agent, or even a greeter at your store's front door — can make or break the customer experience. Your product may be fabulous, but if it isn't delivered in a delightful way, it will leave a bad taste in your customers' mouths.
5. Is There Anything We Could Have Done Better?
This question will help you assess if your reps need more training, if processes need to change, or if you have a bad apple that needs to be removed from your customer service team. Even if you have perfect CSAT scores, you should always be looking for new ways to improve your team and consistently maintain your outstanding performance.
6. Did You Find What You Were Looking For?
When you're selling a product or service, your website should tell visitors everything they need to know about your business. And, it should be easy to find, too. People shouldn't have to search around your site for hours just to find basic information. Your site should be easy to navigate and have plenty of support options so customers can contact you directly if they have a question that your website can't answer.
7. How Would You Rate Our Selection?
As consumers, we expect to have choices – multiple products and services that meet our needs perfectly. We're constantly looking for good deals and we usually compare brands before choosing the best offer. If customers are giving you low scores for this question, then it may be time to start rethinking your selection.
8. Are There any Products or Services That You Wished We Offered?
The best products and services meet the needs of their customers. How do you find out your customers' needs?
It's fairly simple; just ask them. Most customers will be excited to tell you about their ideas for new products and services. While some may be a bit far-fetched, this feedback should give you an idea of what your customers' needs are and what they expect to see from your business.
9. How Easy Was It to Complete Your Purchase?
No one wants to jump through hoops to make a purchase. If you see low scores on this question, it's time to take stock of your logistics, reevaluate your buying process, and simplify your ecommerce experience.
After all, you never want your customers to abandon their cart at the last minute because they couldn't figure out how to complete the checkout process. Research shows that "concerns over payment security" and "long and confusing checkout" account for nearly 25% of abandoned carts in the United States.
10. Was This Helpful?
If you have a knowledge base or chatbot, you may want to ask this question to make sure your self-service resources are actually helping your customers. If the customer answers "no" that should automatically trigger a follow-up response that provides them with your customer service team's contact information.
11. What's Your Preferred Contact Method?
If you're going to reach out to customers, you should contact them via a method of their choosing. Plus, you can use this information going forward to increase engagement on your promotional campaigns. For instance, if most of your customers prefer to be contacted by email, you might want to run an email marketing campaign.
12. Is There Anything Else That You Would Like to Share About Your Experience?
Sometimes your customers will have specific feedback for your company but your survey doesn't have a question where it's appropriate to share it. An open-ended question like this allows customers to bring up anything else that's on their minds — possibly something your team never thought of or realized was an issue.
Now that you know what questions to ask your customers, let's look at the tools you can use to add feedback surveys to your website.
Website Feedback Tools
Hubspot's customer feedback software is an ideal tool for businesses looking to retain and attract new customers. Its surveys can be embedded on web pages, emails, and chatbots, and its reporting interface makes it easy to process your survey's responses.
HubSpot also provides a variety of survey formats for you to choose from. You can pick a traditional NPS or CSAT survey, or go with a Customer Effort Score (CES) to understand buyer satisfaction after different points in the customer journey.
Price: $45/month for Starter Plan; $800/month for Professional Plan; $3,200/month Enterprise Plan
Userbrain lets you watch videos of real people using your website. You can set up scenarios where participants are asked to complete a task, then watch what they do, listen to what they say, and see them encounter roadblocks in real-time. For some businesses, these videos tell you more about your target audience than a customer survey ever could.
Price: $19/month or $29/test
CustomerSure can deliver surveys via email, SMS, web page, and through mobile apps. Its surveys are customizable, so you can edit their design to match your company's branding. CustomerSure also offers a multilingual option that lets you gather feedback from customers who speak different languages.
Price: £199/month for CX Starter plan; £399/month for CX Pro Plan; £999/month for CX Pro-Plus Plan
Podium's feedback software operates through SMS. It sends your customers a text message after a transaction is completed and asks them questions about their customer experience. Responses are recorded in an interactive dashboard like the one shown below.
If you're having trouble coming up with new questions to ask, Podium has templates you can use instead. These templates are customizable so you can edit them to fit your team's needs.
Price: Pricing available upon request
Canny has a unique customer feedback tool called the "product feature voting board." This tool lets customers submit ideas for products that are automatically grouped together based on their similarities. The most popular ideas are then moved to the top of the board just as it's depicted in the image below.
Price: $50/month for Starter plan; $200/month for Growth plan
Combine the questions above with the tools in this section and you should be able to gauge how satisfied your customers are with your products and how likely they are to return to your business. And, when you understand how your customers think and what drives them to action, your products, services, and bottom line will improve as well.
For more ways to survey your customers, check out these strategies to obtain customer feedback.