WordPress is the world's favorite content management system — it's free, user-friendly, and excellent for businesses looking to roll out their first website. Users can quickly learn the fundamentals of web design and use the native WordPress page builder to create effective web pages.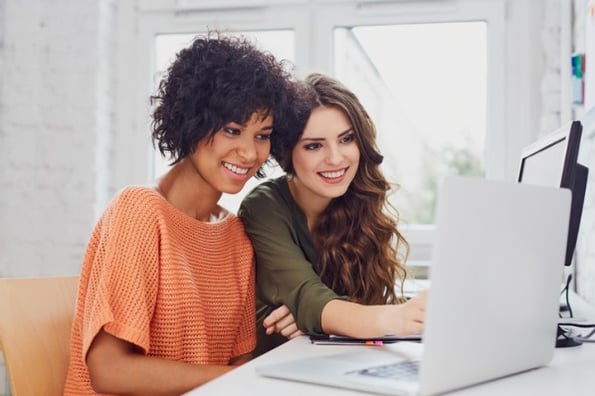 However, once you nail the basics of WordPress, you might realize that the native WordPress page editor doesn't include many customization options. If you want to fully customize your web pages on your WordPress website, you'll need to integrate a page builder extension with your site.
In this post, we'll break down how to use a WordPress page builder as well as the best options available for download.
How to Use a WordPress Page Builder
By default, WordPress provides pre-designed themes that can be used to style your entire website. While these templates give your web design team a place to start, they aren't easily customizable. With the default themes, your developers won't have much flexibility when it comes to making design or functionality modifications on your WordPress pages. This is where a page builder comes in handy.
A WordPress page builder is a plugin that lets you build and customize your page layouts in WordPress. They are installed into your account and used to design and develop new pages based on your site's theme. Even if you don't have any experience in web design, page builders make it easy to add a unique look, feel, and functionality to your website pages.
Since a page builder is foundational for your site creation, you need to pick the best option for your needs. If you're new to WordPress or page builders, there are a few factors to keep in mind when shopping around.
Below are a few details you should consider when adding a page builder to your website.
Compatibility
One of the first things you'll want to check is whether the page builder is compatible with your current WordPress theme. If not, you'll need to change your site's theme, which can be costly and time-consuming. If you're having issues with theme compatibility, look for builders that work with all WordPress themes so you can change your site's look with minimal trouble.
Builder Type
When picking a page builder, there are two primary types of building methods to choose from. The first option is a drag-and-drop setup, which gives users a set of modules that they can click and drag into their layout. Depending on where they drag the module, the builder automatically adjusts the page and adapts the design. This method is very user-friendly and makes web design easy for users with little or no web design experience.
The other builder type is an HTML builder, which requires users to input HTML code to design their web pages. While this requires a solid understanding of coding and web design, this option allows you to customize every detail of your website to your liking.
Mobile Responsiveness
Just because a builder is easy to use and simple to integrate doesn't mean that it's responsive on a mobile interface. Make sure that the builder you choose has options to view the page in a mobile preview. This way, you can double-check whether your web design carries over to phone or tablet devices. If not, choose a different builder that can accommodate different screens and make your design more responsive.
Now that you know what to look for in a WordPress page builder, let's break down some of the best options available for 2020.
Best WordPress Page Builders
Elementor
Avada
Beaver Builder
Spectra
Slider Revolution
Cornerstone
Themify
Divi
Page Builder by SiteOrigin
Thrive Architect
Brizy
WPBakery
Visual Composer
SeedProd
WP Page Builder by Themeum
Oxygen
MotoPress Content Editor
Live Composer
Elementor is a free and widely popular drag-and-drop page builder. As one of the top-downloaded plugins ever, Elementor has built a reputation as a user-friendly but powerful way to transform any WordPress site. It offers an impressive library of blocks (which you can expand with add-ons) and a sleek live editor that you'll enjoy using.
One standout feature of Elementor is that it allows users to test their page layouts in a mobile view. With Elementor, you can even make edits to your design while working in the mobile preview mode. This means you don't have to waste time switching back and forth between the editing view and the preview.
To learn more about installing and using this builder, read our beginner's guide to Elementor.
What we like: Elementor is acclaimed for its power and flexibility, while still being accessible to new WordPress users.
Price: Free for basic features. Premium plans are available for $49/year, $199/year, $499/year, and $999/year.
Avada is a website builder with an intuitive drag-and-drop visual interface that makes building websites super easy. Besides being SEO and mobile-friendly, Avada is compatible with many popular plugins like WooCommerce, Slider Revolution, WPML, ACF Pro, Convert Plus, and more.
There are dozens of pre-built websites included with Avada that you can fully customize with a wide variety of options and design elements. Furthermore, you can design and build any number of dynamic layouts for each page of your website without any programming knowledge.
What we like: Avada brings everything you need into one combined theme and page builder. The large numbers of pre-built site packs and page layouts are probably its biggest selling point for us.
Price: $60. This includes 6 months of support, which you can extend to a full year for an additional $18.
Beaver Builder is an exceptional premium page builder for beginner site administrators. Its drag-and-drop page builder that comes with pre-made and customizable templates. This way, you don't have to start from scratch when creating a new website or page. After you've finished customizing your template, you can save your new design to be used for future pages that you create.
Additionally, Beaver Builder comes equipped with modules for adding useful page elements like special buttons, image sliders, accordion menus, and more.
What we like: Beaver Builder is another paid option that gives you just about everything you'll need to build out an impressive website, with appealing designs that anyone can implement fast.
Price: Premium plans are available for $99/year, $199/year, and $399/year.
Spectra is a free and intuitive page builder for WordPress that is natively integrated into the Block Editor, so you won't need to learn how to use a new tool. It offers a range of useful blocks, hundreds of pre-made pages, a variety of patterns, and multiple wireframes that help you customize your website and work even faster.
Spectra features a copy-and-paste tool that allows you to paste styles anywhere on your website, not only on the page you are working on. Additionally, it doesn't depend on external code, so it's consistently fast and stable.
What we like: Spectra's native integration within the WordPress editor makes it compatible with any plugin that adds its own blocks to that editor.
Price: Free. Spectra Pro is coming soon and will be included in the Astra Growth Bundle (starting at $187).
Slider Revolution is not your average slideshow tool; it is a visual storytelling platform that makes it effortless to create dynamic content within the WordPress plugin universe.
With this page builder, you have the ability to design immersive experiences. You don't need any coding expertise, as all the complex aspects are hidden behind a user-friendly drag-and-drop interface. Interested in adding a carousel? It's simple. Need a captivating hero section? No problem. In fact, it even supports multimedia, allowing you to seamlessly incorporate videos, graphics, and text that work harmoniously together in a single slide.
What we like: We are genuinely excited about the versatility of Slider Revolution. It offers an extensive collection of templates for various types of websites, giving you plenty of options to create a design that is truly unique to your brand. What's even better is that it seamlessly integrates with other plugins, which is always a great advantage in our opinion.
Price: The price is split into 3 options: starter ($35/per year), enthusiast ($89/per year), and professional ($139/per year), depending on how many sites you need it for.
Cornerstone is Themeco's trademark page builder. This easy-to-use builder provides over 40 page elements that form building blocks of beautiful website pages. It's compatible with all themes and provides the foundation for the X theme, one of the fastest-selling themes on Themeforest of all time.
For more advanced programmers, Cornerstone includes a feature for live CSS coding — as you make changes in the CSS editor, you'll see them reflected on your web page in real-time. This real-time editing also applies to the main page building interface, so you don't have to guess how your pages will look when published.
What we like: Cornerstone features a clutter-free building interface with handy live previews, allowing you to build website designs that are just as sleek as the plugin interface itself.
Price: $49. This includes 6 months of support, which you can extend to a full year for an additional $16.50.
Even though it's a drag-and-drop setup, the Themify builder lets you customize nearly every aspect of your web page. One handy feature that it includes is a column and row generator for stacking modules on your page in a grid formation. This tool is incredibly helpful when designing product pages because you can group content together into neat, visually-appealing clusters.
Another great feature offered by Themify is animation modules. You can add dozens of different possible animations to your pages using these pre-designed modules, which can help give your CTA or content offer some added pop and enhance your visitors' experience.
What we like: Themify is the best free WordPress plugin on the market, offering an impressive array of features for its lack of price tag, free of upselling.
Price: Free.
Divi is a powerful WordPress page builder with an array of customization options. One noteworthy feature is its video slider. Not only can you use this module to embed a video on your page, but you can also embed multiple videos together in a rotating carousel. Rather than having a long list of videos to scroll through, users can watch one video then quickly cycle to the next one using the video slider.
Another handy module that Divi offers is its audio player module, which allows you to easily embed an audio file into your web page. Visitors can then play the audio clip directly on your website.
What we like: If you're looking to overhaul your WordPress interface for something completely new (and maybe more intuitive), definitely give the Divi builder a try.
Price: $89/year or $249 for lifetime access.
With over a million downloads to date, Page Builder is a reputable, well-maintained, and responsive option for building out your WordPress site. Its drag-and-drop system paired with backend customization make it ideal for both beginners and advanced users.
Page builder seamlessly integrates with other themes and WordPress tools made by SiteOrigin, so this builder serves as a great foundation for an all-in-one system using their tools.
What we like: The SiteOrigin page builder can easily integrate with other tools made by the developer and is fast, reliable, cheap, and easy to use. Plus, there's a free version you can sample before making a purchase.
Price: Free for basic features. The premium version is $29.
Thrive Themes has developed a page builder focused on business websites, Architect. The software is highly intuitive, as users can "click-to-edit" anything on the page. Thrive Architect prioritizes speed — even those with no background in web design can publish visually stunning web pages in just minutes.
One notable module offered by this builder is a countdown timer. Your business can set up a promotional offer or launch, then create a timer that drives urgency around your offers and motivates your customers' buying decisions.
What we like: Like other tools built by Thrive Themes, Thrive Architect is a page builder focused on generating leads and conversions, making it an especially good fit for business and ecommerce websites.
Price: $97/year. Thrive Themes also offers an Optimize Bundle, which includes Thrive Architect and the A/B testing add-on Thrive Optimize, for $167/year.
Brizy is a drag-and-drop page builder for building clean, professional WordPress sites. It includes "global styling" features that allow you to change elements on pages across your entire site simultaneously. This way, you can launch full site redesigns without needing to address each page individually.
Brizy also offers an auto-save feature that stores variations of your page over time. As you work and redesign your pages, Brizy saves your previous versions in case you need to return to those layouts again. This makes it easier for your team to test your page layouts and ensure you're creating the most user-friendly design.
What we like: Despite being a relative newcomer to the WordPress page building space, Brizy has proven itself as a capable competitor with a clean, modern building interface that puts the design completely in your hands.
Price: Free for basic features. Premium plans are available for $149/year, $299/year, and $329/year.
WPBakery makes one of the most popular page builder options on the market, largely because many WordPress themes are built around the plugin. WPBakery specializes in creating pages with detailed, complicated layouts. This plugin fits with any WordPress theme you choose, and allows for quick and easy page construction with an exclusive template library, grid builder, and mobile-ready responsive design.
While the WPBakery builder includes many features out of the box, another key selling point is the flexibility and quantity of add-ons: WPBakery also authors hundreds of tools that can be easily integrated into your existing site and add virtually endless functionality options.
What we like: If you've ever been in the market for a paid WordPress theme, then you've probably heard of WPBakery, since it's so frequently bundled with themes. It's a testament to the quality of the tool and we think makes it worth considering.
Price: WPBakery has two premium plans for $56/year and $299/year.
Visual Composer's capabilities extend beyond that of the standard WordPress page builder, letting the user customize the look of their entire website within the tool. You can modify not just page elements, but also your headers and footers, menus, and other visuals across your entire website.
While powerful, Visual Composer does not sacrifice intuitiveness for substance. The builder is acclaimed for its user-friendliness and learnability. Of course, you can change elements on specific pages with Visual Composer as well, anything from buttons to menus to other widgets — it's all here.
What we like: Visual Composer is a fully featured website building tool designed to help you make site-wide changes in just a few clicks. If you're in the market for something powerful, Visual Composer may be well worth your dollars.
Price: Visual Composer offers five premium plans for $49/year, $99/year, $149/year, $349/year, and $849/year.
Over 1 million people have relied on SeedProd to build out their WordPress websites. Like other options here, SeedProd features a drag-and-drop interface that allows you to make pages, posts, and even themes in minutes without touching the code. You can create your pages from scratch, or take advantage of the 100 pre-built page templates included with the plugin, including login pages, maintenance mode, 404 pages, and landing pages.
Speaking of, check out our video on how to build an effective landing page on any platform:
While some builders have a reputation of weighing down websites and causing slow page load times, SeedProd steers clear of that pitfall and prioritizes performance. This is key for everyone who visits your pages, but especially mobile users with slow connections who don't have the patience to wait on a slow website. You'll also be able to leverage the plugin's integrations with email marketing services like MailChimp and ConvertKit.
What we like: SeedProd comes packed with pre-built templates, removing friction from the design process and getting your website to launch more quickly.
Price: SeedProd has four premium plans for $39.50/year, $99.50/year, $199.50/year, and $239.60/year.
Known for their professional themes and plugins, Themeum now offers a free page builder for more site customization options. WP Page Builder grants users strict control over their page layouts with pre-made templates, customizable rows and columns, and even a library to save any layouts you create. Themeum's layouts are responsive, and even allow administrators to hide elements on different devices — for example, if you wanted to hide a particularly intrusive menu on mobile.
Alongside close attention to layout design, the free version of WP Page Builder is packed with add-ons, more than most other free site builders provide. Simply install what you need and leave out the excess.
What we like: Themeum's page builder includes some of the best responsive designs available from a WordPress page builder plugin, with plenty of flexibility through add-ons. Install your add-ons selectively to reduce excess code on your site.
Price: Free for basic features. Themeum offers paid versions for $39/year, $59/year, and $99/year.
For a more hands-on experience, try the Oxygen page builder. While still based around a drag-and-drop building approach, the interface includes some programming-specific terms that many first-timers might not immediately understand.
However, for those not afraid of a more technical piece of software, Oxygen packs many key features including templates for layouts of different website pages or posts, and responsive modules that you can quickly add to enhance your site and engage visitors.
What we like: Oxygen is great for website owners who are more comfortable working in the code. While not ideal for beginners, Oxygen puts you in charge of the nitty-gritty details arguable better than any other plugin here.
Price: Oxygen has four paid options: $129, $199, $279, and $349 (all one-time).
The MotoPress Content Editor plugin is a relatively simple drag-and-drop page building tool that's compatible with any WordPress theme and made to be user-friendly. There are several pre-defined front-end layouts to start you off, and plenty of flexibility to swap in content blocks or modify your page layouts.
While it may not be as comprehensive in offerings as a Divi or an Elementor, MotoPress Content Editor is ideal for site owners who want to keep things simple, and still packs enough options to create an engaging site. Elements include sliders, grid galleries, tabs, accordions, and social buttons. There are also premium add-ons available for things like forms, pricing tables, Google Maps integration.
What we like: If simplicity is what you're after, try this easy-to-use, affordable page builder option and install any extensions you need for a bit extra.
Price: MotoPress Content Editor has three paid plans: $39/year, $69/year, and $139/year. The developers also offer a bundle of all add-ons and one site license for $69/year.
Live Composer might be free, but it's proven a capable option for drag-and-drop page building, especially among beginners looking for basic functionality to start. The builder incorporates a classic drag-and-drop editor, along with an array of multiple page element modules and 2 basic themes to place them inside.
What we like: While somewhat limited in out-of-the-box capabilities, Live Composer is still a solid free page builder. It also offers a package of premium extensions and an integration with WooCommerce for an additional price.
Price: Free. Premium extensions and WooCommerce integration can be added, starting at $49 each for one site.
The Best WordPress Page Builders for Your New Site
Without question, designing webpages is intimidating. WordPress can be especially challenging when considering the sheer amount of flexibility and customization it allows. The right page builder tool will save you the time of creating pages from scratch, the effort of learning your site's backend, and the cost of a developer.
Editor's note: This post was originally published in October 2020 and has been updated for comprehensiveness.