Keywords make all the difference in search engine results pages (SERPs). That's why figuring out how to add keywords to WordPress is crucial to your site's success.
Consider two searches: "How to build a website" and "how to fix a website." While they're almost identical, one word is different. This word — or keyword — refines search parameters. Consequently, the first search will return results that provide information on website building tools and technologies, while the second will offer suggestions to help address specific issues.
This means that for your WordPress site to get noticed, you need to identify relevant keywords and incorporate them into your content effectively. Then, when your target audience performs a search, your site appears (ideally) on the first search results page.
Not sure where to get started? This guide will cover how to add keywords to WordPress.
What are keywords — and why do they matter in WordPress?
Keywords help connect user searches with your content. They succinctly describe what your site or service is about and they're used by search engines to find the most relevant results to user queries.
For example, if you own a window washing business in Chicago, you'll want to use keywords such as "window washing services in Chicago," "window cleaning and Chicago," and "Chicago window cleaning."
Since the most basic signal of relevance is a web page containing the same keywords used in the search query, search engines like Google look for keywords in the URL, meta description, title, headings, image alt text, and body of the text. Geographic location is also important; search engines prefer to serve up local results whenever possible.
And, while keywords aren't one factor among many that Google's ranking system uses, it does mean that adding keywords is an important step you can take to make your WordPress blog SEO-friendly.
To make it as easy as possible to optimize your site, we'll walk through how to add keywords to WordPress.
How to Add Keywords to Wordpress
The technique is just as important as the tool you use to add keywords to WordPress. Below we'll cover some basic tips for optimizing your content with relevant and targeted keywords. These tips are specific to different elements on the page.
Title
Since the title is the first thing a reader sees on the SERP, your title should include the keyword you're targeting. Try to front-load it, if possible. This is particularly important if your title exceeds the recommended limit of 60 characters. When front-loaded, the keyword will still be visible even if the title is cut off for users on smaller screens.
Take a look at the post with "on-page SEO" front-loaded in its title below.
Pro Tip: Keep it simple. Titles are often the first thing users see, and they'll scroll by if it's too long or complex.
URL
On the SERP, the URL appears immediately below the title of the post or page, so it's important to include your keyword here as well. In WordPress, a slug is the portion of the URL you can edit and put the keyword. To optimize a URL's slug, remove unnecessary words like "a," "the," and "to" and separate the remaining words with hyphens.
Ideally, your slug should resemble — but not replicate — the title of the page or post. For example, the title of this post is "A Simple Guide to Adding Keywords to WordPress" and the slug is add-keywords-to-WordPress.
Pro Tip: URL slugs that are similar to post titles give users confidence that the page will have what they're looking for. Significant variation, meanwhile, can both impact SEO rankings and suggest that page content won't match expectations.
Meta Description
The next element appearing on the SERP is the meta description. This is the short blurb that provides more detail about what the post or page is about. Use your meta description to convince the reader to click. Within the recommended 160-character limit, you should include your keyword phase.
Since your meta description is also the default copy that appears on social media when you share your post, make it snappy. Take a look at the example below.
Pro Tip: Think of this as the elevator pitch for your page. It's what social media users see and if it doesn't immediately capture attention it won't drive them to click. Be concise, clear, and to the point with your meta.
Header Tags
Header tags are the bold headings that divide a page into sections. You may have noticed that this blurb is prefaced by an H3 tag, for example.
Headings are not only effective at organizing and displaying content in a digestible format, but they're also an ideal place to include keywords. Search engines and readers look to your headings to understand what the web page is about at a glance.
Pro Tip: Take a closer look at our headers. While some contain our keyphrase — "how to add keywords in WordPress" — most don't. Just like body copy, overstuffing keywords in headers can lead to the opposite result intended.
Image Alt Text
You may not see image alt text in this post, but it's there. While alt text only appears if an image fails to load on the page, it's an important step in making web content accessible. (While we're on the topic, including accessible icons can also help make your site more inclusive.)
Readers using devices with low-bandwidth connections, readers with visual impairments, and search engine bots use alt text to understand how the image relates to the rest of the web page.
Ideally, your alt text should be less than 125 characters and only include your target keyword if it's relevant to the picture. Don't worry about jamming your keyword into every single image alt text input field.
Pro Tip: Context matters when it comes to alt text. If your keyword doesn't naturally fit, don't force it. Instead, use keyword-adjacent language. Check out the alt text of our first image. Instead of using "how to add keywords to WordPress" our alt text uses "adding keywords to WordPress" because it works with the image.
Body Copy
You might already know that mentioning your target keyword as much as possible in the body of a post or page is not a good idea. In fact, this practice — known as keyword stuffing — is an example of black hat SEO and is penalized by search engines.
The key is striking the right balance. Use your keyword enough to signal to search engines that your content is relevant to the search query, but not so much that you're spamming the search engine or reader. Mostly this is left up to good judgment, but some SEO experts recommend including one keyword per roughly 200 words of copy.
Pro Tip: To reiterate, don't keyword stuff. But do use variations on your keyword in your copy. For example, we've used phrases on this page like "adding keywords to WordPress," "add keywords to WordPress," and "optimizing your WordPress website."
Now that we understand best practices for adding keywords to WordPress, let's look at how you can do so quickly and easily across all pages on your site.
How to Add Keywords to WordPress With a Plugin
You can add keywords to WordPress manually, but using a plugin to automate the process can help save time and ensure consistency across your site.
The Yoast SEO plugin is specifically designed to help you improve your blog's on-page SEO. One particularly useful feature is its focus keyword feature. With this feature, you can set one keyword or phrase that you want to rank for most on a post or page. You'll find the input field in the SEO tab below the text editor.
Yoast will evaluate the content and offer recommendations to improve your keyword usage in the SEO analysis tab.
In the results below, you'll see suggestions to use the keyword phrase more frequently and evenly throughout the post, and particularly in the subheadings. You'll also see "good results" noting that the author includes the keyword in the introduction, meta description, title, and URL slug.
Why we like it:Yoast offers a host of in-depth features and analyses to help you find and implement the ideal keywords for your site.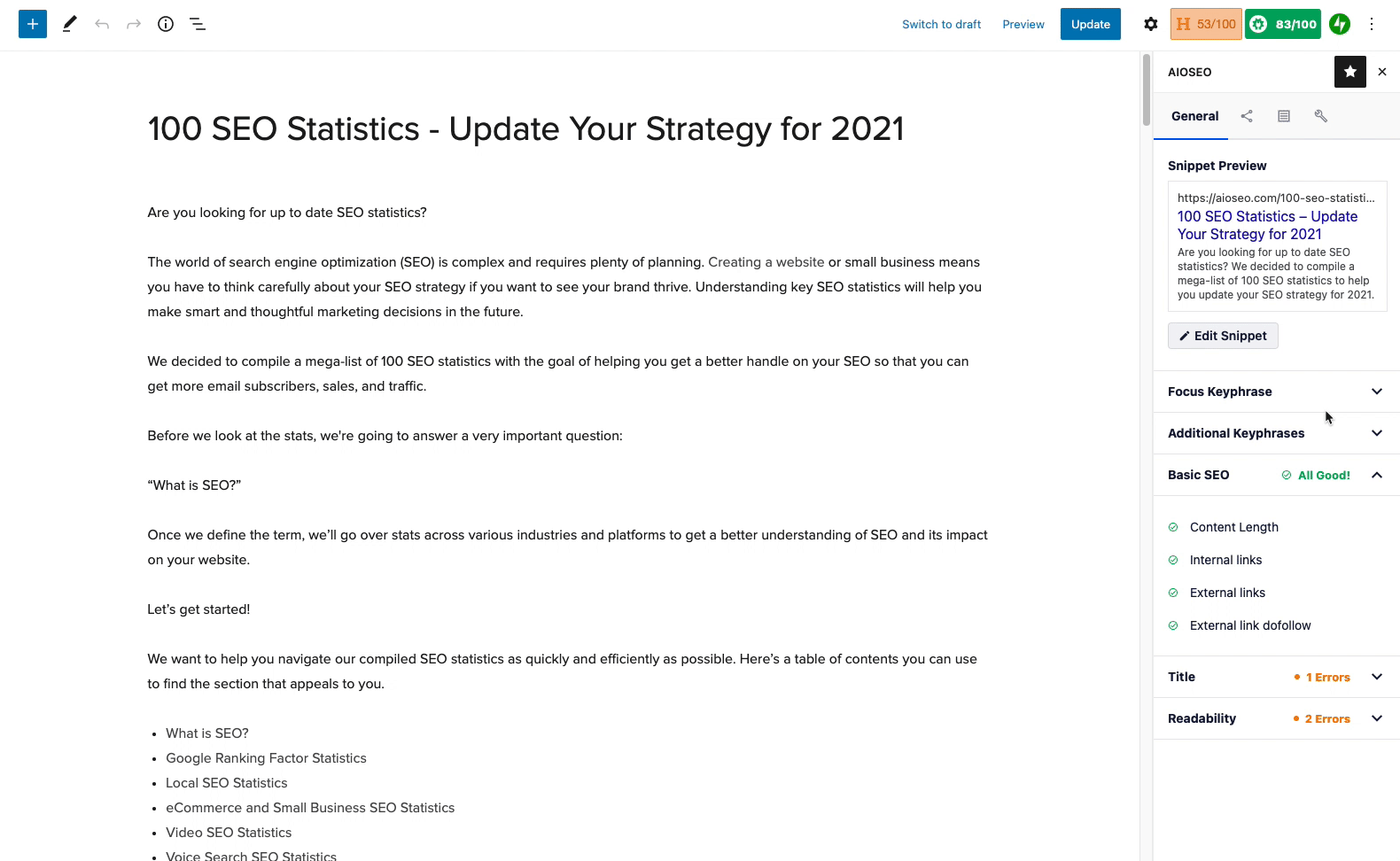 All in One SEO has more than 3 million active installations and has been helping sites improve their SEO since 2007.
The team behind AIOSEO believes that expert developers and designers shouldn't be a requirement for sites to optimize SEO, and has prioritized the user experience to ensure site owners and admins can easily maximize their keyword potential.
Why we like it: All in One SEO makes it possible for administrators to set up advanced features in less than 10 minutes — including XML sitemaps, optimized search appearances, SEO meta titles and SEO meta descriptions.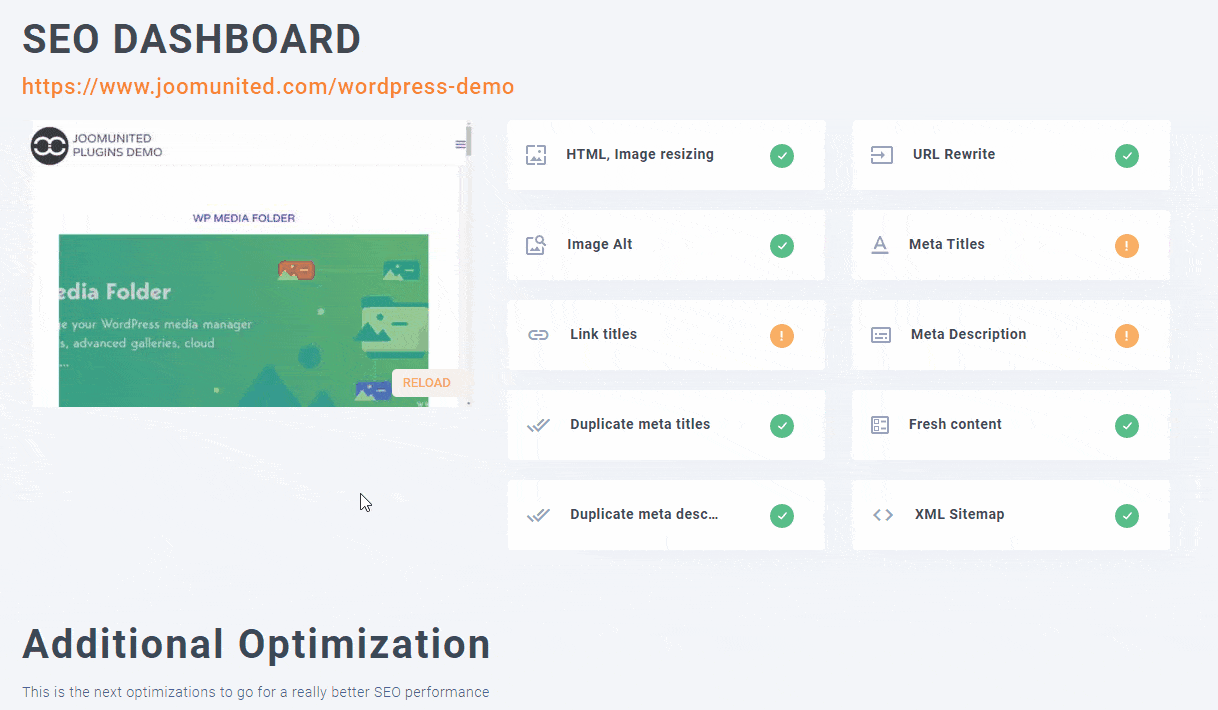 WP Meta SEO gives you total control over all aspects of your SEO, from bulk content and image analysis to 404 redirect notices and on-page content checking.
With WP Meta SEO, it's possible to bulk edit all site metadata from a single screen, in turn reducing the amount of time admins need to spend optimizing SEO. This also ensures consistency across all meta descriptions.
The plugin also lets you easily add Google Analytics tracking into WordPress to assess the impact of your SEO efforts.
Why we like it: Simplicity and speed help this plugin stand out. Optimize your SEO without additional complexity.
All Meta Tags is — as the name implies — all about meta tags. The biggest draw here is the plugin's ability to easily and safely add custom meta tags without the need for an external editor.
Even better? The plugin works independent of any existing WordPress theme, meaning that even if you upgrade or change themes your meta descriptions will keep working.
Why we like it: Cross browser compatibility makes this plugin easy to use, while its lightweight coding structure means it won't negatively impact site performance.
Optimize Your WordPress Site to Boost Your Ranking
Creating keyword-focused content is an important step in optimizing your WordPress website for search engines and readers. Doing so improves your chances of ranking and helps you delight customers by giving the visitor experience a boost.
Editor's note: This post was originally published in June 2020 and has been updated for comprehensiveness.