Adobe leads the market with its impressive digital asset management (DAM) system, helping major global companies store, organize, and manage digital content. While this big-budget item is worth the cost for enterprise-level organizations, Adobe Experience Manager alternatives may be a better fit for smaller businesses.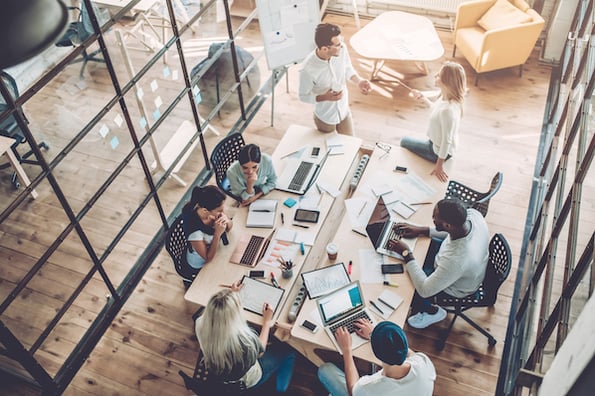 To help you determine what will best meet your needs, let's start by taking a closer look at the advantages and disadvantages of Adobe Experience Manager (AEM). This way, you can meaningfully compare the AEM features to those currently available in content management systems and website builders.
What is Adobe Experience Manager?
Adobe Experience Manager is a powerful program designed to combine the utility of a digital asset management system and a content management system. Offering automation, smart tools, electronic forms, developer tools, and cloud hosting, AEM is ideal for enterprise-level companies that deliver content across multiple digital channels.
Benefits of Adobe Experience Manager
With AEM, you can create and reuse digital assets across various channels and devices, helping your teams streamline content creation. Since these assets — called "Experience Fragments" — can be used with AEM's data integrations, communications management, and advanced targeting/customization features, you'll be able to deliver tailored experiences to your visitors wherever they find you online.
You can also automate tagging, workflows, and content distribution to boost collaboration and productivity across the enterprise. AEM allows you to assign roles, tasks, deadlines, and specific assets to users. It can also add keywords, tags, comments, and metadata to every asset so they're easy to find through search.
Finally, since Adobe's modular architecture can auto-scale within seconds, you can focus on content creation instead of planning for product updates or worrying about downtime.
Disadvantages of Adobe Experience Manager
As with all platforms and tools, AEM also has its drawbacks. The greatest one is its pricing. You'll eventually need to reach out to Adobe for a custom quote because it changes based on the number of people using it and any additional features you need that are not automatically included.

We couldn't locate updated pricing information because Adobe runs a tight ship, but in 2019 annual costs were found to be in the area of $250,000 to $1,000,000+ annually in an article exploring the costs of AEM versus open-source alternatives such as Drupal.

AEM also has well-known user experience problems. It is highly complex, so the learning curve can be steep for non-technical users. The installation and set-up process is so complicated that it requires a third-party implementation partner, which can also be expensive, and makes it so you can't simply contact Adobe customer service for timely troubleshooting.

Users report that integrations with other Adobe solutions can be pricey and buggy. You'll want to be sure to do your homework on various issues and limitations known to Adobe about its applications to determine if it will do what you need it to before starting. What's more, Adobe-certified developers with the skills to help you with AEM issues can be difficult to find, and also to afford.
Reviewer feedback about AEM indicates that, at best, it is extremely valuable, powerful, and a good fit at the enterprise level, where there is C-suite support for paying for the biggest names on the market. At the same time, it indicates that AEM is highly complex, requires lots of support to implement, issues that arise are not quick to address, and it's more fragile than expected for a world-class product.
Adobe Experience Manager Alternatives
Next, we'll take a look at Adobe Experience Manager alternatives to help you discover better-fit solutions for your business. We'll explore a diverse selection of tools — from some of the best CMS systems to enterprise content management systems — that can help you better manage your digital assets.
Alternatives to Adobe Experience Manager
CMS Hub
Liferay DXP
Brandfolder
Shopify Plus
Bynder
Get started with HubSpot CMS for free — including tools from CMS Hub
CMS Hub is an ideal alternative to AEM for businesses of any size — not just at the enterprise level. Like AEM, CMS Hub is flexible and enables users to develop custom components and templates, create personalized content in multiple languages, and preview content before publishing.
What sets CMS Hub apart is its ease of use, built around the concept of being "crafted, not cobbled." HubSpot CMS tools are designed from the start to be fully integrated — each new tool playing nicely and naturally with the larger organism.
CMS Hub is built on the strong shoulders of a customer relationship management system (CRM), a global content delivery network (CDN), and a Web Application Firewall, providing the infrastructure you need to create customer experiences that are safe, quick, and highly functional.
CMS Hub also fully integrates with HubSpot's marketing, sales, and service tools. This makes contact management, website updates, and hosting easy, so you and your team can focus on the customer experience.
Marketers can easily create, update, personalize, and optimize website pages on their own using the drag-and-drop editor, built-in SEO recommendations, smart rules, list segmentation, HubDB, and other out-of-the-box features.
Developers can create custom pages, styles, serverless functions, activity logs, and other sophisticated solutions using their preferred tools.
And anyone can extend the functionality of the platform by downloading an app from the App Marketplace.
What's more, HubSpot offers a free CMS option that includes CMS Hub tools. If you need more functionality beyond the free version, we offer various product bundles that reduce the overall price for a total, affordable solution to fit the needs of your business, even as it grows and changes.
Pricing: Free CMS is a vailable. A starter version costs as low as $23/month. Professional plans start at $360 monthly with an annual commitment. Enterprise plans start at $1,200 monthly. Professional and enterprise plans have 14-day free trials available.
Liferay DXP — short for Liferay Digital Experience Platform — is an ideal alternative to AEM for enterprises looking to create portals, intranets, extranets, or mobile-first applications.
Like AEM, it offers auto-versioning, staging features, blogging tools, and a drag-and-drop interface for building forms and workflows. These content management features can help streamline content creation across an enterprise.
Liferay DXP excels at integrating web applications. Say you have a web platform, mobile app development platform, enterprise resource planning (ERP) software, customer database, and marketing technologies that you want to integrate together on one platform.
You can do so using Liferay DXP. Ultimately, this can help improve your business processes, efficiency, and visitor experience.
Pricing: A 30-day free trial is available. Contact Liferay to request a quote.
While you can integrate Brandfolder with AEM and tons of other partners, Brandfolder can also be a stand-alone alternative to AEM for enterprises that have complex document management needs.
Brandfolder simplifies the process of uploading, importing, and saving your content to make it easy to organize, store, and distribute brand assets securely. You can use auto-tagging, smart rules, thumbnailing, bulk tagging, and other advanced filtering and sorting options.
With Brandfolder's privacy controls and user-level permissions, you can share a single asset, a collection of assets, or your entire Brandfolder with internal or external stakeholders.
You can also monitor your content with Brand Intelligence, a proprietary AI and machine learning technology that lets you see who is using your assets, where they're being used, and what the highest-performing ones are.
Pricing: You will need to reach out to Brandfolder reps for quotes on their premium and enterprise options.
Another alternative to AEM, Shopify Plus is ideal for enterprise-level ecommerce businesses.
It's important to note that you can integrate AEM and Magento using Adobe's Commerce Integration Framework (CIF) to add components like product display, shopping cart, checkout, and recently viewed products to web pages. However, this will only fulfill basic ecommerce needs and goals.
To set up a more complex online store, consider Shopify Plus. With this dedicated ecommerce platform, you can release promotions across multiple channels, automate discounts for specific products or entire product lines, and schedule sales, product releases, and restocks.
You can also add augmented reality, video, and 3D animations on product pages to recreate in-person retail experiences. And you can fully customize your checkout with personalized discounts and shipping rates or allow customers to skip the cart and buy directly from the product page with their preferred payment method using accelerated checkout.
If you're looking for more functionality, you can install apps like Launchpad and Shopify Flow or set up third-party integrations. For example, you can plug in a CMS, CRM, ERP, and other business tools and systems to the Shopify Plus platform so you have all the tools you need on one platform.
Pricing: Plans start at $2,000 per month.
Bynder is a great alternative to AEM for small, medium, or enterprise companies that already have a CMS. Bynder offers plugins for some of the major CMS platforms, including WordPress and Drupal, so you can easily connect your CMS and DAM system.
Using this cloud-based system, you can consolidate your assets, organize them in an easily searchable way, and give access to those assets to employees across the globe.
You can also assign permissions, expiration dates, and brand guidelines to assets and track who is using which assets and how they're being used in your Bynder database. This makes it easier and more secure to share digital content with internal and external stakeholders.
Pricing: Reach out to Bynder for an exact quote.
Selecting a DAM System
Using any of the platforms above, you'll be able to manage all of your content and digital assets in one place. Selecting the right one for your business will depend on the platform's full range of capabilities and how they align with your needs and goals.
Editor's note: This post was originally published in May 2020 and has been updated for comprehensiveness.