Companies today can spend over $44,000 a year just trying to manage their digital assets.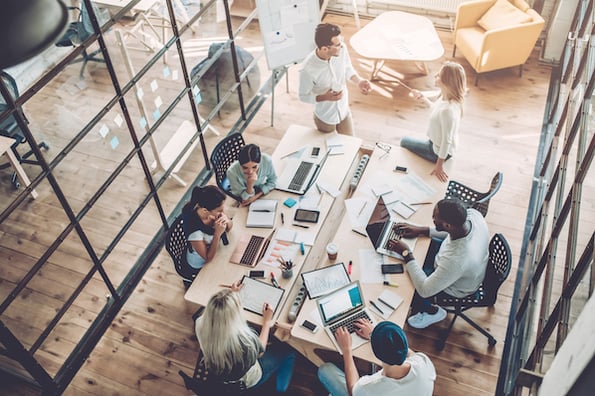 To save thousands of dollars and hours of manpower at your company, consider investing in a digital asset management (DAM) system.
DAM systems help you store, organize, find, distribute, analyze, and overall manage your digital content better. This includes your photos, videos, audio files, animations, interactive ads, and other marketing materials.
From content management systems to website builders, most website building tools today offer features for managing digital assets. These can help solve pain points like sales teams and other stakeholders using outdated creative content or designers wasting time tracking down files instead of creating them.
One of the most well-known DAM systems is Adobe Experience Manager. Let's take a closer look at this system and its advantages and disadvantages below.
What is Adobe Experience Manager?
Adobe Experience Manager (AEM) is an enterprise solution designed to offer the combined power of a digital asset management system and a content management system. Offering automation, smart tools, electronic forms, developer tools, and cloud hosting, AEM is ideal for enterprise-level companies that deliver content across multiple digital channels.
With Adobe Experience Manager, you can create and re-use digital assets across different channels and devices. This will not only help your teams streamline content creation. Since these assets — called "Experience fragments" — can be used with AEM's data integrations, communications management, and advanced targeting and customization features, you'll be able to deliver tailored experiences to your visitors wherever they are on your site.
You can also automate tagging, workflows, and content distribution to boost collaboration and productivity across the enterprise. AEM allows you to assign roles, tasks, deadlines, and specific assets to users and to add keywords, tags, comments, and metadata to every asset so they're easy to find through search.
Finally, since Adobe's modular architecture can auto-scale within seconds, you can focus on content creation instead of planning for product updates or worrying about downtime.
AEM offers many benefits — but, as with all platforms and tools, it also has its drawbacks. The greatest one is its pricing. Although you'll have to reach out to Adobe for a custom quote, the licensing fees for Adobe Experience Manager are estimated to cost between $250,000 and $1,000,000 per year.
AEM also has some user experience problems. Its interface is complicated so the learning curve can be steep for non-technical users. The installation and set-up process is so complex that it requires a third-party implementation partner, which can be expensive. Integrations with other Adobe solutions and third-party services can also be pricey and buggy and require more technical intervention.
For these reasons, it's important to evaluate other options on the market. Whether you're looking for a less expensive DAM, an all-on-one connected platform, or another solution, we'll take a closer look at the top alternatives to Adobe Experience Manager so you can select the right platform for your business.
Alternatives to Adobe Experience Manager
CMS Hub
Liferay DXP
Brandfolder
Shopify Plus
Bynder
Below we'll explore a diverse selection of tools — from some of the best CMS systems to enterprise content management systems — that can help you better manage your digital assets. Let's get started.
CMS Hub is an ideal alternative to AEM for businesses of any size — not just at the enterprise level.
Like AEM, CMS Hub is flexible enough to enable users to develop custom components and templates, create personalized content in multiple languages, and preview content before they publish.
What sets CMS Hub apart is its ease of use. Part of this is due to the fact that CMS Hub is built on top of a CRM, global CDN, and Web Application Firewall and fully integrated with HubSpot's marketing, sales, and service tools. That makes content management, contact management, website updates, hosting, and infrastructure easy so you and your team can focus on the customer experience.
Marketers can easily create, update, personalize, and optimize website pages on their own using the drag-and-drop editor, built-in SEO recommendations, smart rules, list segmentation, HubDB, and other out-of-the-box features.
At the same time, developers can create custom pages, templates, styles, serverless functions, activity logs, and other sophisticated solutions using their preferred tools. And anyone can extend the functionality of the platform by downloading an app from the App Marketplace.
Pricing: $300 per month for CMS Hub Professional; $900 per month for Enterprise
Liferay DXP — short for Liferay Digital Experience Platform — is an ideal alternative to AEM for enterprises looking to create portals, intranets, extranets, or mobile-first applications.
Like AEM, it offers auto-versioning, staging features, blogging tools, and a drag-and-drop interface for building forms and workflows. These content management features can help streamline content creation across an enterprise.
Where Liferay DXP excels is integrating web applications. Say you have a web platform, mobile app development platform, ERP software, customer database, and marketing technologies that you want to integrate together on one platform. You can do so using Liferay DXP. Ultimately, this can help improve your business processes, efficiency, and visitor experience.
Pricing: Estimated $23,500 per year (but need to contact vendor to request an exact quote)
While you can integrate Brandfolder with AEM, Brandfolder can also be a stand-alone alternative to AEM for enterprises that have complex document management needs.
Brandfolder makes it easy to organize, store, and distribute brand assets securely. You can use auto-tagging, smart rules, thumbnailing, bulk tagging, and other advanced filtering and sorting options to simplify the process of uploading, importing, and saving your content. With Brandfolder's privacy controls and user-level permissioning, you can share a single asset, a collection of assets, or your entire Brandfolder with internal or external stakeholders.
You can also monitor your content with Brand Intelligence, a proprietary AI and machine learning technology that lets you see who is using your assets, where they're being used, and what the highest-performing ones are.
Brandfolder also supports integrations with over 30 third-party services in addition to Adobe Experience Manager so you can meet different business needs.
Pricing: Need to reach out to vendor for quote on Brandfolder Premium and Brandfolder Enterprise
Another alternative to AEM, Shopify Plus is ideal for enterprise-level ecommerce businesses.
It's important to note that you can integrate AEM and Magento using Adobe's Commerce Integration Framework (CIF) to add components like product display, shopping cart, check out, and recently viewed products to web pages; however, this will only fulfill basic ecommerce needs and goals.
To set up a more complex online store, consider Shopify Plus. With this dedicated ecommerce platform, you can release promotions across multiple channels, automate discounts for specific products or entire product lines, and schedule sales, product releases, and restocks.
You can also add augmented reality, video, and 3D animations on product pages to recreate in-person retail experiences. And you can fully customize your checkout with personalized discounts and shipping rates or allow customers to skip the cart and buy directly from the product page with their preferred payment method using accelerated checkout.
If you're looking for more functionality, you can install apps like Launchpad and Shopify Flow or set up third-party integrations. For example, you can plug in a CMS, CRM, ERP, and other business tools and systems to the Shopify Plus platform so you have all the tools you need on one platform.
Pricing: Estimated to be $2,000 per month at minimum (but need to contact vendor to request an exact quote)
Bynder is a great alternative to AEM for small, medium, or enterprise companies who already have a CMS. Bynder offers plugins for some of the major CMS platforms, including WordPress and Drupal, so you can easily connect your CMS and DAM system.
Using this cloud-based system, you can consolidate your assets, organize them in an easily searchable way, and give access to those assets to employees across the globe. You can also assign permissions, expiration dates, and brand guidelines to assets and track who is using which assets and how they're being used in your Bynder database. This makes it easier and more secure to share digital content with internal and external stakeholders.
Pricing: Plans estimated to be $450, $1250, and $2250 per month but need to reach out to vendor for exact quote
Selecting a DAM System
Using any of the platforms above, you'll be able to manage all your content and digital assets in one place. Selecting the right one for your business will depend on the platform's full range of capabilities and how they align with your needs and goals.
If you're looking to run a large and complex online store, then you'll be better off with Shopify Plus. If you're looking for a platform that will enable all your team members to create personalized content with their favorite tools, then check out CMS Hub.