A well-structured, high-performing website can serve as a powerful catalyst, propelling your brand toward success. However, crafting such a website is no easy task. It demands a blend of creativity, technical acumen, and a deep understanding of user behavior. This is where AI comes in.
AI website builders have emerged as a game-changing solution, enabling both novices and professionals to create top-tier websites. These platforms use AI algorithms to automate design, improve user experience, optimize SEO, and deliver a multitude of other benefits, all aimed at amplifying your online footprint.
So, ready to dive into the world of AI website development? Buckle up as we explore the top 9 AI website builders that are redefining the rules of website creation in 2023. With these power-packed tools, you're just a few clicks away from creating a website that's not only visually stunning but also delivers unparalleled performance.
Let's get started!
Top 9 AI Website Builders
1. Wix ADI: The Seamless Choice for Beginners
Starting off our list is Wix ADI (Artificial Design Intelligence), a platform known for its intuitive, AI-driven design approach. This tool stands out for its ability to create a fully customized website by asking you a series of questions about your business and preferences.
What we like: Wix ADI uses powerful AI algorithms to create tailored websites. No two sites look the same, ensuring your business stands out in the crowded digital space.
Best for: Small businesses, start-ups, and beginners who want a quick, hassle-free website creation experience.
Pro Tip: Use its drag-and-drop feature to personalize your website further. You can add, remove, or modify elements to fit your brand's aesthetic and functional requirements.
2. 10Web: AI-Powered Website Building and Optimization
10Web combines the power of AI with WordPress to offer a revolutionary website-building experience. With 10Web, you can automate website creation and get a high-performing site in minutes.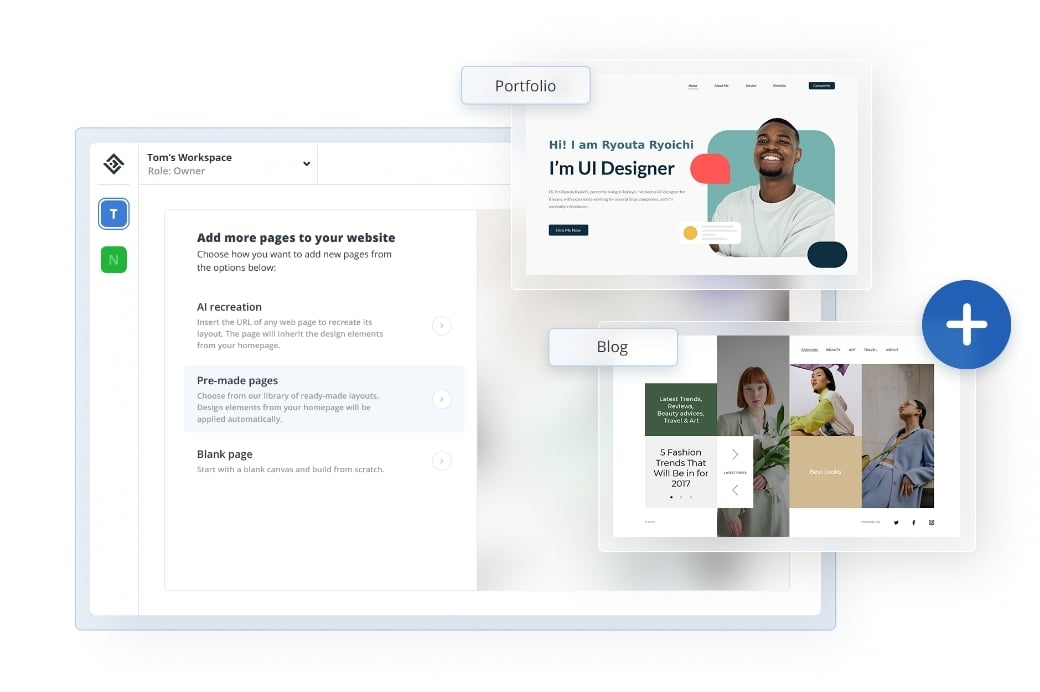 What we like: 10Web's AI Builder is designed to recreate any website on WordPress in a matter of minutes. Simply enter the URL of a website you admire, and 10Web will replicate its design on WordPress.
Best for: Businesses of all sizes that appreciate the flexibility of WordPress and want a quick, automated way to build a professional website.
Pro Tip: Leverage 10Web's AI algorithm to optimize your website for speed, SEO, and mobile responsiveness. You'll also get access to 50+ premium WordPress plugins to enhance your site's functionality.
3. Bookmark: Your Pocket-sized AI Web Designer
Bookmark brings AI to the forefront of website building. Its AI tool, Aida, crafts beautiful and functional websites with just a few inputs from you.
What we like: Aida, Bookmark's AI assistant, can auto-generate custom-made visuals and provide layout suggestions.
Best for: Personal bloggers, creatives, and small businesses looking for an easy-to-use, budget-friendly website builder.
Pro Tip: Use Aida to generate personalized visuals and automatically apply them to your website.
4. Hostinger: Streamlined Simplicity Meets AI Power
Hostinger's Website Builder delivers a highly streamlined, user-friendly interface with the power of AI-driven tools for a seamless website creation experience.
What we like: Hostinger makes website building straightforward and efficient, with AI-powered suggestions to enhance your website's aesthetics and performance. Its lightweight platform ensures that your website loads quickly, keeping user engagement high.
Best for: Beginners, startups, and small to medium businesses looking for an affordable, easy-to-use website builder with reliable hosting services.
Pro Tip: Take advantage of Hostinger's built-in SEO and marketing tools to optimize your website for search engines and drive more traffic.
5. Jimdo: Automating Web Design with Dolphin AI
Jimdo uses its Dolphin AI to create a fully functioning website in as little as three minutes. Just input your business type, preferences, and watch the magic unfold!
What we like: Dolphin AI simplifies the website creation process, getting your website up and running in no time.
Best for: Small to medium businesses that require a swift and efficient website development process.
Pro Tip: Utilize Jimdo's automatic SEO features to boost your website's search engine visibility from the get-go.
6. B12: Crafted by Experts, Powered by AI
B12 brings a hybrid approach by combining AI efficiency with human expertise. It uses AI to generate a website draft and then allows experts to fine-tune and finalize it.
​​
What we like: B12 strikes a balance between automation and personalization, ensuring your website is as unique as your business.
Best for: Businesses that want a professionally designed website without spending a fortune on a web design agency.
Pro Tip: Make the most of B12's automatic monthly website updates to keep your content fresh and relevant.
7. GetResponse: Harness the Power of Data-Driven Design
GetResponse, a renowned name in the email marketing space, extends its expertise to website building with a powerful AI-assisted platform.
What we like: GetResponse's AI Website Builder uses data from over 500,000 websites to generate a high-performing, tailored design for your business. It seamlessly integrates with GetResponse's suite of marketing tools, making it a robust platform for growing your online presence.
Best for: Small to large businesses that already use GetResponse for email marketing and wish to integrate their website and email marketing efforts for better results.
Pro Tip: Use GetResponse's AI content and design suggestions to improve your website's aesthetic and functionality, and make sure to leverage the integrated marketing tools for holistic growth.
8. GoDaddy: AI Integrations for Customized Websites
GoDaddy uses AI to guide you through the website creation process, resulting in a site tailored to your industry's needs.
What we like: GoDaddy's AI assistant provides a comprehensive, guided approach to creating your website, complete with SEO and marketing tools.
Best for: Medium to large businesses across various industries that need a robust, customized, and future-ready website.
Pro Tip: Use GoDaddy's integrated marketing suite powered by AI to drive traffic and increase engagement on your website.
9. Weblium: AI-Powered Flexibility
Weblium uses AI to offer design suggestions based on your business niche. It keeps you from making design mistakes while allowing ample flexibility to customize.
What we like: Weblium's AI Design Supervisor keeps you from making common design mistakes, ensuring a professional look and feel to your website.
Best for: Freelancers, agencies, and businesses that want a blend of AI-assisted guidance and design flexibility.
Pro Tip: Use Weblium's AI Design Supervisor to create visually appealing, error-free websites.
Embracing AI Website Builders
Navigating the digital world may seem like a daunting task, but with the right AI website builder at your disposal, you're already steps ahead. These smart tools are equipped to craft websites that not only beautifully encapsulate your brand's essence but also drive success by enhancing user experience and boosting online visibility.
Each AI website builder we've discussed, from Wix ADI's beginner-friendly approach to Weblium's AI-powered flexibility, holds unique features and capabilities designed to meet diverse needs. Whether you're a small business owner, a freelancer, a creative professional, or run a large enterprise, there's a solution on this list that's tailored for you.
So go ahead, explore these platforms, experiment with their features, and pick the one that resonates most with your business vision and goals. Remember, your website is an extension of your business in the digital realm. Make it count!