Ever wonder how sites like Mashable, Yahoo, and AOL (yes AOL), stay in business? Aside from maybe offering an email service, these sites mostly produce content and they almost always offer that content for free.
So, where are they getting the money to fund these massive websites?
One answer is advertisements. These websites make hundreds, if not thousands of dollars each month by taking advantage of Google Adsense and other ad management platforms. They sell space on blog posts and web pages where other companies can promote their content, and in return, the website is rewarded every time a user clicks on an ad.
We can see an example of these ads in the image below.
If you own or operate a WordPress website you can sell ad space, too. However, the more ads you sell, the trickier it can be to keep track of who's advertising on your website and which ads are more successful than others.
That's why we put together this list of the best WordPress ad management plugins. Read on to learn about what each plugin does, how much it costs to install, and why it might be beneficial for your site.
Best Ad Management WordPress Plugins
Price: $57
If you want complete, in-depth control over the advertisements on your WordPress site, Ads Pro Plugin is an excellent choice. This tool is one of the most comprehensive ad management plugins on this list as it offers tons of unique features and customization options.
For example, there are over 25 pre-made ad templates and you can display ads in 20 different formats like sidebar, floating, corner peel, and more. You can also decide which devices will display your ads, so you can have ads appear on mobile but not on desktop. This lets you create ads that are optimized for the interface they're being shown on.
On the backend, Ads Pro Plugin provides you with an easy-to-use admin panel. You can see which ads are live on your site, how much revenue they're generating, and review important performance metrics like click-through rate and total impressions.
It's important to note that this plugin is geared towards advanced WordPress users. Beginners might experience a sharper learning curve and may need more time to master all of the unique features and tools that this plugin offers. If you're looking for a quicker installation process, or a cheaper alternative, you might want to consider other plugins on this list.
Price: Free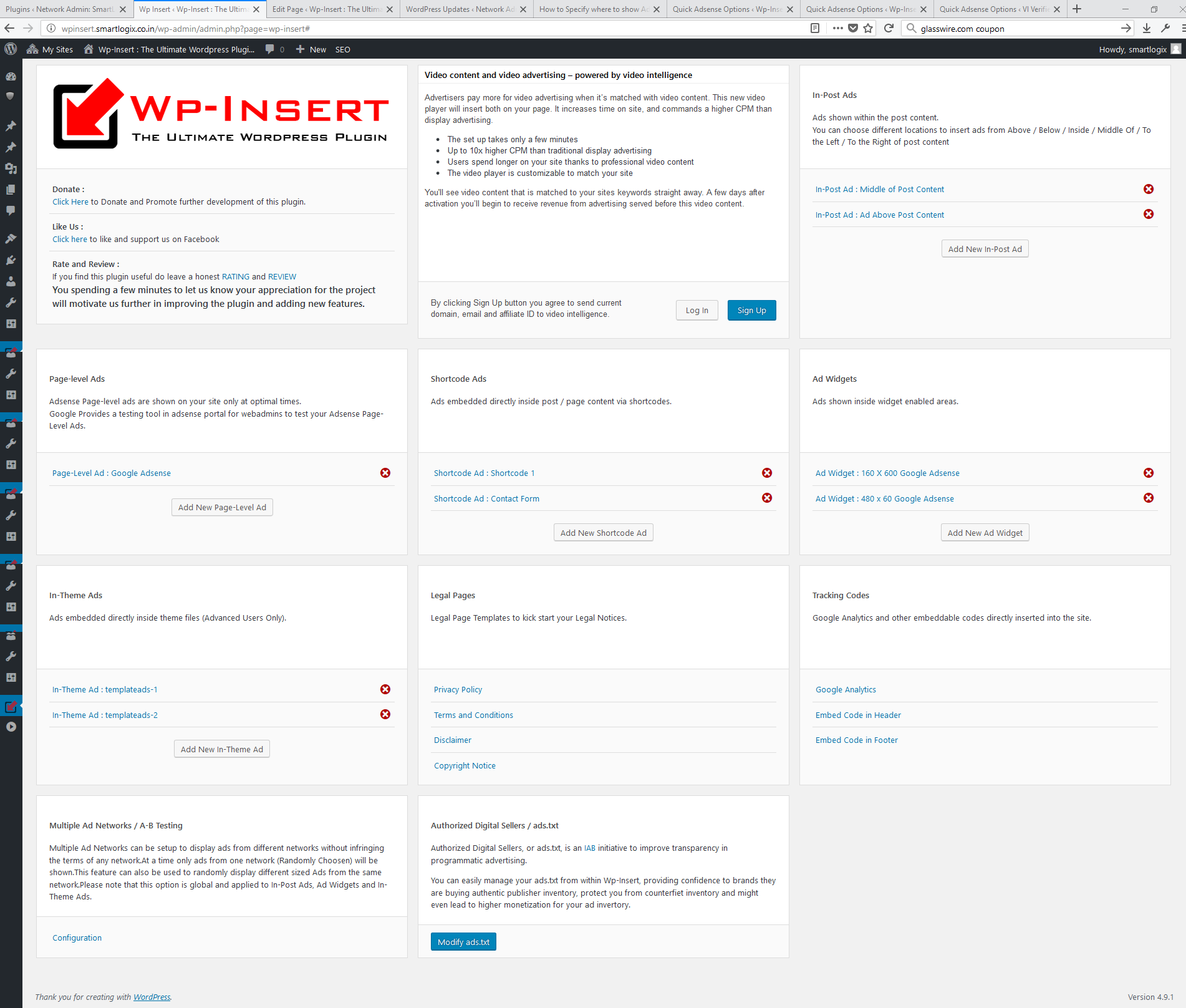 WP Insert is a free plugin that offers most of the baseline features you need to manage advertising on your website. It's easy to install and it has plenty of positive reviews on the WordPress marketplace.
Some notable features of this plugin include built-in support for Google Adsense and Page-Level ads, manual override for auto-positioning, and an A/B testing feature that lets you experiment with different ad placements on your site.
There are also unlimited Adblocks, so can prevent whichever ads you want from appearing on your pages.
Since this is a free plugin, it's not going to offer some of the same features that premium options will provide. That might not be an issue if you're looking for a simple solution, but if you're really trying to invest in online advertising, then you might want to look into a paid alternative with a range of premium features.
Price: $21
This WordPress plugin provides a custom ad builder for your website, and you can create great-looking ads in just a few moments using its drag-and-drop features. You can also test how your ad will look on your site before it goes live by using the live previewer.
Other notable features include over 75 eye-popping animations, 25 background overlay patterns, and six different ad types.
There's also an advanced analytics dashboard where you can check the performance of your ads and see which ones are being seen the most and which ones are generating the most revenue.
The downside to this plugin is that it's no longer supported by Aparg. So, if you get stuck or find a bug, you'll be on your own to fix it. That might not be a problem for an experienced web developer, but for marketers and beginner WordPress users, this might create significant problems down the road if you hit a roadblock that you can't seem to navigate around.
Price: Free, with premium plans available
If you're looking to get started with online ads, but you're not sure if you want to dive headfirst into them, AdRotate might be the plugin for you. It offers a free version with baseline ad management features as well as a premium subscription that you can purchase as you increase ad revenue on your site.
The free version is primarily geared towards ad management. It provides a handy interface where you can review the overall performance of your ad campaigns. You can organize ads into groups and track clicks, impressions, and click-through rates for each one.
There's also a geo-targeting feature that's compatible with all countries and cities. That way, you can make sure your ad is translated to the right language whenever you advertise in different cities, states, and countries.
Some users reported that this plugin is tricky to use, but mastering it is worth the time investment. Another potential downside is that many of the premium features are only available in the paid version like geo-targeting and adblockers. That might be fine if you're just getting the hang of online advertising, but it may be a necessity for those looking to really ramp up their ad campaigns.
Price: $29
Formerly known as the WP PRO Advertising System, this plugin helps you manage banner ads on your WordPress site. Not only is it easy to create banners using Gutenberg, WPBakery, or Elementor, but you can quickly upload them using the drag-and-drop file uploader. Once installed, you can add your banners to pretty much anywhere on your site.
There's also an auto-positioning feature that adds banners to your pages automatically. It doesn't require shortcodes or widgets, you just have to tell the plugin what type of ad you want and it will "ad it there." (pun intended)
This plugin is also 100% responsive, so you can trust that your ads will look great no matter what device or browser your users are viewing them on. Now that more than 50% of all internet traffic comes from mobile devices, this is an important feature to have if you want to capitalize on mobile visitors coming to your site.
The downside of this plugin is that several bugs have been reported by users. There's also a lack of support documentation that can assist you when encountering these issues. Again, if you're a WordPress wiz or web developer, this may not be a problem, but if you're new to the WordPress game, you might want to look for a more user-friendly option.
Price: Free
Although this WordPress plugin is designed specifically for Adsense and requires a Google Adsense account to use, it's still compatible with other advertising platforms. This makes it an excellent choice for those who are primarily using Google Adsense to create and manage online ads.
This plugin is simple, free, and easy to use. Plus it allows you to place an ad randomly on your site. This keeps your site looking fresh, and reduces the chance of ad blindness that might occur with repeat visitors.
The biggest limitation of this plugin is that it only allows you to manage 10 ads at a time. And, there are very few customization options you can use when creating or placing ads on your site. This makes it ideal for those who are looking for a quick and easy solution, but not as great for sites that want to invest a lot of resources into online advertising.
Price: Free, with premium plans available
Corner ads are great because they're minimally invasive to your webpage, but they still capture the attention of your visitors. They don't take up much space where you could put valuable content, and they can be used for more than just promotional advertising. For instance, you could use a corner ad to notify visitors about a new blog post that was published on your website.
That's why this plugin makes our list. It's easy to install and fits seamlessly with most websites. Creating a corner ad is simple and the plugin allows you to customize its colors so that it matches your site's theme. You can also add an image to your corner ad to really grab the focus of your visitors.
The strength of this plugin may also be its weakness. While it's great for creating corner ads, there's not much more you can do with this plugin other than that. If you want to create banners or pop-up ads, you'll need to install another plugin on this list.
Price: Free
If you're looking for something simple and straightforward, this might be the right ad management plugin for you. It's designed to place ads anywhere that you have a widget area on your WordPress site.
This plugin is intuitive for beginners and doesn't have a confusing ad interface for you to manage. Instead, all you need to do is navigate to the widget page and choose the type of ad you want to create. After that, just drag the module to where you want it to appear on your site and add all the details you want to include in your advertisement.
The downside of this plugin is that if you have an adblocker installed, it will not work. You will need to uninstall your adblocker if you want to use this plugin.
Price: $49/year for Basic Plan; $149/year for All-in-One Plan; $489 for All-in-One Plan for life
AdSanity is a solid option regardless if you're using Adsense or hosting your own ads on your site. It comes with a variety of handy features and is one of the best premium ad management plugins available for WordPress.
Some features include a visual editor to create ads, custom widgets and shortcodes, and a built-in adblocker. The adblocker can prevent ads from appearing on specific pages of your site. This lets you control where ads will appear without having to edit any files in your WordPress theme.
Since this is a premium plugin, purchasing it will unlock a variety of advanced ad management features for your site. This is great if you're looking to make a lot of money from ad revenue. But, if you just want to sell a few ads, then this may not be the most cost-effective option. You may want to consider, a simpler, or even free option provided on this list.
Price: Free, with premium plans available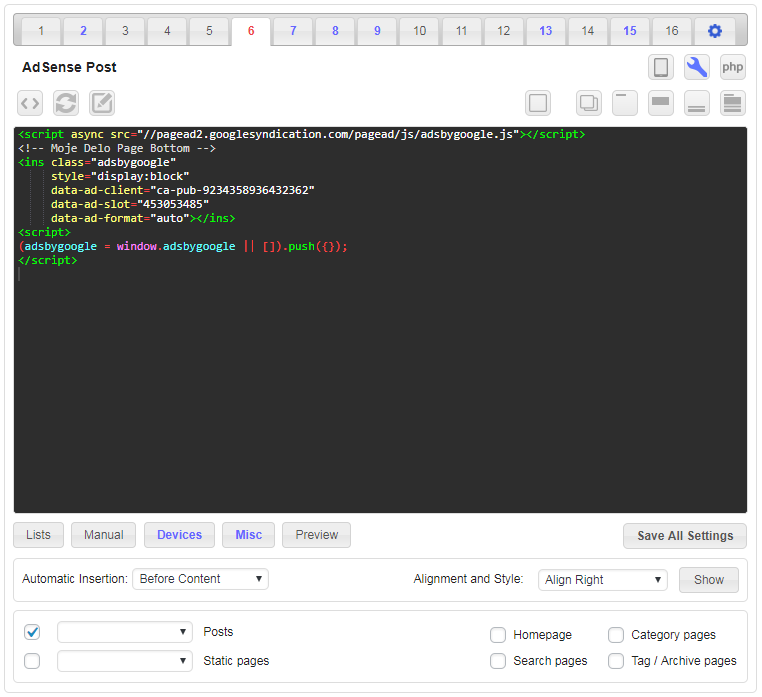 This ad management plugin comes with a slew of options for placing ads on your website. It's compatible with Adsense, Google Ads Manager, and Amazon Native Shopping Ads. It also lets you add and create other types of ads via HTML, Javascript, and CSS.
You can place ads before or after a paragraph, a comment from a visitor, an image, or at the end of a post. You can also add it next to an element on your page using CSS or in your header or footer via the <body> tag.
While it's nice to have these options, it's clear that some of this work will require experience with coding. Ad Inserter provides some instructions to help you achieve the look and location you're aiming for, but if that's not your forte, you may want to consider an alternative on this list.
Generating Ad Revenue With a WordPress Plugin
Depending on the site you have, ad revenue may make a lot of sense. If you have compelling content and continuous traffic to your site, there's no reason you can't generate revenue from online advertising. Pick one of the options on this list and get started generating ad revenue from your site today.
This post was originally published in January 2020 and has been updated for comprehensiveness.