Let's say you're like me, where the inner kid inside of you has refused to grow up. You cling on to that last bit of childhood by keeping that rock "collection" that you probably should have left at the beach when you were nine. Now, as an adult — and I use that term loosely — you're looking to reinvigorate that old love of shiny, smooth rocks by growing your collection with new ones.
But, where to start? Who would you seek out to find the best rocks possible?
Well, you might start with a geologist. They could tell you everything you're looking to know about your current collection and, more importantly, where you might find new, better, and shinier rocks. You ask the geologist, as well as some of their peers, for recommendations on the best places to shop based on your needs.
Now, I could easily go on a long tangent about the differences between basalt and basanite rocks. But, while I'm sure we're all familiar with that hot rock debate (pun intended), the real lesson here is what we can learn from the geologist. The geologist listened to my inquiry, thought about my needs, and referred me to different businesses that may be able to help.
Thinking this sounds a little bit like a business directory? You're spot on.
Business directories like Yelp and Angie's List are incredibly popular websites for consumers looking for specific brands, products, or services. These sites provide users with a database of businesses in their area, and they list information about the company so people can quickly determine whether or not it's a good fit. Some even offer filters and refined search options so users can start engaging with businesses in no time.
Looking to create your own business directory using WordPress? Below is a list of the best directory WordPress plugins available this year.
Best Directory Plugins for WordPress
Sabai Directory
ListingPro
Web 2.0 Directory
Connections Business Directory
Gravity Forms Directory
Toolset
Directory Pro
Business Directory Plugin
GeoDirectory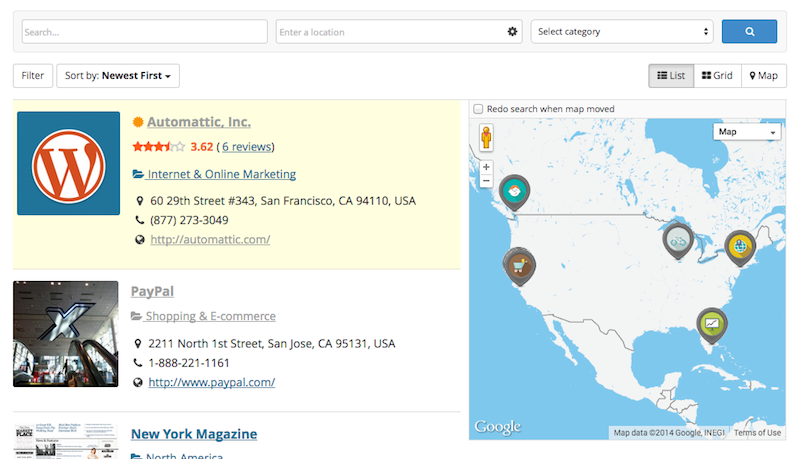 Sabai Directory is a premium directory plugin for WordPress. With this tool, you can create a community-driven business directory, like Yelp or Yahoo! Local.
Users can search listings by keywords, category, distance, and location — plus the plugin offers user-friendly auto-suggestions. Sabai Directory also provides different rating and review options as well as the option to claim an existing business as your own.
On the visitor's side, this plugin allows users to upload photos to a business listing and they can comment on reviews and other visitors' photos as well. It also allows them to flag listings, reviews, photos, and comments that may be false or inappropriate. This helps both customers and employees regulate the site and ensure all information and feedback about a business is fair and accurate.
Pros
Cons

Supports image uploads for listings
Offers option to upvote comments and photos
Can show directions in the map interface
16 Google Map styles, 11 widgets, and 12 shortcodes
Compatible with Paypal and Stripe

Limited public support documentation
Limited customization and design options
Not WPML compatible


Limited customer support channels (email)
Price: $29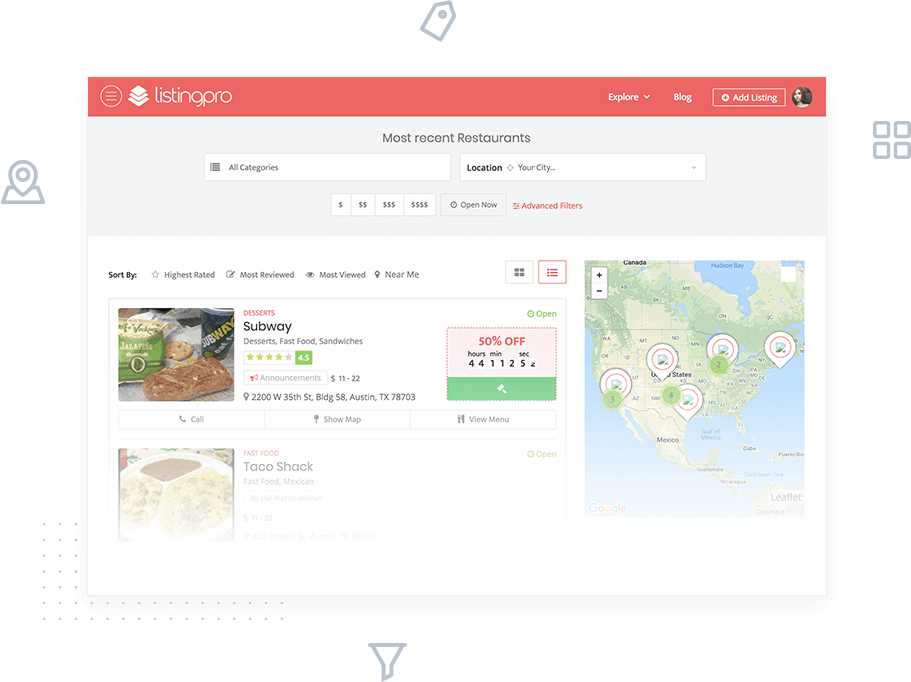 Although it's not really a plugin, this WordPress theme has a lot of plugin functionality prepackaged in its design. It comes complete with a slew of features you can use for your directory site, including a drag-and-drop page builder and a custom lead form builder that gives you full control over which information you want to obtain for listings.
As frontend submissions are approved, you can organize them categorically on your listing page using a unique set of criteria. These listings can be ordered by title, publish date, highest rating, and more. Frontend users can take advantage of the theme's advanced search features like "instant filters" to search for a company they've worked with before or look for a new one that meets their current needs.
Some additional features for this theme include a built-in ads management tool and an events calendar. There's also a "free maps" feature as well as a checkout and payment processing system.
PROS
CONS

Prepackaged with a ton of useful features and tools
Provides several unique filter and categorization options for listings
Includes a built-in payment and checkout system
Protects against spam with Google ReCaptcha

Requires premium add-ons for some features
Not easily compatible with WooCommerce
Technical support only included for 6 months
Price: $69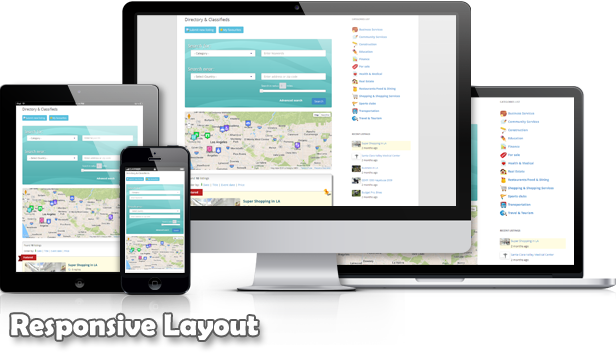 A high-quality, feature-packed, directory plugin for WordPress, Web 2.0 Directory allows you to create a classified ad listing site, an events directory, a vehicle dealer site, a real estate portal, and more.
This plugin offers all the features you would expect in a premium directory site, like front-end listings, editing capabilities, and integrated Google Maps. It has a fully responsive design, and it's compatible with most plugins on WordPress.
Some additional features include custom icons and form fields, YouTube and Vimeo attachments, and the ability to print a listing if desired. There's also an option to download a listing as a PDF or save it as a bookmark in your web browser.
Pros
Cons

Easy to install and use
Provides multiple revenue-generating options
Can submit listing in bulk
Offers a star rating system for listings
Compatible with WooCommerce

More geared towards a "classifieds" websites than a business directory
Issues reported with WPML and WooCommerce
Limited customer support options
Large file size for downloads
Price: $39
A widely used, free directory plugin, Connections Business Directory is fully responsive and retina-ready with plenty of features to help you create a successful business directory site.
It's compatible with most WordPress themes and page builders, and it supports the WordPress Gutenberg Editor. Some blocks that are supported with the Gutenberg Editor are the carousel block, the directory block, and the upcoming list block.
The carousel block displays your listings in a rotating module. This is ideal for both business listings and "Our Team" pages. The directory block provides a more traditional approach, with all of the company's information listed statically on your page. Lastly, the upcoming list block shows users all of the future events that are scheduled to take place.
Pros
Cons

Provides "robust" templating support
Can offer hundreds of thousands for business entries
Offers repeatable fields for users and visitors
Updated on a continuous basis
Excellent customer support options

Some features require additional plugins for use
Some issues reported with setup/installation
Limited customer support options
Template Customizer is not compatible with all WordPress page templates
Price: Free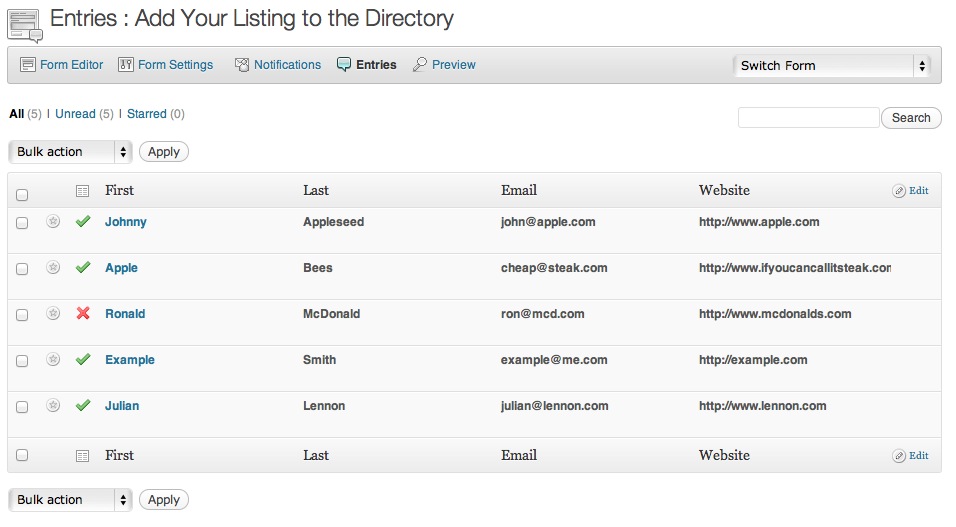 Gravity Forms is a free WordPress plugin packed with all of the modern features you would want for your directory website.
For example, this plugin offers a built-in search option, automatic pagination, and allows users to edit directory listings so that only the ones they created are visible. This helps user keep track of their active listings, so they know what's available for their customers.
It also allows you to display directories and entries as tables for better organization. You can also define a custom style using one or a few of this plugin's default shortcodes. For instance, users can view single entries in their own page or in a lightbox, and you can approve and dissaprove entries that are submitted in bulk.
Pros
Cons

Offers a built-in search function
Offers a pagination feature for directory listings
Completely shortcode based
Provides lightbox support for images
Plenty of categorization options for visitors

Despite being a "free plugin" you need to download the Gravity Forms plugin to use it which is a premium plugin
Requires a "Pro" Gravity Forms account to use the paid web directory features
Limited functionality with the free version
Limited customer support options
Price: Free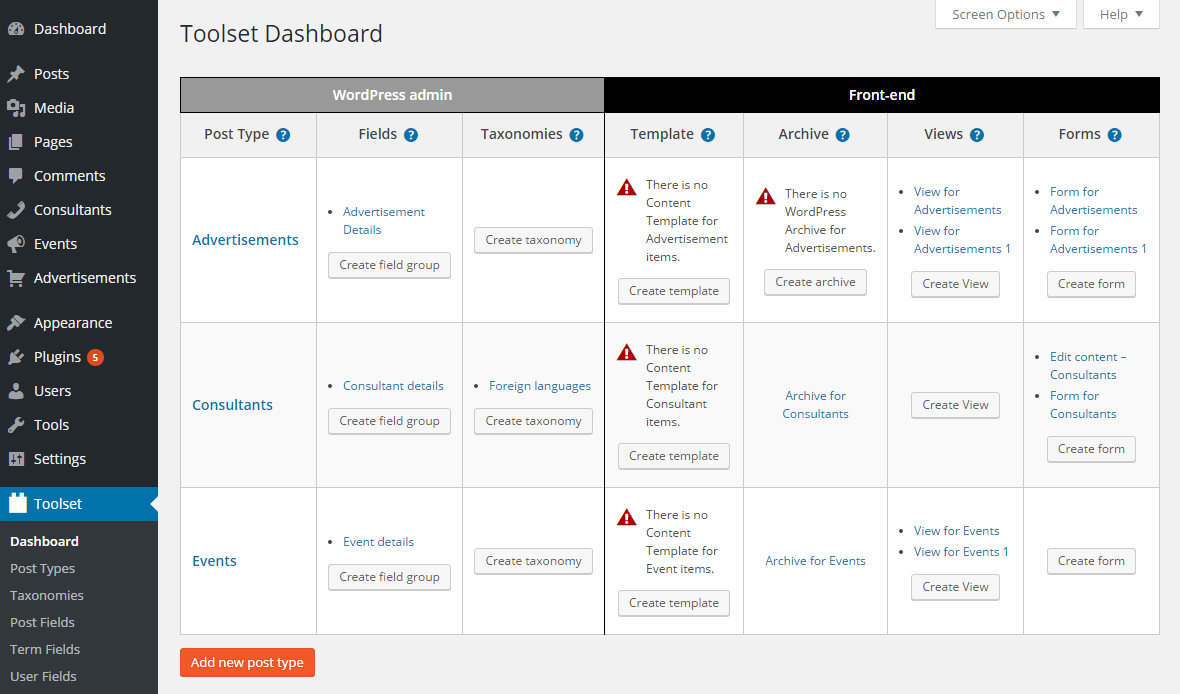 Toolset takes a little different approach to WordPress plugins. Rather than just offering the plugin for anyone to purchase and download, Toolset provides documentation after purchase. This plugin prioritizes customer success by offering a training course that teaches people how to use the plugin and maximize its value.
But, that's not all this training teaches you. It also teaches you how to build a successful business directory in general, giving you both the knowledge and the tools required to develop an engaging and — hopefully — profitable website.
Some additional features include responsive layouts, ultrafast code, and a reliable support staff that's available almost 24 hours a day. This plugin is fully customizable, so you can create the exact look and feel to your site that you were hoping for.
And, this plugin is WPML compatible, so everything you build with it can be translated as needed. This is great when you want to scale your site and start engaging audiences that may speak different languages.
Pros
Cons

Comes with an onboarding program and training exercises
Training teaches both how to use the product and how to build a directory site
Provides maps and front-end forms
Has an option to create "related" posts
Offers a free trial via a sandbox account

Not as user-friendly as other options on this list
Sometimes there are too many options to choose from, which can lead to overload
Some confusing support documentation
Requires some coding/programming knowledge to use
Price: $69
This is feature-rich WordPress plugin provides several different options to customize your site and make it stand out from its competitors. For example, there's a signup module, a pricing table, and a rating system that you can apply to each listing. It also comes with free email templates, a PayPal and Stripe integration, and an Ajax "load more" feature.
Additional features include Ajax filter faceted search, a review module, and a contact form. You can also differentiate between free and paid listings on your site.
Aside from the features, Directory Pro is fully responsive and SEO-friendly. This helps your site rank higher on search engines which ultimately improves your organic traffic.
Pros
Cons

Can be translated into 13 languages
Provides a variety of shortcodes
Comes with 11 premade email templates
Compatible with MailChimp

Provides a "coupon" feature for discounts and promotions




Not as user-friendly as other plugins on this list
Limited customer support options
Does not offer an "auto-complete" field for forms
Price: $39
If you're looking for something simple, then this may be the right plugin for you. Business Directory Plugin is versatile, easy to use, and you can set it up in just a few moments.
Some notable features include customizable form fields, drag-and-drop image uploads, and a built-in CSV import function so you can create listings in bulk — rather than having to upload them one by one.
There's also plenty of payment options available for this plugin. For instance, not only can you accept payments in your listings, but you can set up recurring payments and fee plans as well. To do this, this plugin is compatible with numerous payment software, like PayPal, Authorize.net, Stripe, and more.
Pros
Cons

Plenty of options for collecting payments from visitors
Ideal for those working under a tight budget
Offers ReCaptcha to prevent spam listings
Mobile-friendly and responsive design
Compatible with NavXT Breadcrumbs and WP-PageNavi

Requires premium add-ons for some features
Requires premium add-on for payment integrations
Tough to scale with this plugin without purchasing an add-on
Unable to edit labels for listings
Limited customer support options
Price: Free
No, GeoDirectory is not the plugin I used to find rock shops around the world — though someone should write that down because it's a pretty good idea.
Instead, GeoDirectory is a WordPress plugin that turns any website theme into a business directory. It's compatible with Gutenberg and most page builders like Elementor, Beaver Builder, and Divi.
GeoDirectory is fully responsive, so your directory site will look great on any device or browser it's loaded on. This plugin also comes with a built-in user review system and business inquiry forms so visitors can send listings to friends. Users can also submit their own business forms via the front-end, drag-and-drop interface.
Pros
Cons

Compatible with most WordPress themes and page builders
Offers a drag-and-drop form builder
Ability to search listings by zip code or location
WPML compatible
Offers various features for SEO optimization

"One-city" directory. You can't add listings outside the default city
Limited support documentation (but an excellent customer support team)
Could be more user-friendly
Does require add-ons for some features
Price: Free
Building a Business Directory in Wordpress
If you want to find a really cool rock, then it helps to work with a geologist to locate the exact one you're looking for. If you want to find a certain business or product, then you would reach out to a business directory for help.
The best directories help visitors find the brands they're looking for and they provide them with everything they need to know about a company from its listing page.
If you want to create an attractive, user-friendly site for listings, these WordPress directory plugins are a good place to start.
Editor's note: This post was originally published in Jan 2020 and has been updated for comprehensiveness.