Designers and marketers understand how important data is to any web strategy, but they also know how time-consuming and tedious it can get to analyze it.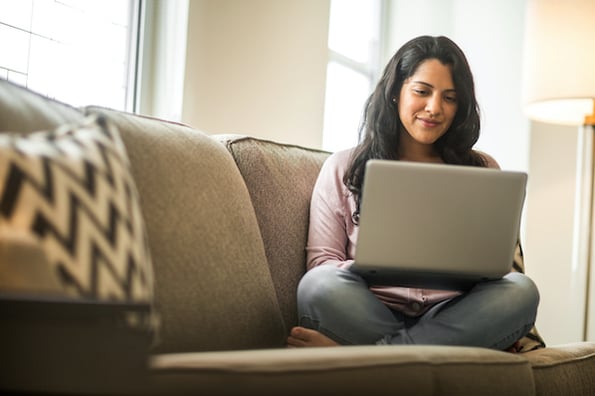 They can use common performance indicators like page views, traffic source, and bounce rates to understand user activity, but that takes time to interpret and only provides context on a quantitative level. That's where using heatmap WordPress plugins can fill in missing context.
A heatmap is a more specialized analytics tool to understand what users see, click, and where they scroll to. They help you hone in on the specific parts of your website that work and spotlight the parts that don't.
Today, we'll dive into more detail about what heatmaps really are, what they can do, and share the best heatmap WordPress plugins and software to incorporate into your analytics toolbox.
What is a heatmap?
A heatmap is a visual representation of how visitors interact with pages on a website. A heatmap will layer the page with colors that correspond to the level of engagement — "hot" colors like red and yellow indicate higher engagement, and "cold" colors like green and blue indicate lower engagement.
Heatmaps add another qualitative layer to your research. They tell you precisely what page areas and elements draw the most attention. With this information, you can fine-tune your page elements and layouts to improve performance and usability while greatly reducing guesswork.
Heatmap Engagement Types
Heatmaps can visualize three signals of engagement: clicks, scrolling, and mouse movement. All three are good indicators, but they differ in implication and application.
1. Click Map
You might use a click map to determine which of your links or buttons gets the most engagement on a page:
2. Scroll Map
A scroll map can tell you which page regions are viewed most. If visitors are missing an important section, consider moving it up on the page:
3. Mouse Movement Map
Finally, mouse movement (or mouse hover) maps show roughly where visitors are looking. You might opt to place important elements like CTAs in the "hotter" areas of your page:
As you can see, heatmaps help us understand user activity in greater detail than site-wide and even page-wide stats. Software like Google Analytics is certainly useful but tends to highlight broader things like page traffic, time-on-page, and bounce rate.
If you run a WordPress website, there are many heatmap tools and plugins. To narrow down your search, we've compiled the best available — check out the list below.
Best Heatmap Plugins for WordPress
Hotjar
Crazy Egg
Mouseflow
Lucky Orange
Clicky by Yoast
Inspectlet
Contentsquare
uxwizz
Pricing: Free Basic Plan, Plus Plan; $31/month, Business Plan; $79/month, Scale Plan pricing upon request
First on our list is Hotjar, a comprehensive visual analytics plugin that offers heatmaps for scrolling, clicks, mouse movement, and digital content downloads. Hotjar also comes with visitor recordings, form tracking (for understanding how users engage with your forms), and surveys to gauge visitor satisfaction.
Pro Tip: If you're looking to conduct more in-depth research into user activity, the Hotjar plugin also features user testing. Hotjar has a way to recruit participants and conduct testing on your site — the tool helps handle contacting participants and paying them for their input.
Boost your website optimization efforts with the Hotjar integration for HubSpot.
Pricing: Basic Plan up to 30,000 pageviews; $24/month, Standard Plan up to 75,000 pageviews; $49/month, Plus Plan up to 150,000 pageviews; $99/month, Enterprise Plan pricing upon request
With over 300,000 users, Crazy Egg is the most popular heatmap tool on our list, acclaimed for its cost-effectiveness and ample amount of features for understanding audience behavior. Crazy Egg offers click maps, scroll maps, visitor recordings, and other visualizations of user engagement.
You'll also get data about the source-based clicks, like whether more clicks are coming from social media traffic or organic search, and tools that help understand user flow through your site. Used together, Crazy Egg's features tell a complete story of how users engage with your content. When trying Crazy Egg, you can install its WordPress plugin which places the Crazy Egg tracking script on all of your pages for you.
What We Like: All Crazy Egg subscriptions allow for use on unlimited websites at no extra cost. This is a huge benefit for WordPress multisite owners that we haven't seen offered by competitors.
Pricing: Free Plan up to 500 recordings, Starter Plan up to 5,000 recordings; $24/month, Growth Plan up to 15,000 recordings; $79/month, Business Plan up to 50,000 recordings; $159/month
At its core, Mouseflow is a visitor activity playback system. It records all mouse movements, including clicks, scroll events, and even taps on mobile devices to give you the option to generate a session replay. You can even tag users to track their repeated sessions, and filter session recordings by a specific tag.
Let's not forget heatmaps, though — Mouseflow lets you make click maps, cursor movement maps, and scroll maps. You can also filter maps by users' geographic location. And for WordPress users only looking to integrate Mouseflow into their dashboards, you can download the plugin here.
What We Like: Mouseflow includes tools for tracking user funnels (i.e. user journeys through your site), viewing form interactions, and collecting feedback via surveys.
Pricing: Free Plan up to 500 pageviews, Starter Plan up to 25,000 pageviews; $10/month, Small Business Plan up to 60,000 pageviews; $20/month
Lucky Orange is a powerful set of conversion optimization tools. This plugin unlocks several techniques for understanding user experience — included in the suite are visitor recording, surveys and polls, form analytics, and heatmaps for clicks, movement, and scrolling. And for those looking to install the WordPress plugin version, you can download it here.
What We Like: One standout feature of Lucky Orange is live chat. With the built-in chat area, you can speak directly with visitors and answer their questions. The feature lets you communicate with multiple visitors at a time and auto-suggests canned responses to reduce friction for your support team.
Pricing: Pro Plus Plan up to 30,000 daily pageviews across 10 websites; $14.99/month,
Clicky by Yoast is a free WordPress plugin developed by the creators of the popular Yoast SEO plugin. This add-on syncs your WordPress website with Clicky, a web analytics platform.
Clicky helps you monitor site activity by collecting heatmap data on every page along with the length of each user session and using APIs to enable video tracking by third-party software.
What We Like: The Clicky plugin has unique features like goal monitoring (with exceptions for some specific user activities), and an advanced bounce rate calculator.
Pricing: Free Plan up to 25,000 pageviews, Micro Plan up to 100,000 pageviews; $39/month, Startup Plan up to 250,000 pageviews; $79/month, Growth Plan up to 500,000 pageviews; $149/month
Another strong web analytics option, Inspectlet is geared toward medium and large websites. It provides heatmaps for clicking, scrolling, mouse movement, and even eye-tracking, which can be an asset for user testing.
Inspectlet offers other capabilities than heat mapping such as session recording, form analytics, and A/B testing tools.
What We Like: Inspectlet's tagging system lets you assign names to specific (anonymous) visitors on your site. This way, you can observe how first-timers interact with your pages versus repeat visitors.
Pricing: Available upon Request
Those in need of an enterprise-level analytics tool should consider Contentsquare, an analytics suite with the most features of any solution we've covered. Contentsquare is built to provide tailored analytics for online businesses, which explains why there are no pricing plans listed on its website — you're required to request a meeting to get a quote.
On top of the expected heatmap offerings (clicks, scrolling, and mouse movement) and session recordings, Contentsquare brings a powerful array of project management offerings to the table.
What We Like: There's a detailed analytics dashboard where you can perform drill-downs of your metrics and focus on key insights and an area where you can see how visitors complete forms and when they drop off in your conversion funnel.
And for those who regularly use Google Analytics, Contentsquare can seamlessly integrate with that tool as well.
Pricing: Lifetime Personal License; $99, Lifetime Company License; $299
Smaller budget-conscious websites that want to store their analytics data on their own servers should consider uxwizz.
Unlike other options I've listed, uxwizz stores data on your WordPress server instead of a separate server run by the analytics provider. Since uxwizz doesn't host your heatmap data, the long-term costs are low.
Pro Tip: Self-storage also increases load on your server, so it's best for small websites to produce fewer heatmaps and recordings overall.
A self-hosted installation of uxwizz generates heatmaps for clicks, cursor movement, and scrolling, as well as session recording. It also includes A/B testing tools and a tagging system for visitor segmentation, so all users can be grouped by identifiers like country, visit duration, device screen size, and more.
Bring the Heat To Your Website Analytics
Forgive me for that pun, but it's true — heatmaps are one of the most valuable qualitative tools you can use to understand and appreciate your users' journeys.
Any of the tools above can generate impressive heatmaps, but that's just one of many things they can do. So, take advantage of free plans and trial periods to determine which analytics option best serves your needs and keeps visitors coming back to your site.
Editor's Note: This post was originally published in December 2020 and has been updated for comprehensiveness.