A carpenter uses a hammer, a teacher works with a dry eraser, and an artist has a paintbrush. No matter the trade, every professional uses a tool to help them perform their work.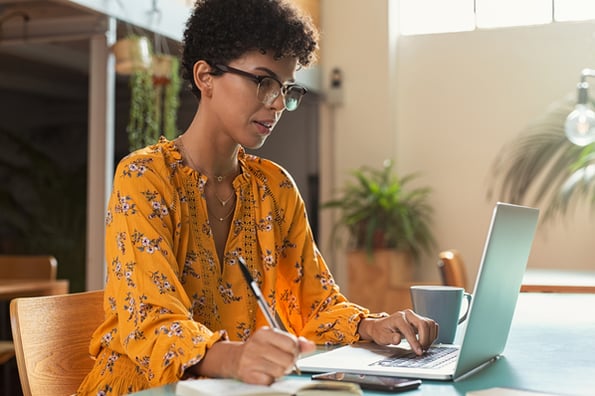 Writers use pen and paper or a keyboard to craft their stories. But in this digital age, that toolkit isn't enough. Nowadays, writers must do more than write. They are required to know how to rank on search engines, manage an editorial team, and promote their work on social media.
WordPress plugins for writers are designed to help you do multiple tasks, thereby equipping you with everything you need to plan, create, and publicize your work.
Luckily, there are several options when it comes to writing tools. In this post, we'll cover the best WordPress plugins for writers.
Best WordPress Plugins for Writers
HubSpot
Yoast SEO
NextScripts
Copyright Proof
Akismet
Mooberry Book Manager
WProofreader
Revive Old Posts
EmbedPress
Publish to Schedule
Portfolio
Broken Link Checker
ImageInject
Editorial Calendar
Sumo
Edit Flow
HubSpot's WordPress plugin provides one thing that's invaluable for writers: data around what's resonating with your readers. With built-in analytics, you can quickly see what content is performing best on your blog and use that to inform your content strategy moving forward.
Other valuable features of the free WordPress plugin include email marketing and live chat — two tools you can use to distribute your newly minted words to the world and grow your audience.
Source: HubSpot
Yoast SEO helps your content to rank higher in search engines. This plugin offers title and meta description templating to produce consistent snippets in search results. It also gives you full control over your breadcrumbs to help visitors navigate your site. Its readability analysis feature suggests transition words and spots passive voice in your content to help you create more engaging reader experience.
Source: WordPress
Social media is powerful for getting your work noticed beyond your immediate network. With NextScripts, you can automatically publish blog posts to your social media accounts. The plugin supports several social networks, including Facebook, Twitter, LinkedIn, and YouTube. It also lets you take control of your social strategy with filters to specify which posts you want to share on social media.
Source: WordPress
In this digital age, it's critical to claim your work as your own. Copyright Proof helps you prove your ownership and protect your copyright. For every WordPress post, you'll receive a digitally signed and timestamped certificate to attribute the content to you. There's also an anti-theft feature that will record the IP addresses of plagiarizers.
Source: WordPress
Akismet helps fight spam by checking your comments and contact form submissions. Before publishing a comment, Akismet will filter out the ones that look like malicious content. That way, you're only responding to your loyal readers and not spambots. The Discard feature also blocks the worst spam and frees up your disk space to increase your page load time.
Source: WordPress
Displaying your books on your site attracts new readers to your work. Mooberry Book Manager is an easy-to-use plugin for adding your books to your website. Simply fill out a form with your book cover, excerpt, reviews, and a link to the book. If you're showcasing a selection of books, you can organize them into a grid and sort them by the newest releases.
Source: WordPress
WProofreader automatically checks your spelling and grammar, and it can do so in multiple languages. Consider this plugin your personal proofreader as it instantly underlines mistakes while you type or, if you prefer, you can set it to proofread your text in a separate pop-up window. Upgrade to the Pro version to add specialized terminology, acronyms, and proper names to a Personal User Dictionary.
Source: WordPress
You don't always have time to share your blog posts on social media. Revive Old Posts makes it easy for you by automatically sharing your old and new posts on Twitter and Facebook. You can select the number of posts to share along with the hashtags to include in the social posts. The plugin also integrates with Google Analytics to help you track the performance of social media sharing.
Source: WordPress
EmbedPress connects your WordPress site to multiple web services, making it easier for you to display content on your website. Using only the URL, the tool will embed your chosen content into your posts. For example, using a Facebook post link, you can embed the social content directly to your site. You also can embed videos from YouTube, audio from Spotify, and images from GIPHY.
Source: WordPress
Sometimes you can forget to schedule your blog posts to your website. With the Publish to Schedule plugin, you can auto-publish your content by configuring the days of the week, the number of posts each day, and the time intervals. This tool is most helpful if you want to maintain a consistent publishing schedule or if you manage multiple blogs.
Source: WordPress
Want to display your writing projects together? The Portfolio plugin lets you create an unlimited number of portfolio projects. For each project, you can include a short description, screenshots, and a link to the work. You also can set the number for portfolio columns to display. Portfolios are a great way to showcase all your work in a single place for readers.
Source: WordPress
When visitors click a link on your page, the last thing they want to get is a 404 error. However, you don't have time to check every single link on your website. That's where Broken Link Checker steps in to detect links that aren't working. It monitors links in your posts, pages, and comments, and then notifies you in the dashboard or by email. You also can edit the broken links directly in the plugin without having to manually update each post.
Source: WordPress
Visuals are useful for gaining the attention of your readers. But sometimes, it's hard to find the right image for your post. With ImageInject, you can easily search thousands of free Creative Commons images and select the best one for your blog post. Plus, your selected images are added to your WordPress media library for future use.
Source: WordPress
Editorial Calendar gives you an overview of your blog publishing schedule. This is the perfect tool to help you manage your editorial team because you can see all your posts and when they will be published in a monthly calendar format. You also can edit post titles within the plugin and drag-and-drop posts to change the publishing dates.
Source: WordPress
As a writer, you're always looking for ways to grow your readership. Sumo is a helpful tool for growing your email list and increasing conversions. Its core features include high-converting opt-in forms to collect your readers' email addresses and automated email drip campaigns to help you connect with your subscribers. The plugin also provides share buttons for visitors to promote your content on their social media networks.
Source: WordPress
Edit Flow makes it easy to collaborate with your editorial team in the WordPress dashboard. There's a convenient month-to-month calendar to review your content and threaded commenting for writers and editors to discuss specific posts. The Custom Status feature lets you define key stages in the editorial workflow, while the Story Budget feature gives you a view of all your upcoming posts.
Source: WordPress
Writing involves a lot of creativity and mental energy. On top of that, you need a multitude of other skills, like SEO and content management, to draw attention to your work. But don't worry. With the above-mentioned WordPress plugins, you can focus on what matters most—your writing.