In 2019, the average American adult will spend three hours and 43 minutes on mobile devices. Moreover, people are spending the bulk of their time using apps to listen to digital audio and participate in social media conversations among other online activities. If businesses expect to compete in the marketplace, brands must adapt to this new trend.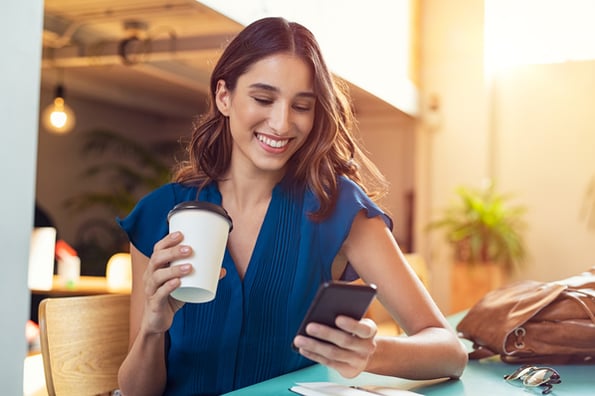 Android apps offer brands an opportunity to directly connect with their consumers. You can send users personalized content about brand promotions, create habit-forming activities to increase engagement, and monetize the user experience to earn advertising revenue.
Source: AppPresser
The creation of an Android app can be a costly project for your business. You'll probably need to hire a developer to launch the app. It also can take months to get a prototype that your whole team can agree upon.
Luckily, there's another option to create an Android app for your WordPress website. Plugins make it possible for you to build a mobile app in less time with no coding experience. You can design the app's appearance, send push notifications to users, and track the analytics of your app.
In this post, we'll learn why you should create an Android app for your WordPress site and highlight specific plugins to help you get started.
Why create an Android app for your WordPress site?
We're living in the golden age of mobile devices because almost everyone has access to a smartphone or tablet. This shift means brands can't rely only on desktop websites for their mobile users. When users visit a desktop website on a mobile device, they have to constantly zoom in and out to read the content, which destroys the user experience.
The common reaction is to build a responsive website that adapts to all mobile devices. While it's a good option to improve the user experience, it's not the best approach if your brand wants to become an industry leader and separate your business from the competition.
A more effective solution is to create an Android app for your WordPress site. That way, you can build a better brand relationship with your users. Mobile app features allow you to send push notifications directly to users and enable easy access to your website without typing in a URL. In addition, you can generate new streams of revenue with mobile advertising.
Plugins to Create an Android App for Your WordPress Site
WappPress
BlogPress
AppMaker WP
Web2App
AppPresser
WPMobile.App
MobiLoud
Appful
There's an expensive price tag when it comes to building a mobile app. Without technical skills, you will have to hire a developer or agency to get the job done. Fortunately, plugins can help turn your WordPress site into a mobile app minus the high costs. Here are a few plugins you should explore.
WappPress can easily convert any WordPress website into an Android app in a few simple steps. This cost-efficient platform allows you to customize your website with seven pre-designed themes and create a tailored splash screen to match your brand style. Also, you can send push notifications to your app users to communicate relevant messages.
Source: WappPress
This feature-rich tool uses your native library and JSON data feeds to build your Android app. The home screen will display your website posts including full descriptions, links, and images. To improve the user experience, there's a pinch-to-zoom feature for users to adjust image sizes. Plus, BlogPress integrates with Google Analytics to track your users' behaviors.
Source: Envato Market
Appmaker WP is an effective plugin for blogs and news websites. You can organize your content using unlimited category pages and create a menu bar to help users navigate your mobile app. If you want to monetize your mobile app, there's AdMob integration to display in-app ads from advertisers.
Source: WordPress
Web2App is a WordPress plugin packed with user-friendly features. This tool comes with multiple navigation options, including tabs, toolbars, and drawers, to guide users through your app. You can create unlimited pages and customize templates to grab the attention of your app users. Step-by-step instructions are also available for beginners with no coding experience.
Source: Envato Market
AppPresser is an app builder that specializes in transforming your WordPress website into a mobile app. Using its visual app customizer, you can see a live preview while you design your app. The tool also allows your users to log in and register with Facebook, share content on social media, and upload photos using the mobile device's camera or photo library.
Source: AppPresser
Customization is the key feature of the WPMobile.App plugin. You can modify the name, logo, and theme of your mobile app to complement your desktop website. Users can search for your content directly in the app. From the WordPress panel, you can also access mobile app usage, like the number of installations, geolocations, and browsing history.
Source: WordPress
MobiLoud focuses on creating a seamless user experience for your mobile app users. You can configure hamburger menus and tab menus to help users navigate your app. There's an option to enable comments within your app to keep your users engaged and to encourage return visits. You can also remind your users to review your app to get more organic downloads.
Source: MobiLoud
Take your website content to the next level with Appful. This plugin enables you to do real-time editing to build the perfect app. Your users benefit from an elaborate native commenting system to encourage the best social interaction experience right inside your mobile app. You can also monetize your content with a built-in subscription model to grant users access to exclusive content.
Source: WordPress
People are spending more time on mobile apps. With plugins, you can create a mobile app without any coding skills. You can customize the appearance of the mobile app, deploy push notifications to your users, and monitor the usage data. Also, you can monetize the app to bring in more revenue for your business. Take advantage of this growing trend by creating an Android app for your WordPress site.