To encourage school participation, my high school would host community fairs for students to learn about the different clubs on campus. Club representatives would woo their fellow classmates with free candy and swag to get new club members.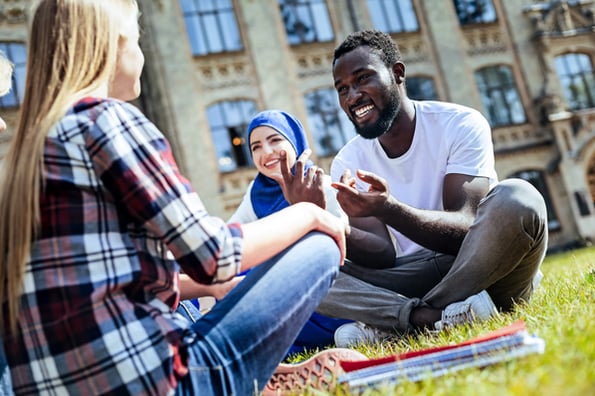 While the candy got students' attention, the purpose of the fair was to get more students involved. Administrators wanted us to have school pride, and the best way to achieve that was through small communities sharing a similar interest.
The same rings true for adults. Involvement in communities keeps us engaged. So much so, that in 2018, more than 2 billion people used social media worldwide to get their news, find popular products, and just hangout.
You can keep people in tune with your brand by creating your own community through a social community site. A site like this is perfect for discussing the latest industry news with your audience and encouraging them to share their opinions about relevant topics.
In this post, we'll cover how to create a social community site and highlight a few best practices to help you manage your community.
What is a social community site?
A social community site is a platform that allows members to create profiles and connect with others within the network. It often includes an activity stream for members to monitor what's happening in the community. Some more popular social community sites include Facebook and Pinterest, but you can easily create your own that's more targeted to your audience and their needs.
WordPress is no doubt one of the best ways to create your social community because it doesn't require coding skills or a full-time developer. Before we get into the logistics of creating your site, let's cover the different types of social community sites that exist.
Types of Social Community Sites
It's important to build a welcoming online space for your members. When brainstorming the type of social community to create, consider the overall purpose for your community and how you want members to interact with one another. Check out the different types of social community sites below.
Forums
A forum is a popular type of community site where members convene to share knowledge about a variety of topics. It's a self-service message board for members to ask questions and provide answers.
For example, on a product-related forum, customers can post their issues and other members can help them find a solution. The forum frees up a company's customer support team while forum members resolve their common problems together.
Community Blogs
A community blog is a user-generated platform for members to submit and publish content. It's an opportunity for members to share their expertise with the community. As a result, members become more invested in seeing the blog thrive and spreading the word.
Business 2 Community is a community blog for business professionals to submit articles on topics ranging from digital marketing to technology. This site has published content from more than 10,000 expert contributors.
Social Networking Sites
Social networking sites allow your visitors to discuss a variety of topics. Members create their own social profiles, generate friend lists, and send private messages. Similar to Facebook and Reddit, members can create sub-communities, like groups or mini forums, to chat in-depth about a topic. An example might be a social networking site dedicated to baking that has a sub-community specifically about decorating cookies.
Plugins to Create a Social Community Site Using WordPress
With the help of WordPress plugins, you can create a social community site without any coding skills. Feature-rich plugins, like the ones below, make it easy to build a high-quality community.
bbPress is a well-known plugin for developing a forum on your WordPress website. You can either create a forum as your full website or add a forum as a part of your existing site. The plugin is customizable to match your WordPress theme. There's also an active support forum with contributors to help answer your questions.
Source: WordPress
BuddyPress helps you build your very own social networking website. Members can set up a profile, make social connections, and send private messages. The plugin also provides the functionality to create public and private groups for your members to discuss specific topics.
Source: WordPress
User Submitted Posts is a powerful tool for building a robust community blog. Its simple interface makes it easy for your community members to submit posts. In the post-submission form fields, you can request members add their name, email, post title, and any relevant post tags. Then, on the backend, you can manage submitted posts with one-click filtering.
Source: WordPress
WP Symposium Pro is your solution for building a social network. Your community will have the ability to add social profiles, create activity posts, like (and dislike) activity posts, and reward members with points for specific actions. The plugin also comes with a built-in forum for members to chat.
PeepSo is a new social network plugin with a modern look and feel. This tool lets your members create beautiful user profiles and schedule posts on their activity stream. PeepSo touts a host of features including nested comments, pinned posts, and image uploads. Members can even send GIPHY gifs in post comments.
Source: WordPress
Best Practices for Managing a Social Community Site
A thriving community doesn't grow overnight. It takes time and patience to get members to initiate discussions and network together. If you're new to community management, here are a few best practices you should follow.
1. Define your focus.
Your social community site should center around a particular topic. For instance, if you sell home decor products, keep the focus on interior design, DIY furniture projects, or modern appliances. When you stray away from the original purpose of the community, your members will begin to disengage from your site.
2. Onboard new members.
Similar to welcoming a new customer, you should greet your new community members. Acknowledge their presence in the community and send them information on how to get active. You can show them how to set up their profiles and even suggest a few subgroups to join.
3. Encourage engagement.
Active participation from members keeps communities alive. Encourage engagement by asking relevant questions or requesting members to share a piece of content. Some communities designate specific days of the week for certain activities, like every Wednesday members can share their Spotify playlist.
4. Don't overly promote.
Social community sites help build trust between your members and brand. You can easily break that bond if you start regularly promoting your products. Give your members the space to be free from brand advertisements. If you'd like, ask members to join a sub-community to learn about your latest product releases.
Staying relevant to your customers is important in a competitive marketplace. By creating a social community site using WordPress, your brand becomes the go-to online space for customers to share ideas and learn new things. So, get creative and build your community today.