Of all of the apps in your business stack, your CRM (Customer Relationship Management system) has perhaps the most important job. It exists to look after and organize the most valuable resource in your business: your customer data.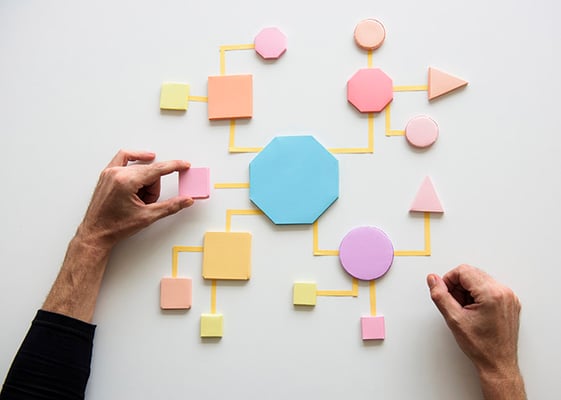 With a great CRM system on your side, you're in the best position to manage your contact data effectively, delight your customers, and stay on top of sales and marketing pipelines.
However, simply using a CRM next to your other business apps doesn't give you the maximum results. You can think of it as level one. To access level two and beyond and give your data the most power, you need to connect your CRM with your other apps.
To get the most value from your CRM, your business can move through these three key steps:
Level 1: Adopting a CRM system that matches your business requirements
Level 2: Connecting your CRM with your other apps using integrations
Level 3: Creating 'if-this-then-that' conditions within your integration software to share precisely the right data between apps
By using integration software next to your CRM, you can enrich your CRM's data while empowering your other apps for higher results in every area of your business.
Let's dig into how to get started with CRM integration software and share a few best practices.
What is integration software?
Integration software allows your business apps to talk to each other. The most popular type of integration software is known as iPaaS, or Integration Platform as a Service. The 'as a service' part means that it works in the cloud and you pay by subscription, just like other SaaS (software as a service) apps.
Say you're using a CRM alongside an email marketing app. An iPaaS listens to both applications and translates their data so it can flow into the other tool and be understood.
What kind of apps can you connect to your CRM using integration software?
With an integration platform in your tech stack, you gain access to thousands of possibilities for connecting your apps.
Integration software works beautifully with business apps that contain customer data, lead data, contact data, and in some cases, company data.
This includes your CRM, email marketing platform, customer support software, invoicing apps, lead generation tools, and many more examples of SaaS tools.
Let's look at a few options for using CRM integration software alongside your other apps in more detail:
Connect your CRM to your Email Marketing Platform
When your mailing lists contain clean, accurate, and in-depth data, you can send relevant and personalized communications to exactly the right people at the right time.
With integration software, you have lots of options for connecting apps like your CRM (where lots of your data is held) to your email marketing platform to share reliable and enriched contact data.
For example, when a new contact arrives in your CRM, you can set up a sync that automatically adds them to the right subscription list within your email tool. And if they ever unsubscribe, you can instantly reflect the change in your CRM.
iPaaS enables you to sync additional custom properties to build on what you know about your subscribers, facilitating data-driven decisions and timely communications that are personalized for every individual on your mailing list.
Connect your CRM to your Phone Contacts
Do you have business contacts on your phone? They are probably stored in Google Contacts, iCloud or Contacts+ which are not automatically connected to your CRM.
Having your CRM connected to your phone's address book or contact repository means up-to-date contact details, no matter which app or device you're using. That has a direct impact on the quality of your interactions. It also saves you time previously spent searching for the correct phone number.
Connect your CRM to your Customer Support Software
If you keep customer data in your CRM but use a separate app to manage your customer support, organization can get messy.
When data is siloed in your company, a company's account manager might send a chirpy check-in email to a client without realizing that they submitted five support tickets over the weekend. Or your support technician may not realize that an inquiry from a high-value customer needs dealing with ASAP.
To give everyone in your team the full picture, you can automatically sync custom data in your CRM with your customer support software and back again. Some examples of useful data to sync includes:
Last support ticket date
Support priority level or SLA status
Became a customer date
Next invoice due date
How can you make sure only the right data is integrated with your CRM and other apps?
Having more data isn't always better. We all want a clear view of the most relevant data in every app to make it easier to get our best work done. So one of the questions you might have about integration software is how to only share the right data.
This comes down to three best practices: cleaning your data before syncing it, setting conditional rules of what to sync and when, and automatically syncing future changes to your data.
Let's dig into how to achieve each of these.
Clean up your data first
Use 'if-this-then-that' (or IF/THEN) conditional rules to sync the right data
Immediately sync subscription changes
Some apps can sync historical data, not just the new data that flows into your apps after setting up the sync. This has a ton of advantages, including giving you an instant view of your full database and eliminating the need to manually move contacts between apps using CSVs.
However, you don't want to add bad data to your other apps, so clean this up before you start syncing. A good data cleaning session hunts down and removes duplicate contacts, contacts that have opted out from communication, or old email addresses that show up as bounces when you contact them. Many SaaS apps offer data cleaning features to simplify this for you.
An integration solution like Operations Hub offers filters to determine when and how the data is synced between your apps.
For example, a sample sync could be: IF a new lead joins my CRM and has the property "Opted into communication", THEN sync it to my email marketing app and add the tag "lead".
By adding tags and labels to show where the data has come from and what you know about the contact, you're in the best position to enrich your data across all apps.
Solutions like Insycle can help merge duplicates across HubSpot and Salesforce CRMs simultaneously, ensuring that the right records keep syncing between the CRMs.
One of the most impactful ways to use an iPaaS tool is for managing list subscriptions. You can use integration software to automatically opt people into communications in a specific tool when something changes in another, but also instantly unsubscribe them if they ever change their mind.
Not only does this make it simple to adhere to data protection regulations, it shows that you respect your contacts' communication preferences; something that's assumed to be a given, but will be dangerous to your brand reputation if ignored.
Ultimately, the core best practice for successful software integration is solving how to make work easier and more productive for you and your team. What data enables each person to do their best work? And how can you enable this with powerful data syncs?
To connect the dots between the different apps in your tech stack, check which apps you can connect to your CRM and start considering how you'd like the data to flow for best results. With thoughtful implementation, your business benefits from the most accurate and in-depth data on every platform, starting with your CRM.