Imagine if every time you wanted to visit Google you had to type its IP address instead of its domain name. It would get pretty arduous, right? Luckily, we don't have to use a site's IP address to access it. Instead, we use its domain name. There are innumerable benefits of a custom domain name — from the fact they act like a home address for websites to how they simplify the process of identifying sites.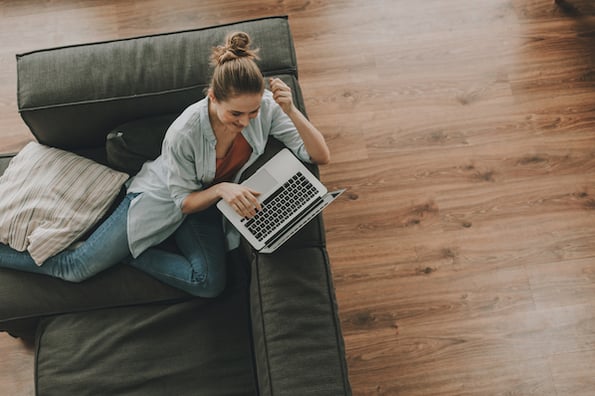 To get visitors to your website (and keep them coming back), you'll need a domain name that's unique, short, and easy to spell and memorize. Luckily, you decide what your site goes by when you purchase and register a custom domain. Consider this your ultimate guide to the benefits of a custom domain — and how to get started with yours.
What is a custom domain?
A custom domain is a unique branded label attached to your website's IP address. Customers who want to visit your site type your custom domain name into their browser's address bar. There's no need to memorize a lengthy IP address. HubSpot's custom domain, for example, is hubspot.com.
Domain names are required for proprietary reasons, as they provide you ownership over your site's address. Think of it this way: you have a home address so visitors can navigate to your home with the help of a GPS. Similarly, you have a custom domain name so your customers can easily find your site. One of the other benefits of a custom domain is that once you claim it, it's off the market — no one else can use it.
What are the benefits of a custom domain?
In addition to creating a space for your business to live online, a custom domain has other benefits. Here are some of the top reasons companies select a personalized domain name.
Brand identity: Your custom domain name becomes your company's online moniker. Visitors expect your domain name to match or closely resemble your company name, so stay consistent to maintain brand identity.
Credibility: A custom domain name boosts credibility and makes your website appear legitimate to visitors.
Memorability: The more straightforward your domain name is, the easier it is to remember. The easier it is to remember, the more likely people will remember it when typing in their search bar

— and that means more traffic directed to your website.

Differentiation from competitors: Use a clean, catchy custom domain to differentiate yourself from competing sites with clunkier domains.
Authority boost: A custom domain name boosts search authority — if you use it right. It takes time to accumulate quality content, internal links, and backlinks, so older domains typically have more authority.
You'll be assigned a subdomain if you start creating your site on a free website builder like Weebly, WordPress, or Webnode. Your URL might appear something like: example.wordpress.com. Later, you may decide to upgrade your account to a paid plan and purchase a custom domain — but your domain authority essentially resets to zero. See what we mean about the importance of using a custom domain name from the get-go?
P.S. HubSpot now offers free CMS tools to start building your site!
What are best practices for custom domain names?
So you've decided to pay for a custom domain name. Congratulations on taking a significant first step towards establishing search authority, credibility, and trust. There are a few things you should consider when coming up with a domain name:
Keep it short and sweet: Even if your business name is lengthy, it's wise to keep it brief — while maintaining cohesiveness with your brand.
Make it unique: You want site visitors to easily navigate your website, not a competitor's, right? Make sure there's no confusion with your domain name.
Don't overcomplicate things: Domain names that are easy to spell and pronounce are the most successful.
Hint at what you do: Your domain name should provide visitors with an idea of what your business is all about. Take Google, for example. This popular search engine was almost named Alphabet or BackRub, but cofounders Larry Page and Sergey Brin ultimately decided on Google. It derives from the word "googol," an enormous number that mirrors the numerous web pages indexed by the search engine.
Now that you understand the benefits of a custom domain, let's examine how much it costs to acquire and register one.
How much does a custom domain cost?
Typically, a ".com" domain name — the most popular extension — ranges between $10 to $15 per year. Several factors influence the cost, including the domain registrar you're purchasing it from, the extension desired, and how SEO-friendly it is.
Nearly all website building platforms, from hosted website builders to self-hosted CMS platforms, include an option to register a domain name in the sign-up process. And some hosting platforms, such as Squarespace, offer a free year of domain registration with sign-up. Of course, this appeals to new site owners who want to keep website costs down — but check the renewal fee before you sign on the dotted line, so you don't accidentally commit to an exorbitant annual rate.
Alternatively, some hosted platforms such as CMS Hub and providers like SiteGround require you to purchase a domain from a third-party domain registrar like GoDaddy or Namecheap. Then, you'll connect it to your account through a relatively inexpensive and painless process.
We mentioned that you should expect to pay somewhere between $10 and $15 a year for your domain. However, the extension you select can significantly impact the price. Below, you can see how different extensions alter the cost of a custom domain name.
Now that we understand how the pricing of a custom domain name varies, let's walk through the process of getting one.
How to Get a Custom Domain
Pick your domain registrar.
Search your desired name.
If that name is taken, try different variations and domain extensions.
Add domain privacy and protection to your cart.
Purchase alternatives of your custom domain.
Select your term of registration.
Buy an email domain and other add-ons.
Enter your payment information.
Connect your domain to your hosting account.
We've outlined the nine steps you'll need to follow to get your custom domain and connect it to your hosting account. This process depends on two factors: the platform you're building your site on and the domain registrar which you're purchasing from. In the following example, we'll walk through the steps of buying a domain from Domain.com and connecting it to HubSpot. You can host all your landing pages, blogs, and website pages on HubSpot and start building search authority.
1. Pick a domain registrar.
When choosing a domain registrar, evaluate the cost, available domain names, privacy, expiration fees, and reputation. Domain.com, for instance, offers domain registration for as low as $2.99. Most .com domains on the platform cost about $9.99, making it one of the most cost-friendly options.
We've rounded up some of the best domain registrars from which you can buy your custom name. These include Namecheap, GoDaddy, Name.com, and BlueHost.
2. Search your desired name.
You already know what makes a domain name stand out. Now, it's time to apply that knowledge to your business. After selecting your domain registrar, search to see if your desired name is available. If so, add it to your cart and skip to step four. If someone else has it, move on to step three.
For the sake of this demo, let's say we're going to create a lifestyle blog with the domain name afitzgerald.com. After a search, we see it's already registered, so we'll have to keep looking.
3. If that name is taken, try different variations and domain extensions.
There are a few options if someone else has your desired domain name. You could attempt to purchase the domain name from the present owner. However, this could cost hundreds (or even millions) of dollars — so it's wise to take another approach.
If ".com" is taken, consider a well-known alternate extension like .net or .org. Or, you might start over and try different variations with .com. Say we didn't like any of the alternatives listed below. Then, we might try "andreafitzgerald.com" or "fitzgeralda.com" and so on.
4. Add domain privacy and protection to your cart.
We can't emphasize enough the importance of securing your website with good privacy practices. After choosing your name and beginning to check out, add domain privacy and protection.
If you skip this step, your personal information (including name, address, phone number, and email) gets listed in the public WHOIS database for anyone to view. The Internet Corporation for Assigned Names and Numbers (ICANN), which oversees and approves domain registrars, requires this information.
Adding domain privacy and protection protects your personal information from appearing in the public database — and that prevents threats and attacks on your website.
5. Purchase alternatives of your custom domain.
You may consider buying an alternative to your main custom domain in certain situations. Some circumstances warrant an alternative, including if customers often misspell your domain name or if you'd like another extension. This will retain traffic intended for your website when users enter the incorrect address in their browser.
For example, we might purchase andreaefitzgerald.com as well as andreaefitzgerald.blog in case people type my name and "blog" into Google and click on the latter URL.
6. Select your term of registration.
You're over halfway to making your custom domain dreams a reality! Once you've added your custom domain, desired alternatives, and domain privacy and protection to the cart, select the duration you want to register your domain. If you know you'll have the site for years to come, you could save money by signing up for a longer amount of time. However, this costs more upfront.
To pay the least amount upfront, register it for one year. You can always renew for a longer term later.
7. Buy an email domain and other add-ons.
During the checkout process, most domain registrars offer an array of add-ons, from email to hosting to SSL certification.
Your website building platform will likely include most of these features in its hosting plans — except for email. For example, with CMS Hub, you get hosting, SSL certification, website building/design tools, and built-in security features. But, you'll want to buy a professional email address that matches your domain. This can help ensure your customers read your marketing emails instead of sending them straight to spam.
After, connect your email sending domain to HubSpot or whatever platform you use when setting up your site.
8. Enter your payment information.
Once you've added everything you need to your cart, proceed to billing. Fill in your payment and billing information to officially own your domain name.
9. Connect your domain to your hosting account.
With the custom domain officially registered in your name, all that's left to do is connect it to your hosting account or website platform.
Say you've decided to build your website on CMS Hub. You can connect a domain to HubSpot in a few easy steps from your dashboard.
Pro Tip: Unlike other free website builders, HubSpot CMS free allows you to connect your custom domain to your website without upgrading to a paid plan. That means you can hit the ground running with a professional site complete with a branded name.
Buy a Custom Domain for a Credibility Boost
Purchasing and registering a domain name is essential to creating a website. A custom domain name can build trust with your audience and strengthen your brand and drive traffic to your site. The process is easy with the right platform. Look for one that offers the documentation and support you need to purchase and easily connect a domain.
This post was originally published in April 2020 and has been updated for comprehensiveness.