Did you know that the internet's carbon footprint is almost equal to that of the entire aviation industry?
Sure, one Google search isn't dooming the planet. But, if you consider the 4.1 billion people who use the internet, those searches start to add up quickly.
Fortunately, even small changes are enough to shrink the internet's carbon footprint. For example, a good place to start is by purchasing a green hosting platform for your WordPress website.
We know how difficult it can be to choose a host for your site. Performance, speed, reliability, uptime, security, and price are all factors that weigh in the complicated equation of determining the proper host. Add the eco-friendly aspect, and it's even harder to select the perfect web hosting platform.
That's why we put together this post which features the best green hosting platforms for WordPress. We'll explain what makes these platforms green and why you might consider one over another.
What makes a WordPress hosting platform green?
Did you know that you can use eco-friendly WordPress themes? Or, that the fewer plugins and JavaScript snippets you use, the fewer resources and, consequently, the less energy your website will consume?
The biggest factor, however, for an eco-friendly website is the hosting platform. Green hosts strive to make our planet better and safer by reducing the amount of energy your site needs to operate.
Hosting providers are big energy consumers — their data centers need a lot of energy to operate and to cool down the servers. So, how can a company be green while consuming so much energy?
It depends on each business, but green hosting companies usually contribute to protecting the environment in these four ways:
Efficient Software and Hardware: Green hosts invest in eco-friendly infrastructure. Microsoft, for example, has gone a step further and successfully tested an underwater data center.
Renewable Energy Certificates: Each green host calculates its overall energy consumption. It can then buy that amount of energy from green suppliers. Some hosts purchase 300% more green energy than they consume.
Tree Planting: Some hosts attract clients by promising to plant trees based on their revenue. The more people buy their services, the more trees they plant.
Green Initiatives: By checking your favorite green hosting provider's blog posts, you can read about its green initiatives, such as sponsoring events or volunteering with environmental causes.
Now that we know what makes a hosting platform green, let's explore some of the best options available for hosting your website.
Best Green WordPress Hosting Platforms
Price: $2.50/month for Lite Plan, $5/month for Pro Plan, $9/month for Premium Plan
The US Environmental Protection Agency mentions GreenGeeks on its Green Power Partner List as a top green company. GreenGeeks buys three times more green energy than it consumes and is a leading company in this area, proving to be a genuinely green host.
GreenGeeks is similar to other hosting platforms, except for its managed hosting. To reduce the amount of energy the company uses, GreenGeeks estimates how much energy it will use in a year, then purchases three times that amount from its green provider. Any unused energy is redistributed back into the grid.
Not only is GreenGeeks one of the greenest WordPress hosting platforms, but it also offers performant services at affordable prices — meaning you don't have to sacrifice performance for a C02 conscious host. The Pro plan comes with unlimited websites, web space, bandwidth, and accounts. It also includes a free domain name for one year, daily backups, an SSL certificate, and a CDN.
Price: $11/month for Basic Plan, $14/month for Deluxe Plan, $20/month for Ultimate Plan, $84/month for Professional Plan
Hosting Forest donates 20% of its sales to environmental causes. Meaning, if you pay $100 for its services, $20 goes directly to planting trees or other eco-projects. The more money you spend with Hosting Forest, the more it invests in our planet.
WordPress hosting from Hosting Forest falls into four pricing plans: Basic, Deluxe, Ultimate, and Professional. With the Basic plan, you'll get 10 GB SSD storage, SFTP access, malware scans, and automatic backups. Neither the Basic nor the Deluxe plan offer free SSL certificates, but they are offered with the Ultimate and Professional plans. You may want to consider one of these premium plans if you want a secure and encrypted connection with your hosting platform.
Additionally, with Hosting Forest, you can let people know that you've selected a green host by showing off a distinctive badge on your site. All you have to do is select the desired badge type, copy the code, and paste it onto your site. It's a nice little perk to show off to your environmentally-conscious visitors.
Price: $4/month for Starter Plan, $6/month for Business Plan, $13/month for Business Pro Plan
HostPapa powers its infrastructure with 100% green energy and it uses energy-efficient equipment as well. It's one of the pioneers of green hosting, and the team behind it is strongly committed to reducing the company's carbon footprint.
Switching to HostPapa is simple and free; the company's experts will do the domain name transfer and website migration for you.
HostPapa provides shared, WordPress, and VPS hosting. Ecommerce sites and resellers can also take advantage of dedicated plans that have many compelling features. For instance, the WP Business plan comes with unlimited websites, SSD space, email addresses, and unmetered bandwidth.
HostPapa will also give you a free domain, an SSL certificate, and plenty of goodies, including:
100+ free WordPress themes
WordPress installation
Multiple FTP accounts
Enhanced WordPress caching
Unlimited image CDN (Proton)
HostPapa's support is multilingual (English, French, Spanish, and German) and available by email, chat, or phone. You'll also benefit from a 99.9 uptime and a 30-day money-back guarantee.
Price: $2/month for Startup Plan, $4/month for Drive Plan, $6/month for Turbo Boost, $13/month for Turbo Max
A2 Hosting is not only a well-known web hosting company, but it's involved in the green movement as well. For over 14 years, it's been a committed partner of the Carbon Fund, which is an organization that provides businesses with carbon offsetting and greenhouse gas reduction options. Since 2007, A2 Hosting has purchased green energy from the Carbon Fund to power its business.
Other noteworthy green initiatives of A2 Hosting include:
Reforestation: A2 Hosting routinely offers promotions where the company will plant trees for every product sold. This year, it offered to plant two trees for every package sold during Earth Week.
Telecommuting: A2 Hosting's employees work from home, so they don't pollute the environment by commuting to work.
Equipment Recycling: Outdated equipment that needs to be replaced is used internally, resold, or used for projects with low hardware requirements.
Smart Data Centers: A data center's energy consumption is pretty impressive, so A2Hosting implemented smart ideas to reduce consumption: smart airflow management inside room servers, variable speed on all fans and motors, and SSD usage.
A2 Hosting offers a wide range of hosting services: shared, WordPress, VPS, reseller, and dedicated. The introductory plans feature enhanced security, a free SSL certificate, and a staging website.
Price: $17/month for DreamPress Plan, $25/month for Dream Press Plus Plan, $72/month for DreamPress Pro Plan
WordPress.org endorses three hosting companies, and one of them is Dreamhost. In fact, Dreamhost is no longer just a host platform – it's a huge hub for site creators. It hosts all types of websites, sells domains, provides tools to create outstanding sites, and helps people run and maintain websites.
Like A2 Hosting, Dreamhost is a popular player in the site hosting industry and has a pretty sizable eco contribution. Renewable sources power DreamHost's data centers and energy-savvy cooling systems ensure optimal temperatures inside its buildings.
The Dreamhost offices benefit from a smart lighting system and the employees take recycling seriously – there are recycle bins located "as far as the eye can see" and there are no disposable cups, plates, or silverware used in the office. Employees can even work from home reducing the environmental impact of commuting on a daily basis.
Depending on your budget, WordPress plans are fairly affordable — especially if you go for a three-year commitment — and they include a site migration, domain name, and an SSL certificate for free.
Price: $5/month for StartUp Plan, $8/month for GrowBig Plan, $15/month for GoGeek Plan
SiteGround is another web hosting platform endorsed by WordPress.org. While many people are familiar with its services, not as many people know that SiteGround has taken action to become a green hosting provider.
Since 2020, Google Cloud has powered SiteGround's infrastructure and Google matches 100% of SiteGround's energy consumption with green energy.
Additionally, a SiteGround blog post shed some light on the company's contribution to a sustainable future. Not only does its plan include optimization of its servers, but it also focuses on reducing the environmental impact of its workspaces. For example, its headquarters was built in accordance with the Leadership in Energy and Environmental Design (LEED) certification — one of the most widely used green building certifications in the world.
The company is also making it easier for employees to reduce their carbon footprint by offering perks like electric company cars, e-bikes, and free e-charging stations. These features, along with others, incentivize employees to be more environmentally conscious and to get on board with the company's green movement.
Aside from its environmental impact, the quality of SiteGround's services is well known. Almost perfect uptime, reliable security, high-performance servers, and quality customer support define SiteGround's business approach.
Price: $61/year for Basic Plan, $129/year for Professional Plan, $229/year for Premium Plan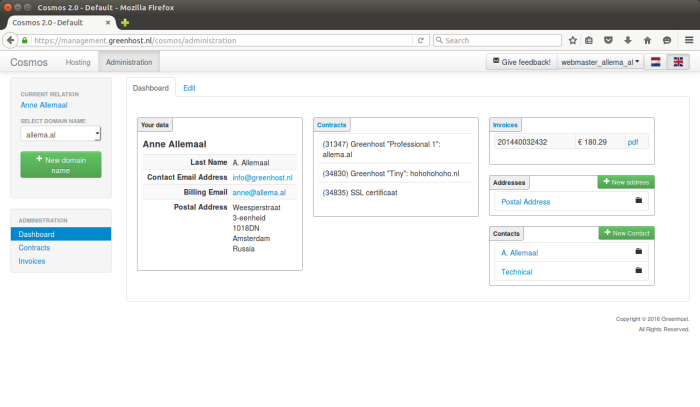 Greenhost's tagline, "Reduce, Reuse, and Recycle," says everything you need to know about its eco-friendly policies.
Plenty of businesses market themselves as green entities, but the data on their eco-initiatives is limited and somewhat vague. Greenhost goes the extra mile and informs us about everything the company is doing, even its employees' methods of transportation. Its Sustainability Report is extremely detailed and tells you exactly how big the company's environmental impact is and what it's doing to reduce it. It's honest and transparent, which tells you a lot about this provider.
For instance, in 2019 the company reported that 19.59 tons of CO2 were produced from employee transportation. Moving forward, employees were encouraged to find eco-friendly ways to commute. Of the employees who commuted, 50% came by bike, 25% came by train, and only 25% came by car.
The company also took 5% of its total transportation costs and invested them in green initiatives. Half of it went to reforestation efforts and the other half went to renewable energy.
It's not only Greenhost's green approach that has led us to recommend this host; its hosting services are pretty attractive, too. Greenhost impresses with its configurable VPS offer — you have full control over server memory and storage. It also offers a free SSL certificate, daily backups, email services for unlimited users, SSH and SFTP access, and active load balancing.
Price: $30/month for Starter Plan, $60/month for Pro Plan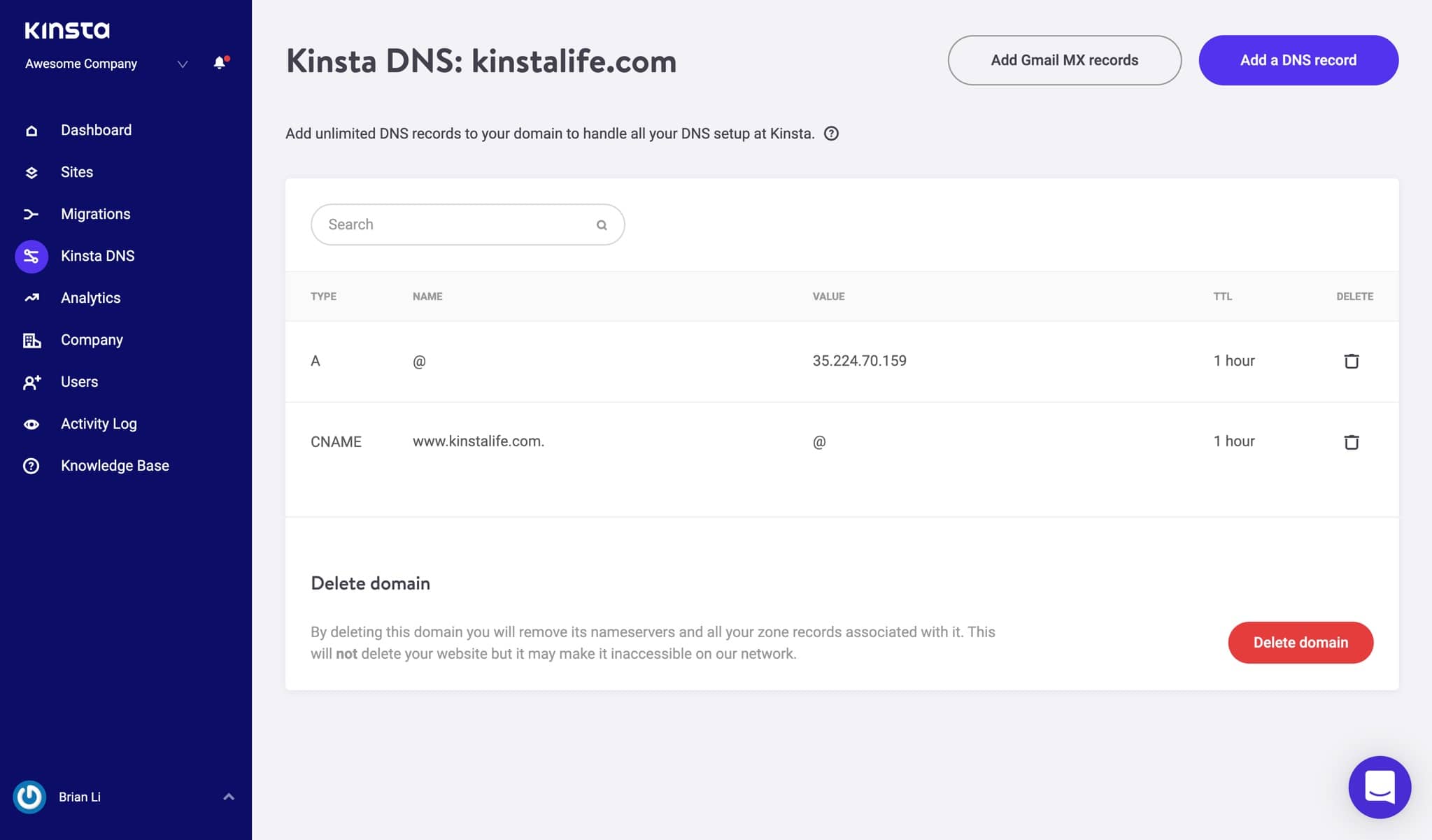 With Kinsta, you'll get top-class service and contribute to a better future all at the same time.
Its infrastructure is based on Google Cloud Platform, which runs on 100% renewable energy. It also reduced its page sizes and the number of requests its pages make to reduce carbon emissions.
Kinsta has implemented green measures in its company culture as well. For example, most employees work remotely, so they won't pollute by commuting to work. They also have fewer offices which further reduces energy consumption.
Switching to Kinsta is a breeze because its engineers will do the legwork for you, free of charge. They'll migrate your site, ensuring that it won't go down during the process.
Google Cloud Platform guarantees an unparalleled performance for sites hosted on Kinsta. Kinsta is also known for its impressive site security, so rest assured that hackers won't break your site or access sensitive information. On the off chance it does happen, Kinsta's security experts will clean up your site for you.
Is it time to go green?
We're not here to advocate for a particular host. Our goal is to make you aware that a simple decision impacts the environment. While it shouldn't be the only thing you consider, the green factor should be on your checklist when purchasing hosting services.
These green WordPress hosting platforms cover all project types. Whether you run a growing personal blog or a huge online business, there's a green hosting platform for you. Finding the most suitable one will depend on your budget as well as your site requirements.