No one likes reading a blog post filled with misspellings and grammar errors. Poor grammar confuses your readers and hurts your brand credibility. So, it's important to double-check your posts before publishing.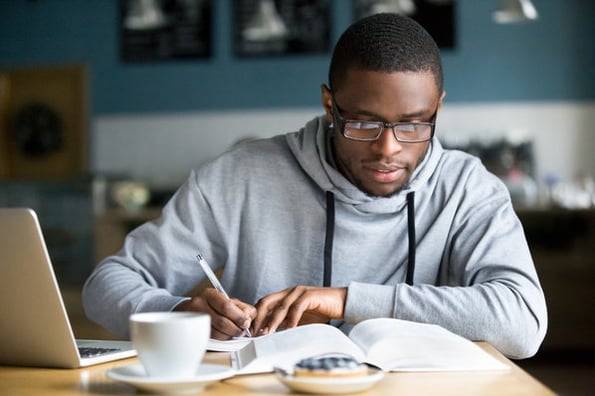 Grammarly is a helpful tool to catch any of your mistakes. Plus, it has added features to enhance the quality of your writing.
In this post, you'll learn more about Grammarly and how its key features can improve your website content.
What is Grammarly?
Grammarly helps people to communicate more effectively. Using artificial intelligence, it can automatically detect mistakes in your grammar, spelling, punctuation, word choice, and style.
Source: Grammarly
You can correct your writing by copying and pasting your text into Grammarly's Editor, or you can install Grammarly's free browser extension for Chrome, Safari, Firefox, and Edge.
Now, let's look into the key features of Grammarly.
Key Features of Grammarly
Contextual Spelling
Grammar
Punctuation
Sentence Structure
Style
Vocabulary Enhancement
Plagiarism
You can rely on Grammarly's powerful algorithm to find and correct your errors. Beyond common mistakes like misspellings, this tool can correct the style of your writing and perform a quick plagiarism check. Check out these key features.
1. Contextual Spelling
The contextual spelling feature helps you identify misspelled words as it relates to your blog post. The tool will suggest proper spellings related to the misspelled word. It can check for more than 250 types of spelling errors, so you can confidently choose the right suggestion.
2. Grammar
Grammar errors include inappropriate use of verb tenses, articles, and misplaced modifiers. The tool simplifies the writing process, making it easier for you to publish clear, mistake-free writing on your WordPress blog.
3. Punctuation
Misplaced punctuation can quickly change the meaning of a sentence. So, Grammarly can spot missing periods and comma splices. That way, you don't end up doing something like this:
Source: Reader's Digest
4. Sentence Structure
Sentence structure is the next important feature of Grammarly. The tool pinpoints the proper usage of sentence structure in your writing. There are four important sentence structures: simple sentence, complex sentence, compound sentence, and complex-compound sentence.
Grammarly scans your blog posts and applies these different sentence structures. If it finds any irregularity, like missing verbs, faulty parallelism, or incorrect adverb placement, it prompts you to make changes.
5. Style
The style is the way you express your thoughts to the audience. There are four main styles of writing: expository, descriptive, persuasive, and narrative.
Grammarly analyzes your writing to improve how you communicate with your reader. For example, the tool may suggest you use active voice rather than passive voice. It also can detect colloquial verb phrases and double subjects.
Source: Grammarly
6. Vocabulary Enhancement
Strong vocabulary is key to good communication. Grammarly flags vague words and suggests more engaging synonyms. It also can spot redundant words that devalue your writing. The tool also recommends other words and phrases you can use to add some variety to your blog post.
7. Plagiarism
Plagiarism is a serious issue online. The last thing you want is to be accused of copying someone else's work. It will diminish your brand reputation and may cause your readers to doubt the validity of your writing.
So, before you hit publish, you'll want to use Grammarly's plagiarism checking tool. It's an efficient way to properly identify and cite text that isn't 100% original.
Source: Grammarly
Grammarly's features can help you write better content. You can sign up for a free version of the tool, or you can purchase the premium version to access all the above-mentioned features. Get a side-by-side comparison here.
A well-written blog post makes a good first impression to your website visitors. With Grammarly, you can improve every aspect of your writing in just a few minutes. Try it and happy writing!