In a small business, analytics, data, and technology are the main ingredients for sustainable growth. But this brings up a lot of questions – what kinds of data do you need to analyze? What's the right technology to enable business growth? What are the best tools for your business?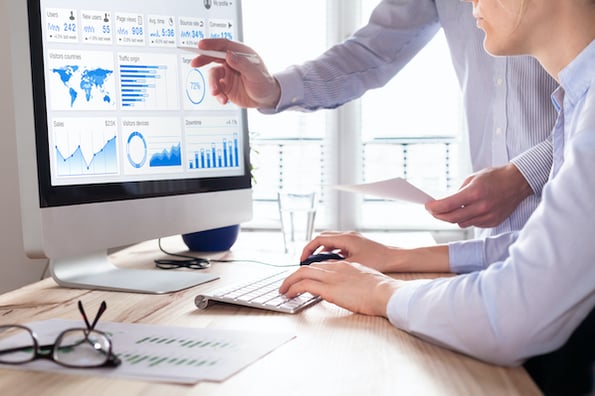 Finding all the right answers can be daunting, especially if you lack the budget, personnel, and/or know-how to implement complex tools. But it doesn't have to be that way.
With the right tools and strategy, small businesses can gather actionable business intelligence that helps meet business goals. Let's look at how small companies can leverage business intelligence to get a full picture of the business and grow better.
What Is Business Intelligence?
Business intelligence (BI) is the process of transforming data into valuable information that can guide decisions, identify trends, and drive growth. It involves implementing the right tools and processes to gather, organize, visualize, and interpret data. The end goal is to get a complete view of the business and its different areas.
Examples of Business Intelligence
There are a multitude of ways to use BI, so your specific use case will mainly depend on your company's industry and needs. Some of the most common ways small businesses use BI include:
Analyze financial data to track revenue, profits, and other KPIs
Analyze customer preferences and behavior
Track sales and marketing performance
Identify issues and bottlenecks in operations
Identify which operations need to be optimized
Identify trends within the business and in the market
For example, an ecommerce company could make use of BI to find out at a glance their most popular products among consumers, if customers are experiencing common problems with their products or services, or if there are delays or bottlenecks in the delivery of goods.
Or, if you want to streamline your sales process, you could use BI to automate reporting of sales performance. Analyzing sales data in real-time allows you to optimize your sales and lead generation strategies. You could also create a dashboard to monitor customer satisfaction and identify the most common causes of customer churn to prevent it before it happens.
In addition, many businesses use BI to keep track of financial metrics, such as MRR and ARR, to make sure they're on track to hit targets. If not, they can quickly pivot strategies to increase revenue.
Top Business Intelligence Tools for Small Businesses
You can (and should) use BI in just about any area of your business where you want more clarity and transparency. But how can you make it happen without too much complexity?
Like with any tool you get for your business, focus your search on tools that are made with small businesses in mind – these are more likely to be a better fit for your company's specific requirements and budget, without forcing you to pay for features you don't really need.
Plus, according to research by Accenture, 74% of employees feel overwhelmed or unhappy when working with data, and more than a third of respondents would rather avoid using data to complete a task. We need tools that aren't just powerful, but that also make data analysis more accessible and help us reach key insights quickly.
Here's a quick overview of BI tools for small businesses to help you get started on your search. A lot of these can scale as you grow, so you can get those extra features once you scale up.
1. Tableau
As one of the leading providers in the BI and analytics market, Tableau makes a great choice for many businesses small and large. This user-friendly tool allows users to build dashboards and visualize data, making it easy to find all the data you need in one place and make nimble decisions.

What we like: Tableau is powerful and flexible while staying intuitive, making it ideal for small businesses adjusting to BI in their growth. The data visualization tools are especially popular and well-received.

Pricing: Tableau offers three plans for teams: Viewer ($15 per user per month), Explorer ($42 per user per month), and Creator ($70 per user per month).

2. Looker
Another great option for small businesses, Looker is an easy-to-use BI software and data analytics platform that helps companies explore, analyze, and share real-time analytics. It allows you to create custom dashboards for easy data visualization and make sure the right stakeholders have access to the most relevant data in real-time.
What we like: Looker's interface and features are highly customizable, made to provide actionable data in the format you want. The data you see and how they're visualized is largely up to you.
Pricing: Looker has a flexible pricing model, so prospective customers need to get in touch with their team for a personalized quote.
3. Cluvio
Cluvio is a BI tool created with startups and small businesses in mind. It allows users to easily analyze data and create interactive dashboards that can be shared with your team in just a few minutes. With Cluvio, your team can keep track of important KPIs, receive notifications based on conditions you set, customize reports, and more.
What we like: Cluvio is tailored for small businesses and startups in mind. It offers highly flexible custom dashboards that serve as a one-stop place for queries, visualizations, and more.
Pricing: Cluvio offers a basic free plan for accounts with a single user. Paid plans start at $279 per month.
4. Domo
Domo is a scalable BI and analytics platform that allows you to integrate data from various sources to visualize it all in one place, enabling your team to have quick access to data, and derive data-driven insights for a range of business processes.
What we like: Domo is excellent at aggregating data from multiple sources and visualizing it with ease. It can handle large datasets without problem, making data analysis approachable for beginners.
Pricing: Domo offers a free trial, but interested users need to contact their team to get a custom quote.
5. Google Data Studio
Google Data Studio offers a free and easy-to-use platform for businesses to build custom reports and dashboards, enabling quick data visualization and streamlined reporting. It connects with over 300 data sources to unify your data for a simple overview of the business.
What we like: Google Data Studio is a great free alternative to the paid options we've listed.
Pricing: Though it has more basic features than other tools in this list, Google Data Studio is free.
To visualize your website data, you can integrate Google Data Studio with Google Analytics. Check out the Duct Tape Marketing podcast episode below for tips on how to implement Google Analytics in your small business:
Making the Most of Business Intelligence Data
Choosing the right BI software is only the tip of the iceberg. When implementing BI processes in your organization, follow these best practices for accurate and transparent data analysis:
Make sure the data you're analyzing is high-quality and valuable. Every data-based strategy begins with quality data. Make sure you're collecting accurate and relevant data to begin with – if you can't trust your data, you can't trust any insights you get from it.
Organize your data. In addition to collecting quality data, make sure you're organizing and storing it correctly and safely.
Don't deploy solutions that are too complex or too expensive. When looking for a BI solution for your business, it might be tempting to go for a tool that promises the world with a wealth of features and add-ons. But oftentimes less is more: focus on what your business needs and find a tool that suits you, not the other way around.
Get a solution that works for you in the short term. While it's important to think about the long term, your BI solution needs to work for you now in order to work in the future. The average organization uses about four different BI tools, but that doesn't mean you need to buy multiple right out of the gate. Try finding a tool that starts out simple and fulfills your current needs, but that you can add more features as you grow.
Avoid data silos. Sometimes your data strategy might not work because your data is siloed in different applications. For example, if you store part of your customer data in one application and another part in another place, you wouldn't get the whole picture of the data, and your analysis would be fragmented and incomplete.
Business intelligence is built on integrated data.
In order to have trustworthy and reliable insights into your business, integrating your data is a must. Keeping all your data in sync gives you a unified, complete, and enriched view that you can translate into valuable information and actionable insights.
One of the simplest ways for small businesses to integrate their data is by using native integrations such as Operations Hub or iPaaS solutions such as Zapier or Automate.io. These tools have a range of different functionalities, including automating workflows, syncing data two ways, automating tasks, and much more.
For example, by syncing your customer support software with your CRM in real-time, you can make sure your CRM always has the most up-to-date information about your customers, including churn risk, pain points, and past purchases. This type of integration enables you to quickly view the complete data in your dashboard and make informed decisions.
While it's normal for small businesses to struggle with accessing transparent and accurate data, the right mix of processes, people, and tools can significantly improve your data strategy and make sure your data reports are reliable and trustworthy.
Editor's note: This post was originally published in January 2021 and has been updated for comprehensiveness.