You can't always get what you want. It's true in life, and it's true on the web — sometimes, what you're looking for just isn't there.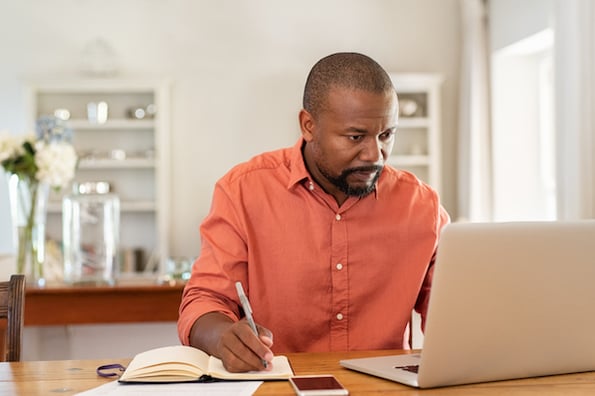 But what happens when visitors come searching for blog content, product pages, or e-commerce checkouts and nothing shows up? Maybe they copy-and-pasted an address that wasn't perfect. Maybe that part of your page is down for maintenance or updating, or maybe you just haven't gotten around to finishing that part of the website.
No matter the reason, you need a pleasant-looking "no results found" page — one that looks halfway decent, delivers options for visitors to click though and head somewhere else, and ultimately convinces users that stopping by your page wasn't a waste of time. And don't just take our word for it: research shows that 94% of consumer first impressions relate to your website design. If your "no results found" page doesn't offer something of value, new visitors will simply take their business elsewhere.
So, let's dive in: What basic framework does a "no results found" page need? What design elements are essential? And how do you build a "nope, nothing here" page that convinces users to keep browsing your website?
Not the Page You're Looking For
If users can't find what they want on your site, they won't stick around. This is called "bounce rate" — according to Google, it happens when users open a single page on your website and then leaves without clicking on anything else.
Multiple factors affect site bounce rates. For example, if your homepage content doesn't deliver context and critical information immediately, users won't stay on the page. If your page layout makes it difficult for visitors to find the links they're looking for, they won't stay for long. And if they stumble across a "no results found" page — even if they're responsible for mistyping search queries or copying bad links — they'll bounce.
But it's not all bad news. While a "no results found" page isn't your first choice for user visits, the right design can turn dead end obstacles into opportunities. Here's how.
Designing for (Not So) Dead Ends
"No results found" pages often look like dead ends, but they're actually chances to redirect user interest and bring down bounce rates. While the form of your results not found page will vary based on your brand style and site aesthetic, there are some basic design guidelines to help keep users on-site.
Offer a way out.
When visitors end up on your "no results found" page, offer them another option. Prominent links to other site pages help, but your best bet is a front-and-center search bar that lets them easily enter a new query and get where they're going.
Make apologies.
Always take the blame, even if it's not your fault. Something like "sorry we couldn't find anything", or "oops — something went wrong on our end" can help defuse user frustration and make them more inclined to stick around.
Suggest similarity.
If users end up on your "no results found" page thanks to a search engine or on-site query, offer up similar pages based on the keywords used — pages that don't lead to dead ends. While users could remove or alter keywords themselves and redo their search, they're often uncertain about which term sent them in the wrong direction. Do the heavy lifting to help users get where they're going.
Implement alerts.
In some cases, "results not found" pages are fleeting. Consider online auction or real estate sites — queries may return no results one day and multiple pages the next as new items or homes become available. Alerts allow users to sign-up for email lists that notify them when relevant pages become available and offer a double benefit: Not only will users come back when content matches their curiosity, but alert sign-ups provide critical contact information for targeting and marketing campaigns.
Spell it out.
One of the easiest ways to drive down your dead end outcomes? Build in a site-specific spell checker. This is a great tool for businesses with highly technical product lineups — such as pharmaceutical firms or manufacturing companies — where spelling is critical to return relevant results.
Connect the dots.
Last but not least? Personalize the "no results found" experience by offering links that reflect potential user preferences based on their search inputs. While these links might not be exactly what they're looking for, personalization can help visitors resist the urge to bounce.
Examples of "No Results Found" Pages
It's one thing to talk about great "no results found" pages, but what do they look like in practice? Let's break down a few great examples.
John Lewis
The John Lewis "no results found" page makes it clear: We're at fault, and here are some popular categories you might be looking for. It gives users a chance to zero in on what they want, even if their first attempt wasn't ideal.
House of Fraser
The House of Fraser page gives users a search bar to try their query again and also provides some search tips to get the most from the site on their next attempt.
Ebay
Ebay makes it easy to get alerts if what you're looking for isn't coming up — but might be available later. One quick click lets users sign up for alerts and keeps them in the brand's online orbit.
Drugs.com
In the example above, we searched for "phenobarbital" — a drug commonly used to treat dog seizures — but did a terrible spelling job. The Drugs.com site caught the general meaning and provided a list of search results related to our actual query, making it clear that the spelling wasn't even close — without calling out users for not knowing these complex terms.
"No Results Found" Page Tools to Bring Down Bounce Rates
Looking to build a better "no results found" page and bring down your bounce rates? You've got options.
HubSpot CMS
If you're looking for a full-featured solution that lets you create everything from landing pages to signup forms to "no results found" pages, HubSpot CMS is your ideal starting point. Check out the 14-day trial to see how this content management system can help boost visitor interest — even when queries and content don't match.
Wix
Wix is free and easy to use, making it a great starting point for your full-featured website. Build out your best-fit site with simple design controls, advanced features and search engine optimization.
Joomla!
Joomla! is full-featured and free, but does require more technical knowledge to effectively design and deploy websites. If your priority is creating the best "no results found" page possible — and you don't mind putting in the work — Joomla! can help.
No Results? No Problem
Sometimes, user searches and site content simply don't match. Pleasant-looking, feature-forward "no results found" pages can help shift users' focus away from what they didn't find to what they could discover on your website.
The (positive) result? Increased interest and reduced bounce rates thanks to enhanced user experience.