From the headline to the color of a call-to-action button, every element on your WordPress website can impact your conversion rate. To ensure that you're using the most effective headlines, button copy, layouts, images, headers, and footers to attract and engage your target audience, you should continuously test every element on your site.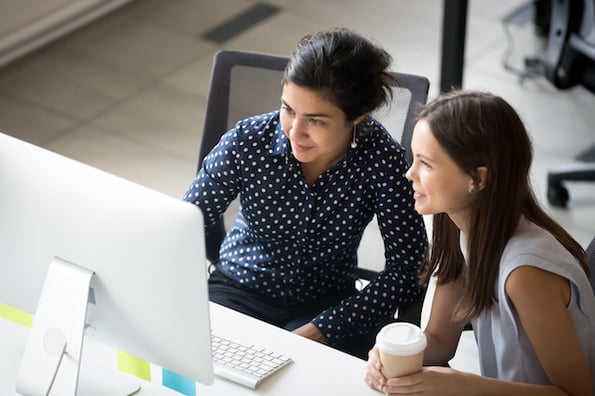 Before adding or changing an element, you want to feel confident that you're actually improving on the current version of your content. You can gain this confidence by running an A/B test.
With A/B testing, you split your audience to test variations of a piece of content and determine which performs better. So you may show version A of a landing page to one half of your audience and version B to another. Version A and version B will be identical, except for changes to a single variable. For example, Version A may have a blue CTA button and version B a red one.
You can then analyze which one performs better over a specific period of time and gain actionable feedback from your results. If the version with the blue CTA button has a higher click-rate, then you may try changing the color of your buttons across your site or adjusting your color palette.
In this post, we'll explore a number of tools that you can use to run A/B tests on your WordPress site. While these tools range in functionality and difficulty, each can help you optimize the existing content on your site.
WordPress A/B Testing Tools
There are a variety of free and premium tools that you can use to run A/B tests on your WordPress site. To pick the one that best meets your needs, you'll want to consider a range of factors, including how much it costs, what pieces of content you can test, and what metrics you can track.
Below are a few tools that range in price, functionality, and difficulty level. We'll take an in-depth look at each one below so that you can select the tool that best suits you and your site.
Simple Page Tester is a free WordPress plugin that allows you to set up A/B tests for pages, posts, and custom post types right in your WordPress dashboard.
Once you install and activate the plugin, you'll see a new widget called "Split Test" in your posts and pages. You can click the "Setup Split Test" button and then choose whether you want to duplicate the page you're on, select another page, or create a new page to test. Then you can edit the alternative so that one variable, like the location of the CTA button, is different. Finally, you can adjust the percentage of traffic you're sending to each version.
Now that your split test is up and running, you might be wondering how you can declare one variant "the winner," as shown above.
Because the free version of this plugin does not come with built-in conversion tracking, you'll have to integrate this plugin with Google Analytics or another tool to understand how your split tests are performing. Or you can upgrade to the premium version of the Simple Page Tester plugin for built-in tracking of how many visits and conversions each variant in a split test gets.
This plugin is simple but effective for blogs and small business sites. If you're looking for more advanced analytics and functionality, then you should try one of the plugins below.
If you're looking for a more flexible WordPress-specific A/B testing platform, you might try Nelio A/B Testing. You can use this tool to test anything on your site — pages, posts, custom post types, headlines, themes, menus, widgets, you name it.
If you don't know which element to test, you can create a heatmap test to see how visitors are behaving on a page.
You might observe that many visitors are going to a landing page but not clicking the CTA, for example. In that case, you can add an experiment and create multiple alternatives based on the existing landing page. In one alternative, you might move the CTA button higher on the page. In another, you might change the copy of the button. With the Nelio A/B Testing plugin, you can add an unlimited number of alternatives for the same test.
Once you've created the variants you want to include in the experiment, you can set the experiment to end after a certain period of time, or after reaching a specified total number of visits, or after meeting the goal of the test (like increasing newsletter subscriptions).
You can then review the results of the experiment directly in your WordPress dashboard. Just navigate to Tests and click the "View Results" link below each experiment to view the total number of conversions and visits the tested pages received, the difference between the conversion rate of the original version and the variants, and more.
There is a free version of Nelio A/B Testing but it limits your tests to 1,000 viewers or less. To run experiments on a larger scale, you'll need to upgrade to one of the paid plans.
Google Optimize is one of the most powerful A/B testing tools on the market — and therefore one of the most complex. It's designed to help small to medium-sized businesses run website experiments to determine the optimal experience for every group of users.
With Google Optimize, you can use a visual editor to quickly and easily create variants of your web pages without any coding.
You can test desktop and mobile variations of your content. You can track page views, conversions, transactions, and even revenue. You can split your audience by browser, device, or country, and much more.
Because of this tool's vast functionality and flexibility, there is a steep learning curve for users — and it begins with the installation process. Complicating the set-up process is the fact that there's no WordPress plugin or direct integration.
As a result, installation involves: setting up a Google Analytics account, installing a Google Analytics WordPress plugin, activate the "Google Optimize" addon, creating a Google Optimize account, and more. If you check out this detailed step-by-step guide, you'll see that the process isn't difficult — it's just time-consuming.
If you have the time to set up and learn Google Optimize and are already using Google Analytics, then this tool will help take your optimization efforts to the next level.
The best part? It's free as long as you only run five experiments at a time. There is a premium version that allows you to run unlimited tests, but it's designed for enterprises with big budgets. The free version will meet the needs of most site owners.
Optimize Your Website
When creating a site for your business, the work isn't done when you hit the Publish button. You must continuously test your existing content to ensure it's attracting, engaging, and converting your traffic.
Depending on your site's needs, budget, and technical expertise, you can use one of the tools above to A/B test your CTA buttons, titles, layouts, sidebars, and other elements on your WordPress site. Running these tests will help ensure your existing content is optimized for your visitors.