Wordpress page builders allow you to place features anywhere you want on a webpage. Through this simple act of dragging and dropping with a Themify builder plugin, you can build a custom WordPress website without touching a single line of code.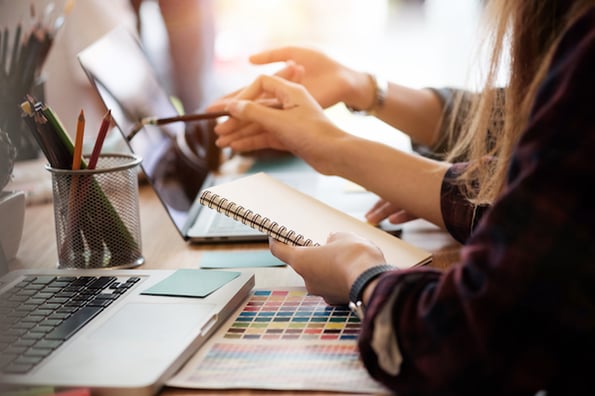 The Themify Builder plugin is one of the most powerful and intuitive page builders for WordPress. Using this free tool, you can design pages in the back-end or front-end of your site and add video backgrounds, parallax scrolling, animations, various colors, Google Fonts, and more — all with a few clicks of your mouse.
In this post, we'll discuss how you can use Themify Builder to create a custom WordPress site in no time. Let's look at some of the plugin's key features below.
Key Features of Themify Builder
Themify Builder is an all-in-one solution for creating and customizing a WordPress site. It comes with a back-end and front-end edit mode, reusable layout parts, responsive grids and styling, and over 40 pre-designed layouts and 60 animation effects. Let's take a look at just a few of these features below.
Edit Modes
There are two available edit modes in the Themify Builder plugin. Using the back-end edit mode, you can drag and drop modules to the canvas area to design a unique layout. You can add rows, buttons, page dividers, and more and organize these elements as you see fit.
Once you're satisfied with the basic layout, you can switch to the front-end edit mode to make additional changes to the font, background, and border of these page elements. In this mode, you'll be able to preview changes live so you can see the page exactly as your visitors will.
Pre-designed Layouts
If you'd like to get your site up and running as quickly as possible, then you can choose from over 40 pre-designed layouts that come with the Themify Builder plugin. You can simply import a layout, replace the text and images with your own content, and hit publish.
Below is just one example of a pre-designed layout for an About Page on a fashion website.
Reusable Layout Parts
Themify Builder's reusable layout parts is another feature that will save you time when building out your WordPress site. Say you want to display the same content in multiple areas on a page or across multiple pages, like your logo or contact information. You can simply save that page element as a layout part and then insert it anywhere on your site using a shortcode or the Layout Part module.
You can still modify your logo, contact information, or another layout part at any time. You can just update it in the Layout Part module and any post or page using that part will be updated automatically.
Animation Effects
With Themify Builder, customization isn't limited to changing the color and font on a page. This plugin comes with over 60 out-of-the-box animation effects so you can make sure your content stands out on the page. Some of the most popular effects, including Bounce, Flash, Hinge, and Zoom In, are shown below.
Responsive Grids
With the Builder row and column options, you can arrange practically any layout grid. Every possible combination is responsive by default. However, if you want the grid to display differently on tablet and mobile, then you can use the responsive grid feature. For example, you can set the row grid to appear as a 4-column on desktop, a 2-column on tablet, and a 1-column on mobile. This will ensure that your pages are optimized to display on any device.
Themify Site Examples
This bright and bold Themify site is dynamic and smooth, delivering a seamless experience to the visitor. As you scroll through the page, different sections appear that share more information about the company and introduce the leadership team.
Best for:
This Themify Builder example is best for creative agencies that want to deliver a design-forward first impression.
StartUB! is a Themify Builder site that has a clean design with plenty of space for eye-catching headings and creative copy. If conversions are important to you, you'll love the way the CTAs contrast with the color scheme of the page layout.
Best for:
Because of its detailed navigation bar, striking hero image, and spacious copy layout, the StartUB! Themify site example is a great design for educational institutions like colleges, high schools, elementary schools, and even daycare centers.
This moody Themify site example uses adult beverages to showcase the lively page features like an age restriction drop-down and the parallax-style hero banner. The Google reviews widget on the page is a unique addition to this site demo which lends credibility to new and existing businesses alike. The menu widget on the bottom of the page makes it easy for visitors to find their drink of choice within seconds of landing on the page.
Best for:
The Brasserie Fonseca Themify example design is best for restaurants, food trucks, bars, pubs, and speakeasies that want a refreshing website design.
The Kamado Themeify demo site achieves a striking balance between pops of color and detailed photography, making for a beautiful website without a single line of code. This site focuses on selling products, in this case, barbecue grills, and other barbecue accessories.
Best for:
Ecommerce businesses will find inspiration in the Kamado Themeify example because it has great navigation for product pages and content.
Is the Themify Builder Plugin right for you?
We recommend the Themify Builder Plugin for small-to-mid-sized businesses looking for an easy way to build and maintain a WordPress site. Using this free tool will enable you to build a custom WordPress site that provides a seamless experience for your visitors. Give it a try, and see the results for yourself.
Editor's note: This post was originally published in December 2019 and has been updated for comprehensiveness.