It may not surprise you that 84% of content publishers leverage affiliate marketing to monetize their web traffic and earn additional lines of revenue.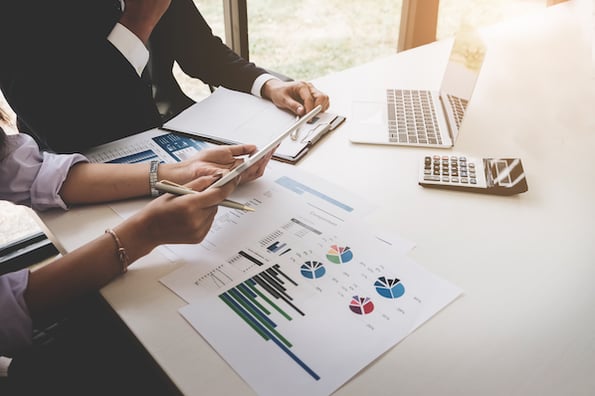 After all, affiliate marketing is a billion-dollar industry in which U.S. retailers alone are projected to spend $8.2 billion by 2022. As advertisers invest more in affiliate marketing, publishers are seeing greater returns from their affiliate partnerships. In a survey by Inc., publishers said that affiliate marketing accounted for more than 20 percent of their annual revenue.
To understand the success of affiliate marketing in today's digital landscape, let's take a closer look at how the behavior of online consumers has evolved just in the past five years. According to Statista, 15.7% of internet users reported blocking advertising on their devices in 2014. This year, 25.8% of internet users reported blocking ads. Those percentages are staggering when you consider that there are over 4 billion internet users globally.
The increased use of ad-blocking software reflects consumers' growing intolerance of ads that disrupt their digital experiences (think: full-page popups and autoplaying videos).
Faced with an increasing consumer preference for an ad-free experience, publishers need to find a way to deliver and monetize content without annoying their readers. That's where affiliate marketing comes in.
Affiliate promotional efforts are often native, which means the products and services being promoted complement the publisher's content and vice versa. In other words, using affiliate links strategically on your site can enhance — rather than disrupt — the visitor experience. If you promote products and services that match the needs and wants of your audience, you will gain your readers' trust.
As content publishers hone their affiliate marketing strategies to promote products and services that match the needs and wants of their audience, they are seeing higher click rates and conversion rates. In 2017, online consumers clicked on affiliate links more than 5 billion times — and these consumers aren't just clicking, they are making purchases. In the last two years, sales revenue driven by affiliates has risen 240%. Accounting for 16% of U.S. ecommerce orders, affiliate marketing now drives as many e-commerce orders as email marketing.
If you are looking to monetize your site with affiliate links while building trust with your audience, you'll want to consider installing an affiliate link management plugin. This type of WordPress plugin can help you keep track of affiliate links as your site, and affiliate promotional efforts, scale.
Available in the Wordpress.org directory, ThirstyAffiliates is a free tool that can help you meet your affiliate marketing needs. Before we take a closer look at the plugin's key features, let's discuss the benefits of using an affiliate link management plugin below.
Why Use an Affiliate Link Management Plugin
To better understand the benefits of an affiliate link management plugin, let's look more closely at the process of affiliate marketing.
After you choose the advertiser you want to partner with and the products and services you want to promote, you will be provided with unique affiliate links to insert into your content. When your readers click on these links, they will be redirected to the advertiser's site. Depending on your affiliate marketing model, you might get paid just for those clicks.
Before you begin thinking this sounds too good to be true, there are some potential blunders you can make as an affiliate that may impact your site's SEO and visitors' experience. An affiliate link management plugin can help you avoid these mistakes.
One of the greatest mistakes you can make is to insert the affiliate links you receive from advertisers as they are. Since these links are generally long and unattractive, they may stick out on the page of your otherwise carefully designed site. This will disrupt your visitor's experience and the perception of your site's credibility. To ensure that these links are seamlessly integrated into your content, you can use a plugin to cloak these links, which is a method of disguising affiliate links from front-end users.
Cloaking affiliate links will also help mask them from hackers and malware software that tries to replace your unique affiliate ID codes with their own and steal your commissions.
ThirstyAffiliates is a popular link cloaking plugin that also offers many useful link management features. Let's take a closer look at those below.
Key Features of ThirstyAffiliates WordPress Plugin
Link Cloaking
Link Management
Link Customization
ThirstyAffiliate empowers WordPress site owners to monetize their web traffic with affiliate marketing. Below are some of the plugin's key features.
Link Cloaking
With ThirstyAffiliates, you can cloak your affiliate links with a few clicks of your mouse. That means you won't have to insert affiliate links that look like this:
http://www.example.com/gan_click?lid=123456&pubid=777444
Instead, you can use your own domain name with a prefix of your choice and ThirstyAffiliates will seamlessly redirect your users to the affiliate link. For example, you can convert the lengthy affiliate link above into something that looks like:
http://www.yourdomain.com/refer/product-name
It's much more likely that readers will click a link that is pointing to another page on the same domain than a link with a bunch of letters and numbers. It not only seems more trustworthy but also gives a clearer indication of what they are clicking on. Rather than expecting your readers to click on a link with random letters and numbers that make no sense to them, you can provide links that include the product's name so they know what to expect. This will improve the likelihood that you're sending qualified visitors to the advertiser's site.
Link Management
As an affiliate marketer, you'll probably have hundreds or even thousands of links. That's why organizing and managing these links is essential.
With ThirstyAffiliates, you can not only manage your affiliate links in one dashboard but also organize them into categories. A blog that writes tips for non-technical site owners, for example, might have a Hosting category and a WordPress plugin category. Categorizing your affiliate links will make it easier to find them and easier to track how each category is performing on your site.
These categories also simplify how you insert affiliate links into your WordPress posts. Just select some text and click on the Add Affiliate Link button in your Visual Editor toolbar.
You can begin typing in the keyword and then click on the correct link when it appears.
Link Customization
ThirstyAffiliates gives you full control over the appearance and functionality of your affiliate links. In the settings page, you can select the link prefix that's used to create your redirection URLs and decide whether you want to display the link category in the URL, have links open in a new tab, and more.
You can even attach an image to the link if you'd like to include a picture of the product or the brand's logo.
ThirstyAffiliates is a free WordPress plugin that can help you advance your affiliate marketing strategy to promote products and services that are tailored to the needs and wants of your audience. Using affiliate links on your site in this way can help you earn revenue and enhance the experience of your site visitors.
You can maximize your efforts by using this plugin with one of the best affiliate marketing WordPress themes.