If you're managing multiple WordPress websites, you probably noticed that there's a lot you need to do as an admin. And, some essential responsibilities can quickly fall down your priority list as more and more tasks pile up.
Managing multiple sites often means a tedious cycle of creating backups, running scans, applying individual updates, and conducting frequent quality assurance to make sure you don't break the site.
Fortunately, once you add all of your WordPress sites to a centralized dashboard, managing them becomes much easier — compared with the menial log-in-log-out ordeal you faced before. This setup allows you to leverage an assortment of plugins and tools that can simplify time-consuming admin tasks.
In this post, we'll explore some of the most popular platforms used for managing WordPress websites. But first, let's explain why you need one if you're overseeing multiple sites at once.
Why You Need a Website Management Tool
For some admins, the tools we're about to explore might seem purely indulgent. After all, if someone is really a pro, can't they spare a few minutes here and there for mission-critical tasks like running updates?
Well, it's important to consider scale. If you're someone who manages WordPress sites for friends or family, then this might seem like a novelty. But, for those who handle these types of tasks for tens, hundreds, or even thousands of sites simultaneously, it's imperative.
Multiply the few minutes you're spending on each task by, say, 500 sites. Then multiply that by the average hourly fee someone generally charges for their work, and… Okay, you get the idea.
Now that you see why some admins need a management platform, let's dive into the best options available.
Best Website Management Tools
Most of the tools listed here offer both free and paid versions. It's important to carefully evaluate the latter, as you could easily recoup an initial outlay with saved time — a precious commodity in the world of web design and development.
With that in mind, let's review some of the best tools for managing multiple WordPress websites.
GoDaddy Pro offers a powerful website management tool called "the Hub." People using the Hub save an average of three hours each month for every site they maintain for clients.
Signing up for GoDaddy Pro is free — for every site you manage, not just those hosted by GoDaddy — and it includes access to the Hub, as well as a number of other benefits like a significant discount on all GoDaddy products and services. You just need to enter your admin credentials for each site and all of these features, tools, and perks are at your disposal.
GoDaddy launched the Hub in September 2020 and continues adding new features, which include:
Daily Automated Backups
Security & Uptime Monitoring
Bulk Theme & Plugin Updates
Managed Client Purchases
To-Do Lists for Team Members
Price: Free, with paid plans available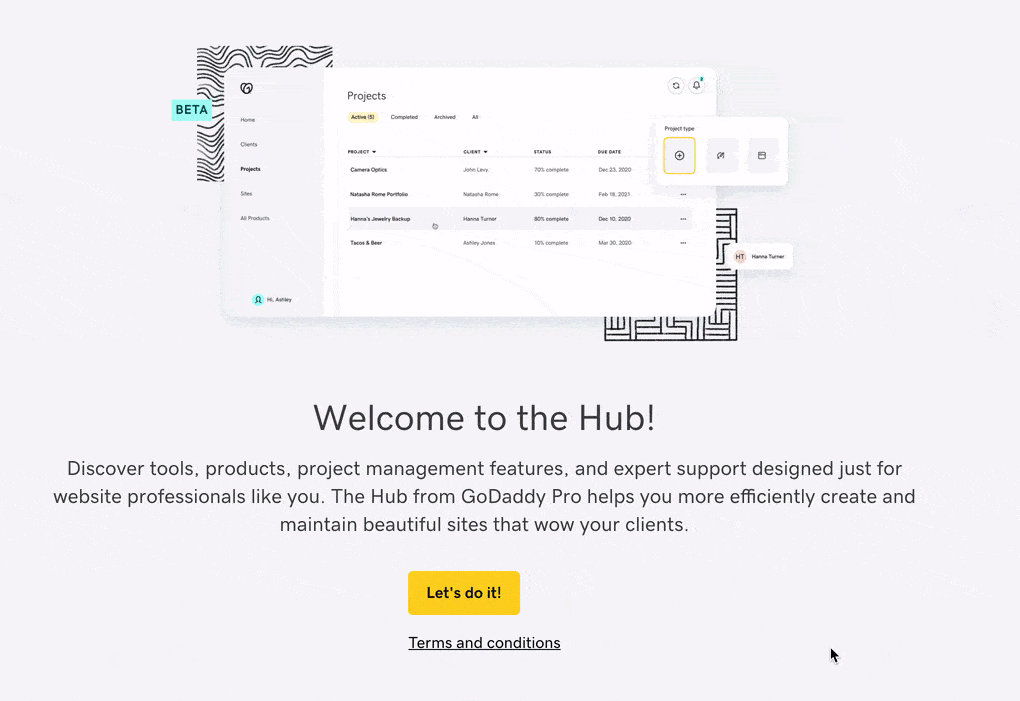 Arguably the first platform for managing multiple WordPress websites, ManageWP claims that it's used for more than 1.1 million sites.
The basic version of ManageWP is free and includes core features like automated monthly backups and security scans. Tasks are handled from the main dashboard after you add the ManageWP plugin to sites under management.
The paid version offers more advanced capabilities like a link monitor and an SEO ranking tool. With these features, you can ensure all of your sites rank well on search engines regardless of the topics, products, or keywords you're targeting.
Other features of ManageWP include:
Website Cloning
Performance Checks
Reusable Code Snippets
SEO & Analytics
Comment Moderation
Price: Free, with paid plans available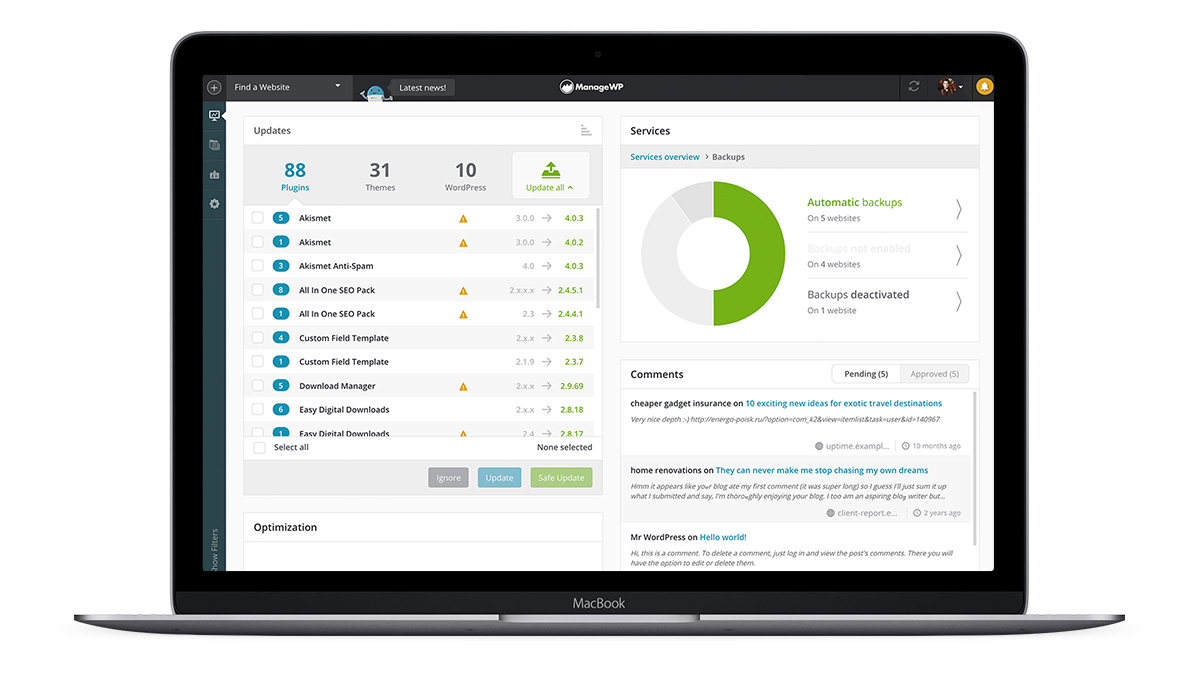 With MainWP, you install a child plugin on each site under management, then set up another WordPress site and parent plugin for the main interface. It's free to start and it's supported by adware with a paid version offering more features. Some of those features include lifetime support, premium extensions, and the ability to add as many sites to your account as you'd like.
Perhaps the most notable perk is the plugins that MainWP includes, like SiteCheck from Sucuri which is a free website security checker and malware scanner. You can use this tool to ensure your websites are free of malware, viruses, and malicious code.
Some other tools included with the free and paid versions include:
Uptime Monitoring
Bulk Settings Manager
Comment Moderation
Google Analytics
Maintenance Mode
Price: Free, with paid plans available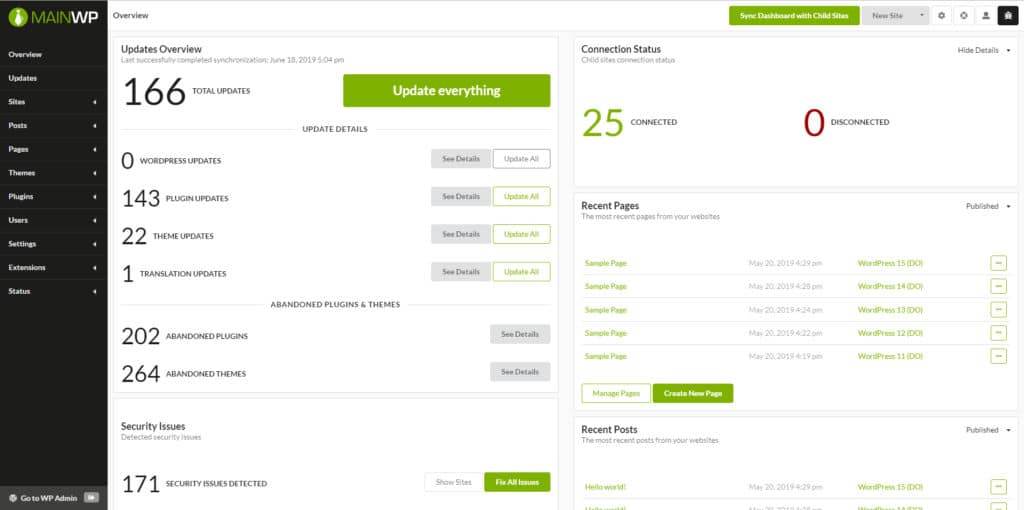 InfiniteWP also requires parent and child plugins, as well as a site to host the maintenance interface. Everyday users might find the free version a bit limited, as InfiniteWP brands itself as a premium tool for agencies.
However, the paid version does unlock quite a bit of functionality. For instance, InfiniteWP offers a feature called, "white-labeling" where you can hide InfiniteWP's branding on your apps and interfaces. There's also a malware scanner and uptime monitor, so you can rest easy knowing your site is always up and running.
Some additional features from the paid version include:
Google Analytics
User Management
WordFence Security
Broken Link Checker
Google PageSpeed
Price: Free, with paid plans available
To manage multiple websites with Jetpack, you'll need to download the free Jetpack plugin and create a WordPress account. That's because the Jetpack plugin allows sites under management to communicate with the interface set up on the web version of WordPress.
The free version of Jetpack is somewhat basic, as you're limited to running updates, conducting downtime monitoring, and reviewing website security. Upgrades come in several tiers, letting the service scale to your needs with features like:
Automated Off-Site Backups
Unlimited Site Storage
Daily Automated Scans
Real-Time Off-Site Backups
Real-Time Automated Scanning
Price: Free, with paid plans available
Managing Multiple Websites on WordPress
It's almost inevitable — once you create a website, you need to assign someone to handle the ongoing upkeep of that site.
Boom… Now you're not only building WordPress websites but maintaining and providing security for them, as well.
This can be either a profitable value-add to your skillset or a time-suck and source of countless, miserable hours logging in and out of every website you manage. But, by using even the basic version of the tools listed above, managing multiple WordPress websites can be immeasurably easier — and more profitable — for your business.