Twitter , when used well, can be a major source of traffic and leads for your business. The problem until now has been that tracking results directly from Twitter hasn't been easy. Since a huge part of Twitter's user base accesses the service from third-party applications like TweetDeck and HooteSuite, a look into many web analytics programs left marketers confused.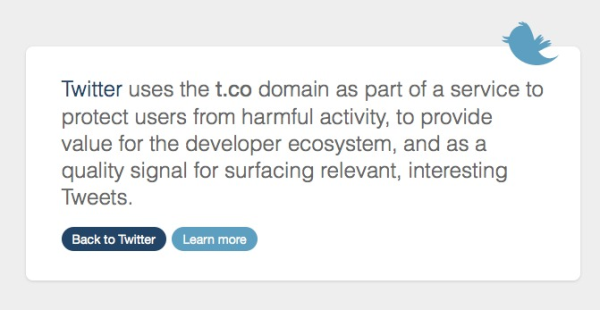 Instead of all traffic from Twitter showing up as referral traffic from Twitter.com, it was often labeled with the app the person was using -- or worse -- it sometimes provided no referrer information and got labeled as direct traffic.
This was all true until last Wednesday when Twitter made a simple but very important change. Now all links 20 characters or greater that are shared on Twitter are wrapped in Twitter's own URL shortening service, t.co . Twitter claims that this change was made to protect users from spam, but it's really about more than that. Since all traffic now goes through t.co, it is much easier to track traffic and leads from Twitter since they will appear as referral traffic from t.co in marketers' web analytics. No more using bit.ly to count clicks on a link! Finally, after five years, Twitter has found a way to make marketers' lives a little easier.
Twitter Is Growing Up
It is clear Twitter is feeling the pressure to improve its platform to increase usage and open up potential revenue channels. A key takeaway from this simple change is that Twitter now has a better infrastructure for collecting data. Data from t.co could be used in many Twitter products moving forward. Twitter's analytics system, which is available only to a group of beta testers who are advertising with Twitter, will likely become the biggest benefactor from this cleaner data collection method.
Marketing Takeaway
The next couple of years is going to be exciting for inbound marketers. The increased competition is going to mean we will have access to better tools, which, when used in conjunction with smart thinking and inbound marketing principles, should help us crush the competition. One cool thing that you can do today is see which tweet drove a lot of traffic to your site. Your web analytics should provide you with a list of shortened t.co URLs. Copy and paste a URL into Twitter Search, and you can identify the specific tweet that sent out that URL.
Twitter is making a lot of changes. Keep an eye out and think about how you can use new data to optimize your inbound marketing strategies .
What do you think about Twitter's newest change?