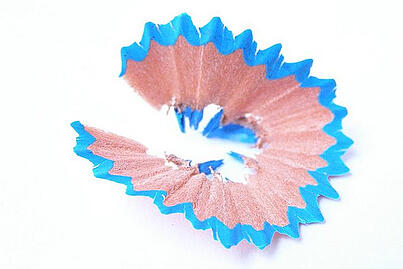 Generate opt-in leads. Segment your email list. Set up lead nurturing workflows. Draft clear and concise email copy. Check your emails for deliverability. Optimize for plain text and HTML.
Geez -- isn't there any fun in email marketing anymore?
Well, some email marketing geeks do think all of that's kind of fun ;-) But these less glamorous aspects of email marketing -- though critical to making your campaigns successful -- don't paint the entire picture of what amazing email marketing really is.
There are brands out there that have also figured out how to create emails that are just plain beautiful. While plain text or bare-bones emails can still be extremely effective, sometimes it's also wonderful to amaze your subscribers with creative, captivating, or delightfully-understated email design. If you're looking to dabble in something a little more adventurous for your next email marketing campaign, get some design inspiration from these brands that send out beautifully designed email marketing!
1) UncommonGoods Tells a Story With Its Products
This email from UncommonGoods is a genius solution to product promotion, that doesn't sound like product promotion at all. That's because instead of just saying, "Hey, you like bikes, you should buy these!" the email tells a story through a combination of text, sketches, and product images. Plus, it's lighthearted, both in visuals (just look at that dreamy, watercolor background) and content (the email is essentially a breakup letter between a biker and her car). UncommonGoods has figured out how to do storytelling -- and by extension, sales -- with the perfect mix of complementary images and copy in its email marketing.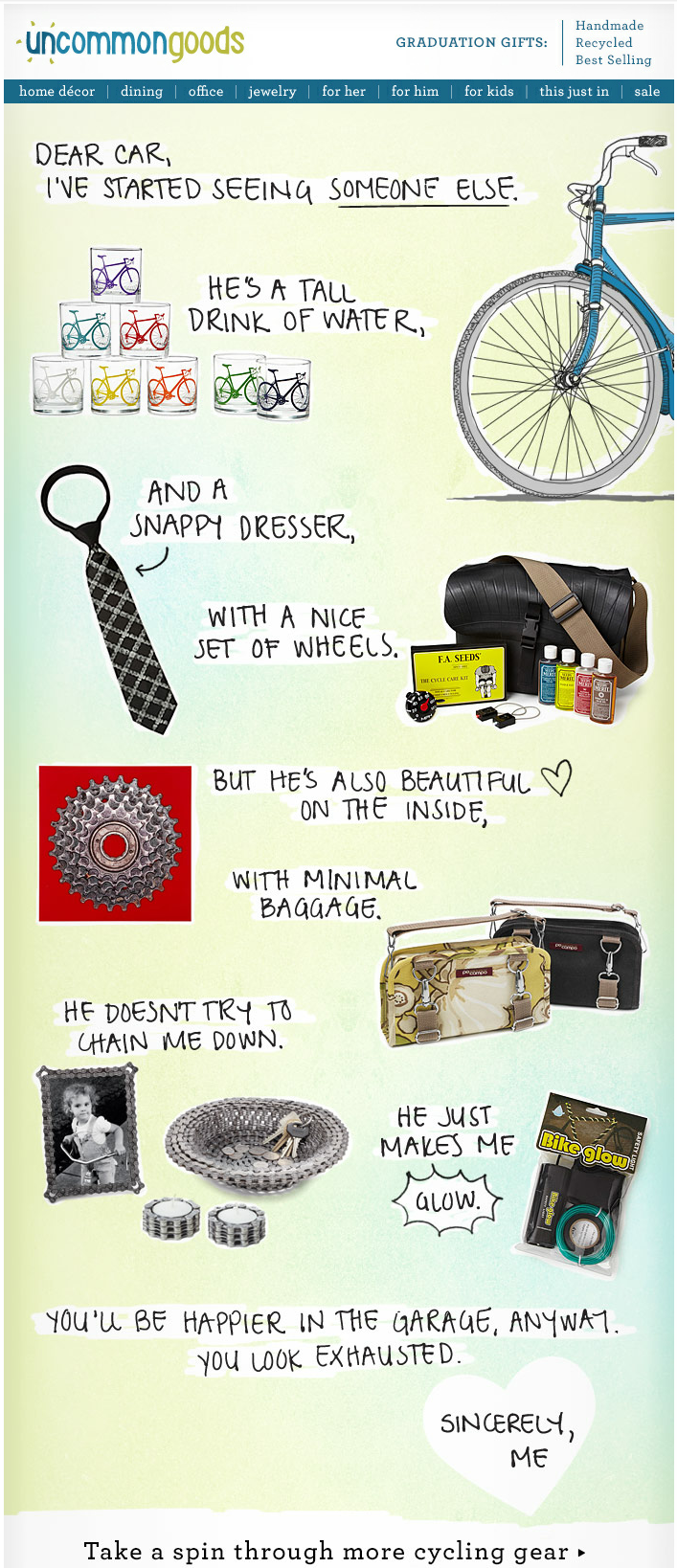 2) Brain Pickings Punches Up the Traditional Email Newsletter
Email newsletters can be quite the drag. But Brain Pickings has managed to put together an email newsletter that has something entertaining just about everywhere you look. Visually inclined? Take in that awesome email banner, followed by some comic strips and a smoky Hunter S. Thompson image. More interested in the written content? You can start reading the site's content in the email, or just get pulled in by one of the many quotes they've highlighted throughout the email. This email balances graphical and textual elements to keep your brain engaged with their various brain pickings!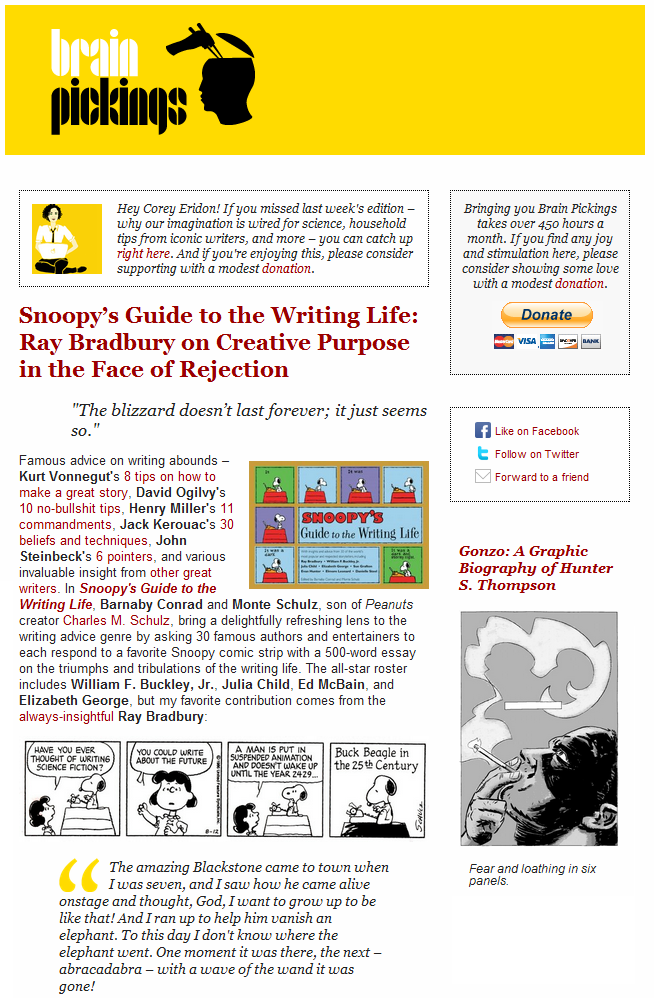 3) Jetsetter Uses Pictures That Are Worth a Thousand Words

Shhh, shhh, no words.
That's how Jetsetter has approached its email marketing, anyway. And when you have breathtaking photography like you see in their emails, why would you lean on copywriting to tell your story? A very simple photographic lineup of the vacation destinations being featured is all that's needed to get email click-throughs and site conversions.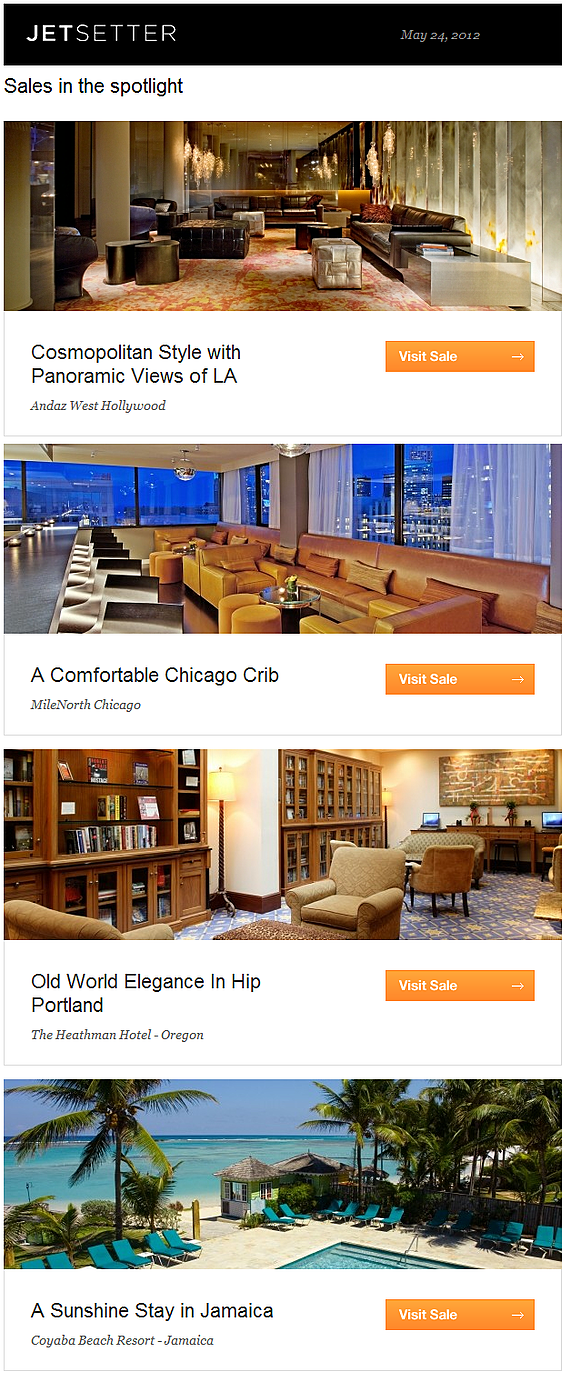 4) UrbanDaddy Emails Sure Know How to Make an Entrance
It's not that the entire UrbanDaddy email isn't awesome -- I admire UrbanDaddy for their copywriting and layout abilities alike -- but I just want to highlight the header of their emails for this blog post. After all, if your recipients enable images in their email, the header is the first thing they'll see! And UrbanDaddy really knows how to pack a punch. Just take a look at a few, some from local editions, some national; some featuring events, others promoting products. The images always reflect both the Urban Daddy brand and the product or events being promoted in the email ... all the while being eye-catching, unique to each email, and just plain beautiful.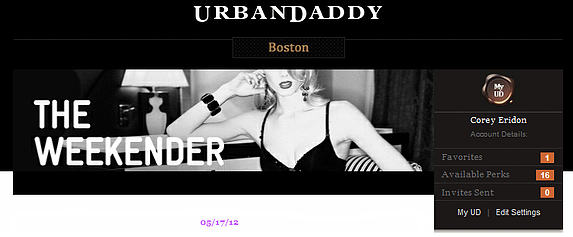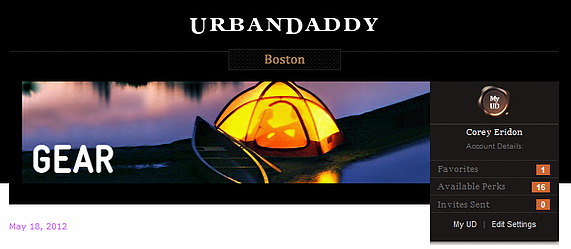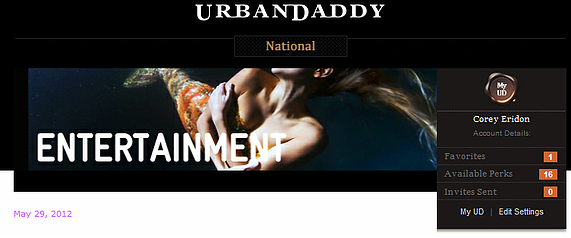 5) ShelterCare Creates Appropriately Adorable Imagery
When you have an adorable brand, you can do adorable things with your marketing. ShelterCare works with animals, and this email presents a $10 "Adopter Offer" as a gift to the recipient. But instead of just telling the recipient about the offer (how boring would that be) the email is designed as a gift, complete with bow and gift tags -- gift tags that also serve to tell us about the offer's details. This email is effective because it has crisp, clean design, as well as relevant imagery. Think about it; if you're offering something, it makes sense to depict it as a gift! The only thing that would make it better is a puppy popping right out of the inbox ... just give email marketing technology a few more years to develop that functionality.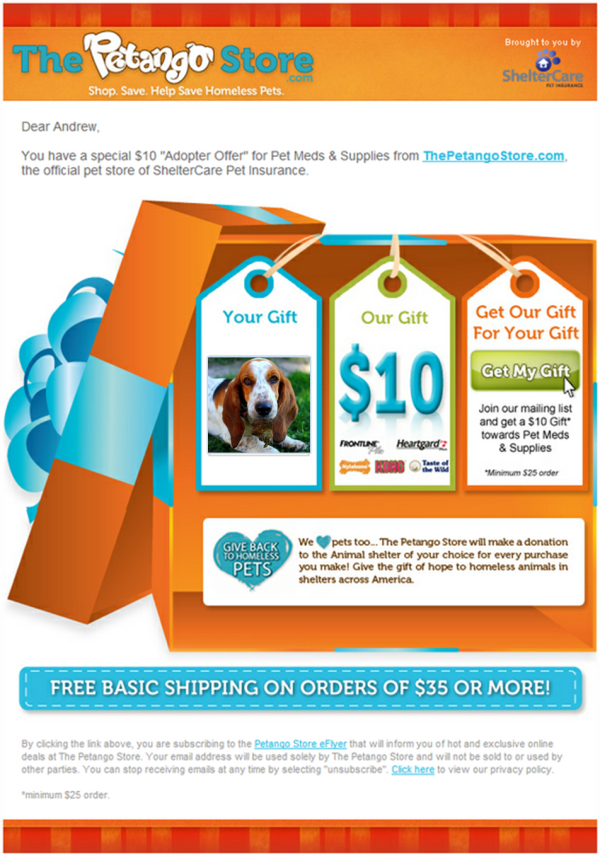 6) Mozilla Reminds Us That Lovely Emails Come in Text-Form, Too
We would be remiss not to include an example of beautiful email marketing that is largely text-based -- because frankly, many marketers' design resources are quite limited. Take a look at how Mozilla pulls off a visually-appealing email that, logo and video aside, relies largely on just text.
The white background, bold yet still soft gray text, and red hyperlinks keep the focus of this email on the copy -- copy that is formatted in such a way that it looks like a breeze to read. If your email requires a few paragraphs of copy, take a hint from this Mozilla email and remove distractions that, well, distract email recipients from reading.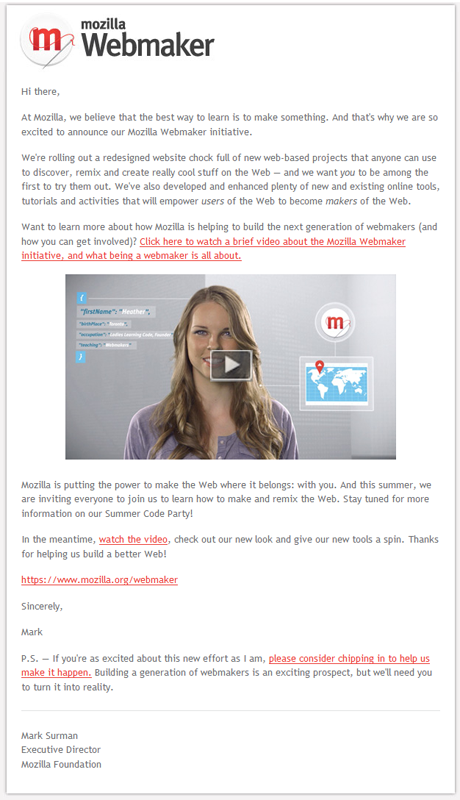 7) Fast Company's Co.Design Uses Visuals to Complement Content
We always tell you to include visuals in every blog post -- well Fast Company's Co.Design is applying that concept to its email content. And boy does it make a difference! Take a look at that first visual, for instance. Pretty striking, isn't it? They wisely lead with that bright image that accompanies the post about interactive art, and follow it with the more demure but still entrancing black-and-white image of a school teacher and her pupils. That image also accompanies a post. Fast Company's written content is superb, but they're leaning on bold visuals first and foremost to capture email recipients' attention and entice click-throughs to their website.
8) Pinterest Creates a Consistent Brand Experience From Email to Website
Yesterday we wrote about how Pinterest's email digests help to increase user engagement. But they should also be celebrated for creating a consistent experience across website and email inbox. Just take a look -- if you're a Pinterest user, this email will look familiar to you ... because it looks almost identical to the website. And you know what? With all that visual content, the website is gorgeous. Makes it pretty easy to come up with visually appealing email marketing when your website is made up of stellar visual content!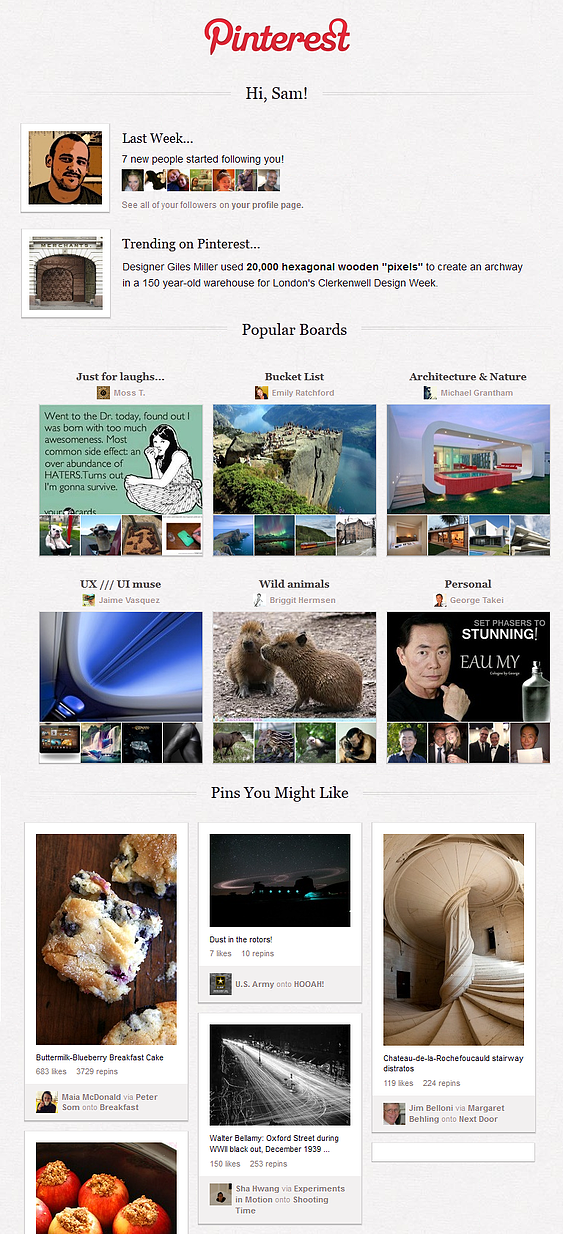 9) ModCloth's Email Layout Draws Attention to All the Right Places
You didn't think you'd escape one of my email posts without a ModCloth example, did you? The e-retailer knows a thing or two about drawing attention to the right places ... with clothes. But turns out their email marketing does it, too! First, take a look at those arrows (they kind of look like the dotted lines you'd see on a dress pattern, don't they?) that move you along from one section of the email to the next. And do you notice what they're moving your eye to? That's right, products!
This email is designed to give you cues on which direction to take in the email -- from one crop of dresses to the next -- without directly stating it. Plus, they give you some fun yet non-distracting details, like those subtle gray stars in the background, along the way. It's those little accessories that make your outfit (err, email) fun to look at!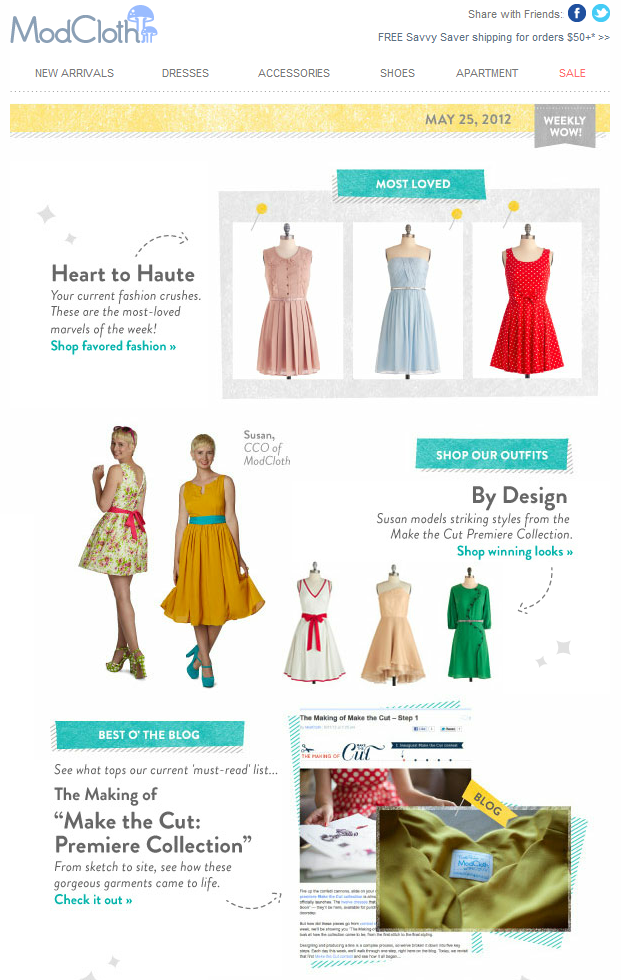 What other companies out there have you noticed are creating beautiful email marketing?

Image credit: vinodvv aka vcube