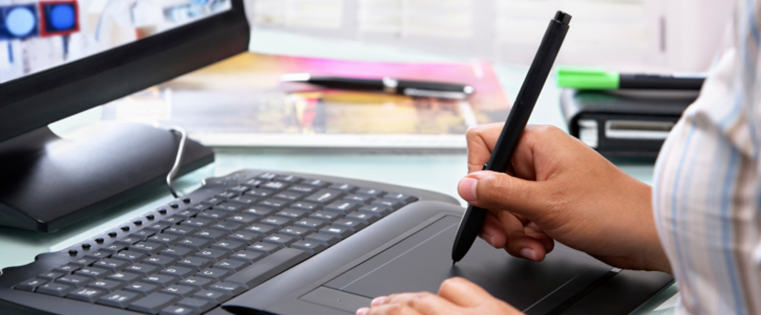 I'll admit it -- I'm a cheap-o when it comes to most things in my life. When going to the airport, I'll volunteer to schlep an extra hour on the MBTA with my suitcase over taking a cab. I will buy the generic over the name brand any day. And if I can find some free online tool to do something I'd otherwise have to pay for in my marketing ... you guessed it -- I do it.
In my quest to find alternatives to fancy computer programs, I've come across a lot of free tools that help take my marketing up a notch while also saving my team's budget -- and I wanted to share them with you. Although there will be some occasions where you won't be able to avoid paying for the tools you need to rock your job, lots of times you can increase the quality of your visual content with just a free resource. But you have to know the free tool is out there in the first place. So without any further ado, let's get to the meat of the post: the most important free tools you can use to create visual content.
11 Free Resources to Help You Create Kick-Ass Visual Content
1) PowerPoint Templates for Infographics, SlideShares, Social Media Images, and Calls-to-Action
Some may believe that designing in PowerPoint isn't professional ... but I like to think of it as a visual content testing ground for people who don't have the budget or time to work with Photoshop. That way, you don't have to drop a lot of money for a complex program, only to not get your money's worth.

Instead, you can begin in PowerPoint -- and start with these free templates. All of the templates can be downloaded here, or by clicking the links below:

One of the most important elements of design is your color palette -- you want to make sure your images, graphics, and font colors all help convey your message and maybe even drive conversions. But often, it's hard to find that exact shade of blue that's in a photograph you need to use -- which is where Pictaculous comes in. Upload a photo and then instantly get recommendations for colors to use, including their respective HEX codes. Your color palettes will never be uncoordinated again!

Taking screenshots can be really annoying if you don't have the right tool up your sleeve. Often, you can only capture what is visible on your screen -- making screenshots of long web pages especially grueling. Or, you have to use 20 different programs to crop, edit, and annotate screenshots. Well, with Awesome Screenshot, a browser extension for Firefox and Chrome, you can easily screenshot anything on the web and edit it directly within your browser. This extension has become a staple of my own browser -- I can't go back to regular old screenshots anymore.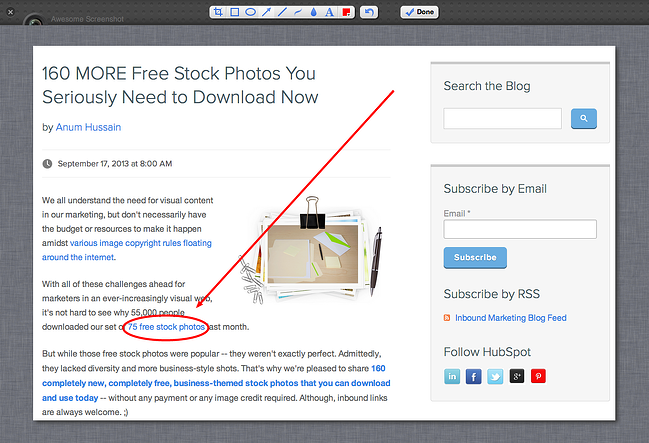 Even if you have the tool to create a gorgeous screenshot, that's not always the most professional way to display web page content. Sometimes, you need a photo of your website, blog, or Twitter profile, but with a polished flair. While you can try manually customizing your screenshot to fit into a stock photo you already have, PlaceIt is an even better alternative. Upload photos directly into Creative Commons-enabled stock photos -- you'll see your screenshots come to life immediately.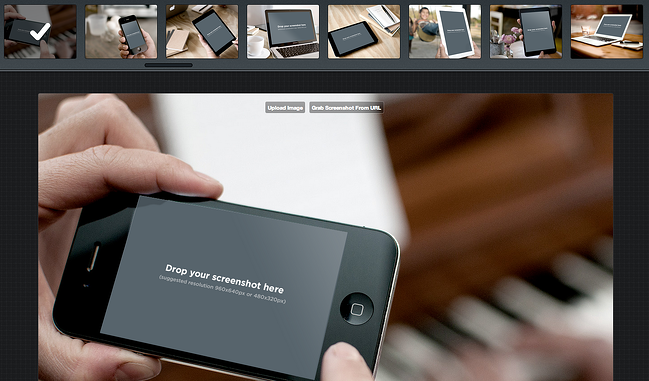 Okay, let's say you don't have the budget for Photoshop and feel somewhat limited by PowerPoint's visual editing capabilities ... what are you to do? If you want to spruce up your images -- recolor them, add borders, add text, and even insert graphics on top -- all without downloading yet another program to your computer, check out PicMonkey. The whole photo editing process is intuitive, which means you can spend more time optimizing your blog posts instead of sprucing up its accompanying featured image.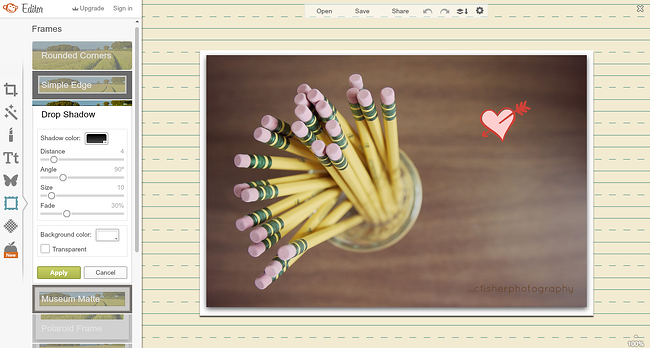 If you're looking for a Creative Commons image, but are finding terrible options through its native search engine, check out Compfight. While it often surfaces similar content, I spend half the time looking for engaging Creative Commons images than with the native search tool because Compfight's algorithm seems to sort gorgeous images right to the top. Bonus: You never have to worry about correct attribution again, because Compfight will automatically generate HTML code you can embed in your website to properly credit the original author.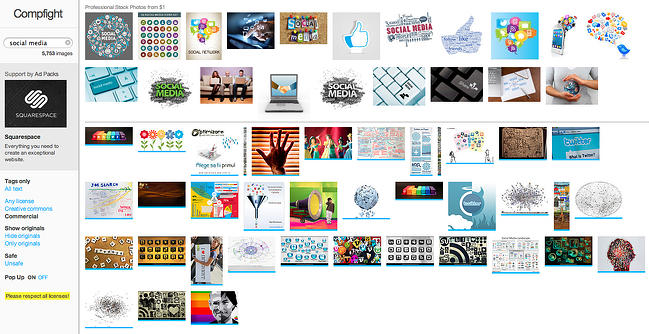 7) 235 Stock Photos From HubSpot

Or, if you don't want to worry about all that attribution stuff, you can just download our own free stock photos for you to use anywhere, anytime. Seriously, there's no catch. All you need to do is download the first batch here and get your business-themed photos here -- and then be on your merry way to create engaging, visual content. Seriously ... just do it.
If you're looking for more "do whatever you want" photos with a scenery or inanimate object tilt, check out Unsplash. Just like our own stock photos, no attribution is needed with Unsplash. The pictures speak for themselves -- so go check out the website for more.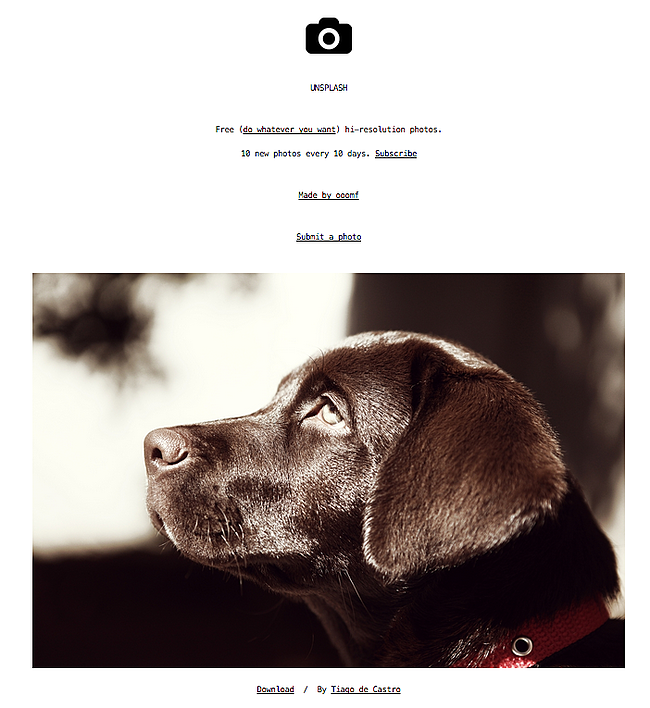 If you're looking to make interactive infographics -- not just plain visuals -- check out this free tool. Easily add graphs, maps, text, and even playable videos without diving deep into a design program. It also has social sharing tools built right into the infographic, so you don't have to worry about creating a custom Pin-It button. It's a pretty nifty tool if you want to create and ship an infographic -- fast.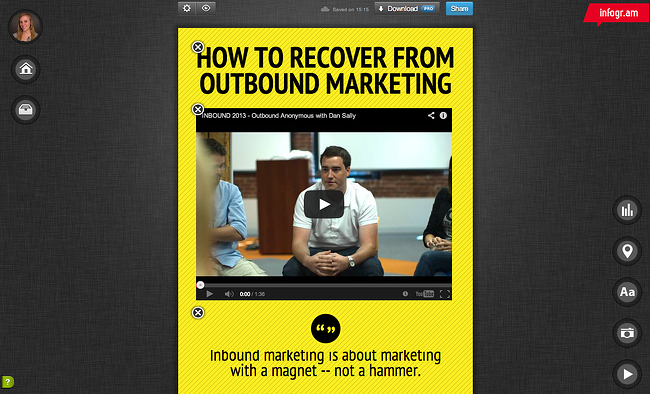 Say goodbye to your weird Microsoft Paint drawings and say hello to polished, professional Google Drawings. If you have a personal Gmail or your company uses Google Apps, you can use Google Drawings to create custom visual content. One of my favorite features about it is that it comes with an invisible background right off the bat so you can create custom shapes that can easily be pasted on top of your other marketing collateral -- the perfect way to spruce up an updated ebook call-to-action or even customize a stock photo. And the best part of all is that you can collaborate with your co-workers on the drawing by sharing the document, just like you would any other Google Document.

Earlier in this post I told you about HubSpot's free stock photos, and now I'm gonna tell you our free design resources don't stop there. We've also created some social media image templates in PowerPoint (so no Photoshop required!) that you can use to easily create custom images to share to all of your social media channels to boost engagement. The templates come in two dimensions -- square and rectangular. The square images are ideal for sharing to Facebook, and the rectangular are sized for Twitter, but once you've created them, you can share anywhere -- your blog, Facebook, Twitter, Google+, Pinterest, Instagram, etc. Alltogether, you have 60 images to get you started. No more of this design-from-scratch nonsense! Download 'em now.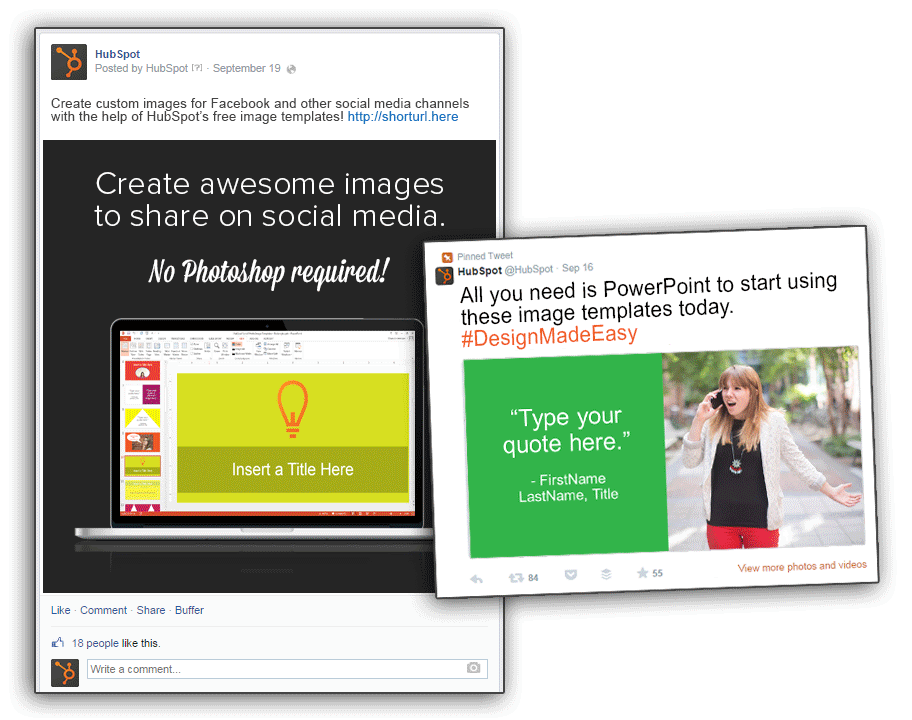 And that's just a few of our must-have visual tools. What programs and resources do you use to create visual content?