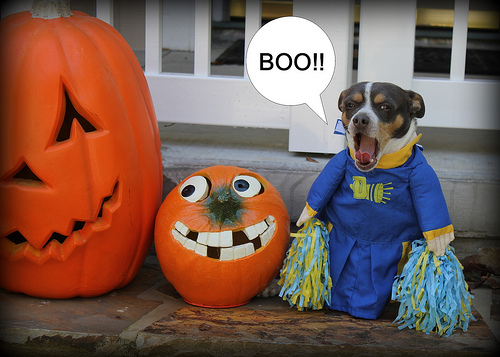 Know what's scary? Figuring out Halloween costumes for work. Here's my internal monologue every year:
"Are people gonna be dressing up? I feel like people will dress up. Maybe I can wear my beheaded Anne Boleyn costume from last year. Although that's probably a little gruesome for an office. Okay, so something without blood. And nothing sexual, either -- because, you know, HR. OMG this is stressful, I'm just not going to dress up."
But you don't want to be the office party-pooper. So I came up with some clever, cheap, pretty-easy-to-implement-and-HR-friendly Halloween costumes that are playfully marketing-related. Scroll for the section that applies to you. I'll see you in the "For the Lazy" section. (It's the first section; we lazies don't like to scroll.)
For the Lazy
1) Instagram - Dress up like a hipster, and hand out graham crackers really, really, fast. Boom. Insta-graham.
2) White space - Dress in all white. Add white face paint and a white wig if you're ultra-committed. Optional: Add a hint of color somewhere on the outfit -- like a colored belt or tie, for instance -- to make the whitespace more prominent.
3) Ghostwriter - Grab a white sheet, and cut out a hole for your head and arms. Dob some black ink spots on the sheet, grab a feather quill, and you got yourself a ghostwriter.
4) Website - Just cover yourself in that fake spider web stuff. You are now a site for webs. If you need some of the fake spider webs, let me know -- I overbought this year.
5) Pinterest - Print out pictures of food and clothes, and then pin them to yourself with those pins with the colorful balls on the end. The hardest part of this costume is finding a printer.
6) Emoticon - Paint your face yellow, and draw on a big black smile, and big black eyes. Or, if you're looking to take a walk on the wild side, may I recommend any of these edgy emotions?
I would totally rock the sunglasses. Or the one uncontrollably weeping.
7) Stock Photo - Mimic any one of these juicy photos. May I recommend number 11?
A Little More Work
8) Direct Mail - Dress up like a guy. If you're already a guy, congratulations, you've completed step one. Cut out speech bubbles and affix them to your clothing. Fill the speech bubbles with things like:
"Bangs were a bad idea."

"Your fly is down."

"I see you've started using Just for Men gel."
And there you go. You're a direct male.
9) PowerPoint - Wrap yourself in black electrical tape -- or just wear all black -- and affix an outlet to your clothing. That outlet is the point of power, or, a power point. Get it? (If you have a laser pointer, you can have some fun ... pointing at people.)
10) Webinar - Wrap yourself in spider web. Cut out a cardboard "R" and wear it like a sandwich board. You're a "web" in "R".
11) Weblog - Since you already have the spider web out ... dress in all brown (find clothes you're okay messing up), and paint some black stripes on you to simulate wood grain. Then, wrap yourself in that spider web. Web-log. You can just call yourself a blog, for short.
12) Invasive Form Fields - String together several white, rectangular pieces of cardboard, and wear 'em over your shoulders like a sandwich board. Write one inappropriate, probing question on each piece of cardboard, such as:
What tax bracket are you in?

Do you and your significant other share a bank account?

What's your worst recurring nightmare? Be specific.

Why haven't you and your boyfriend gotten engaged yet?

Do you also think your new sports car is probably a sign of a midlife crisis?
Make the last piece of cardboard a different color, and write the word "Submit".
Pro tip: Use progressive profiling on your forms by making your form fields out of small, dry-erase white boards. That way you can adjust the form field question as people fill them out. Be prepared to hand someone an offer for filling it out -- perhaps a piece of candy and an apology?
13) Meme - Be any meme, ever. Here's a few to get you started.
Group Costumes
14) Link Farm - Get a group of people to dress up like different farm animals, and link arms. If you're really committed, buy one of those creepy chains you find in the decor section at Halloween stores, and link up that way. You can be the farmer since the costume was your idea.
15) Buzzfeed Reaction - Everyone dresses in yellow, and writes one of the following in big black letters on their shirt. Be sure to put the numbers below each sentiment, too. Sign up fast, lest you end up being "trashy" or "ew".

16) PPC - Cover yourselves in paper and hang out together. You're a paper clique.
17) Black and White Hat SEO - I think you can figure this one out. I recommend an all black outfit for one, and all white for the other -- but the hat's the most important part!
18) First-Degree LinkedIn Connections - Grab a co-worker and dress in blue and white, preferably business attire. Find that chain you bought for costume #14 -- or, just make a string of paper clips -- and link up. This costume works best with a cubicle mate.
19) Google Algorithm Update - You'll need three people for this one. One penguin, one panda, one hummingbird.
20) And if all else fails, just be someone from Mad Men.
Props to @hbfleishman and @RosaliaCef for coming up with numbers 1, 4, 9, 11, 14, and 16. Share your ideas for last-minute Halloween costumes for marketers in the comments. And if you end up making any of these costumes -- send pictures to @HubSpot and @Corey_bos!
Image credit: petsadviser-pix