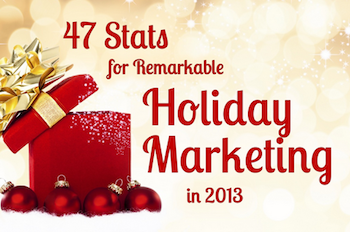 It's official: We're finally in the midst of the holiday season. Whether you're spinning a dreidel, adding another Charlie Brown ornament to your Christmas tree (as if you needed another one), or just spending more time with your family and friends, we can all agree on one thing: The holidays are an important time. They're a time of reflection, celebration, and, most importantly, food.
Speaking of food (nice transition, I know), there's a great deal of food for thought for marketers to consume during the holiday season. Online holiday sales alone are expected to reach $82 billion in 2013, according to the National Retail Foundation. Therefore, it's no wonder that marketers place a great deal of emphasis on this time of year.
And just like anyone else during the holidays, marketers are also constantly looking to get the best bang for their buck. But instead of looking for the best deal on that brand-spankin'-new flat-screen TV, they're looking to have the greatest impact possible with their budgets.
With that being said, we've compiled a list of some of the best holiday marketing statistics from our friends at Forrester Research, the National Retail Federation, and Deloitte (among others). With topics ranging from email, to mobile, to social media, to blogging, you'll be able to use these stats to inform your holiday marketing campaigns across nearly every channel.
Without further ado, here's a list of 47 truly remarkable holiday marketing stats:
It goes without saying (but I'll say it anyway): Modern marketers can take their holiday campaigns to the next level by focusing on digital platforms such as ecommerce, mobile, and social media this year. With Cyber Monday sales increasing 20% over last year (and with mobile sales accounting for a record-high 17% of that total), it looks like that sentiment is holding true.
What strategies have you been utilizing in your holiday marketing campaigns? What channels have been working well for you, and where have you been finding the most customer engagement? Share your success stories in the comments below – we love hearing about them! Oh yeah -- and happy holidays!