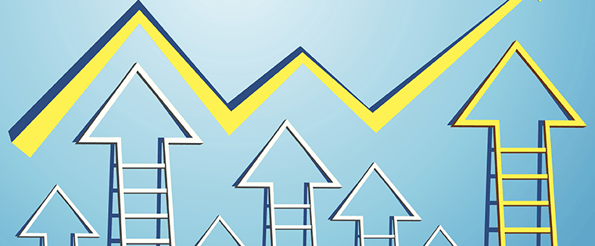 Five years ago, I wore many hats. Not the fedora or baseball kind, rather the hats of salesperson, marketing director, hiring manager, client relations manager, campaign manager, and more.
As our list of clients grew, so did our staff of inbound marketing specialists. One by one, tasks shifted off my plate onto the shoulders of other staff members. This meant I should reasonably have more time for sales and marketing, which should also reasonably mean that our agency was growing more than ever before.
But at the time, nothing could be further from reality.
We couldn't seem to reach our (admittedly aggressive) goal of one new retainer client per month. Somehow, despite all I had re-allocated to the team, the margins seemed to plateau.
The below chart shows our traffic per source from January 2013 to July 2014.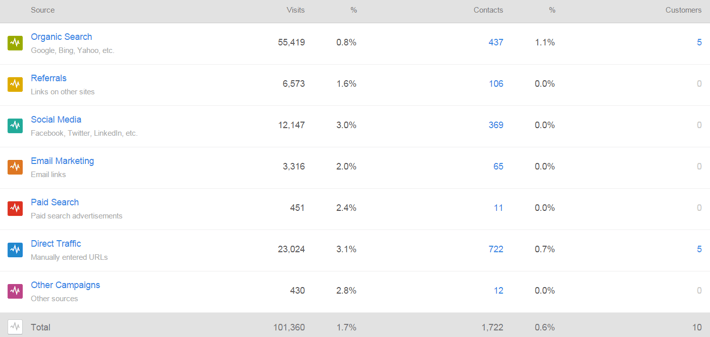 But then things started to change.
The below chart shows our traffic from July 2014 to December 2015 (includes both the direct mail and inbound marketing side of the business). By comparing these two 1.5 year periods, you can see that our website's total traffic went from 101,360 to 169,487 (+67%), leads increased from 1,722 to 2,506 (+45%), and customers went from 10 to 25 (+150%).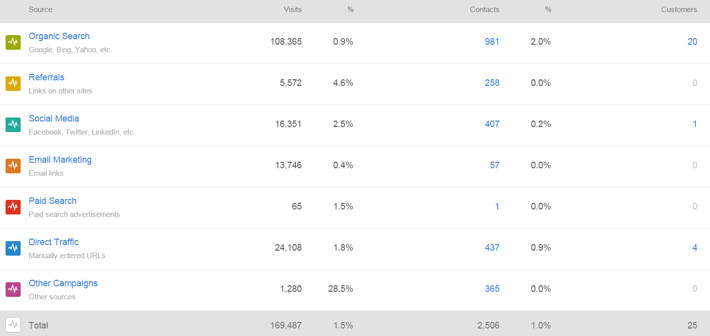 This growth was due to a few key decisions we made in sales and marketing that changed how we operated and reset the growth trajectory of our agency. Here's how we did it:
1) We hired a full-time sales rep.
Up until the plateauing point, we'd hired outside sales staff on a part-time basis primarily because I wasn't confident we had enough leads to keep someone busy 40 hours per week. I soon realized that to move the needle, someone has to be selling all the time. Not to mention, it takes a lot of hours to set up and plan successful meetings, do presentations, and handle the proposal writing process.
Around this time, the president of our direct mail company, Wes, had moved back to town. (In the interest of full disclosure, Wes is my father who had been out of state pursuing a personal dream job and teaching as a college instructor while I was launching an inbound marketing agency.) When we looked at the lack of growth in front of us and discussed the pros and cons of previous sales roles, we made the decision to bring him on in a full-time sales capacity. His only job was to concentrate on sales, and this turned out to be one of the most valuable decisions we've made to date. He is in no way responsible for delivering marketing services, and as soon as the kickoff meeting is completed (our first onboarding discussion with new clients), he's back to sales.
This change in staffing helped us create a clear line of responsibility: Wes focuses on what he does well (connecting with prospects and seeing if our agency is a good fit), and our staff of inbound marketing specialists focuses on refining and executing on clients' marketing strategies.
2) We trained on the job.
We practice what we preach so all of our new business leads come from content-driven inbound marketing initiatives for our agency. These leads typically have a lot of questions about inbound marketing, the process, the time commitment, the strategy behind inbound, etc., and our sales team has to be able to answer all these questions. The learning curve can be pretty steep, so we started training our team by having them subscribe to blogs that provide up-to-date information on the industry, such as HubSpot's Marketing blog and MarketingProfs.
To further support this, every week had a "lunch and learn" where each team member would bring an article to share about an inbound marketing topic. The exposure to trends and interesting topics outside of the sales industry gave us an on-the-ground perspective that we could use when speaking to prospects.
Also, Wes and I worked very closely in the beginning. We ran inbound marketing assessments (IMAs) together, we reviewed inbound marketing plans, and we ran dozens of prospecting calls and reviewed them afterward to discuss the gaps in that prospect's marketing plan and how best to follow up.
After a period of six months, Wes had his inbound certification and was running IMAs on his own. Though it's tempting to want to see a salesperson running independently within six weeks, the long-term training really paid off because now I can fully (and confidently) focus on hiring and improving our client service team while he expertly handles to leads and conversions.
3) We chose a new business rep with experience in our target vertical.
The benefits of Wes's entrepreneurial background were probably more of an afterthought, but we agree that it's one of his best assets in this sales role.
Looking back now, we can see how our prospective clients in the home-building industry felt more at ease in speaking with him because he knew the struggles of being a business owner. To add to this, Wes had also worked in the construction industry for 15 years. When he walks into sales meetings with home builders or remodelers, he naturally carries more credibility than most other people would because he's had "feet on the ground" in operating and marketing in their industry.
4) We kept learning.
With someone in a full-time sales role, I realized how much our definitions of a marketing qualified lead and sales qualified lead needed to be clarified and improved. Now that I had someone in my division whose paycheck depended on the quality of my marketing direction, those definitions had to be crystal clear.
We also worked with a handful of sales experts (David Weinhouse and Rick Roberge ), in addition to going through the sales training HubSpot offers as part of its Agency Partner program. We also read up on the topic, including Dave Kurlan's book Baseline Selling. Keeping this constant funnel of wise, experienced sales voices around us was invaluable.
In addition to the people who invested in our sales training, time taught us a lot of little things: We learned to get really, really comfortable with rejection; we learned how to ask better questions; we found ways to dig into pain (our own and prospective clients'). Time also allowed us to refine how we pitched our marketing services. Instead of writing a business proposal with three different service levels, we now get a sense of someone's budget upfront so we make only one recommendation -- the right one.
Creating an Environment for Sustainable Growth
When we look at the trajectory for growth in front of us and reflect on 2015 in general, I definitely don't see these four things as the only factors that contributed to our growth.
In the past several years, we've stayed committed to hiring the right people -- people with backgrounds in digital or inbound marketing, as well as people we knew could grow into the inbound marketing specialist role and our account manager positions with some additional training. Without our team, we couldn't possibly sustain long-term relationships with our clients.
We also outsourced resources with discretion and streamlined internal operations so that we set the right expectations for a working relationship with our clients from the start.
And finally, we stuck to our content production plan. I've seen it time and again with clients: When margins start shrinking, they cut marketing or content budgets as a solution to make it through the lean months. But for us, publishing less content was never an option. We stuck to our production calendar and tried to find even more creative ways to produce great content and more leads.
These choices, in addition to polishing our sales and marketing efforts, helped us prepare for new business when it arrived.