"Let's go ahead and address the elephant in the room."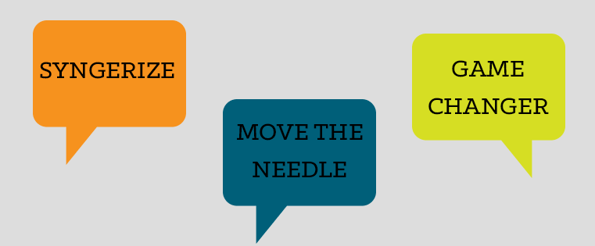 "I need to get my ducks in a row."
"We need to dive deeper on this issue."
Unless you employ an elephant, have a stash of ducks ready to be cataloged, and boast an office perk of a diving pool, there's really no need to utter these words.
Those are just a few of many overused business terms that should be expunged from the office space. These jargon-filled business lingo that litter our everyday interactions in the office actually cause a lot of confusion, and while you might think they make you look intelligent, they do just the opposite.
So let's not boil the ocean here, nor do we need to re-invent the wheel. Content is king, so we want to empower you with a win-win that's par for the course. Overuse of corporate business jargons can be annoying like "Synergise, Content is king, Empower, Get the ball rolling, Game changer, Apples to apples, It's on my radar, With all due respect, No brainer" and many more can prove to be very nerve- racking.
The below infographic from GoToMeeting will help us to get on the same page and gain traction in our attempt to avoid this business jargon going forward.
What's other corporate speak you've had enough of? Let us know in the comments below!