The contract is signed. You've had the new client celebration within your agency. Everyone is ready to get to work.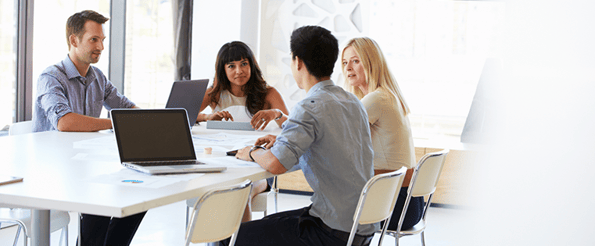 It's the beginning of a new -- and profitable -- relationship. But you've done this before, and you know that this feeling of excitement and accomplishment can quickly mutate into resentment and stress. The client is unreachable for weeks, or he expects something that wasn't included in the contract. The relationship becomes confusing and frustrating before you've even sent out the first invoice.
According to the Marketing Agency Growth Report 2018, 16% of agencies face client retention problems, with 23% failing to meet client goals and expectations. A good project kickoff meeting has the client determining reasonable expectations, so your agency can keep them satisfied and the clients will be more likely to stay.
Why Have a Good Project Kickoff Meeting
The first 90 days will set the tone for your relationship, and if you hope to retain this client, then you need to prepare and develop an onboarding process that proves you are the right agency.
From this conversation, you will begin to develop a deeper understand of the strengths, weaknesses, and opportunities present. You will use the key findings to develop a strategic marketing plan that includes:
Checklist for a Good Project Kickoff Meeting to Develop a Strategic Marketing Plan
Concrete business goals
A competitive analysis
A review of the client's previous marketing efforts
Buyer personas
How you will define a marketing qualified lead and sales qualified lead
Establish benchmarks
KPIs you will measure on a monthly, quarterly, and yearly basis
A detailed inbound marketing strategy, including the services and time allotted for each activity to reach specific goals
This document will be the basis of your work for at least the next three months.
7 Agenda Elements to Cover in a New Client Kick-Off Meeting
One of the most important steps in client onboarding is the kickoff meeting. A kickoff meeting or call is a conversation with the major stakeholders in the hopes of getting everyone on the same page. It should help you create a marketing plan, define a list of priorities, and reaffirm the goals uncovered and agreed to during the sales process.
Key Areas to Cover in a Client Kickoff Meeting Agenda
1) Team Introductions
Give everyone on the call a chance to introduce themselves and explain what his or her role is. The project team includes both your agency's staff and the client's team, so you better get to know one another. This should also give you insight into each person's expertise, which will come in handy when creating content. The ultimate goal is to build rapport with the group and establish a relationship of collaboration.
2) SMART Goals
While you may have heard about the client's goals during the sales process, you will now want to actually set goals that are SMART, meaning they need to be:
Specific: Determine the type of goal and get specific. Increasing traffic is not a goal — increasing organic traffic is.
Measurable: Establish how you will track the goals. The client might want to increase brand affinity, but you need to develop a process for measuring and reporting the success -- or failure -- of a specific goal.
Attainable: Find out the client's previous efforts. Try to benchmark what has been done before so that you can showcase growth.
Realistic: Set expectations. The client may want to see 5,000 leads per month generated, but if his retainer only covers two blog posts per month and he has never had a lead come through his website, then this goal might not be in the realm of possibility.
Timebound: Establish a deadline for achieving these goals. Discuss the amount of time it will take to create and deploy marketing activities and how long it will take to see the benefits of those activities.
3) Plans
Based on the goals you've established, you can then begin to work out what the tactics for accomplishing those goals will include.
Sample goals:
Attract X unique visitors per month
Increase visitor-to-lead conversion rate by X
Convert X visitors into leads
Increase lead-to-customer conversion rate by X
Obtain X customers from inbound marketing
Plans for reaching goals:
Increasing the publishing frequency of the blog
Developing top of the funnel (TOFU) ebooks and whitepapers
A/B testing calls-to-action for ebooks
Using email to nurture leads effectively
Developing a lead scoring system to identify high opportunity leads
You shouldn't develop a concrete and exhaustive plan during the call, but you can start to outline some tactics that will help the client reach his highest priority goal as soon as possible.
4) Client Challenges
The challenges section of the call will simply be a starting point of a task list. If you need to increase organic traffic, then you need to develop a keyword strategy. If you want to capture leads from existing assets or offers the client has, then you need to create landing pages and thank you pages. You will refine and hone this list during your post-meeting reporting. Using this information, develop a chart that outlines the findings and insights from your conversation with the client. Use this when developing your inbound strategy.
5) Timelines
Based on the challenges and goals, you will want to identify high priority items that your team can begin to implement immediately. If the client had a large list of leads, but doesn't know how to qualify them, then the first step might be to set up an email nurturing campaign.
You will also want to discuss if the client has any company-wide goals it needs to meet. If he has quarterly reporting, then you will want to adjust the pace of your projects to reflect this. You need a clear understanding of the results the client wants to see and when he wants to see them.
6) Marketing Overview
From here, you will want to understand the client's previous marketing efforts.
Discuss what marketing efforts the company has tried in the past and what successes or failures he saw. Understand both the traditional and inbound marketing tactics the client has tried, the challenges faced when executing on these, and any return on investment.
You will also want to briefly discuss the company's target customer. A longer discussion to establish or refine the client's buyer personas will be necessary. The main objective is to understand if the client's customers fall into one group, two groups, or many unrelated groups. If his customers fall into more than one group, you will want to add profiling questions to any existing or new forms to begin to segment the client's audience and better understand his buyers.
7) Roles & Responsibilities
This is a partnership, which means that there are certain things your agency needs to deliver on and there are also some responsibilities on the client end. Who is approving work? Who should your agency contact if there is a problem with billing?
Who will create content and how frequently? Get to know the internal structure and processes the client has in place and determine where your agency's work fits in. And don't be afraid to set expectations for the client. You need to show results, which means you will need information, support, and approval from his team.