Client relationships end. There's no way you can completely avoid it.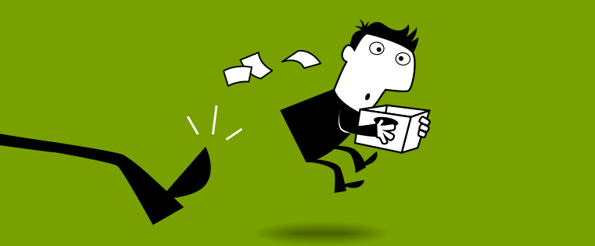 And according to a recent report from Agency Management Institute, it's common: 50% of respondents said they had fired an agency in the past two years. But it's also preventable, if you know the main reasons why clients choose to break-up and the signs of unhappy and dissatisfied clients.
Consider these situations in which clients commonly fire agencies and if your relationships are at risk:
6 Reasons Why Clients Fire Agencies
1) Reorganization or Change in Leadership
The average CMO tenure climbed to four years in 2014, double what it was 10 years ago, but turnover in the executive level still happens too often for an agency to feel secure.
When a new CMO or another member of the C-suite joins a company, change is bound to occur. She may want to bring in an agency she has previously worked with or even hold a formal review. Even if your agency is kept on after a change in leadership, it may drastically change the rules of the relationship, the goals, the type of work, etc.
To increase your chances of avoiding the cut, be quick about creating a relationship with the new executive. Schedule a meeting as soon as possible, or in lieu of a face-to-face, send the executive a brief overview of the company's marketing and business challenges as you've seen them and detail how you are currently working to solve them. Give the leader details on your past successes and plans for the future of the partnership.
In addition, you should never rely on a relationship with only one contact at the company -- such as the CMO or the VP. Be sure to develop connections with multiple team members, especially another executive-level individual who could vouch for your professionalism and value during a major change.
2) Budget Issues
It's a common reason for ending a relationship: "We simply don't have the budget to continue using your services."
Maybe the company is going through tough times, and the leadership team has decided to cut marketing's budget. Maybe the CMO decided to invest resources on other initiatives. Whatever the reason, your services didn't make the cut. The client is spending money; it's just not with your firm.
This signifies a bigger issue for the agency: It means you haven't done your work to prove the value of your services. You need to be able to tie marketing activities to ROI -- either in terms of influenced sales, retention, conversion rate, leads, etc. And you should report on these metrics reguarly to continue to build trust and reliance on your firm's expertise.
3) Poor Management of Expectations
This reason is complicated because, yes, there are some times when an agency simply messes up a relationship. They don't deliver quality work. They miss key deadlines. The team doesn't communicate. They treat the client as unimportant.
However, in most cases, the poor performance of an agency is perceived. The agency failed to set and manage expectations and the team didn't ask the right questions. This results in a situation where the client's vision and the agency's vision are completely different, creating disappointed, confused, and frustrated clients.
4) Chemistry Problems
Chemistry is the most important element in maintaining a long-lasting client relationship. It underlines and influences everything else. If your agency makes a mistake, this can be easily worked past if you have a trusting and strong relationship. If you make this mistake with a client you don't have a strong relationship with, the mistake will be seen as simply another sign that the agency is incompetent.
Emotions drive decisions, and without a positive emotional connection, it's easy for the client to consider switching shops.
5) Trust Issues
Clients and their agency partners agree: 77% of the respondents to the 2016 ID Comms Transparency survey said that developing a close and trusting relationship will deliver a stronger marketing performance.
However, 31% of clients thought levels of trust were low or very low with their media agencies, and only 7% are hopeful that this will increase "a lot" in the future.
Trust should be built during the sales process, through case studies and testimonials, but it also needs to be a focus point throughout the relationship. You can continue to maintain trust by being transparent about the results (through monthly reporting), by being clear about next steps in a project and possible risks or roadblocks, by being timely in your responses, and by asking for client feedback and making changes based on valid suggestions.
Clear and consistent communication is the key to building and maintaining trust. According to Agency Management Institute's Hiring & Firing Insights report, not receiving the appropriate level of attention or responsiveness was the second most common reason for firing an agency, after a lack of achieving results.
6) Lack of Risk-Taking
Steve Mckee wrote in Bloomberg: "If your ad agency isn't regularly making you feel uncomfortable, it's not doing its job. It may come to you with smart creative executions that nevertheless make you nervous because 'I've never seen it done it this way before.' They may push you to experiment with unproven tactics so that you don't get left behind in the frenetic world of new media. They may challenge you to reexamine your strategic approach altogether. Whatever the nature of the challenge, an agency that makes you think is taking the initiative to think on its own. And that's what you're paying it to do."
Relationships that become too comfortable -- the agency knows what ideas the client will and won't approve and creates work based on this -- work for a little while. But when the client wakes up and realizes that they've fallen behind their competitors, they are going to blame the one group of outsiders who are supposed to be pushing their brand forward.
One way to prevent this from happening is to make sure account managers are held responsible for the organic growth of client accounts and that they have a plan or consistently assess the client's marketing and growth opportunities. In addition, you should determine the average lifecycle of your best clients. Knowing when in a relationship a client is most likely to end the relationship will help you to remain vigilant to the signs of a client's unhappiness.