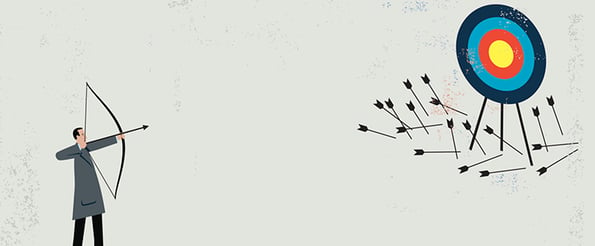 Native ads are the current darlings of the industry.
Publishers are banking on the new source of revenue, and brands are excited that their messaging can finally escape the banner ad.
And they should be attracted to the format. When done right, native ads -- those ads that follow the form and function of the publisher -- can be impressive works of journalism and design. Just look at these examples. It also produces exciting numbers: consumers engage with native ads 53% more frequently than traditional display ads, according to Sharethrough and IPG.
The problem is that this current "group hug" of publishers, advertisers, and brands will be short lived.
Soon, someone will speak up. What's brand lift actually mean? How does this increase our bottom line? Does this format lead to new customers? More revenue?
Because native ads are advertising -- and advertising should sell.
"Clients don't value clicks and eyeballs -- at least not the sophisticated ones. They know better," said Rick Kranz, founder of inbound marketing agency OverGo Studio.
Steve Hall emphasized this sentiment when he wrote:
Most native advertising placements -- just like most banner ad placements -- are not structured with inbound marketing strategies that treat native advertising content creation as a starting point. Rather, the content is treated as the end point. In essence, most native advertising today is basically a branding play.
And research supports this: Only 25% of brands are measuring success of a native ad campaign based on lead generation. This metric follows purchase intent at 32%, brand lift at 46%, and clickthroughs at 83%.
There is an opportunity for advertisers to educate publishers and brands on how sponsored content or advertorials can be used for lead generation, rather than driving eyeballs and clicks.
Why Native Advertising Works
Native ads should be created with the reader in mind. At its core, it is content marketing with a paid budget behind it. And this piece of content should attract, inform, and delight the reader.
And this is what readers want: Shareaholic found that 70% of people want to learn about products through content, rather than through traditional advertising.
Kranz and his team at OverGo Studio took this view when they began working with direct mail marketing firm Cactus Mailing Company.
Cactus Mailing had been investing in PPC and display advertising, but this tactic offered few leads and no sales conversions when trying to attract dentists, a group that typically saw high returns from direct mail and were high value, repeat clients. This is a valuable market for the company, but dentists don't search for direct mail services. And PPC is only really effective when people are ready to buy.
OverGo calculated Cactus Mailing's cost per lead for the dental industry. It came to $678.
According to the State of Inbound 2013 Report, the average cost of a B2B lead is $43, while a B2C lead is $15.
The client wanted more leads, but it didn't realize the high cost it was incurring.
OverGo decided to partner with a niche publisher and launch a native advertising campaign that would educate the dentist segment and drive lead generation. It would use content to educate and drive interest, and marry this with an inbound campaign to nurture those leads.
3 Things to Consider Prior to Launching a Native Ad Campaign
Before you even begin to write content and designCTAs, you need to lay a strong foundation for the campaign. You should:
Decide How You Will Measure Success
Before you begin creating a native advertising inbound campaign, you need to determine your goals.
Depending on if the brand hosts the landing page or the publisher does, you should outline the metrics that will determine the success of the campaign. This could include:
Total number of leads
%of Marketing Qualified Leads
Cost Per Lead
Cost Per MQL
# of Unique Views
Click Through Rate
# of Social Shares
Discover Demographic Data
To determine what publication is the best fit for your client's ad placement, you should uncover or define the brand's buyer persona for the campaign. The content needs to be targeted and relevant for it to make an impact.
Then, you should research publishers, their circulation, reader data. Most publications will have a media kit outlining:
Audience Data: This could include the industry breakdown and job titles of readers and newsletter subscribers. Ask if the publisher can do any advanced segmentation of its audience if the brand only wants to reach a specific subset of its readership.
Editorial Calendar: If the site provides a calendar, review this to see if your client's brand and its focus would align with any upcoming editorial focus or special advertising sections.
Advertising Opportunities: Work with the publisher to understand how the native ad will be promoted to its readers. Does the buy include promotion through the email newsletter, social media, or an email blast?
Outline Campaign Metrics to Monitor
Before you launch the campaign, you should outline the metrics you will watch to determine if the campaign is performing well and if you need to change something to increase performance. Here are four metrics you should monitor:
1) Unique Views of Article
This number will let you know if the headline is attracting people. If your unique views are below the average unique views per the publisher, you should consider testing a new headline. You can try out a few versions by running A/B tests on social media, i.e., sharing the article with varying headlines.
2) Low Views, High Conversion Rate
If you are seeing low levels of traffic, but the conversion rate is high, that's a good sign: your content is aligned with the offer you are promoting. This signals you or the publisher needs to put more time into promoting the content.
3) High Traffic, Low Clickthrough Rates
If you are seeing a high number of visitors, but few of those are converting on your offer, it could mean a few different problems:
Your content and the corresponding offer are not well aligned.
The email promotions are being sent to a large, untargeted group of readers or traffic is low quality.
The design or placement of the CTA is confusing or easy to ignore -- this could signal a site design issue or that the CTA copy and design need optimization.
4) High Clickthrough Rate, Low Conversion
This metric will signal if there is an issue with your landing page. Depending on if the form is being hosted on the publisher's site or the brand's site, you may be able to experiment with the headline, length of the copy, the value proposition, and the length of the form.
How to Create a Native Advertising Inbound Marketing Campaign
Once you have established the metrics you will track, follow these steps:
1) Segment Subscribers
If the publisher uses marketing automation software, you can create highly targeted email promotion campaigns to send to subscribers who are specifically interested in the type of content or offer you are promoting.
OverGo worked with Dental Products Report to create lists of subscribers based on previous actions, such as past offers they had converted on, the videos they viewed, their demographic information, specific sections of the website they had visited, and if they had mentioned the brand on social media.
By segmenting the publisher's subscribers and most engaged readers, OverGo could promote the webinar to those who would gain the most value from the content and were most likely to convert.
2) Create a Targeted Article With CTAs
Next, Dental Products Report's team created an article that discussed how postcards and direct mail can provide a high return on investment, and it included key quotes from the president of Cactus Mailing Company.
The sponsored post included multiple image and text CTAs to attend a webinar from Cactus Mailing. It also provided a link to a more content-focused post on Cactus Mailing's website. In total, there were six CTAs.
The CTAs led to a landing page on Cactus Mailing's website that promoted the on-demand webinar.
3) Test & Optimize
After the native ad campaign launched, the publisher reviewed the performance of the campaign. It saw that both traffic to the landing page and the conversion rate was low during the first week. Because it had done inbound campaigns like this in the past, it was able to benchmark the performance of other native ad buys and alert OverGo and the client that the campaign wasn't meeting expected performance standards. The publisher encouraged OverGo to make changes and perform A/B testing. Anyone who has done a media buy knows how out of the ordinary this is for a publisher -- typically it is a flat fee for impressions or clickthroughs. You sign the insertion order, pay, and you're done, Kranz said.
The team decided to test promoting an ebook, rather than a webinar, to see if that would improve the campaign's performance.
It also added the publisher's logo to the landing page to increase trust and decrease confusion as readers were traveling to Cactus Mailing's domain.
4) Follow Up With an Email Nurturing Campaign
Once a visitor has converted on the native ad's landing page, you then need to nurture this person into an interested buyer. Remember: you used the trust of the publisher and a valuable offer to gain the person's email. Now, you need to live up to that standard.
Create nurturing campaigns that educate the lead on the company and its benefits. Provide links to additional content or offers.
Cactus Mailing has a five-stage lead nurturing campaign sent out to each person who converted on an offer. The final email included a coupon for design work.
Kranz said that lead nurturing is one of the most important elements of a campaign.
Typically, a publisher will hand over a list of leads, but the client has no idea what to do next. The time between the lead downloading the offer and the follow up from the brand is also essential. Harvard Business Review found that following up with potential customers within a hour of receiving a query are 7 times more likely to have meaningful conversations with decision-makers.
"When you run an inbound campaign, it's immediate," Kranz said. "They go into the system. They download it. Then, they start getting the proper follow-up communications right away. There's no waiting for the leads to get passed off and for someone to figure out what to do with them."
An Advertising Fairy Tale
By combining inbound marketing and native advertising, OverGo Studio was able to drive leads, reduce lead acquisition costs by 98%, and provide 545% return on investment.
Obviously, this route of advertising is much more time intensive than simply designing a banner ad and placing it. It takes a team of writers, editors, marketers, and a publication that is willing to invest in and work with its advertisers.
But the payoff is worth: agencies can provide ROI to their clients, and brands can educate, inspire, and convert prospects into customers.
This is about as "happily ever after" as it can get in the media world -- and it all starts with a piece of content.