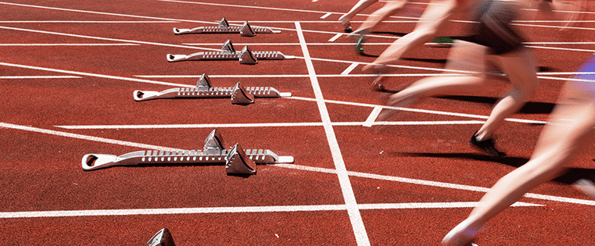 When was the last time someone at your agency sat back, rested their hands behind their head, and proclaimed, "Our clients are completely happy with how fast things are moving!"
It's doubtful that's a phrase you have heard -- or uttered -- recently. Your clients want results, and they want them quickly. Often, your clients struggled with the significant investment and the choice of your agency as their new partner. They are trusting your team with the future success of their company's marketing and business efforts -- and even their own careers.
To calm these fears, agencies should adopt a strategy for getting the client a "quick win" that provides tangible and positive results for the client.
Why a Quick Win Approach Will Help Your Agency
Agencies face a problem where the work they provide during the first few months of a relationship often appears opaque to the client. How does an agency show off their buyer persona development work? How does a documented buyer's journey help the client with her upcoming quarterly revenue goals? What do weeks of backend coding matter to the client if her website has not launched yet?
HubSpot's independent ROI studies indicate that most companies start to see positive results from inbound marketing around month six -- that's a test to any client's patience.
Developing a quick win approach allows the agency to pacify the natural impatience that comes with the client's investment, while also ensuring the agency does not lose sight of the big goals that the team wants to accomplish. This approach will not sacrifice the foundational work that ensures your clients are setup for long-term success, rather it provides the client with immediate and tangible results that increase their confidence in their choice of an agency partner.
How to Build a Quick Win Campaign

The quick win approach should be done within the first month or two of a new client relationship. You don't want to wait for the client to become frustrated or regret their choice of agency. Prove to your clients -- as soon as possible -- that you are the right partner to help them meet their goals. Here's how you can get started with building out quick win campaigns:
1) Audit Existing Content for Opportunities
Soon after your kickoff meeting, a member of your team should complete an audit of the client's existing content. An asset includes any highly valuable content that the client uses in its marketing or sales process. This should be a piece of content you can easily use as the basis for a lead generation campaign, something the client's target audience will provide their personal or professional information to gain access to. This could be an in-depth guide, a checklist, a product brochure, a compilation of blog posts, or a questionnaire.
If you have trouble identifying a content asset that can easily be used to convert visitors, use the client's time as an incentive. Suggest a campaign where the client provides 20 minutes of consulting or records his team doing a website audit.
The key is that your agency shouldn't spend hours developing the perfect piece of content to place behind a form. You want to use something that already exists or something that does not take up too much of your team's time. When you start trying to develop a piece of content from scratch, you distract your team from working on the projects that matter for the client's future success.
2) Determine a Promotion Plan
As part of the content audit, you should also conduct a quick analysis the client's current marketing and distribution channels.
Consider these questions:
How many monthly visits does the client's website attract? What is the current conversion rate?
What social media channels does the client manage, and what is the following on each platform?

Does the client have a healthy email list that it engages with frequently?

Does the client own or engage with any communities online? This could be a popular blog, a large following on a site like Quora, or a LinkedIn group.
Once you understand the opportunities for promoting the content online, you can create a game plan for marketing the quick win campaign and generating leads.
3) Launch the Quick Win Campaign
Next, you'll need to create all the assets for the content campaign. This includes a landing page, thank you page, an email promoting the offer, a kickback email, social promotion images, and a blog post. If the client hasn't yet bought into a marketing automation system or landing page tool, try using LeadIn, a free plugin that works with Wordpress and other CMS providers to capture email addresses.
Before launching, you should discuss how new leads will be routed to the client's sales team and how you can track these leads as they go through the buying journey.
Remember that the point of implementing a quick win strategy solves an immediate need to show value. It's not an ongoing sustainable source of leads. Communciate that this is a simplified version of your work, and manage client expectations by communicating the goals of this "test" campaign.
4) Measure the Results
Finally, you'll report on the results of the campaign, highlighting the visits, leads, conversion rate, and if possible, customers generated from the campaign. Your goal is to demonstrate the agency's ability to drive quick results, so make the report simple and easy to understand. Highlighting a few data points should be enough, and it will show that you understand which metrics really matter to the client.
Other Quick Win Strategies
Launching a lead generation campaign is just one option you can employ. If the client you are working with has goals more aligned with traffic generation, you might explore quick ways to generate traffic to their most important website pages. If the client has a large lead database and wants to drive people to trial the company's product, segment the contacts in that database to find the most engaged -- and likely to buy -- people, and create an email campaign for them. The actual components of the approach can vary from client to client as long as you bake into your agency processes the need to deliver results within the first month of a new client relationship.
Build Trust Immediately for a Stronger Relationship
It will be much easier to get buy-in from a client on the carefully detailed inbound marketing plan you've outlined if he already trusts your agency and has proof that you can do what you say you can do. This initial trust-building activity will help clients new to this type of marketing to understand its value earlier and make changes to the way they handle inbound leads earlier in the process. It's an easy way to make sure that you are setting the foundation for a long and profitable relationship.