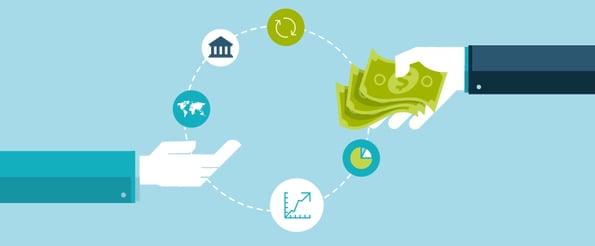 Marketing agencies have owned the realm of increased visits, subscribers, conversion rates, and leads. But there comes a point where those leads are passed off to sales. As you well know, they are then out of the control of marketing.
And when sales continue to falter, increasing leads loses its luster. Driving sales and revenue is really what the client wants.
This is the point where they begin to consider your agency's work as a budget line item that might get cut.
"We are in a market right now where clients value sales as much as marketing and more," said Andrea Cotter, a partner at Allegory Studios. "Clients want a clear line of site to revenue results."
Clients, especially mid-market businesses, need to show how marketing spend is resulting in increased sales. And that means when you are selling marketing retainers you also need to consider the sales implications. What might inhibit the client's marketing team from proving the value of their activities to sales?
"At the end of the day, you're generating revenue or you're not generating revenue," said Doug Davidoff, founder and CEO of Imagine Business Development.
Your agency needs to bridge the divide by understanding how sales has changed and why this matters for the services and advice you give to your marketing clients.
How We Buy Has Changed
Sales has had to change because the way people buy has fundamentally changed.
The buying journey is complicated and out of your control.
People identify they have a problem, and then search for the solution to that problem online -- a research phase known as the Zero Moment of Truth. If your brand's information isn't available and more importantly, ranking in search engines for the specific terms your prospects use, you don't exist. They will move onto your competitors' sites to evaluate their solutions.
This also means that you need content that addresses people in various stages of the buying cycle -- from awareness to consideration to purchase. Marketing can no longer only operate in the realm of top of the funnel; they must also consider middle and bottom of the funnel consumers.
We've disconnected.
It's more difficult to reach a person by phone, which is where sales once shined. The industry was based on an individual's ability to form relationships and eventually close deals. Now, you need different types of communication skills.
Buyers are more confident.
Because buyers are more educated, they have more confidence about what they want and what they don't want. They've compared vendors, reviewed specs, and read reviews, so they already know the product's shortcomings and points of differentiation before ever getting on the phone. Command of the conversation is difficult to achieve.
How Sales Has Changed
Because of the upset of the traditional buying cycle, especially in the B2B realm, the types of interactions sales has with prospects has changed.
Sales is contacted much later in the buying journey.
Because so much initial research and vetting is being done online, people are getting in touch with sales much later in the process. They may just want to get the final pieces of information before they make a decision or present a recommendation to their director.
Sales therefore needs to make sure that it is communicating with marketing and that prospects can access information online that secures the brand a place on the person's short list. Sales also needs to understand where in the process a person is. What information do they know? And what do they still need?
Sales is no longer the driver of purchasing decisions.
Historically, sales reps were trained to be skilled in the art of moving a prospect from identifying a need the person didn't know she had to driving the person to buy the company's solution to meet that need.
Now, people identify their needs independently, develop a list of points to evaluate solutions against, read reviews, determine a budget, and then compare vendors. This last step might be the point when a sales rep finally makes contact.
But this doesn't mean the prospect understands her problem fully, and that's where sales reps can still provide value.
Sales has lost control.
The sales team once controlled large amounts of information about products and services that could only be accessed by prospects by getting in touch with sales. Now, this information is available online.
"In 1995 and before -- probably up to about 2005 -- sales people played a fundamental role," Davidoff said. "They were Google."
Inbound leads are different.
Leads generated through content are not usually sales ready. They may just be looking for an answer to a question or resources for their research. If your sales team reaches out with the expectation of a sale, the prospect may flee. You need not only a different sales approach, but also a different nurturing approach. Davidoff's team has more than seven different nurturing campaigns for middle and bottom of the funnel prospects.
How Agencies Can Bridge the Divide Between Marketing & Sales
These changes requires sales and marketing to change the way they approach both the marketing and sales processes. Davidoff wrote that, "Marketing's job tends to end too early, and sales' job tends to start too late."
Here's how you can better align marketing and sales and fill the gap for consumers on their path to purchase:
Define what a sales qualified lead means before you start generating leads.
Before you begin generating leads, marketing and sales -- in a collaborative effort -- need to determine and agree upon the company's ideal client profile. From this, they can define what a marketing qualified lead (MQL) and a sales qualified lead (SQL) look like or what criteria they need to meet to be passed from one team to the other.
If the client doesn't have these already defined, your agency can be the one to bring the two teams together to workshop these definitions and put a service level agreement in place.
Destroy the standard sales presentation.
Presentations that simply go over what the brand does and the solutions it provides are a waste of time. The prospect understands this if she has reviewed your website, downloaded an ebook, read your blog posts, etc., and has moved from a MQL to a SQL. Sales presentations should be about showcasing the value of your solution.
A sales person's job becomes one of mapping the prospect's need to the company's solution. These conversations are about value and establishing credibility, not specs.
Train sales to be educators.
Sales reps are now educators and advisors. Reps need to be able to ask questions that lead the prospect to really understand their problem, not just the solution the company provides.
"The thing that really opens up the sale is when the customer says or the prospect says, 'That's a really good point. I hadn't thought about it that way. Wow, I need to learn more about that,'" Davidoff said.
He continued: "I actually think that one of the places where inbound agencies could greatly help sales groups is to stop creating material that's all about the wonderful solution or solving problems and start teaching the problem," Davidoff said. "Half of the sale is getting people to understand what their problem is and what the impact of that problem is."
Education has typically been marketing's area of expertise. It now needs to also be a priority for the sales team so they can command the conversation and help prospects understand their problem and the importance of finding a solution.
Create content that drives sales, not just brand awareness.
"There's 100 reasons people will talk to you, there's 1,000 reasons people will love you, but there's only about five or so reasons that are big enough that someone will actually buy from you," Davidoff said.
Marketing needs to have a better understanding of why people buy, not just why they are interested in the company. They need content that not only drives people toward the bottom of the funnel but through it.
Sales presentations, comparison matrices, how to sell documents, and other sales enablement content are valuable tools marketing can create to better prepare sales for conversations and influence sales.
Structure and organize your content.
Creating content is one thing. Making content accessible for sales is a completely different undertaking. And this is the key for driving productivity in the sales team as 31% of reps' time is spent searching for or creating content. Only one-third of their day is spent selling.
Marketing can help to outline stages of the buying cycle or various pain points and create content around these topics. They can then store this content in a wiki or a CRM for easy access and tracking.
Sales needs for content to be easily found, distributed, and reused to make the most of marketing resources.
Track content that closes.
Your agency also can help to increase the productivity of sales reps by implementing a system that tracks when prospects open and view sales content so reps can reconnect with prospects at the right time.
Use this data to make more informed decisions about what content influences the purchasing decision, what's working, and what's not.
Delve into the data.
"It used to be that sales were the numbers people, and marketing was the arts and crafts people," Davidoff said.
Now, marketing reigns supreme at tracking and analyzing data, and sales could benefit their knowledge. What data points should they be tracking? How can they analyze this data? What changes need to be made to make the team more productive and successful?
Sales and marketing struggle because they speak a different language. They care about different things. If agencies can establish a common lexicon and a single set of tools that both sides invest in, they can jumpstart the conversation.
Sell Marketing Services by Understanding Sales
The buyer's journey has changed, which means marketing and sales are more intertwined than ever. Your agency can more quickly prove its value and get faster results by providing services that benefit both marketing and sales.