Most website redesigns are simply an aesthetic upgrade. The site "looks" outdated or the client has gone through a rebranding, so he needs a new site to reflect his updated color scheme and snazzy new logo.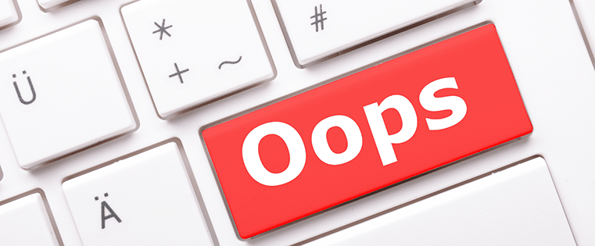 This approach -- if unchecked by the chosen agency partner -- can lead to an unhappy client whose site is simply an online version of a brochure.
Mistakes like this are common, but there are many other issues agencies and their clients run into when redesigning and relaunching a website. It's a complicated process with a lot of moving parts, so it can be easy to overlook both the small details and the major issues.
If you want to avoid making a mess of your next website redesign, avoid these all too common mistakes.
The Top Website Redesign Mistakes
1) Failing to identify goals.
Redesigning a website because you want a new look and feel or because it's been three years since your last redesign are not goals. Goals should be SMART: Specific, Measurable, Attainable, Relevant, and Timebound.
First, uncover how your website is failing and what you would like to be able to accomplish, such as:
Increase visits by X% in the next quarter.
Increase leads by X% in the next month.
Increase customers by X% in the next year.
These should be realistic and attainable based on your current visits, leads, and customers numbers. And these goals should be considered during every stage of the redesign -- from wireframing to design to adding features and functions.
2) Not benchmarking from your current site's analytics and data.
Your agency should first audit the current site, KPIs, and analytics data to understand the missed opportunities, the problems, and what is actually working. You'll want to keep these things in mind when creating a new structure or design. These benchmarks should be monitored after the relaunch, so you'll be able to identify and quickly fix any new problems. This information is also important for showing how the new site has led to improvements.
Record data on the below:
Monthly pageviews/visitors and average month-over-month increase
Bounce rate
Time on site
Number of pages viewed per session
Traffic sources
SERPs rankings for keywords
Most trafficked pages
Page load time
Inbound links
Landing page conversion rates
Call-to-action click-through rates
Once you have these benchmarks, you can create secondary goals that relate to these website metrics.
3) Failing to understand the full scope and technical requirements of the site.
A website redesign can become a nightmare if the project wasn't properly scoped in the first place. This leads to loss of revenue for the agency and disappointing results for the client.
To prevent this, ask questions -- a lot of questions (maybe even 90 questions). You need to fully understand the audience, goals, functionality, content needs, and marketing plan for the site before you even begin the wireframing stage. The deliverables should be outlined in a document both the agency and the client approve, and this should be reviewed during each stage of the redesign process. You can even include negative scope items to highlight what was discussed yet was ruled out.
4) Setting an unrealistic timeline.
Website redesigns take time. Typically, you have multiple phases: research and discovery, wireframing, content review and creation, design, development, and site review and testing. Most website redesigns take 12 to 16 weeks -- a timeline that doesn't typically align with a client's "can you have it done yesterday" approach.
You obviously want to win the client work or retain your current client, so it can be tempting to speed up this process. But this can cause problems for a few different reasons. Most likely, shortening the timeline for a redesign means you will have to cut corners. In the end, will producing subpar work win you loyal clients? The other problem is that shortening the timeline means more strict and quicker turnarounds on content and approvals for the client. Can the client realistically meet this? Or will you end up with a situation where your agency misses the deadlines based on pushing ahead too quickly?
5) Focusing too much on how the site looks.
Your website -- how it looks, how it functions, and what content you include -- should serve your prospective and current customers. They should lead people through the three stages of the buying journey, which include:
Awareness Stage: Highlight the common problems of prospective customers and provide them with research and resources on how to solve these issues.
Consideration Stage: Provide links to on-demand, in-depth webinars, samples of the product, client testimonials, and other content that will show the brand is a top contender for his business.
Decision Stage: Feature content on your differentiating factors, how you compare to other providers, and case studies and success stories. These will help viewers make their final decision.
Consider this information as you design and work through how people will move through the site. The site should lead your audience through the buyer's journey -- both in terms of how it functions and the content.
6) Not considering mobile users.
In May 2015, Google announced that more searches take place on mobile than on desktop in 10 countries, including the U.S. In addition, Google updated its ranking algorithm to reward sites that are mobile friendly.
If designing for mobile isn't your first priority, then you need to reconsider. Creating a great mobile experience that loads quickly should be your top recommendation for clients. Responsive design, which serves users the same content from a single URL regardless of device, is Google's recommended design pattern for websites.
Need a few convincing stats?
7) Failing to test the site prior to launch.
There are so many things that can go wrong on launch day, and when you are doing this for a client, your relationship is on the line.
Use a staging site during development and perform an in-depth test prior to launch. It might be helpful to create a website launch checklist to make sure you've got everything covered.
Some key things to go over prior to hitting the "green" button are:
Check for broken links.
Evaluate page load times.
Identify orphan pages.
Create 404 redirect pages that lead users to helpful content.
Make sure 301 redirects are working.
Install Google Analytics and exclude relevant IP addresses.
Test social sharing links.
Validate CSS/HTML
Test that forms are working and information is being sent to the correct email addresses.
8) Thinking that the website is done once it's launched.
The typical website redesign process is that every two to three years a client decides they need a new website. They hire an agency, and three months later, they relaunch their web presence. The site remains stagnant, save for content updates to the blog, for two to three more years. Then, they start the process all over again.
The problem with this process is that it ignores the goals of the client -- to generate leads, customers, and sales. By simply launching a website and leaving it at that, the client is missing out on opportunities to increase conversion rates, sales, and engagement.
By selling clients on a continuous improvement website model -- known as growth-driven design -- your agency can make ongoing improvements based on actual data that reveals what users want. This includes doing user testing to improve the overall experience and running A/B tests to improve conversions. Websites should evolve with the business and its clients -- and that requires ongoing improvements, more sophisticated levels of personalization, and more tailored and targeted content creation.