In 2017, we've added a lot of new features to HubSpot CRM. Chances are, there are some pretty cool features you have in your account right now and don't even know about. Here are a few of our favorites.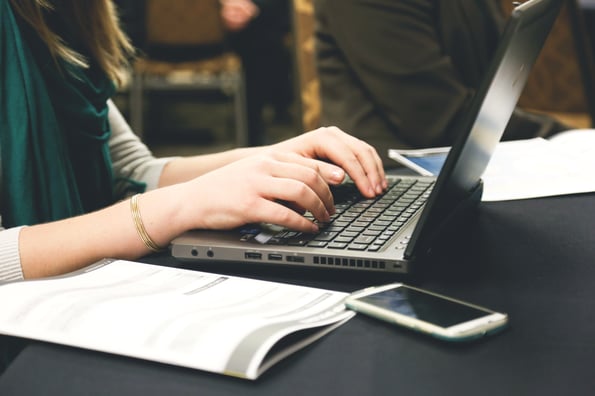 Contacts, Companies, and Deals
The core of HubSpot CRM has always been contact, company, and deal records. This year, we gave this core some serious updates:
Multiple emails
How many email addresses do you have? If you're like us, chances are you have more than one. A work email. A personal email. An email alias (e.g. kristin@acme.com, in addition to ksmith@acme.com). If you have multiple email addresses, it shouldn't come as a surprise that your customers do too.
So now you can store additional email addresses in the email property on your HubSpot contacts.
Once you've added multiple email addresses to a single contact record, the CRM will dedupe around all of those email addresses. And when you send an email from the contact record, you'll be able to select which address you want to send it to. And any time you log an email to the CRM using one of our email integrations, it will land on the contact timeline regardless of which address you used.
Explicit associations
Historically, the deal timeline in HubSpot CRM pulled every activity from every associated contact and company and aggregated them all together. In some cases, this was extremely helpful, but in other cases is was completely overwhelming. If you have one contact involved in multiple deals, all of that contact's activities would appear on all of the deals, regardless of which deal they actually pertained to.
Now, whenever you log or execute an activity on a contact, company, or deal record, you'll have a new association bar to work with:
The tags in this new association bar denote where the activity will appear. If you associate an email with the contact "elise@hubspot.com" and the deal "HubSpot - New Deal," this email will only appear in the timeline for those two records. Using the drop downs and X icons, you add and remove records that are associated with the record you are currently on. If you don't want a certain associated deal to include the email on its timeline, simply X it out.
As an added bonus, the deal properties "Last Activity Date" and "Last Modified" now update based on activities associated with the deal from contact and company records. Previously, these properties only updated when activities were logged from the deal itself.
The contact timeline
Timelines in HubSpot are where you track every interaction an individual (or company/deal) has with your business. That's right: every interaction. Page views, sales emails, list memberships, and over a dozen other things. That amount of info is incredibly powerful.
But this is another area where sometimes the amount of information was overwhelming. For contacts with a ton of interactions, sorting through the timeline to find individual engagements is like trying to track down one specific kid at Disney World. There's plenty of awesome stuff, but it's nearly impossible to find the thing you're actually looking for.
With that in mind, we made several changes this year aimed at making it easier to find what you're looking for in HubSpot records:
Tabs to make tracking engagements down a breeze. Filter for notes, emails, calls, and tasks with just one click.
The ability to select all the activity types in a certain category from within the filters. Previously, you could only select all activities, or choose them individually – no category-level "select-all."
Page views on contact timelines now roll up into their associated sessions. In plain English: if a contact visits your website and checks out multiple pages, those pages will be combined into a single item on the timeline.
Before:
After:
You can now reply to emails from the timeline. Previously in HubSpot, email replies were logged in your CRM. But if you wanted to actually respond to those replies – let's face it, how many email chains are only two emails long? – you were forced to leave your CRM, open up your inbox, track down that email, open it, type your reply, log your reply from there, and then return to your CRM to continue your day. Too many steps. So now all you have to do is find the reply button on the email and click it.
You can now pin the most mission-critical note at the top of any record in HubSpot CRM, ensuring the most important information is always front and center for both you and your team. Navigate to any record in HubSpot – contact, company, or deal. Find a note on the timeline that you'd like to pin, and click
Saved filters
Real-time filtering is another feature that HubSpot CRM has had from the beginning, and it's another feature that got serious updates this year. Not only is the feature much prettier now, but you can also "favorite" up to five filters to have quick access to them right on the sidebar. Also, when you search for properties to add to your filter, the properties you use most often will appear at the top of the list.
Deal sorting
In sales, you need to see the most important things front and center. The more you have to search and scroll to find what you're looking for, the less you'll sell. Plain and simple.
So now you can sort your deal board by any property you choose. Sort by amount to put your most valuable deals front and center, by owner to check in on your reps' deals one-by-one, or whatever's most important to your team. From the deal board, click Actions > Sort Deals, choose your preference, then save, and the deal board will be automatically re-ordered.
Emailing and calling from companies and deals
If you're a sales rep, you spend your day making calls, sending emails, and booking meetings. The more efficient you can be at those three things, the better you'll be at your job. It used to be that you could only do these things from contact records, but now you can do it from companies and deals, too. Just navigate to the appropriate company or deal and select call or email:
Parent-child relationships
If you sell B2B, the organizations you sell to can be complex and multi-tiered. But managing and understanding your relationship with them shouldn't be. So now you can relate two companies to each other in HubSpot CRM, "parent-child" style. Whether you work with franchises, distributors, school branches, or anything else, the new function enables you to navigate between related companies quickly and easily, saving you time and unnecessary headache.
Navigate to any company in HubSpot CRM that you'd like to relate to another company. Within the company record, scroll down to the "Related Companies" card, choose to add a child company or a parent company, then search for and select the company you want to associate.
Once you've saved the association, you'll see the relationship in the "Related Companies" card on your company record. If you've added a parent company, you'll have a link to the parent company and the ability to quickly see the other child companies of that same organization.
If you've added a child company, you'll see links to the other child companies, with the ability to add another child company as well.
Email Integrations
One of the earliest selling points of HubSpot CRM was that salespeople could live in their email inbox and have their work automatically recorded in the CRM. This year, we took that promise to the next level with several new features.
New Gmail sidebar
Our Gmail integration has been our bread and butter from the beginning. Emails sent from Gmail automatically showed up on the appropriate contact record in the CRM, even if that record had to be created. And there was a handy sidebar that displayed some of the information from the contact record inside your Gmail inbox.
This year, we replaced that static sidebar with an interactive one that not only displays information from the contact record but also let's you update that information right there.
If you use our Gmail integration, you already have the new sidebar. But if you haven't been using it to view and update information, give it a try!
Outlook integration
If you don't use Gmail, we've always had an Outlook integration that was almost as good. The trouble was, it only worked with a very specific subset of Outlook versions, and only on a Windows PC. This year the integration got a huge upgrade, making the integration more functional and more accessible. Use the web version of Outlook? Use Outlook for Mac? No worries, the integration now works for you.
Want to try the new version of the Outlook add-in? Get it here.
IMAP
If you don't use Outlook or Gmail, you used to be out of luck. But this year we created an IMAP integration that let's you connect any inbox to HubSpot CRM. Then your emails you send and receive can be collected on the appropriate timelines regardless of what email provider you use.
Want to learn more about IMAP? Check out this help doc.
New Tools
Some of the biggest updates to HubSpot CRM in 2017 involved adding entirely new tools to it. Some of these were brand new; others had existed elsewhere but weren't available inside the CRM. Here are the three biggest ones:
Task queues
Think of a task queue as a playlist for a sales rep's to-do's. Create a queue for a specific category of tasks. Base your categories on priority, day, time zone, or anything else. Add any set of tasks to the queue by dragging and dropping one-off tasks, bulk-selecting a group of tasks, or from a view of contacts, companies, or deals. Navigate into the queue, and press play.
You'll be cycled through the tasks one by one. For example, if the first two tasks in the queue are "Call Andy" and "Follow up with HubSpot," you'll first be taken into the "Calling" tab within Andy's contact record. When you complete the call, the task will be automatically completed (no need to head back to the Tasks home screen), and you'll be brought directly to the emailing tab on HubSpot's company record – the next task in line.
You can also automatically create follow-up task each time you complete a task. Need to keep on top of a certain lead after today's call? One click, and you've got your follow-up scheduled.
Meetings
The meetings tool has been around for a while as a paid feature, but this year we made a limited version available to free users. Now, anyone using HubSpot CRM can connect their Google or Office 365 calendar and create a link that will allow people to book time right on their calendar.
We also added several slick new features to meetings. One is the ability to customize the title and other details for the calendar invite created when someone books time with you. Another is the ability to create booking pages in different languages and with different date/time formats. So wherever your prospects are, you'll be able to make it as clear and easy as possible for them to meet with you.
Free marketing tools
When we first introduced our free marketing tools, they were bundled into a product that was separate from HubSpot CRM. This year, we merged the two, so HubSpot CRM now includes these marketing tools:
Marketing Dashboard
Lead Flows
Collected Forms
Kickback emails
Lead Ads
Bonus: Sales Professional
Everything else discussed in this post is included in HubSpot CRM Free. But last month we introduced a new suite of paid sales tools.
Putting it all Together
If you're wondering how all these features fit together, we've got you covered. In addition to introducing all these new features, we also created a new version of the HubSpot Sales Software Certification this year. Click the button below to get started.