Diversity and inclusion (D&I) are the new buzz words floating around the tech world. If this was Hollywood, D&I is the new Brangelina (RIP), the new J-Rod, and, thankfully, the new Kimye.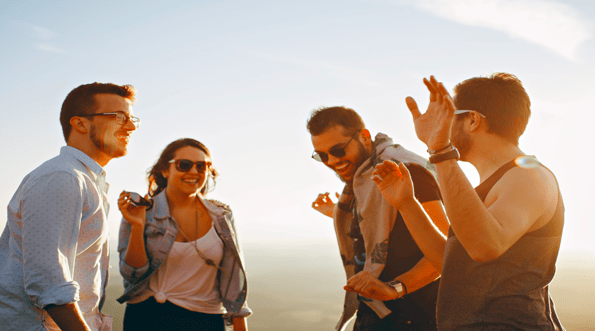 But on a more serious note, there's a reason why high-profile tech companies like Google, Netflix, and Facebook are investing so much time and energy into inclusivity — not only is it the right thing to do personally, but it's the right thing to do for your business.
So What Exactly Is Inclusivity?
Inclusivity is an intention or policy of including people who might otherwise be excluded or marginalized. Inclusivity is making folks feel valued and as if they belong in the group. Research has shown that people perform best when they feel included—when they feel valued, empowered, and respected by their peers. In fact, research from Deloitte shows that inclusive teams outperform their peers by 80% in team-based assessments.
Still not convinced fostering inclusivity is worth the effort?
Recruiting Daily claims that inclusive teams even generate more revenue—in fact, nearly 2.5x higher cash flow per employee. Inclusivity clearly has a strong positive effect on your business operations as well.
So inclusivity benefits people and business—now that's a win-win! Ready to take the first steps toward building an inclusive team?
How to Foster an Inclusive Work Environment
Now that you're convinced inclusivity should be one of your priorities in your business, here are a few tips on building an inclusive team that you, as a manager or individual contributor, can start implementing today.
1. Create a working with you blueprint
A "working with you" blueprint is a roughly two-page document that's intended to give others an idea of how you work best. Additionally, it gives individuals the opportunity to reflect on their own working styles. After your team puts their blueprints together, encourage them to share it with their teammates.
In the blueprint the HubSpot Academy team created, we used the headings What I value, Strengths, Opportunities for growth, How I will work to get better at my job, and How I will help others get better at their jobs. Of course, feel free to edit these titles to what you think your team would benefit most by.
If you're thinking this will take time, you're right—it will. But it's time worth spending because personal blueprints encourage individuals to share how they work best, take pride in their work and values, and respect the values and ideas of others.
By having your team do this exercise, you've taken away the guesswork and time it takes to get to know how best to work with someone. Once everyone has completed their blueprints, set aside time for everyone to read and discuss each other's work.
2. Learn how to be an ally
This is an obvious statement, but if you want to make sure you have an inclusive team, you need to make sure everyone, regardless of any sort of diversity, feels included. You can start by learning more about allyship.
An ally is someone who is willing to take action in support of another person in order to remove external barriers that impede that person from contributing their skills and talents in the workplace or community.
Make sure your team takes time to learn how to be an ally. It might come naturally to some, but it's always nice to have an explicit training to make sure everyone is on the same page in terms of how to support their team members.
Do you have a diversity officer or HR manager who could lead a "how to be an ally" session? If not, is it possible to look outside your company for a trainer? If that's still not an option, there are some really great resources online. Some of my favorite ally resources are Challenge yourself to grow and 3 ways to be a better ally in the workplace.
3. Take time at the end of each week to reflect as a team
What wins did you have this week? What could have gone better this week, and why? Do you have any people to thank?
A quick 30-minute meeting at the end of each week discussing these questions gives folks a space to feel heard, express gratitude, and celebrate, all as a team. We do this on the HubSpot Academy team here at HubSpot, and I can confidently say it promotes inclusivity; it gives us all a sense of belonging. As a team, we're here to celebrate our wins, mourn our losses, and help each other get better for next time.
Let's Learn More
If you'd like to learn more about building an inclusive team, check out our Building an Inclusive Team lesson in the Learning Center. It's important to note inclusivity isn't a one-and-done motion. These three tips aren't guaranteed to change the entire dynamic of your team, but it's a start in the right direction. Take these tips with a grain of salt, iterate upon them, and talk to your team about what they would like to see in terms of a more inclusive environment. It's not easy, but it's important. Good luck!