Conversations makes it easy to keep track of all messages sent to you, regardless of the medium. Live chats, emails, and form submissions are sent directly to your Conversations inbox, making responding to your customers easier than ever.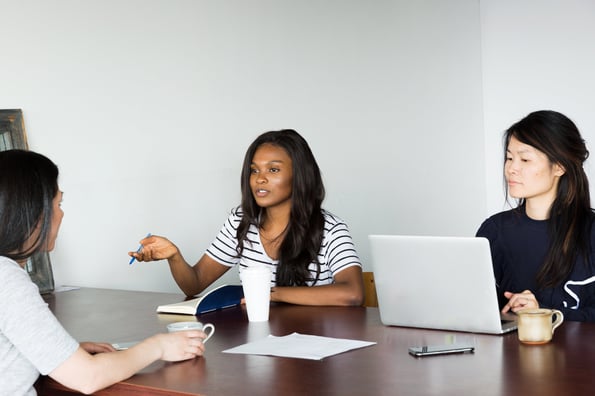 There are a few tools within Conversations, however, that can take your productivity to the next level. The tools are:
Templates
Snippets
Knowledge base
Slack integration with Conversations
These tools will ensure that your customers are getting accurate, clear answers in a timely manner with minimal effort on your behalf. Sounds like a win-win, right?
Templates
What it is: Templates are pre-made emails that you can send to customers with a click of a button.
How to use Templates in Conversations: As a service agent, you probably get asked the same questions over and over again: what are your hours of operation? How do I do XYZ? With templates, you no longer need to write out the same answer each time you get that question—simply choose the template you've already created for the circumstance, and insert it into your email. Keep in mind you'll still have the option to put in edits if you would like before hitting send.
If you'd like step by step instructions on how to create a template, click here.
Pro tip: make sure you insert tokens in your template, such as "first name," to ensure your emails have a personalized touch. As long as the customer you are emailing has the record in HubSpot, their first name will auto-populate wherever the token is placed.
Snippets
As my colleague Kyle mentioned in his blog post, Snippets are the unsung hero of HubSpot.
What it is: Snippets are short, reusable text blocks.
How to use Snippets in Conversations: Snippets are incredibly useful in live chat. Most live chats start out the same way: you introduce yourself, perhaps ask for your customer's email, and then proceed with their question. Instead of typing out common phrases for each chat, create snippets to give your fingers a break.
For example, instead of typing out, "Hi, my name is Adriti. How can I help?", create a snippet. Now, instead of typing out that long phrase, all you have to type is "#Intro" (or whatever you decide to name your snippet), and the entirety of the sentence(s) will appear.
To learn more about how to create snippets, click here.
Knowledge Base
What it is: Knowledge base is a collection of help articles.
How to use knowledge base in Conversations: When a customer asks you a question you already have documentation on, insert a knowledge base article directly in your live chat or email through Conversations.
Pro tip: If you find yourself hearing the same questions, consider writing a knowledge base article on that topic to help your customers help themselves.
Slack integration
What it is: The Conversations integration with Slack sends you Slack notifications when you have an incoming live chat.
How to use the slack integration: If you've ever manned live chat before, you know it's easy to miss a chat. The slack integration gives you the power to no longer sit in Conversations all day if you don't want to—instead, when someone live chats you, you'll get a notification in a slack channel telling you who sent the message, what the message says, the status of the conversation, the page chatted from and the HubSpot owner (if known).
These four tools sometimes fly under the radar, but are great ways to enhance your productivity within Conversations. By responding to your messages quickly and concisely, you're sure to give your customers a delightful experience.
Want to connect with others on HubSpot tips, tricks, and updates? Head over to the HubSpot Community to join a conversation or start one of your own.