Spring is here, and with it comes a new batch of product updates that we're eager to share with you.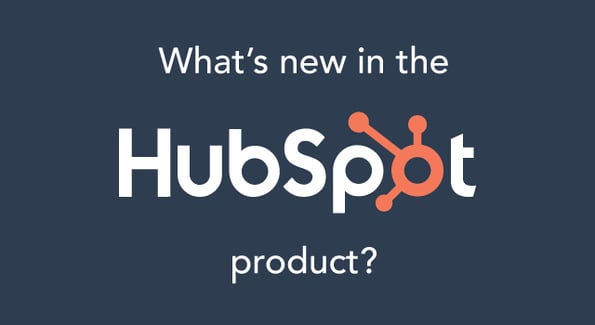 Here's what's new in HubSpot this April.
What's New in Marketing Hub
Give your Instagram strategy a boost.
Like any other social platform, Instagram uses an algorithm to determine which posts are floated to the top of your feed. One of the most important factors in this algorithm is your relationship with the poster — whether or not you interact often with the person or company who is posting a photo to Instagram.
Now you can monitor and respond to comments on Instagram directly within HubSpot, making it easy to increase your engagement with your audience.
Create content with social in mind.
Marketers know that including images in their social posts drastically improves their engagement. For example, Facebook posts with images see 2.3 times more engagement than those without images. In the past, if you wanted to include a featured image on your web or landing pages, you had to edit the Head HTML of your page.
This month, we've extended the featured image setting you're familiar with from our blog tool to our web and landing pages tools. With this update, any social post can include a featured image with just the click of a button.
Analyze your site traffic like a pro.
Any given metric is only as powerful as the context surrounding it. An increase in site traffic is great, but what really matters is whether that traffic turned into leads for your sales team.
Now within the sources and pages report, you can create combination reports to quickly compare two metrics against each other and share actionable insights with your team on how they can improve the quantity and quality of traffic to your site.
What's new in Sales Hub
Welcome to the platform, meetings.
Meetings lets your customers quickly and easily book time on your calendar. It's a huge time saver, but users of the tool saw potential to do so much more with it. They wanted to segment lists and trigger workflows based on meetings booked. They wanted to host meetings links on their own domain and see page analytics for them.
These were all great ideas, so we implemented them. Based on your feedback, meetings is now fully integrated across the entire HubSpot platform.
Want to learn more about the new meetings features?


Check out this blog post.


Take control of your log and track email settings.
As a sales rep, the ability to automatically log and track emails in your HubSpot CRM brings valuable context to your contact records. This context is what empowers you to provide a more personal experience for your leads without spending any extra time or effort with manual work.
Now, with new default settings, users of HubSpot's Gmail or VSTO extensions no longer have to worry about accidentally forgetting to log or track an email. You can also choose specific email addresses and domains that should never be logged to the CRM.
Introducing tracks in the learning center.
Users go to the learning center with different goals in mind. Some are getting a certificate to highlight on their resume, others simply want to learn more about a topic in their field to excel in a new job or overcome a challenge in their existing role.
Whatever your goal might be, we want to ensure the content is available in a way that best suits your needs. That's why we've implemented tracks: A prescriptive path of lessons designed for you to learn about a broader topic and experience the HubSpot software along the way.
Take one lesson to get the knowledge you need or a series of lessons to become certified in any given topic — the choice is yours!
Never miss an important notification again.
We're passionate about driving success through team collaboration and making sure everyone is informed and on the same page. That's why you'll now see a floating notification in real time at the top right of your screen when one of your teammates mentions you in an activity on a HubSpot CRM record. These updates will appear in real time so you can take action as soon as your colleagues reach out to you.
Want to learn more about team collaboration in HubSpot?


Check out this blog post.


HubSpot Connect
The HubSpot Connect Integrations library is constantly growing with amazing new integrations for you and your team to explore. Whether you want to create data driven visual reports through Map My Customers or identify key stakeholders in your deals using OrgChartHub, integrations help you personalize HubSpot for your specific needs.
That's all for April. We'll be back in May with even more exciting product updates.