From the proliferation of clever videos full of yule logs and ugly Christmas sweaters to fun giveaways and holiday gift guides, it seems that B2C brands have it made when it comes to dreaming up social media holiday fun. But what if you are a B2B company? How can you take advantage of the holiday fervor yourself?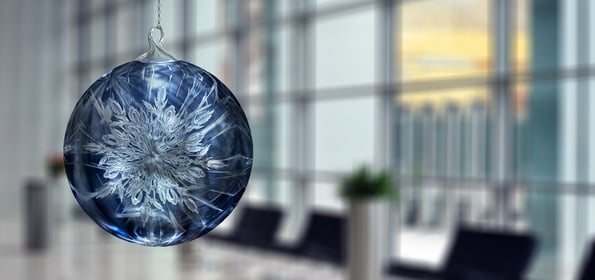 Read on to unwrap eight ways to fuel your own holiday marketing ideas. And if you want to steer clear of any religious connotations, many of the ideas can work with a winter theme instead.

1. Develop a social media video greeting card.
There are a myriad of ways you can have fun with a video that you can share with your social media followers whether you are a B2C or B2B brand. This fantastic video from last year features four offices of Campbell Ewald coming together in the universal sign for peace.

2. Be charitable.
According to USA Today, 34% of charitable giving happens during the holidays. Help bump those numbers up by highlighting a charity in your social posts. Share details of why your organization has chosen to work with the charity, stats relating to the cause, and consider running a match campaign for those who donate to the charity.


3. Give your social banners a little cheer.
Get into the festive spirit by adding a little winter or holiday flair to your Twitter, Facebook, LinkedIn, and Google+ banners. You can even get festive with your profile photo as well. Here's a B2C example but this plays well in the B2B space as well: Pep Boys Facebook cover, 2015 (via Social Media Examiner).

4. Show how your teams are celebrating in the office.
This is where Instagram stories can be a lot of fun. Quick snaps of decorating, White Elephant or Yankee Swaps, lights around the office, etc.

5. Be grateful and hopeful.
Find ways to share positive messages about what you've learned in the year, or how you are going to change in the year ahead.


6. Get festive with stock photos.
Liven up your social images. HubSpot has over 250 of them free: https://offers.hubspot.com/free-holiday-stock-photos

7. Be international.
If you have multiple offices, show how different people in different countries celebrate their holiday traditions. Be thoughtful and diverse. It's not all about Christmas, or even Hanukkah.

8. Give away something useful.
An eBook, a new content feature, open up a new community or find ways to surprise and delight your most socially engaged customers. For example, HubSpot can point people to its #HolidayHub, a jam-packed resource for businesses looking for creative marketing resources for the holidays.


And finally, don't dismiss what the B2C companies are doing – their creative efforts may be transferable to a B2B play. Take a page from their playbook and give it the twist you need to delight your own customers.